Quick Answer:
Learn how to send a great self introduction email to potential employers, clients, and colleagues. Effective introductions use captivating email subject lines, a formal greeting, and a concise and informative body. End the email with a call to action such as requesting a meeting or responding to your attached resume and cover letter. To ensure the emails are professional, avoid spelling and grammar errors and adopt the appropriate tone for the industry you are targeting.
By learning how to send an introductory email, you can put yourself on a solid footing with potential employers, coworkers, clients, and business partners. But the difficult thing about introducing yourself through email, as opposed to in person or over the phone, is that sometimes it's hard to convey context, feelings, and tone through words alone.
However, just like any other formal correspondence, a self introduction email follows a simple, easy-to-follow formula, which you can use and customize to your own needs. You can easily present yourself in a polite and professional way, and this can create a lasting connection with a potential employer. By following the tips in this article, you can easily leave a great first impression.
In this article, we will discuss:
Why you should send an introductory email.
6 helpful email templates.
Helpful tips to craft a professional introduction email.
If you are interested in learning ways to create a great first impression with employers, speak with a career counselor from Enhancv. Through the specialized counseling you'll receive, you'll gain the confidence to step out of your comfort zone and present yourself professionally.
Why would you send an introduction email?"?
Upload & Check Your Resume
Drop your resume here or choose a file. PDF & DOCX only. Max 2MB file size.
Although social media and instant messaging sites are popular for communicating ideas, the primary form of communication within businesses is email. Email introductions often involve a polite request, like inquiring about a potential job opening.
The key to sending an effective introductory email is to catch the attention of the sender. Most business professionals receive hundreds of emails each day, and your email can easily be missed if it doesn't capture the reader's interest. You can do this by crafting a captivating email subject line, creating a professional correspondence, and refining your email so it's brief and to the point.
Introduction email format
Self introduction emails are simple because they follow a similar format to other formal correspondences. Below, you can find the main points of an introduction email:
Subject line: In the subject line, your main goal is to hook the reader's attention, and you can do this by shedding a little bit of information on why your sending the email. For example, you may wish to include the job title of the potential position that you are applying for. Also, you could mention the name of a mutual contact that you or your reader know.
Formal greeting: Your formal greeting is an opportunity to directly address the recipient of the email. Just like written professional letters, like cover letters, it's always best to avoid using a generic term, like "Dear Employer." Instead, try to find the name of the person you're addressing the email to.
Body: The body paragraph of your introductory email is an opportunity for you to share ways you can benefit the person you're reaching out to. For example, if you're reaching out to a new client, and you wish to introduce them to your company, list some benefits of doing business with you and your business.
Sign-off and Signature: Both a sign-off and a signature are needed to properly end a professional email. Your sign-off may be wishing the other person well. Your signature can just be your first and last name, job title, and you may even include your phone number.
Self introduction email samples
How to introduce yourself in an email to an employer about an open position
Subject line: Re: Sales Manager Position
Hello Rachel Verte,
I hope this email finds you well and that you've had a wonderful week.
The reason I am reaching out to you is for the open sales manager position at XYZ manufacturing company. I have watched your success in cornering the market for high performance GPUs.
In my previous role, I was regional sales manager for Utex, a software company out in Salt Lake City, and under my leadership, we increased sales throughout 2021, even despite workplace slowdowns and supply chain issues.
I would love to apply for the position, and attached to this email you can find my resume and cover letter. Please don't hesitate to contact me if you have any questions, or if you need any more credentials.
Sincerely,
Daniel Cormier
What works well in this example?
One thing that works really well about this email is that it is brief, but can also explain a good number of details on why the applicant is experienced for the role. They've also included their resume and cover letter in the email.
How to introduce yourself in an email to a client
Subject line: Meeting Request, Stanley Herbert, Your account manager
Hello Jacques Pillar,
It's great that I'm finally able to reach out to you. No doubt you received Kim Robinson's email mentioning that I would take over responsibilities as your account manager.
I'd love to set up a video call with you this next week to discuss a little more about the intricacies of your account, and come up with a plan for continued success.
Thank you for your time.
All the best,
Stanley Herbert
What works well in this example?"?
This introduction email is straight to the point, as the new account manager seeks to set up a time to speak with their client. The author of the email also shares that they have been briefed on some details about the account, but would like to speak directly to their client.
How to introduce yourself to a new team
Email subject line: Hi, I'm your new HR Manager, Jack Barnes
Hello team,
I wanted to introduce myself to you all before my first day on Monday. My name is Jack Barnes, and I've spent the last ten years in human resources, and I'll be joining your team as the new HR Manager. One quick thing about me: I was born and raised in California, and even attended UC Davis, and am excited to be back in the Golden State.
I'm really excited to learn about the initiatives that you have planned for this next year, as well as learning more about the company-wide intranet.
Have a wonderful day,
Jack Barnes
What works well in this email?"?
One of the things that works well in this email is that the author has added a personalized touch to it, as well as adopting a casual tone with their coworkers. He seems to be insightful about the work that they are doing, while being interested in learning more about the company.
How to introduce yourself to recruiter
Subject line: Experienced Business Consultant
Hello Robert Whitman,
My name is David Mead, and I've spent the last 10 years consulting with major tech organizations, giving them advice on how to best utilize the people and resources under their management. I've worked with several Fortune 500 companies, including major Silicon Valley tech companies.
I'm a huge proponent of holistic coworker care, providing incentives for employees to strive for success in the workplace.
I'd love to set up a time to speak with you, as I've seen that you had that unique gift to equip thought leaders and provide them with opportunities to reach greater heights of success. Please let me know if and when you'd be able to meet for a video call.
Sincerely,
David Mead
What works well in this email?"?
The author of this email takes the time to formally introduce themselves, and although he spends more time on his own skills and abilities, he also mentions that he has respect for the person who the emails addressed to. It almost functions as an introduction letter.
How to introduce yourself after a career fair
Subject line: Follow-up email to our discussion at DCF
Hello Ernest Hillbert,
I really enjoyed our conversation at the Denver Career Fair, and I just wanted to send a follow-up email to introduce myself. Thank you so much for sharing about ABC Company Robotics, and it's really refreshing to see all the innovative work that you've been doing. Currently, I'm completing a Master's degree in electrical engineering, and recently had a co-op at Arkham robotics.
Right now, I'm trying to figure out my next career move, and as a graduate student seeking to find a company where I can lay down roots and really make a name for myself in the industry.
If you have the time, I would love to meet up in person again to glean a bit of advice from an industry expert such as yourself.
Best wishes,
Ashley Davenport
What does this email do well?
One of the best things about this email is that it lays the groundwork for setting up a networking meeting. Although the author of the email and the email recipient of the email have already met in person, this email provides a distinct call to action where they can both meetup and discuss things in more detail.
How to introduce yourself through a mutual contact
Subject line: Dave Holby recommended I introduce myself
Hello Rebecca Cambridge,
We've never met, but I just want to introduce myself through digital channels because Dave Holby thought it would be great for us to connect. He shared with me all the humanitarian work that you're doing by feeding underprivileged children in the inner city, and I think that's really commendable.
I work as a journalist for ZAB news, have been there for the last 5 years, and we're always looking for human interest stories which share the good things that people are doing in our community.
If you're free, I would love to meet in person to hear a little bit more about your story.
Keep up the good work,
Daniel Frost
h4>What does this email do well
This email may seem like a simple introduction, but the email is concise and straight to the point, with a direct call to action to set up an upcoming event. The success of this email is predicated on a mutual connection between the sender of the email and the one receiving it. You may choose to send this type of email when mentioning a job referral from a mutual contact person.
Email Introduction Writing Tips
1. Personalize your email greeting
It's always best to send a personalized email, rather than a generic "Dear Mr. or Mrs." You should try to find out as much as you can about the person who you're emailing, including more details about the company. You may glean some helpful information from a blog post or social media post.
2. Try to find a mutual connection
If you're able to, find a mutual connection that you have with the person you're emailing. Include the name of that mutual contact in the email subject line, and this can help to guarantee that your email will be read.
3. Use proper email etiquette
Depending on the company culture of the organization you're reaching out to, it's best to keep it professional throughout. This is especially true if you are reaching out to someone who works in a conservative industry, like a bank or public sector role. If you know the company is more informal and is in an informal industry, then you may feel free to write more informally. However, it's important to affect the right tone when speaking with someone that you do not know.
4. Make your subject lines as informative as you can
As mentioned above, the subject line is the key to getting your email read. Therefore, put the most important information in the email subject line, including the reason for the email. For example, if you are looking to apply for a role at their organization, put in the position's name. If you are sending introductory emails to new team members, mention that in the subject line.
5. Add a call to action
One of the most important things that you should do at the end of your email is leave a call to action, something that prompts the reader of the email to respond. It could be as simple as having them read over your CV or cover letter, or it could be setting up a time to meet up in person.
Key takeaways
Always double-check your email before you send it out, and use grammar and spell check software to make sure there are no errors.
In a self-introduction email, keep it brief and to the point
If possible, share that you have a mutual contact person.
Keep the emails professional, especially if you are introducing yourself to somebody who you've never met before and who works in a formal industry.
If you're interested in learning more details about how to properly introduce yourself to a potential employer, speak with a career counselor from Enhancv. They can set you up with all the information that you need to excel in the business world.
Make your move!
Your resume is an extension of yourself.
Make one that's truly you.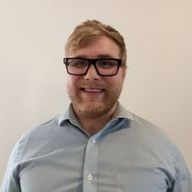 Dave Van Kooten
Is a human resource expert that helps passionate jobseekers to put their best foot forward to prepare for an interview. He believes that success can be achieved through going out of your comfort zone.