If the statement ''the candidate with the highest achievements gets the award'' was true, wouldn't Beyoncé be the winner of this year's AMAs?
The American Music Awards 2016 are over and left Beyoncé with a single award: TOUR OF THE YEAR. Doesn't she deserve the ARTIST OF THE YEAR award, though?
Beyoncé is not only an immensely talented singer, songwriter, dancer but she has a significant experience as an entrepreneur and actress too. She is the most awarded woman artist in MTV Video Music Awards and the most Grammy nominated artist.
Everyone is familiar with her thrilling vocals, videos, and live shows. Her career is remarkable and we could all learn a lesson or two on professional development from her.
As Bey's fans, we did deeper research about her. You can see the most significant parts of her life and career in this resume.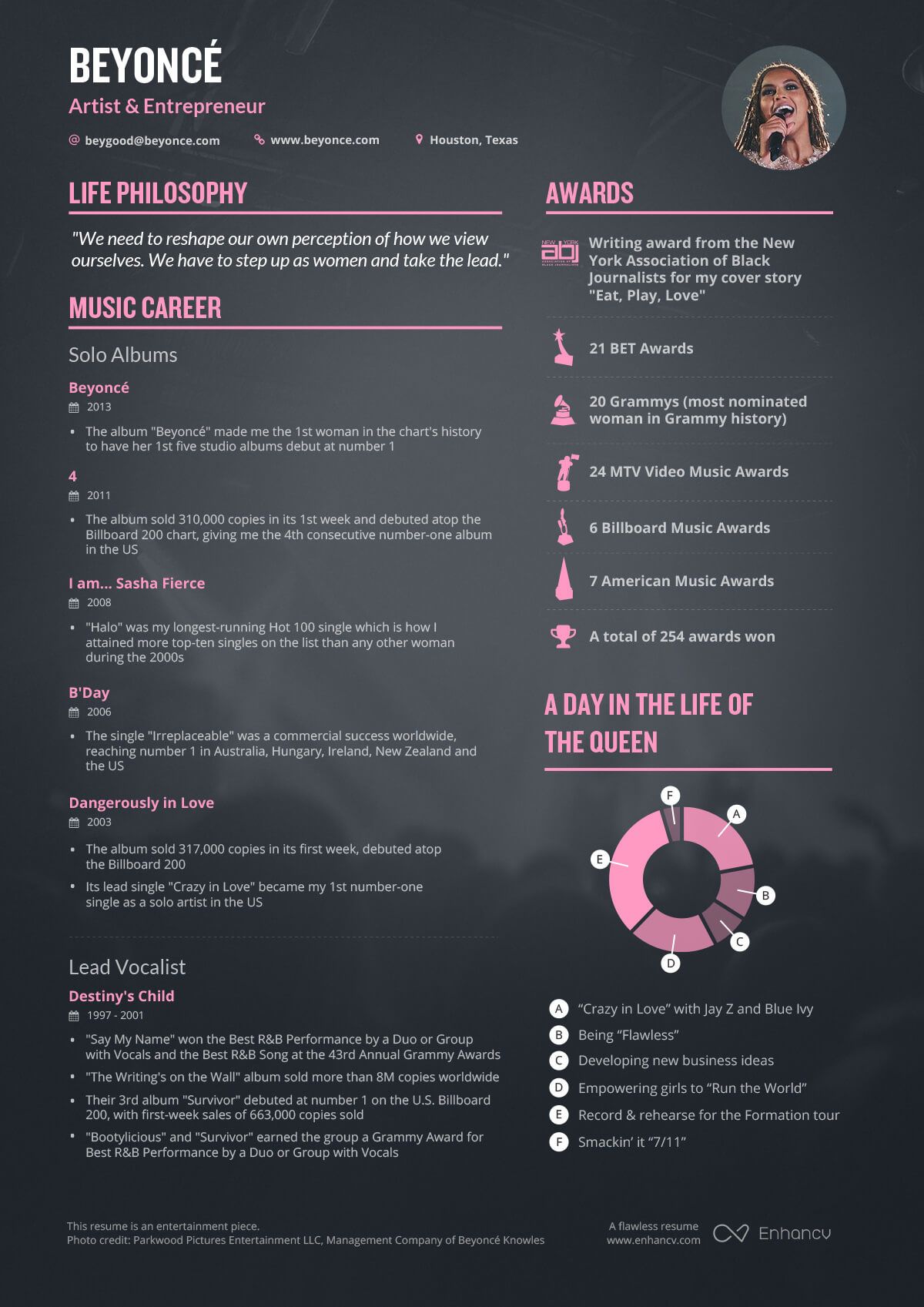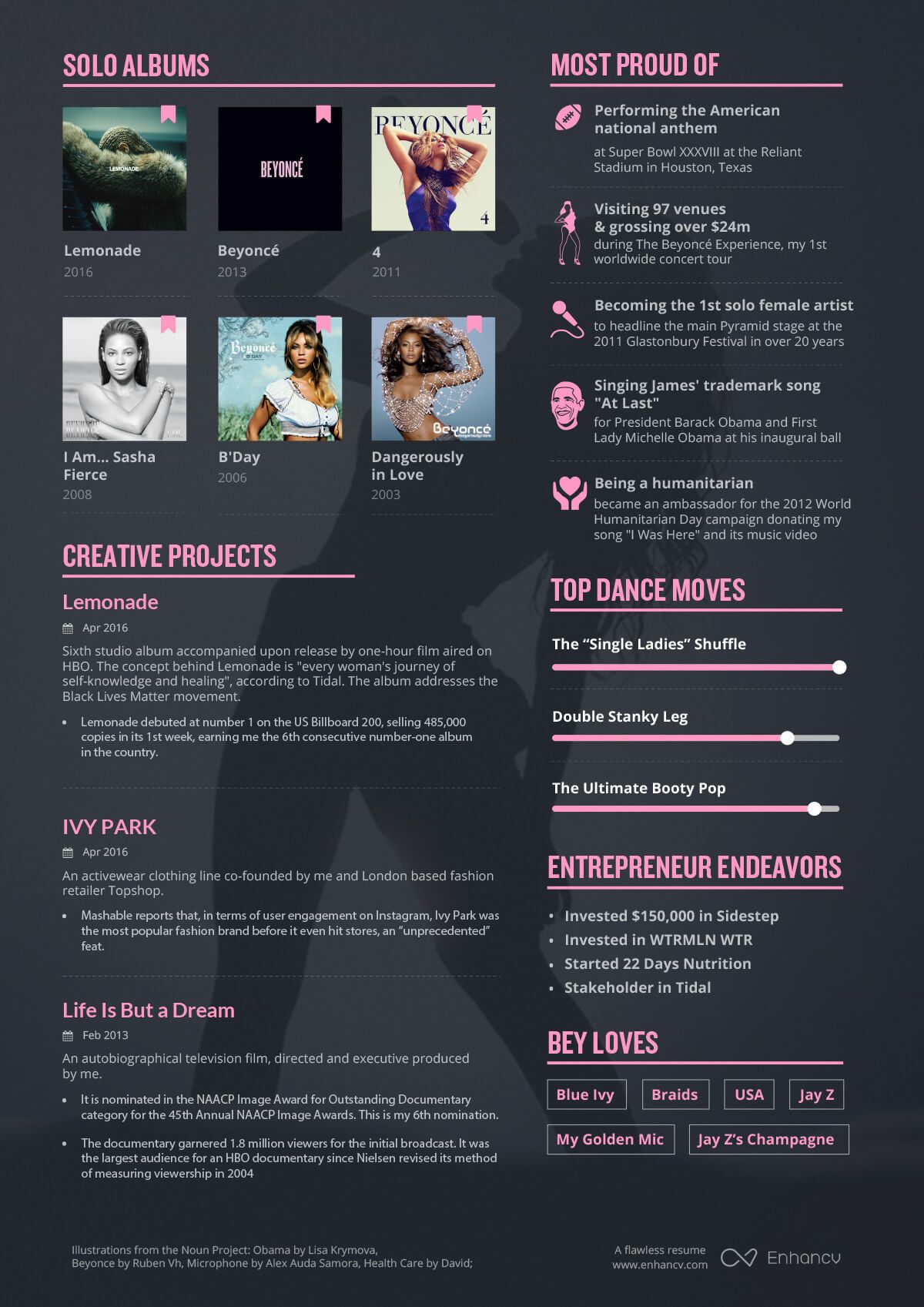 What can we learn from Bey's career?
Upload & Check Your Resume
Drop your resume here or choose a file. PDF & DOCX only. Max 2MB file size.
Reinvent yourself
Even though Destiny's Child was a successful formation, Beyoncé showed that she can be successful on her own as well. Her first solo album Dangerously in Love, created while she was still a part of the group, was a huge achievement. It won 5 Grammy Awards and sold over 10 million copies worldwide
In 2005, Destiny's Child officially split up. Many would have thought that this situation would fluster the whole group, but not Beyoncé. She flawlessly continued her career. After Dangerously in Love, she released 5 more very successful albums. She proved that "winners are not people who never fail but people who never quit."
Lesson: Don't get set back when a project you worked on ends. Rather look at how to move forward and build on top of your previous experience. Believe in your own strengths and abilities.
Create a new opportunity out of any situation
Bey's 6th and latest album, Lemonade, is quite different from the others. It's like a movie, a visual album, and a unique concept that includes stunning artworks and music. It consists of 10 chapters dedicated mainly to her personal struggles and the experience of black women in the USA.
With Lemonade, Bey took a different path to her fans' hearts. In general, she is known to be very protective of her private life. By sharing the most precious memories from her wedding with Jay Z, her pregnancy and a home video from Blue Ivy's birthday party, she touched many souls out there. This approach made Lemonade worthwhile.
Lesson: Don't get stuck by doing the same thing all over just because it worked well the last time. Put effort into reversing every situation into an opportunity and look for new ways of improving yourself. Remember – when life gives you lemons, make a lemonade.
Focus on multiple industries
If you're not Bey's biggest fan, you probably know her as ''just'' a singer. Beyoncé, however, is a successful entrepreneur too.
She has invested $150,000 in Sidestep, a mobile app for buying concert merchandise without having to stand in line. She also invested in WTRMLN WTR , a watermelon beverage company. She partnered with her trainer and started the 22 Days Nutrition after becoming a vegan in 2013. Bey is a stakeholder in a streaming service Tidal. She is a co-founder of the Ivy Park brand that creates a new kind of workout clothes.
Beyoncé earned experience in the film industry too. She starred in movies like The Fighting Temptations and Obsessed. She proved she can take on any role and be great at it.
Bey loves doing things that she is still learning about. For her, it's like ''starting over''. That's what excites her.
Lesson: Look for opportunities where you can make a positive change in the world and in yourself. Don't stop developing your skills and surround yourself with creative people. It will help you do amazing things.
Beyoncé is not just a great artist but also an inspiring woman and a role model. Let us know if you think we left something important out 🙂
Make your move!
Your resume is an extension of yourself.
Make one that's truly you.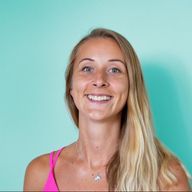 Tatiana Rehmova
A glass half-full kind of a girl and a believer that everything happens for a reason. Loves writing, editing and researching the newest ways of doing things.