What's the best thing about writing a Hair Stylist cover letter? You get to decide which parts of your experience need to be highlighted and which should better be skipped!
And what's the thing that will make every hiring manager want to learn more about you? Mentioning the tools that have helped you overcome challenges and improve your skillset.
Let's look at our professional tips and examples that will help you write a memorable cover letter and land an interview.
How to write the perfect Hair Stylist cover letter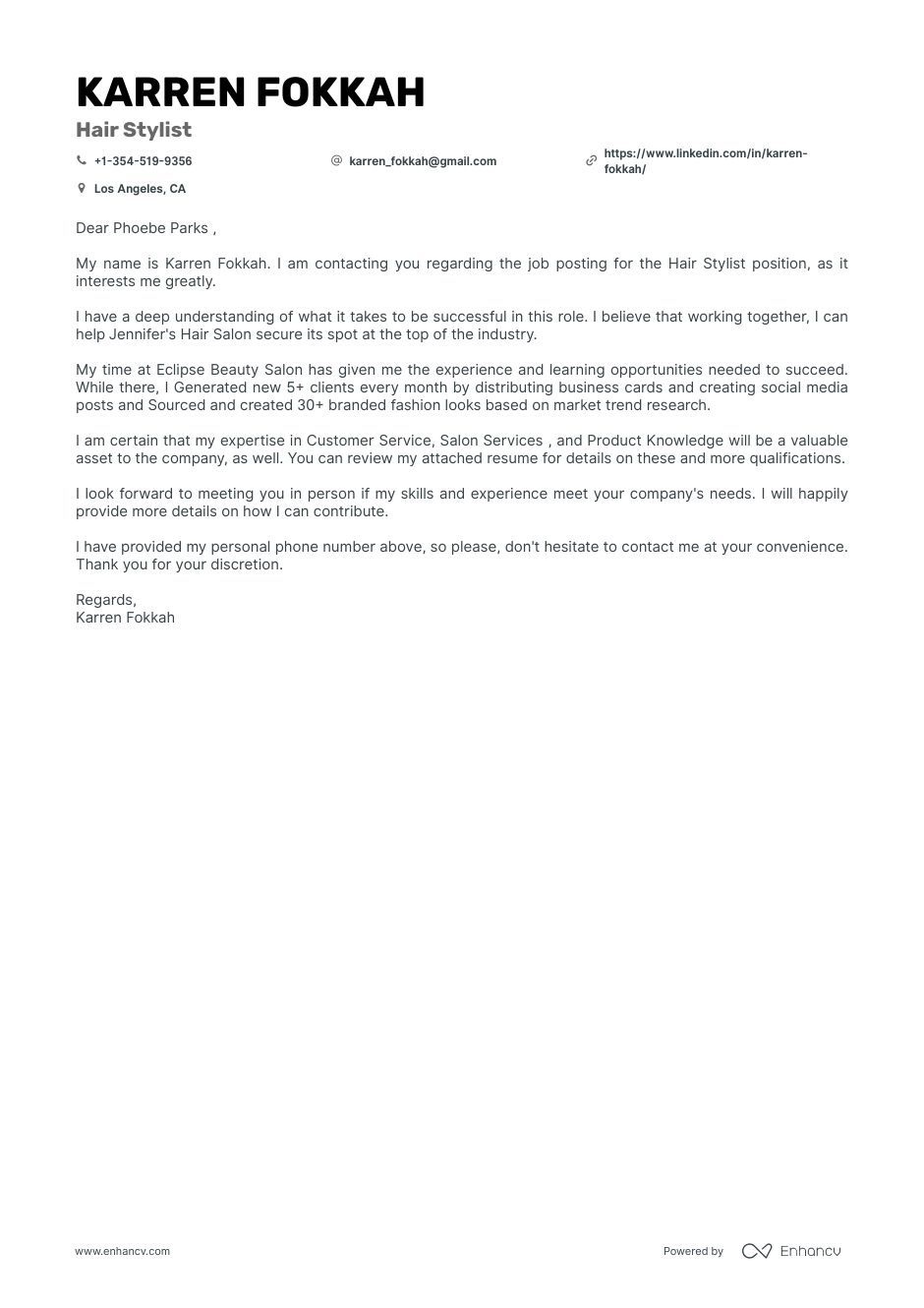 Let's begin by discussing the difference between a cover letter and a resume. The resume is the place where you should list all your hard skills, achievements, and talents.
The cover letter, on the other hand, is your chance to share more about yourself and show who you are.
But what's the way to grab the reader's attention? How can you make the hiring manager want to meet you and learn more about you?
Use an appropriate salutation and write a powerful introduction
Choosing the right salutation might be tough – we get it. After all, you don't want to sound way too formal or too friendly.
There are some things that should definitely be taken into consideration when it comes to addressing your cover letter. First and foremost comes the recruiter's name.
Even if you don't know who the person reading your cover letter might be, try to find out. Check company websites or social media profiles or even media articles.
If this doesn't help, you can go for traditional gender-neutral salutations that don't require knowing the hiring manager's name.
Here are some of our favorites:
Dear Hiring Manager,
Dear Head of [team you're applying for],
Dear [company name] Recruiter,
Dear Alex Johnson
We've all heard it – introductions are a big deal.
A good cover letter introduction can help you land an interview, while a bad introduction can ruin all your chances of getting your dream job as Hair Stylist.
So what are the things that can make your cover letter stand out? Honesty, excitement, and motivation.
Show your motivation and excitement to join the company in an honest way. And if you think that'd suit the company – share your vision with the recruiter. Tell them how you think being part of the team can help both parties grow.
Combine your soft and hard skills for an unbeatable match!"!
So you've listed all your hard skills on your resume, now what?
It's time to think about the soft ones. But remember, it's essential to not just list your soft skills but to link them to the actual ways they can help you do well in the future.
And what about hard skills, have we completely crossed them out? No, not at all. You still need to mention some of these if you want to pass applicant tracking systems that screen texts for certain keywords. Check the requirements section of the job advert for a complete list of phrases you need to include.
Prove how your skills can help the company grow
Showing that you've researched the company and are familiar with it is a good way to prove your work-readiness.
It will also point the recruiter to the fact that your skills and qualifications will have a long-term impact on the company. Just link some of your strengths to the ways in which current or potential issues can be resolved.
Finish your cover letter with a call to action
While the introduction is the best way to make a good impression, using the right words to end your cover letter can help you get a callback.
Our advice is to make sure that your closing line matches the company culture. However, "Looking forward to hearing from you" and other traditional phrases are always a safe choice.