Writing a cover letter for a position in data science might feel like walking a tightrope – choosing between buzzwords mentioned in the job description and original (or even innovative) content.
But trust us – you could have the best of both worlds. In fact, a professional data science cover letter needs to have the best of both worlds.
You may have heard that the cover letter is the place to show your achievements, but it's also crucial to add some keywords. Why? We'll get there.
First, let's look at some other things you can mention in your cover letter.
Read a real data scientist cover letter example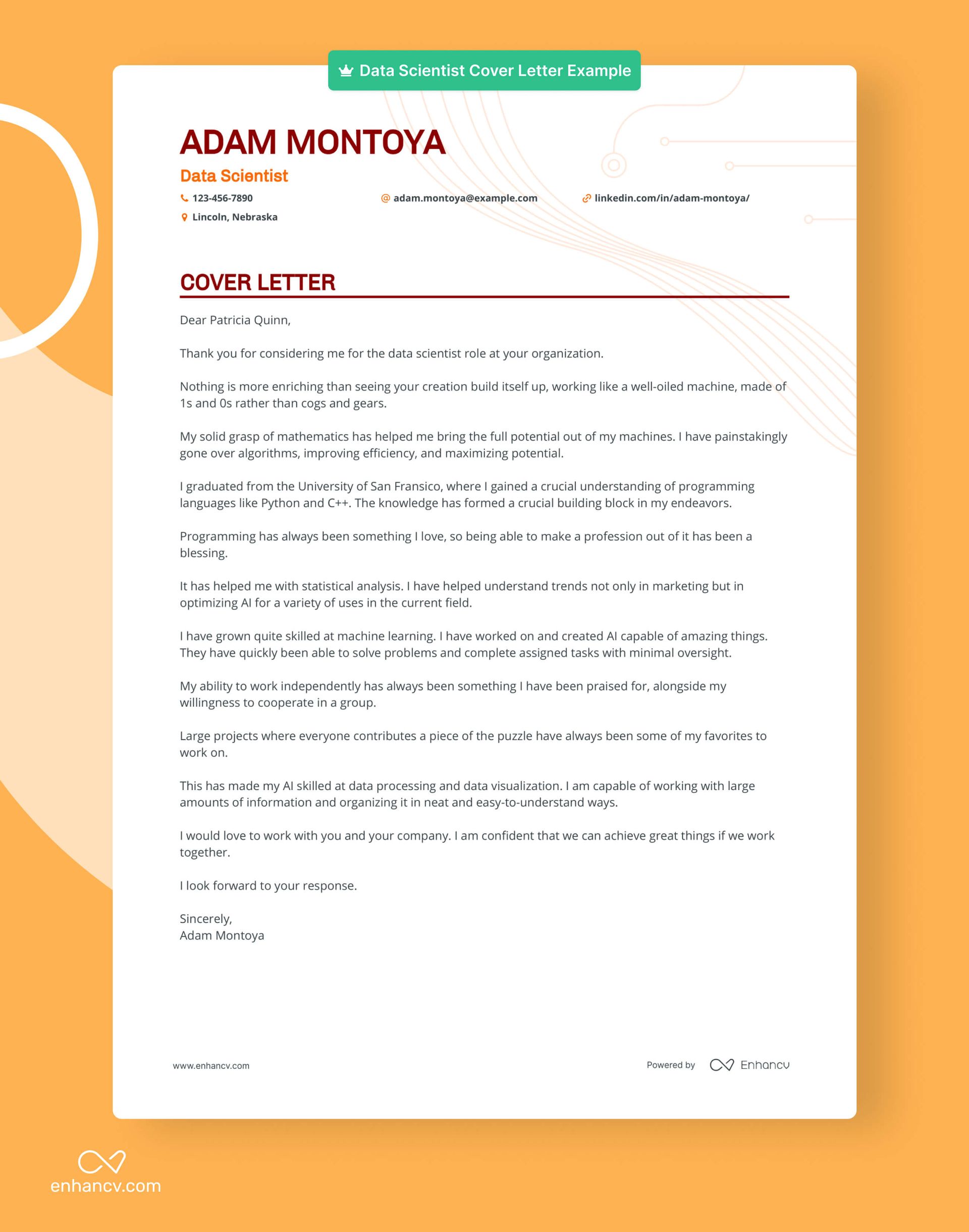 What to write in a Data Scientist cover letter
So do you really need a cover letter for data science? The short answer is – yes, you do. A well-written cover letter will complement your resume. It will introduce the hiring manager to your strengths and how they have helped you overcome challenges in the past.
It will also allow the reader to find out more about your projects, incl. the platforms you've built and the experiments you've designed.
That being said, some of the things a data science cover letter should include are:
Your soft skills and how they've helped you maintain partnerships and work as part of a team
Your top achievements as a data scientist
The models or methodologies you've used, created and developed
Why you want to join the company \
Focus on the things you've created as a data scientist and how they've improved (or aimed to improve) company or team operations.
If you have not created anything on your own yet, talk about the teams you've assisted and the impact this has had.
Pro tip
Now let's move on to the things that will make your cover letter stand out.
Choose the right salutation
Address your cover letter to the hiring manager whenever possible. If you don't know who they are, try to find out. Look them up on company websites or social media pages. LinkedIn is a great source of information!
However, if there is no way for you to find the hiring manager's name, you could use one of the following salutations:
Dear Hiring Manager
To the [the name of the department you're applying for] Team
Dear Human Resources Manager
Dear [company name] Recruiter
Dear [title of the person you'd report to]
No matter which one you go for, make sure to be polite. Overall, the language you choose depends on the position you're applying for and the company culture.
Craft a strong introduction
Your cover letter's introduction is the first thing the hiring manager will read. It's your chance to get their attention and make it to the next stage of the application process.
For this reason, avoid focusing on where you found the job advert and how you decided to apply. It sounds a bit shallow and is what everyone else is doing anyway.
Instead, share what inspires you about the company and the whole data science field. What makes you the ideal candidate? How would having you on the team improve company operations?
You could also leave a sentence or two for your background and previous experience here, but without repeating the summary of your resume.
Emphasizing your data science skills in your cover letter
Although some experts advise leaving your hard skills for the resume and focusing on soft skills in your cover letter, this is not entirely valid for data science cover letters.
Don't get us wrong, soft skills are extremely valuable and should definitely be present in your cover letter.
But they shouldn't be the only skills you mention.
The best thing would be to combine soft and hard skills and show how they have helped you achieve your goals.
For example, you could mention how your time-management skills have helped you build an extensive statistical model using Python in just a couple of days. Or how your problem-solving skills have made it easier for you to help the PM team optimize project delivery times.
When it comes to cover letters for data science jobs, hiring managers want to see the depth of your industry knowledge, rather than its breadth. Listing skills aimlessly just wouldn't work in this case.
Also, make sure to include the skills that are explicitly mentioned in the requirements section of the job advert. This will help you pass Applicant Tracking Systems (ATS) that screen cover letters for certain keywords before passing them on to recruiters.
Pro tip
Communication skills can be linked to your ability to work well in a team and handle conflict easily. Problem-solving skills will show that you are attentive to detail and are always on the lookout for potential issues. Time-management skills prove your ability to meet tight deadlines and work under pressure.
Show that you did your research before applying
You want to point the hiring manager to the fact that you know the company well enough. This works in your favor for two reasons:
It shows you're aware of common industry/company issues It shows how excited you are to become part of the company you're applying to (and not just any company out there).
You can also share how your skills will contribute to the company's growth. This will prove exactly what you can bring to the table.
The final call to action
While a strong introduction is necessary in order to make a good impression, a great conclusion is what makes this impression last.
Thus, using the right words to end your data science cover letter can help you get invited to the next stage of the interview process.
Two things make up a memorable closing line – expressing gratitude for the reader's time and consideration, and saying that you look forward to hearing from them soon.
Here, you can use traditional phrases such as "Looking forward to hearing from you" or "Looking forward to your reply".
Key takeaways
Focus on both hard and soft skills
Mention some of your previous findings and contributions
Prove that you've researched the company and the industry
Show how your skills and experience can help tackle common problems
Talk about your motivation to become part of the team