What separates an average resume from a truly great resume? It's not necessarily the layout, the sections, the formatting, or even the exact content. It's the feeling of pride you have when use it. A great resumes makes you feel like your best self, someone with the unique knowledge and experience to tackle anything that comes your way.
With this in mind, we're bringing together a collection of just these kinds of resumes. The goal is to show just how you can create your own confidence-inspiring resume through real-life examples.
Anyone can create a resume to feel proud of and confident in
The first set of examples are taken directly from real Enhancv users. They represent people in a huge variety of fields and with everything from decades of work experience to practically none. What unites them is that each resume is one we'd be proud to hand to a potential employer or even just show to a friend.
If you're looking for your own inspiration and considering how to best show what makes you unique, check these resumes out. But standing out with a resume can mean different things to different people.
How can you fit a decades-long career into a single page?
Let's say you're the first woman CEO of a major tech company, you were the first female employees at Google, and a top influencer in Silicon Valley. There's no way you could tell your entire resume story in a page, right? Well, look no further than Marissa Mayer.
And she's just the start. We've created resumes for global leaders in business, tech, and even politics to show how even the longest and most varied careers can be turned into a one page resume they can be proud of. So check them out, get inspired, and try creating your own resume. You may be surprised and how great it feels to stand out.
Make your move!
Your resume is an extension of yourself.
Make one that's truly you.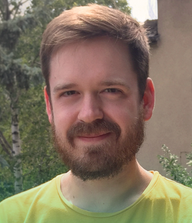 Eric D. Halsey
A writer with a passionate belief in the power of peer to peer learning and storytelling to change lives. Wants nothing more than to spend a day cooking, reading books, or playing board games.