Quick Answer:
A job referral increases your chances of getting hired by 60,000%. Those referred by a director had a higher chance of getting hired compared to those referred by entry-level staff. Besides, companies tend to consider referrals as a better fit for their organization, leading to employees being more satisfied and productive. You can ask people in your first or second connection. Alternatively, reach out to someone with influence in the organization and set an informational interview to build rapport and identify challenges.
Acquiring a job referral can make all of the difference in getting hired. More than 60% of employees that were referred to an open position were hired by the employer. In comparison, those applying to jobs in general have only about a 2% chance of even getting an interview. Even if half of those interviewed are hired, this means getting referred correlated with a 60,000% increase in your chance of getting hired.
The trouble comes in knowing who to ask, what to do if you have no connections, and how to draft the message to request a referral. Luckily, we've got all the answers for you. With our guide, you can get a job referral that will get you one step closer the job you want.
The benefits of getting a job referral
Upload & Check Your Resume
Drop your resume here or choose a file. PDF & DOCX only. Max 2MB file size.
More fulfilling work
The statistics are pretty overwhelming on the benefits: employees who get a job through referrals are more likely to enjoy their job and feel satisfied with their culture fit. This makes a lot of sense. Considering you'll get referred from personal connections (or connections you're soon to form), the company you get referred to is likely to share values with your friends, who are likely to share values with you.
Get noticed by big firms
As the size of a company increases, so does the percentage of jobs filled through referrals. This means you can leverage referrals to get noticed by large companies that may be bombarded with millions of resumes each year. Your referral is an effective side-step in the process that will push your resume further up the line, or lead straight to an interview.
Tip: When Sam was making her career change, she submitted a resume to Spotify and also used her connections to get referred to her current position. It was a two-pronged approach.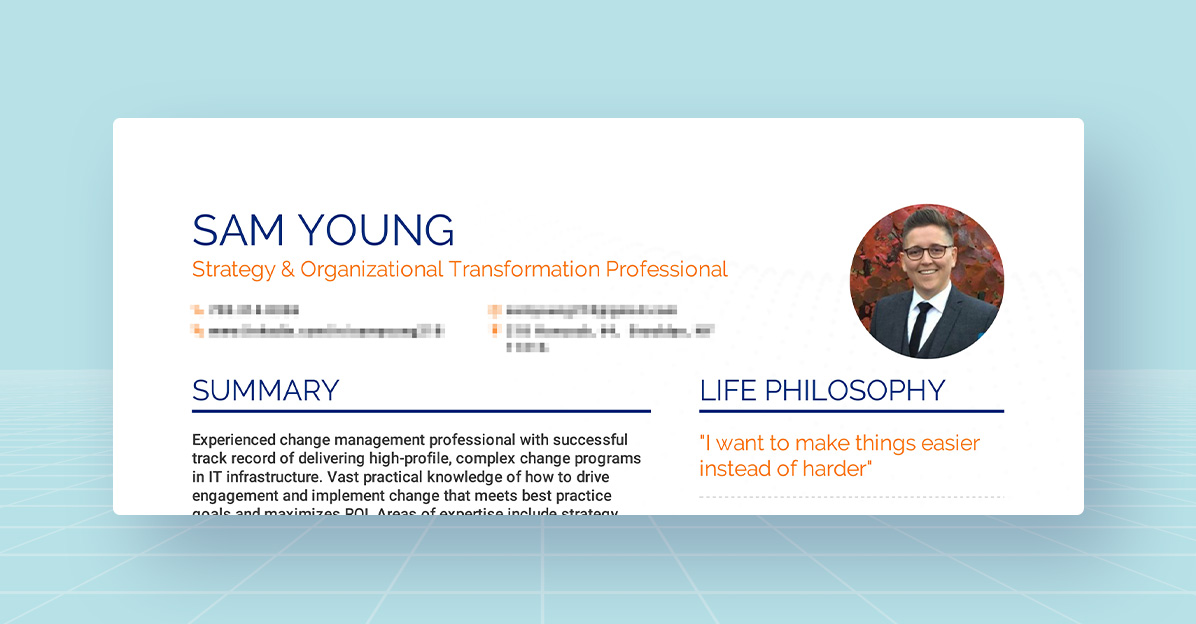 Impress the employer
More than 50% of employers consider employees that have been referred to be a better fit for their organisation. This follows much of the same logic as feeling more fulfilled in your work, but the consequence of this is you're more likely to impress your employer in jobs you've been referred to compared to those you've not been referred to.
Who to ask for referrals
First-connections
Your first connections are those that you have direct contact with. These are people you've previously worked with, close friends, colleagues, and so on. Those who are in your first network are best to ask for referrals as rapport has already been built and they're more likely to help you out.
Tip: Where possible, ask for a referral from senior-level management as 91% of people referred by a director got hired compared to 53% referred by those at entry-level.
Second-connections
These are the people who you are connected to through a mutual acquaintance. While not preferable, second-connections are great for expanding your network. These connections tend to come in when researching positions on LinkedIn. It's important to build a rapport with second-connections before requesting a job referral from them so this method can take a bit longer.
Bonus: Student Connections
Students have an alternative route to go down when it comes to referrals. Universities and schools come with an array of connections to companies, different universities, community organisations, and more. If you're currently in school, you can ask your careers service if they have connections with anyone that may work in the company you're looking to apply to or something similar. You can also contact professors, student clubs, and honor societies.
Tip: Do you need to write a reference letter? Check out our best practices.
What if I don't have insider connections?
Step 1: Select your contact
The first thing you need to do with no insider connections is to pick someone that has influence in the organisation you're applying to. For example, if you're hoping to apply for the Regional Manager in a certain organisation, find someone who works as a Branch Manager, or the Managing Director. Learn more about finding connections later in this post. The key to this is finding someone whose opinion will have a plausible influence on the hiring practice of an opening position.
Step 2: Set up an informational interview
The next thing to do is reach out to this person (more on this later) an organise an informational interview. This is a quick meeting where you ask the person about their role, their time in the company, and so on. The idea here is to build a relationship with the person without introducing the idea of getting a referral straight away. If the organisation that interests you is scheduled to appear at a careers fair, ask this person if they intend on going. If so, that's your in. If not, you can use this to setup the interview. "I was hoping to speak to you on [project they're involved in] How does [meeting point] sound?"
Step 3: Discern challenges
Your objective in the informational interview is to identify challenges the company is facing at the moment. Of course, the person you're speaking to won't be able to divulge confidential information, but simply learn about obstacles they're trying to overcome in their role, or even previous issues.
Step 4: Offer solutions
Once you've identified challenges (of which, something related to an open position is bound to come up), then you can take time to brainstorm how you can offer possible solutions. Follow-up with the person after your interview and mention how you think you can help. "I recall you mentioning [issue]. In my experience, [solution] could help this. I saw you have an opening for [open position], would you be comfortable referring me for [open position] and we can try put [solution] into action?
Where to find your connections
LinkedIn
Before reading this post you must have thought of using LinkedIn for connections. The question is, how do you find people on LinkedIn who may provide a referral? You can utilise LinkedIn's search feature. On desktop, click on "Jobs". From there, you'll see an option to filter jobs by "In Your Network" this will show you connections you have that work at organisations with job openings. You can also go through any LinkedIn groups you're a member of to identify possible connections.
Facebook
Much like LinkedIn, you can easily search through Facebook Groups to find people who work in organisations of interest. It is also possible to search for people who work in an organisation directly in Facebook's search bar. Simply search "People who work at [company of interest]" to identify these people.
Reminder: Messages sent on Facebook without being friends end up in a message request filter. This can lower your chances of being noticed.
Meetups
Meetup is an app that allows you to host networking and mingling events with peers based on a mutual interest. Many professionals host meetups to network and get to know one another. These can be used to find people who work in your field / an organisation of interest.
Careers Fair
Also known as a job fair, a careers fair is an exciting opportunity to meet your dream company or a potential employer with casual conversation. While they're mainly used to leave an impression on the recruiter with your resume, they can also be used to network and make connections. Check the social media of the organisation of interest to see if they're going to be at an upcoming job fair. Recruitment agencies typically advertise these too.
How to ask for a referral
The key to asking a colleague (or recent connection) to refer you for a job lies in the language you use. You don't want your request to come across as a demand, nor do you want to put the person in the position in which they feel they have to refer you. You want someone to be more than happy to do this, in fact, if you build rapport correctly, your connection should be motivated to do this on their own. See a sample below.
Asking for a job referral (sample)
Hi [Person's Name],
I hope you're doing well. Following from our conversation on [challenge to business] I had some ideas on how I could [solution]. I'm excited by the [attribute of the business] and noticed there was a job opening for [open position]. Do you feel you know enough about me to write a referral letter for the position? I'd love to start working on [challenge to business] as soon as possible.
For the role, I believe my skill in [3 skills relevant to the job opening / description] coupled with my experience in [prior experience linked to challenge to business] would bring a lot of value.
Let me know what you think.
[Your name]
What makes this sample effective?
Using this format, you lean on your previous rapport with the individual and provide them autonomy over their decision on referring you "Do you feel you know enough…". You clearly outline your suitability for the open position to them (i.e., your value proposition) too. They've got all the information they need.
Getting your job referral
Job referrals can hep you get noticed by the recruiter, find more fulfilling work, and leave a great impression. Using your existing network and those connected to you through mutual friends, as well as leveraging contacts made available to you through your work or study, can help you identify the best person to provide your referral. Even if you don't have insider connections to your organisation of interest, it is possible to get a referral. When requesting a referral, reference previous conversations, outline your value proposition, and ask your connection whether or not they feel comfortable doing so.
Tip: Utilizing Enhancv's resume builder, you can benefit from our built-in referral system to send a link of your resume to your contact as a reference of your previous experience.
Make your move!
Your resume is an extension of yourself.
Make one that's truly you.

Dean O'Reilly
Psychology student with keen interest in academic research. Currently exploring the world of marketing distribution and content creation with Enhancv to help people get closer to their dream job.