Eight years in one job, and Barack Obama has a lot to show for it
In a couple of hours it's time for President Obama to become citizen Obama once again. After eight years in office, what will his next job be?
No matter if he tries to go after that Spotify opening for President of Playlists or he gets some time off, sooner or later Obama will be looking for a job. And what could his resume look like then? Let's have a look.
Is a long-term position a blessing or a curse?"?
Upload & Check Your Resume
Drop your resume here or choose a file. PDF & DOCX only. Max 2MB file size.
Obama has been referred to as "Mr. President" for a long time – 2008 was the year the first Iron Man was out. Yeah, it's been that long. A long held position used to be a badge of honor – it showed you're a serious and loyal employee. Nowadays, though, you can expect to change jobs every couple of years – and if you stay with the same company for long, you'd better have something to show for it.
Thankfully, President Obama didn't take his job lightly and he's been involved in a number of transformative projects with a lasting impact on the USA – his resume is jam-packed with specific results and key projects. It shows he was results oriented throughout his work.
Using projects is a very effective way to drive attention when you don't want to cram everything into your Experience section.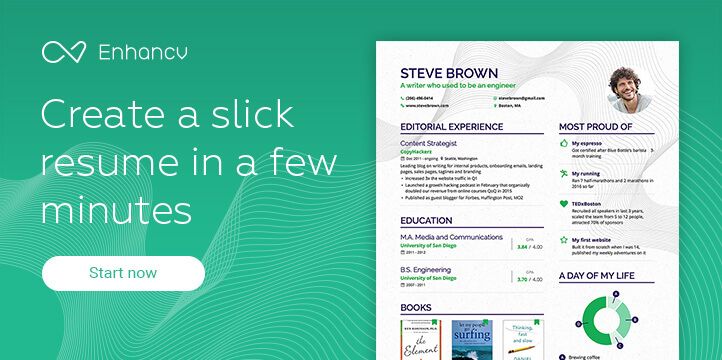 Obama the president and Obama the person
One thing that distinguishes Obama from all recent presidents is that he's not afraid to be genuine and sincere. His authentic approach won the hearts of many Americans. That's why I'd imagine he'd use the same tactics to win recruiters. We've included some personal points in the resume, reflecting his pride in raising his daughters Malia and Sasha, his sports hobbies and the love he has for Michelle's shrimp linguini (however, we don't recommend non-presidential job seekers to include food preferences in their resumes, unless specifically asked to ;))
Use sections like My Time, Favorite Books and Passions to showcase your personality – it'll help you stand out from other candidates and will make for an interesting conversation with recruiters.
It hasn't been all milk and honey
We couldn't argue that Obama's two terms as president have been neat and easy. He has had to deal with some serious situations, including the decision to take out Osama bin Laden. And some of his work has led to controversial results – the national debt to GDP ration nearly doubled in those 8 years. There are some projects that are too big even for the head of state – in 2009 Obama said he'll close the prison of Guantanamo Bay "early next year". Yet, it hasn't been done. That's some serious underprediction of deadlines!
So what to do with those failures? Admit them!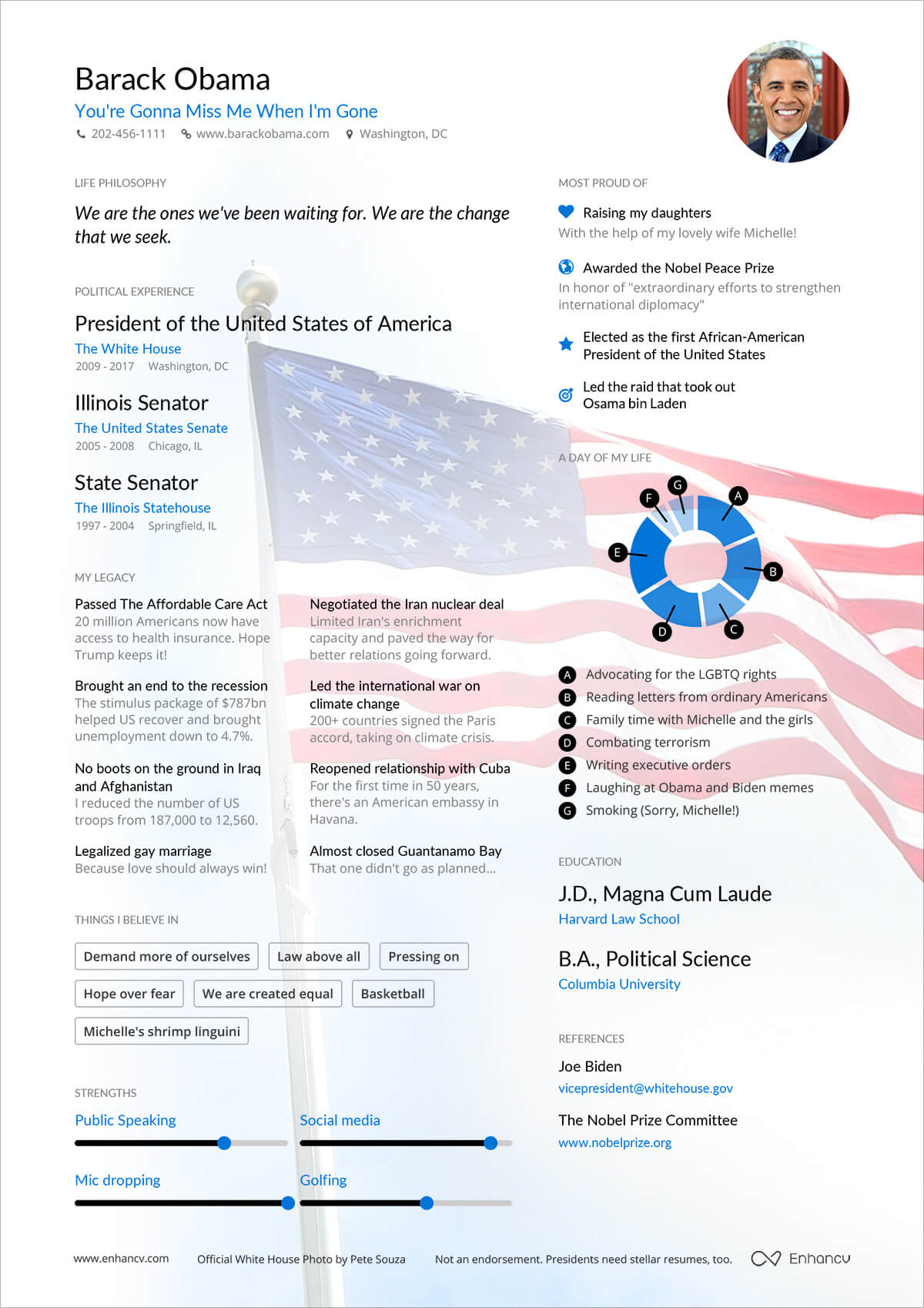 Of course, in your resume you'd focus on the things you've accomplished – but don't be scared to share the ones you haven't. It's a great moment to focus on what you've learned from those and prove the oh-so-sought-after growth mindset.
The most important lesson
When talking to the summer interns of 2016, Obama told them "Worry less about what you want to be and more about what you want to do." Don't focus on your future position's title, but focus on what you'll be involved with on a daily basis. The most important bit would be the results you achieved and the projects you saw through – that's also what makes Obama president, not the office with no corners.
If you would like a stellar resume like Obama's, craft it with Enhancv.
Need more, non-presidential inspiration? Check out our resume examples section that got people hired at their dream jobs.
Make your move!
Your resume is an extension of yourself.
Make one that's truly you.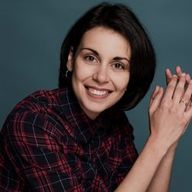 Vassilena Valchanova
A marketing specialist with a passion for digital. Loves finding efficient ways for brands and communities to grow together. Also, a cat-lover, cappuccino addict, early riser and theatre enthusiast.