Whether you are newly retired or looking to continue work past retirement age, you may realize that you still have a lot to give.
You should know that job opportunities don't dry up after retirement, and in fact, you have a lot more opportunities available now, especially with online jobs available to you.
Regardless of your age, experienced workers are in high demand in today's job market, and you have a unique skill set which differentiates yourself from younger workers.
In this article, we will discuss:
12 great jobs available for seniors.
3 Tips to Get a Job as a Senior Worker
If you're interested in learning more about the opportunities available to you, speak with a career counselor at Enhancv. Our career counselors answer questions that you have about your job hunt, helping you find a job with high pay and fits your lifestyle.
12 great jobs available for seniors
Upload & Check Your Resume
Drop your resume here or choose a file. PDF & DOCX only. Max 2MB file size.
Jobs for seniors are booming right now, both in the private sector and in the public sector. According to labor statistics, workers over 55 filled half of the new jobs created in 2018. With remote work on the rise and the ability to work more flexible hours, more seniors are continuing to work during their golden years.
Below, you'll find the 12 most popular jobs for seniors:
1. Security guard
A security guard may be the last thing on your mind as far as jobs go when you're retired, but a lot of malls, parking centers, and shopping centers are looking for responsible employees who can take on the role.
If you're a bit worried about having to carry a weapon, most security guard roles don't involve carrying a handgun. More often than not, you'll be there to report issues, oversee regular operations, and help customers.
2. Administrative assistants
If you are a fairly organized person, an administrative assistant role may fit you perfectly. Being an administrative assistant usually involves organizing the daily routine of an individual or company, providing great customer support, and anticipating the needs of your employer.
As an assistant, you may need some computer skills to be able to perform all your duties. This role may include duties, such as:
Understanding of Microsoft Word, Excel, and PowerPoint.
Organizing emails.
Using productivity apps and calendars to effectively plan out your employer's day, week, and month.
If you're not particularly tech savvy, then an administrative assistant position may not be exactly for you. However, if you're willing to learn and develop new skills, then you may pick up some computer skills along the way. Ask family and friends for help in refining your computer.
If you have an advanced level of knowledge of computers and technology, you may become a virtual assistant. A virtual assistant performs all the roles that an administrative assistant performs, but they work remotely, usually operating in a part-time role.
3. Retail sales workers
Whether you have sales experience, becoming a retail sales worker is a great job to have as a senior citizen. Like most low responsibility jobs, retail sales workers gain most of the skills needed on the job.
As a retail worker, you may choose to either turn it into a full-time job or one of many part-time jobs. Although the median hourly wage may be low, you may receive some other remuneration, like health insurance or other health benefits.
4. Customer service representative
One of the best jobs for senior citizens is a customer service representative. Many customer service roles are offered in a remote work setting, allowing workers to work from the comfort of their own home.
If you have great communication and customer service skills, a customer service representative role may be best for you.
5. Personal care aides
Home health aides are involved in taking care of those who have mental disabilities and senior citizens. This job allows you to stay active, as you care for vulnerable people who are unable to care for themselves.
Some duties of a personal care aide includes:
The ability to lift and reposition clients
Basic cleaning responsibilities
Empathy and the ability to care
6. management consultant
Depending on your previous work experience, you may consider a consulting role. Consultants advise companies on topics ranging from hiring to allocation of funds. If you have great interpersonal skills, you may thrive in an environment where you can share your expertise with companies who need help.
One of the best things about being a consultant is that you work your own hours, and you are your own boss. You own the business and can create flexible hours for yourself, making it a great senior job.
7. Freelance writer
Freelance writing is one of the best senior jobs available, as you can own your own business and be your own boss. You're able to work flexible hours, and you also set your own wage. You are an independent contractor. This means that, once you develop your skills and market your experience to clients, you may be able to take in a high median hourly pay.
Freelance writers prospect for clients from in their community or throughout the world. Freelancers also have a varied schedule; one day they may write copy for a landscaping company, and other days they could share about professional development skills.
Besides working for clients, you can also create your own blog. For example, if you worked in human resources throughout your entire career, you can start your own career blog, offering advice to those who would like to progress as an HR representative.
Unlike the other jobs listed above, there is less age discrimination when you work for yourself. You can find clients on job boards, and gain experience through writing copy for different clients.
8. Human resources
As mentioned above, your skills that you gain throughout a career of work can be utilized for a role as a human resources specialist. It may also benefit you to have superb communication skills, as you'll be providing support to those working within your company. One advantage that you have over younger workers is that you have prior career experience that you can pull from.
9. Childcare worker
Do you enjoy working with kids? Whether you choose to be a private nanny and work on your own or work for a childcare center, you'll be able to find a full-time job working with children. If you have an active lifestyle already, there are opportunities to work at gyms and athletic centers to offer childcare to young athletes.
10. pet sitting
If you enjoy hanging out with four-legged friends, and you enjoy making money caring for pets, you can market your services to your community by placing ads at your local community centers. You can also advertise online and on social media platforms.
11. Data entry associate
Another great job for older workers is a data entry associate. Data entry Associates help companies to input information into spreadsheets, and they come in handy during tax season. If you've got great mathematical skills and a high attention to detail, this may be the job for you.
12. Teaching
If you have expert-level knowledge of a particular subject, you may be able to find a job working as a teacher at local community colleges or high schools. If you worked as a trades person in the construction industry, you may even be able to teach at a professional school like a trades college.
3 tips to get a job as a senior worker
Assess your skills and needs: The first thing you should do before looking for a job is to assess your skills and the needs of your lifestyle. First, consider the skills that you gained through your career, and even consider your educational background, like the bachelor's degree you earned. Assess what jobs you're suited for.
Next, decide how much money you'd like to earn. You may live off of a pension right now, but you may need a second income to supplement it and add some spending cash to your pocket. Alternatively, you may be looking for a full-time role.
Search the web for roles: Finding jobs is certainly easier when you search online for them. Most jobs will have job postings online for you to look through in the comfort of your own home. The federal government may also have resources to find a job on their website.
If you're unable to find any work that suits you online, you can also find other resources at a staffing firm.
Consider self-employment: Although you may find the idea of starting your own business a little intimidating, you already have a lot of skills you need to be able to work for yourself.
Depending on where you live, you may need a tax number, like a preparer tax identification number, for your business. However, most of the things you need you'll already have, like a computer and the passion to create your own business.
Major takeaways
There are more jobs available to senior citizens than there ever have been in the past, with the majority of them being full-time jobs.
Assess your skills and needs before starting to look for a job.
Consider self-employment, as you'll have more flexibility.
If you're interested in receiving more job resources, speak to a career counselor at Enhancv. Our career counselors will help to provide you a helping hand to thrive in the workplace in your golden years.
Make your move!
Your resume is an extension of yourself.
Make one that's truly you.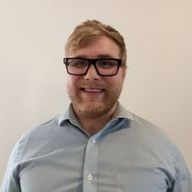 Dave Van Kooten
Is a human resource expert that helps passionate jobseekers to put their best foot forward to prepare for an interview. He believes that success can be achieved through going out of your comfort zone.