Will your CV grab a hiring manager's attention at first glance?
Recruiters receive dozens or even hundreds of applications for the most desirable jobs and only spend a few seconds looking at each. You'll need to impress them straight away to be considered for one of these positions.
Starting with a good CV template can eliminate the guesswork of creating a professional CV. They provide a structured format that makes it easy to craft a well-organised and visually appealing CV that works.
There's a lot to consider with a CV, and getting it wrong can mean missing your opportunity. But a good CV template can help you avoid excessive length, lack of focus, generic content, poor formatting, or a dozen other common CV mistakes we see all the time.
In this guide, we:
Discuss the importance of a well-designed CV
Explain the benefits of using one of our free CV templates
Demystify how to choose the right CV template for you
Answer some of the most common questions we get about CV templates
We've perfected our free CV template designs by listening to feedback from our clients and their real-world success stories. Contact our career counselling service for feedback on your CV or any other career-related questions.
We've helped thousands of people succeed in their job search, prep for interviews, negotiate the details of their contracts, and otherwise hit their career targets. Get in touch with us to start navigating your career with confidence.
Upload & Check Your CV
Drop your CV here or choose a file. PDF & DOCX only. Max 2MB file size.
Why a well-designed CV template is important
When it's time for a recruiter to review the CVs they received for a job posting, they may start with over a hundred in a stack. The first thing the recruiter does is bin the lacklustre ones.
Starting with a well-designed template will help you craft a strong, professional CV that will grab the recruiter's attention. A smart CV layout shows the recruiter you take yourself and your career seriously - and that they should too.
A strong CV template is structured for easy skimming and to direct the reader's attention to your skills, experience, and qualifications. All of the necessary sections are included and ordered for the best effect.
Our free CV templates are designed to highlight your skills and experience, emphasise your attention to detail and demonstrate your professionalism. Browse our collection, decide on the layout you want for your targeted job, and try the template out free for 7 days while you fill in your personal details.
Benefits of using a CV template
Our free CV templates are designed by professionals and tested in the real world, so we know they work. In case that's not enough to convince you, here are 5 more reasons to use our free CV templates:
Saves time
Starting with a professionally designed template means you don't need to spend hours creating one from scratch. Once you choose one of our free templates, you can fill in your information immediately.
Ensures all information is included
Our free CV templates are designed with each section you need, and they're organised for easy readability. This ensures recruiters and hiring managers can assess your qualifications and determine that you're the right candidate.
Consistent formatting
Our CV templates have preset font styles, sizes, and spacing guidelines to make your customised CV look professional and polished. Ensuring that every detail is perfect is essential if you're applying in a traditional or formal industry where attention to detail and a professional appearance are valued.
Great design
Each of our CV templates is designed to highlight your skills, experiences, and qualifications with a strong visual impact. This ensures you'll also impress recruiters hiring in any creative or design-oriented field where they gauge your talent based on this characteristic.
Easy to update
All our CV templates are free for seven days and you can store them indefinitely to easily update or change your CV whenever you need. As you grow your skillset and gain experience, you can quickly tailor your CV to include these developments.
Free CV templates to copy and use
All Enhancv CV templates are free to use for the 1st 7 days. Browse our collection, decide on one, two, or more that interest you, and start filling in your personal details.
Our CVs are preset with the required sections arranged in successful layouts that are easy to skim and highlight key info. Each section includes a prompt that helps you focus on the best personal info to customise them.
You can download your completed CV as a .pdf for free with up to 15 entries. Or you can opt into the paid tier that suits you best to add more entries, remove our branding, and benefit from our content improvement prompts.
Double Column CV template
This two-column resume optimises space so you can say more about yourself! The double-column formatting can hold tons of information before it looks cluttered.
In our version, the left-hand column presents your summary and experience sections. Recruiters can scan the right-hand column to see highlights of your achievements and education.
We also use sans serif fonts throughout this template because your resume will likely be read on a screen. Sans-serif fonts improve on-screen readability since there won't be any blurry serifs.
This template is an all-around winner but not a specialist. You can use it for almost any industry, but some jobs may need other specific info or sections.
Use this template to apply as a market researcher, supply chain manager, barista, or in construction.
Creative CV template
Our creative CV template has a sleek, modern two-column design that's amazing for CVs because you can include more information about your work and projects before it looks cluttered.
Use the left-hand column to write your summary and highlight your experience. Then, recruiters can scan the right-hand column for a snapshot of your achievements and education.
We combine fonts for a stylish and practical mix. Large serif headings grab attention, and sans serif body text improves on-screen readability.
Use this template to apply as an illustrator, architect, chef, or programmer.
Elegant CV template
This design is an instant creative CV classic. The two columns with subtle colour highlights and the tasteful colour background of the right-hand column hit all the right notes for a pitch-perfect creative CV application.
The sans serif font adds a refined touch, and the light font on the darker background adds visual dynamism that's both pleasing and exciting for the eye. Plus, you can add a photo of yourself in the top right or opt instead to include a personal brand logo or a small image of your own work.
The elegant creative CV template is perfect for applying as an event coordinator, yoga instructor, interior designer, or photographer.
Single Column CV template
This template blends modern and classic CV designs. Our choice of serif fonts for the large headings and sans-serif for content keeps readability high while adding some elegance, plus it looks brilliant as a printed hard copy.
The traditional design elements and single-panel layout we use for this CV template will work for any industry. But, it's a great fit for traditional or conservative workplaces that prioritise function over frills.
The single-column template is perfect for applying as a bookkeeper, support worker, musician, or factory worker.
Minimal CV template
Our minimal CV template makes the most of white space and sans-serif fonts to give your resume a clean and fresh look. Each resume section is distinct, which helps makes the overall CV inviting and readable.
The moderate use of colour draws the reader's eye to each section. And because it's two columns, you can include a surprising amount of info before it gets cramped.
This template is great for a relationship manager, writer, UX designer, or consultant.
Tips for choosing the right blank CV template for you
There are literally thousands of CV templates you can choose from. Consider these tips to help you find the right one.
Assessing readability and visual appeal
Readability and visual appeal are crucial to grabbing a recruiter's attention and directing them to the key information that shows you're the best candidate for the job. When you're evaluating CV templates for readability and visual appeal, consider these factors:
Font
The legibility of your CV depends on the font you use. Choose one or two clear and easy-to-read fonts that are of moderate size. Be sure to use these fonts consistently throughout your document.
White space
It might not be obvious, but white space plays a major role in improving the readability and visual appeal of your CV. The right balance of text and white space is critical to avoid overcrowding, which quickly leaves your CV cluttered and visually unappealing.
Formatting
A clear and logical structure is essential for a strong CV. Incorporate headings and subheadings for easy navigation, and use bullet points, bolding, and italics consistently throughout the document to highlight the most important information.
Design elements
To enhance the visual appeal of your CV, consider using modest colour highlights or small graphics to direct the reader's attention. But remember, less is more when it comes to design: add interest without detracting from the content.
Ensuring compatibility with applicant tracking systems (ATS)
Recruiters use applicant tracking systems (ATS) to quickly and efficiently filter through CVs. These systems scan for relevant keywords and phrases from the job description to determine if candidates meet the initial screening criteria.
Because so many companies use ATS, choosing an ATS-compatible CV template is smart i. These templates are designed with appropriate formatting, headings, and font styles to ensure the software can accurately read and interpret the content.
Using an ATS-friendly CV template can optimise your job application to ensure you make it through the initial screening process. This is particularly important for the most sought-after positions, which can attract dozens or even hundreds of applications.
All our CV templates on Enhancv are ATS-compatible and free for you to use for 7 days. Browse our library of free CV templates to find the one that suits your application best.
Selecting a CV template that aligns with your personal brand
Building a personal brand takes time, but it's a real investment. Take advantage of this opportunity to align your CV with your established brand or help define it.
Consider these tips to choose a template that enhances your personal brand and image:
Identify your personal brand
Before choosing one of our free CV templates, review your personal brand. Ensure it reflects your values, personality, and the right mission.
Research CV templates
Browse the internet for CV templates that align with your brand. We have a library of free CV templates at Enhancv, or you can also find some on websites like Canva, Indeed, and Zety.
Consider your industry
The CV template you choose has to suit your target industry. Consider a creative CV template if you're applying in a creative field. For a more traditional industry, a standard template might work best.
Customise the template
Once you've decided on a CV template, add your personal details and select the colours and other design elements that reflect your brand. Use moderation and maintain good whitespace.
Test it out
Finally, review your work. Reach out to people in your network to ensure it reflects your personal brand. Consider the feedback, and adjust if something isn't quite right.
Your CV is a recruiter's first impression of you as a professional. If you're unsure what it says about you, contact our career counselling service.
We've helped thousands of people succeed in their job search, and we can help you. Contact us about anything from CV writing and design to interview prep, contract negotiations, and any other questions you have about reaching your career goals.
Common mistakes to avoid when customising your CV template
A CV template simplifies things, but your decisions can make or break the result. Use these tips to avoid common pitfalls.
Overloading with graphics
Don't get carried away. Too many graphics can be messy and detract from readability. Use moderate design elements that complement the text rather than overwhelm it.
Overcomplicating the layout
A clean, simple layout with ample whitespace is preferable to a cluttered design. Choose a CV template with sections organised in a skimmable layout.
Inappropriate font
Fonts have a major impact on readability and style. Choose simple, clear, legible fonts, and avoid anything too decorative or finicky.
Neglecting to proofread
Recruiters are looking for a reason to bin your CV. Don't go out on an easily avoidable typo.
Using generic information
You have to tailor the content of your CV to the specific job. Take the time to customise your CV and highlight your relevant skills and experiences for each application.
The ongoing process of updating and adapting your CV
As you progress in your career, you'll gain new experiences and develop new skills. Updating your CV to reflect this growth will keep you at the front of the pack when you apply for a new position.
Regularly updating your CV lets you highlight your most recent accomplishments and education. Employers will consider you a more competitive applicant when they see your skills are up to date and that you're current on industry trends.
Whether it's an ATS looking for keywords or a recruiter reviewing your CV manually, the current job market is so competitive that you have to tailor your CV for each role. A good template makes it easier for you to update and adapt your CV for specific roles.
Key takeaways
A well-designed CV will help you stand out from other applicants
CV templates save time and effort over crafting a CV from scratch
A CV template provides consistent design and formatting choices
Templates are designed to easily and quickly tailor your CV
Your CV is perfect for incorporating personal branding elements
ATS-compliant templates ensure you pass the initial screening
Our free CV templates are the perfect headstart toward finding your dream job. Once you've decided on the layout and included your personal details, contact our career counselling service for feedback on your decisions to ensure every section is top-notch.
We've helped thousands of people succeed in their job search, and we can help you. Contact us about anything from CV writing and design to interview prep, contract negotiations, and any other questions you have about reaching your career goals.
Make your move!
Your CV is an extension of yourself.
Make one that's truly you.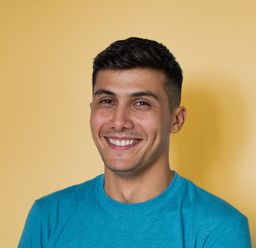 Volen Vulkov
Volen Vulkov is a CV expert and the co-founder of Enhancv. He applies his deep knowledge and experience to write about a career change, development, and how to stand out in the job application process.