Here to make a great CV that jumpstarts your dream career?

The CV-making process is usually described as an impossible task that takes days to complete. Many people claim that you must make mistakes before you can accurately write about yourself or describe your expertise in a resume.

But none of that is true!

The reality is…

You can learn everything there is to know about writing job-winning CVs in an hour.

Take a couple more hours to revisit your career history and list down your qualifications. And you'll be closer than ever to landing a job at the company of your dreams.

That's exactly what we're going to help you achieve in this guide.

This article will teach you:

The difference between CVs and resumes and how that affects your job hunt
How to best format your CV for maximum job success
How to write the most essential CV sections to tell your story without any plot holes
Expert tips to help you tailor your CV specifically to each job position
The biggest red flags to avoid when building a CV for your next big job

Ready?

Let's get started.
What Is the Difference Between a CV and a Resume?
Upload & Check Your CV
Drop your CV here or choose a file. PDF & DOCX only. Max 2MB file size.
"Resume" and "CV" (Curriculum Vitae) are synonyms used in different parts of the world. The word "Resume" is used in the US, Canada, and Germany — whereas "CV" is more popular in the UK, Europe, and a lot of Asian countries.

If you research the two definitions online, you'll come across many guides claiming that there are major differences.

But in reality:

The document you create is mostly the same — except for a few small changes here and there. For instance, it's common practice to include a photo in your CV, while not all companies are open to that in the US.

If you want to dive deeper into those differences, we created a comprehensive CV vs. Resume article just for that.

"I already have a resume, how do I turn it into a CV?"

This is a common question asked especially by Americans applying for jobs in Europe. The answer to that is simple — a few minor adjustments are enough to get your resume to match CV writing guidelines.

So…

Aside from the basic sections and elements of a resume, a CV can also include these optional details:

Full home address
Date of birth
Nationality
Gender / Marital status
Hobbies and interests
Languages

If you're ready to create a CV from scratch:

Europass is a free platform that helps job seekers enhance their job search and land more interviews quickly. You can use this tool to create a CV that matches job market guidelines in Europe and beat any applicant tracking systems.

Looking for more advanced features and better design options in a CV builder?

Enhancv is a highly-customizable tool that helps you create the perfect CV without much hassle. We have a large library of templates and modern themes to get you noticed and increase your job success rate.

The best part?

You can start making your CV right away with only a few clicks. Enhancv resumes are also easy to modify and update to match any opportunity that comes your way.
Everything You Need to Know About CV Formats
The CV format is the general layout, design, and sections you have in your CV. It has a major effect on how recruiters see your resume and whether they're going to consider your application.

Let us jump now into more details about CV formats:
What Is the Best Format for a CV?
There are many ways to format your CV and organize your sections. Each format is focused on highlighting specific details about you to make your resume more appealing.

The most popular CV formats are:

Reverse-chronological CV format
Functional CV format
Combination CV format

So what's the best format for your CV?
The Reverse-Chronological CV Format
The reverse-chronological format focuses on job expertise, so it's your best bet if you're applying for a position that requires a lot of experience. It's called "reverse-chronological" because it highlights your work history starting from your latest job and going backwards.
The Functional CV Format
The functional CV format showcases the most relevant skills and in-demand talents. So that makes it the ideal format for inexperienced job seekers and entry-level candidates who need a chance to prove their worth.
The Combination CV Format
As its name suggests, the combination format is a hybrid of the reverse-chronological and the functional CV format. It's the best fit for candidates looking to make a serious forward step in their careers as it features their vast job experience and top skills.
What Do Employers Look For in a CV?
Depending on the job requirements, you can predict what the hiring manager wants to see in your CV. Once you identify that, you can create a highly-targeted CV that gets you noticed.

First and foremost:

Recruiters don't want to exhaust themselves mentally by reading a CV that's too creative.

Therefore…

You shouldn't modify the whole structure of your resume or make a lot of changes. It's important to stick to the basics of CV making and follow HR-approved formatting guidelines.

Here's what potential employers want to see in your CV:
1. Expertise and Achievements
The most critical section to look at for recruiters is the experience section. Because it often contains the answer to whether the hiring company should hire you.

Headhunters want to see upward career progression throughout the years with no employment gaps in between. That is essential for proving your expertise and showing how dedicated you are to your profession.

More importantly:

Recruiters want to see proof that you've succeeded in a similar work environment while working on relevant projects. Thus, highlighting your biggest accomplishments is a huge must if you want to leave a memorable impression.
2. Relevant Skillset
The skills section is the easiest to skim through and analyze for recruiters. It helps them tell within seconds if a CV fits their ideal candidate profile and whether they should call you for an interview.

So, make a list of sought-after skills by reading the job application. Then choose the most relevant ones to add to your CV.

Listen:

Creating a separate section for skills is a must, but it's never enough for emphasizing your extensive skill set. Be sure to also highlight your talents in the personal statement and experience section.
3. Data and Quantifiable Metrics
Quantifiable metrics make all the difference when it comes to proving your worth.

Before picking up your CV, the hiring manager has read dozens of job applications full of vague claims. Yet, none of them was captivating or credible because they all sound the same and don't offer any proof.

How do you make your job performance stand out?

Add data and measurable results when featuring accomplishments in your CV. Help the recruiter understand your full impact within context using numbers and statistics.
4. Proper Spelling and Grammar
Although this isn't something headhunters look for intentionally, mistakes in spelling and grammar often stand out and leave a lasting negative impression.

Always proofread your CV and look for spelling mistakes before sending it to hiring companies.
How Many Pages Is a Good CV?
One page.

Unless you have decades of experience with extensive skills in the industry, making your CV longer than one page is unnecessary. A lengthy CV comes off as obnoxious and shows desperation. Besides, it only makes it harder for recruiters to go through your application.

Because of that…

One page is almost always ideal for your CV to convey expertise and prove your skillset. It's also long enough to showcase your educational background and feature relevant certificates.

Now listen:

There are situations where making a two-page CV is a must. For instance, if you're applying for a competitive senior-level position, you can get away with using a two-page resume in your application. Sometimes that can be the only way to convey the full scope of your expertise and get noticed.
How Far Back Should Your CV Go?
This one is a really crucial question to ask before you sit down to create your CV. Because it will affect your application in many ways, including your resume length.

Headhunters expect to see relevant work experiences that are also recent. So how far back can you go in a CV?

Here's the short answer:

HR experts recommend that you go 10 to 15 years back in your work history. That would be enough to provide a thorough overview of your experience and recent career progression.

Are there situations where you should go back further than 15 years?

Obviously, there are always exceptions to make when hunting for a job.

For example, if you occupied a lower-level position at a widely successful company two decades ago, it may be good to include that experience in your CV. It shows that you have the qualifications to thrive at larger companies.
How to Add Personal Details to Your CV: Writing a Good Header
The first section to add to your CV is for personal details — often referred to as the header.

The header contains your essential contact information, including the following elements:

Full name
Job title
Location
Email address
Mobile number
LinkedIn profile

Although it seems straightforward, making mistakes when writing the personal details section can hurt your chances of getting hired. For example, recruiters are more likely to ignore your CV if you:

Add an irrelevant job title
Use an unprofessional email address
Include your full home address
Don't feature a link to your LinkedIn

Applying for a job in a European country?

There are some differences between job applications in the US and Europe. For instance, it's possible to add a professional photo and your birth date when applying for a job in Europe.

If you're not sure:

You must do a quick Google search about the norms in the country you're applying in. You should also check the job description to see what the hiring company is asking for specifically.



Does Your CV Need a Personal Statement?
When recruiters are overwhelmed, they turn to the personal statement to ease the workload. They may spend as little as 7 seconds looking at this section to make an informed decision about any candidate from the pile.

But what exactly is a personal statement for a CV?

A personal statement is a short paragraph that summarizes your professional history. It usually comes at top of the page to stand out and keep hiring managers interested.

The personal statement in your CV highlights an overview of your biggest career accomplishments. It also features your best skills, as well as your educational background and certificates.
An attention-grabbing professional summary is:

Concise — as it doesn't exceed five to eight sentences
Descriptive — by featuring accurate details about your achievements and qualifications
Targeted — specifically written to match the job description

How do you craft a job-winning career summary?

Write a first sentence that describes your job title and years of experience
Use action verbs and precise metrics to solidify your claims
Drop any personal pronouns to improve sentence flow and avoid repetition
Insert some personality in it to give headhunters a glimpse into what it's like to work with you

Let's look at some examples to better illustrate these points:



Adding Experience to Your CV: Do's and Don'ts
How do you make headhunters fall in love with you?

Create a compelling experience section.

Experience is where you spotlight your strongest selling points and help
hiring companies see your true worth. You'll feature your greatest accomplishments and skills to give recruiters all the answers they're looking for.

For each job you include, you have to add a:

Professional job title
Company name (a description is optimal)
Location
Employment duration (start-finish)
3 to 5 Bullet points to list your achievements

Usually, this is the section that affects your CV length the most. We've already detailed the most popular formats for your CV and explained why keeping it one page long is a must.

Now…

Let's get to the nitty-gritty of crafting an experience section that makes you the centre of attention.

Here's how to portray your professional expertise the right way:

Prioritize relevant career accomplishments and results
Include concrete metrics and results to outshine other applicants
Use action verbs and remove all personal pronouns
Research and add keywords from the job offer to improve your keyword score and beat ATS

Have you ever been promoted to a higher position in the past? Be sure to emphasize that here because promotions prove that you had the grit and skills to thrive in the job.

Let's take a look at some unique CV experience examples: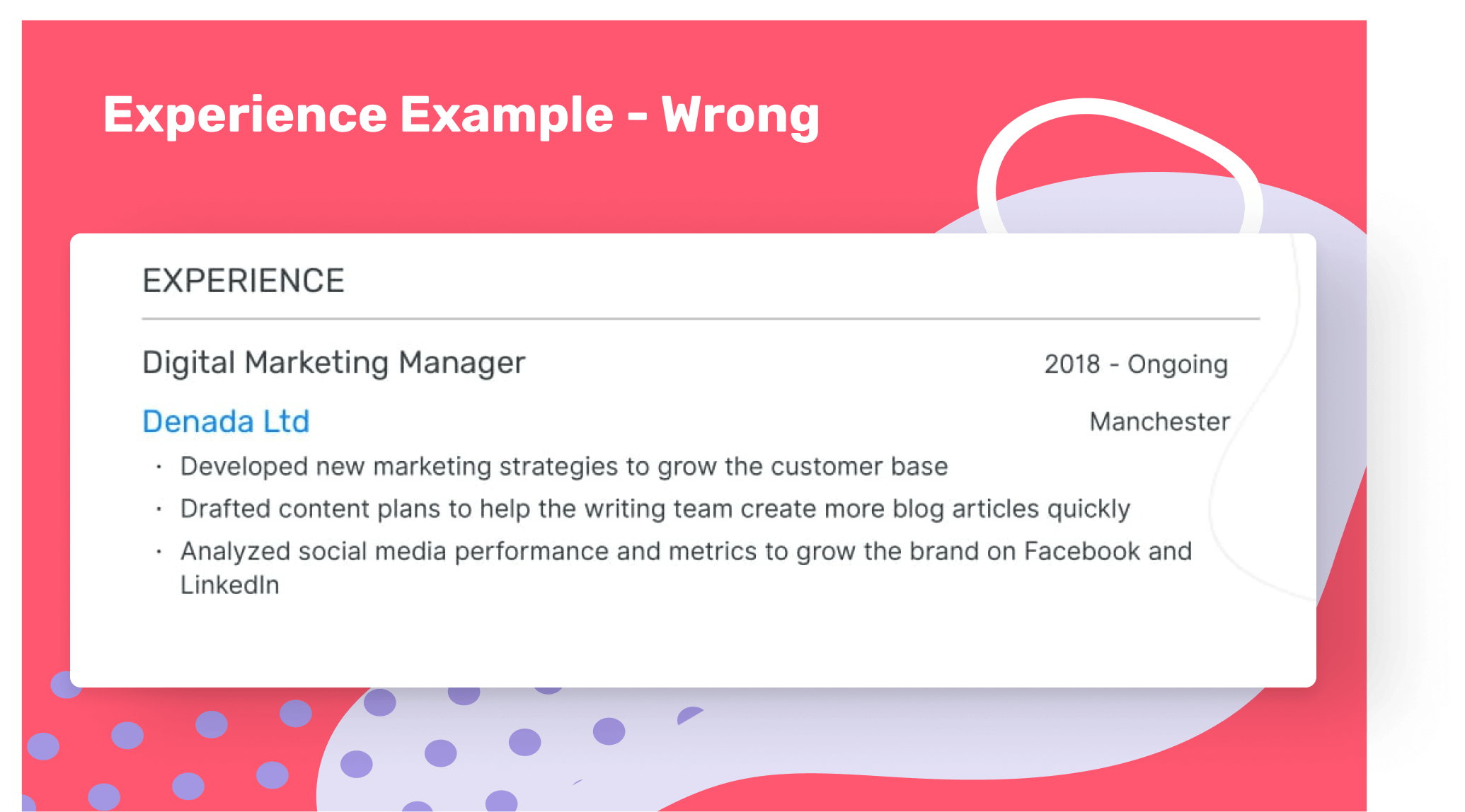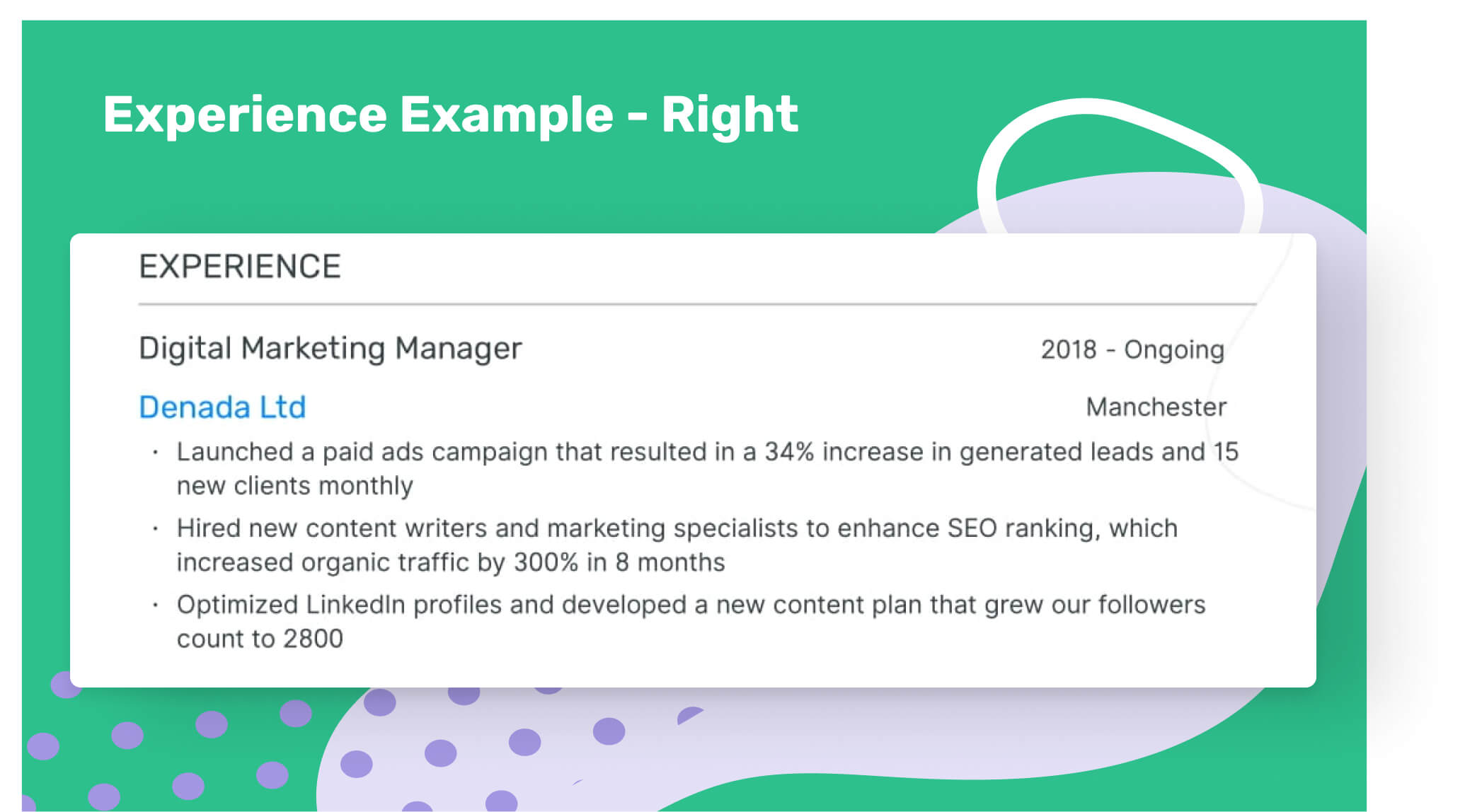 Do I need a CV for my first job?
A CV is always required if you want to apply for a job anywhere. You need to create one and use it in your job hunt, no matter how inexperienced you believe you are.

Besides, there's a first time for everything…

The sooner your build a strong CV, the quicker you'll land a job that will help you gain more experience. It won't be long before you find yourself climbing up the company hierarchy or looking for a better job.

Here's a complete guide to help you build a stellar CV for your first job.
Tips For Writing a CV With No Experience
Companies rely on experience as a shortcut to avoid any problems during the hiring process. That's because experienced applicants often require less training and are more likely to do a better job after successful onboarding.

However:

There is no shortage of qualified job seekers with long years of experience who fail at new jobs. Consequently, headhunters are more open to hiring inexperienced candidates as long as their profile is promising.

So how do you make your CV attractive despite your inexperience?

The following tips work for entry-level applicants and recent graduates. But they're also good advice for anyone in the middle of a career transition.

You can make up for your lack of experience by emphasising:

Unique soft and core skills
Awards and honours
Educational background
Licenses and certifications
Successful projects
Extracurricular Activities

Another crucial thing you must do is explain how you might be able to help the hiring company thrive. Draw attention to the overlap between your current experience and how your character traits will allow you to excel at the position.

You may also briefly illustrate your vision for the future in your personal statement. Describe what you wish to achieve and how you can contribute once you're hired.
What Are The Most Essential Skills to Add to Your CV?
Skills are a vital part of your CV because they help recruiters see your worth clearly. Knowing which talents to feature is one of the best ways to beat ATS and shine over other candidates.

Now:

The most two important types of skills to put on a CV are soft skills and hard skills. You need to include both in your resume to spotlight your vast experience and get hired.

What exactly do we mean by soft and hard skills?

A soft skill is any transferable talent that helps you thrive in the workplace. That includes interpersonal qualities such as leadership, teamwork, and communication — as well as any other personality traits.

A hard skill, however, refers to any learned skill or acquired knowledge that is specific to your job. For example, the technical abilities or the business acumen you develop after training can be considered a hard skill.

So how do you actually choose strong skills to put in your CV?

Two things: importance and relevance.

Before you add any skills to this section, you need to make sure that it's both relevant and important to the recruiter. This will help you avoid focusing on generic skills that everyone is listing in their CVs.

Here's what you should do:

Go through the job ad again and take a look at the requirements section. Which job duties does the hiring company need help with? What character traits are they looking for in their ideal candidate?

Once you answer these two questions, you'll easily come up with dozens of soft and core skills to put in your CV. You must then scatter these talents across different sections of your resume.

To help ease the CV-making process for you, we made a list of the most sought-after soft skills for your application:

Is Education Necessary on a CV?
Depending on the job role and industry, hiring companies often ask job seekers to include their educational background in their CVs. This is especially true for corporate jobs or traditional fields such as law and accounting.

So:

You should take a quick look at the job description to see whether you need to include your academic record. Even if not required, featuring a college degree will help you stay ahead of your competition.

Adding education to your CV is easy. All you need is to include the following details:

Degree title
Educational institution (university/college)
Years attended/Graduation date
GPA (especially if it's 3.5 or above)

You may now be wondering:

Where should I place "Education" on my resume?

If you're a recent graduate, it makes sense to prioritize showcasing your educational background by placing it at the top. But for most experienced job hunters, this section should come right below the skills section.
Additional Sections for Your CV: Awards, Courses, and Certifications
So far:

We've covered the fundamental parts you must have in your CV to land the job of your dreams. An HR robot would hire you at a drop of a hat if you use your CV as it is now.

However…

HR specialists are human beings with unpredictable thoughts and desires. You never know what could inspire a recruiter to give you a chance instead of others. That's why you must go beyond the ordinary and create additional sections that will bring life to your CV.

Before we add more parts that will make your resume shine, you must first understand why you should do that. After all, isn't a shorter CV better for pleasing recruiters?

Basically:

Additional sections are a brilliant way to build rapport with headhunters before you even meet them. They help you express your personality and show your true self beyond the standard job requirements.

On top of that:

Adding sections like certifications and awards is a sure way of getting yourself shortlisted for an interview. Because these are the details recruiters look for when they can't decide between the last few finalists.

So what are the best additional CV sections to put in your CV?

Courses
Certifications
Awards and honours
Languages
Projects
How to Tailor Your CV to a Specific Job
Unlike the traditional job market, organizations today have much wider hiring options.

They receive hundreds of applications as soon as they post a new job ad. And they get to choose their perfect candidate from an unending pool of talent using applicant tracking systems (ATS).

Can you take a quick guess on who these companies never hire?

Candidates like Ethan, who's well-qualified for the job but uses a generic CV.

ATS are programmed to scan through all job applications and only keep the ones with relevant keywords. But even if Ethan makes it through the first filter, a hiring manager will be quick to throw his untargeted resume in the trash.

Hence, the importance of tailoring your CV to specific job offers with related skills and experience.

What Ethan needs to do to land interviews is quite simple:

Read carefully through the job description
Research potential employers to identify their hiring needs and biggest challenges
Identify important phrases and keywords relevant to the job position
Precise the key skills and duties that the hiring company is struggling with

Once he builds a list of relevant information about the hiring company, he could easily refine his CV to include that. For instance, he must rephrase his experience and achievements to include job-related keywords and strong action verbs.
Important ATS Tips to Get Yourself Noticed
Applicant tracking systems were initially designed to help hiring managers shortlist final candidates. It's a highly-efficient technology that saves companies thousands of hours each year.

Here's the deal…

Hiring companies use ATS to scan hundreds of resumes in a short time. The tool will eliminate any job seekers with a weak resume and leave the best ones for the recruiter to judge.

So if you think about it:

An ATS is also going to help you land the job of your dreams if your CV is well-written. It's your ticked to stand out among a large crowd of competing applicants.

In this part, we'll share with you some smart tips to craft an ATS-friendly CV that gets you shortlisted.
1. Save Your CV in PDF Format
Using the wrong CV file format can end your job hunt before it begins. That's especially true if your resume loses its formatting whenever an ATS or a recruiter tries to read it.

There are two popular formats for CV making: DOCX and PDF.

DOCX can work for you if you have a basic resume with a simple design. You don't have to worry about formatting going wrong or losing attractive elements in your CV. The ATS will just go over the page word by word and then send it to the hiring manager to check.

PDF is what keeps your CV intact, no matter the design style, fonts, colours, or elements. It's accurately scanned by ATS and is often requested by hiring companies when submitting applications.

This second format also works better if you're submitting your CV online. You can easily upload your file to a web form or submit it via email without any issues.
2. Research ATS Keywords
The way an applicant tracking system works is simple:

It goes over your CV word by word and tries to identify similarities between your content and what the hiring company is looking for. Then, it calculates a keyword score as well as a candidate score based on skills and expertise.

That keyword score is a huge determining factor as to whether you're going to get picked for an interview. If it is too low, the ATS will assume that your experience is irrelevant and reject you automatically.

How do you pick the best ATS keywords for your CV?

Read through the job description and try to identify the most relevant keywords you need to use. This includes soft and core skills, tools and technologies, industry-relevant metrics — as well as action verbs.

Listen:

These keywords need to blend in perfectly with the rest of your content. So you have to insert them in your summary, experience, and skills in a way that makes sense to the reader once they pick up your resume.

Why is this important?

Throwing keywords randomly on the page will leave a negative impression on headhunters. It can be a way to trick ATS into picking you. However, a human reader will immediately skip your resume once they see that your sentences don't make sense.
3. Create a Professional CV Design
Making a well-designed CV makes your application appealing to both humans and robots.

It uses an eye-catching design that reflects competence and professionalism. And it gives hiring managers time to rest their eyes by featuring a wide margin and a lot of white space around page elements.

Now:

The first thing to avoid when building your CV is complex formatting options such as tables, text boxes, and graphics. Such design options will only confuse the ATS and make it impossible for anyone to read your page.

If you want to make any idea stand out, it's better to bold your words or use attractive colours instead.

Also:

Be sure to create a unique style guide and stick to it in designing any element on the page. For example, your section headings should all be in the same colour and font size. And you have to include standard titles such as "Summary," "Experience," "Skills," etc.

Choose two colours at most to embellish your CV. And pick modern fonts with different sizes to create a clear hierarchy. This will make your CV easily scannable for any software no matter the algorithm.
3 CV Red Flags That Might Prevent You From Getting Hired
Congratulations!

Your CV is 95% ready…

Now, you need one last check to make sure that you haven't made any huge mistakes that can sabotage your job hunt. These are common recruiter pet peeves that you must avoid like the plague.

What are the biggest red flags in a CV?
1. Using an Outdated CV
An outdated resume sells you the impression that you have a chance of landing the job you've always dreamt of. But in reality, you can spend months applying for easy jobs and never land an interview.

Throughout this guide, we've discussed some of the outdated trends that make your resume unappealing. For example, including old-fashioned skills or using an unattractive design are some of the quickest ways to turn off recruiters.

Aside from that… How do you update your CV?

Your CV is also outdated if it doesn't include your latest career progression.

Did you acquire new skills?
Have you completed a new course?
Did any of the projects you worked on finally launch?
Were you promoted to a higher position in your previous company?

These are all updates worth mentioning in your CV to make it look alive. Recruiters will appreciate seeing that you've taken the time to inform them about your journey over the past years.
2. Lying on a CV
Lying on a CV always backfires.

Although usually not illegal, lying puts applicants in a tight spot with their potential employers once it's discovered. After all, hiring companies have their own systems to detect lies and evaluate candidates accurately.

For instance:

The headhunter will take all the time needed to analyze the CV once they find a candidate they like. They'll research each job hunter online and prepare a lot of questions for the interviews.

Occasionally…

Recruiters might even conduct a background check about anything mentioned in the resume — especially when it comes to education and work history.

You can guess what happens to the job seeker once they're exposed for lying. They'll lose the job offer right away. Their personal brand is damaged for long years to come, which makes them lose many interesting job opportunities.

So:

Avoid lying on your CV at all costs.
3. Using Generic Job Duties
Generic responsibilities are your worst enemy. They're scored low by ATS and often frowned upon by recruiters. So you can only imagine the amazing jobs you'll miss out on if you copy-paste past duties from Google.

But let's be honest:

It's hard to come up with persuasive bullet points detailing your work history. Many candidates take days or weeks to come up with a list of past accomplishments that are worth mentioning.

You may be able to write a few bullet points on the spot. But if you're featuring two or three jobs with five bullet points each, you'd have to get a way deeper to be more persuasive.

The solution?

Make a list of all the related plans, operations, or programs you were part of in the past.

You must explain how you contributed to the success of those projects — whether you were a manager or a team member. Then, prove your results with quantifiable metrics. Try to also include skills and relevant talents within context to show what you have to offer.

Be sure to also keep a consistent format using short sentences and action verbs at the start.

Couldn't come up with that many bullet points for each job?

List only three powerful sentences ordered by importance. It's better to keep your experience section concise than to fill your CV with unnecessary fluff and weakening sentences.
Key Takeaways
CV and Resume mostly mean the same thing, but they're used in different countries in the world. Creating a CV is necessary for landing a job in the UK, Europe, and many Asian countries
Your document must include the main CV sections, which are personal details, personal statement, experience, skills, and education. However, you can also include some additional sections to bring your resume to life
Your CV template can make or break your job search efforts. So sure to use a modern CV builder that gives you HR-approved layouts and design styles
Tailoring your CV to each job opportunity is essential for rising above the competition and getting shortlisted among hundreds of applicants
Read through CV writing guidelines in the country you're applying to work in. Avoid any CV mistakes and red flags that could cost you your dream job.
Make your move!
Your CV is an extension of yourself.
Make one that's truly you.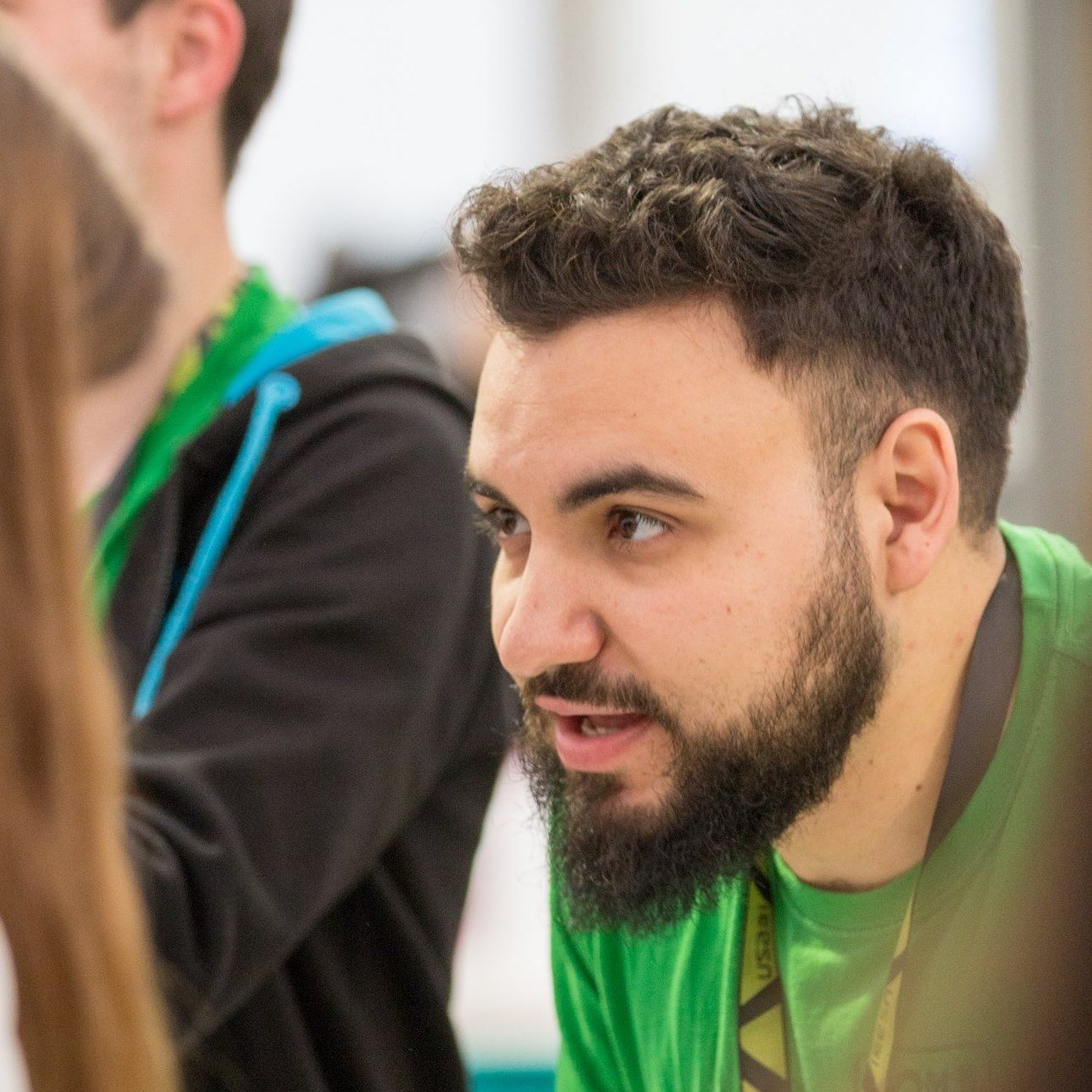 Kal Dimitrov
Kal is a CV expert @ Enhancv. He frequently publishes blog posts around CV writing, cover letters & job applications. Kal also runs a Career Accelerator Bootcamp for young graduates.