Getting a job is not easy – you have to think about the format of your CV, what to include in it and how to make it easy-to-read, so that it passes the six-second test of the hiring managers.

But in these modern times, we have one more additional obstacle – the Applicant Tracking Systems (ATS), which serve to pre-select candidates for job positions automatically.

It is a fact that over 70% of CVs never reach the eyes of a hiring manager, just because they don't pass the ATS test.

And if you want to be part of the remaining less than 30%, we've got just what you need.

In this article, we are going to answer the most important questions about ATS:
What is an Applicant Tracking System (ATS)?
What is an ATS-friendly CV, and why do you need it?
How to create an ATS CV?

And we are going to leave you off with a great example of an ATS-friendly CV to get you going.

To get even more of a boost on your CV, you can try out our CV Builder to get a unique and eye-catching design that would definitely pass the ATS test.

But if you are ready to learn how to make an ATS CV, and get to the hiring manager's eyes, stick around.
Is your CV good enough?
Drop your CV here or choose a file. PDF & DOCX only. Max 2MB file size.
What is an Applicant Tracking System (ATS)?

An Applicant Tracking System (ATS) is a software that companies use to collect, sort, scan, and rank job applications they receive for their open positions.

Usually how it works is the ATS scans the CV for keywords, set by the hiring manager, and disqualifies applications that don't meet the job qualifications needed.

ATS started as a software for bigger companies that receive thousands of applications on a weekly basis, but it has quickly spread to companies of all sizes.

Chances are that whether you're writing a CV for a job, or for applying for a federal or academic position, it would be scanned by an ATS before it has the chance to meet the hiring manager's eyes.
What is an ATS-friendly CV, and why do you need it?

An ATS-friendly CV is designed to do well on the ATS test, but how is it done?

There are many factors to make your CV ATS-friendly. Here is a list of all the best practices for passing the ATS:
By structuring your CV correctly, and making it easy-to-read, you improve your chances both with the ATS, and the hiring manager that is going to read it next.

There is no guarantee that you will get the job after passing the ATS, but it is certainly one step closer.
How to create an ATS CV?

Now that you understand the basics, let's get down to business – how to ensure that your CV can pass the ATS and get to the hiring manager?
Choose the right CV format

When it comes to ATS, there is one way to go for your CV format, and that is the reverse chronological format.

Formats that don't focus on your work experience simply can't pass the ATS test, as that's primary what it is looking for.

Furthermore, it is the most popular format with hiring managers as well, so it would be easy-to-read for both the ATS and the human eyes.

So, if you have no large employment gaps or career changes, the reverse chronological format is definitely the right way to go.
Pick the appropriate file type

The most preferred file type by candidates is PDF, as it preserves all formatting just the way it is. But is PDF actually the best file type for ATS?

That question depends on what version of ATS is the company using, as some older ones had some trouble understanding PDF.

Just to be on the safe side here, check the job listing for any file type specifications.

If the job listing specifies that you should send your application in .doc or .docx file format, you should absolutely do so, as they are likely to use an older ATS version.

But in any other case, you would want to preserve all your formatting, and the best way to do so is to use PDF for all your application documents.
Use an ATS CV template

Many applications never meet the hiring manager's eyes for one simple reason – they use a template that is made to stand out with great graphics, images and unique fonts.

What you need to understand is that all that is not compatible with ATS, and no matter how pretty your CV is, it will likely never pass.

The best thing to do here is use a CV template that is tried and tested, and has proven itself as effective when facing ATS.
Make your header ATS-compliant

Your header is the first thing a hiring manager sees on your CV.

The problem is, ATS often fails to read essential details from it.

Let's first see what your header typically consists of:
Full name
Job title
LinkedIn profile

As you can see, there is not much room for optimization here.

And yet, there are some critical mistakes that may confuse the ATS and lower your chances of getting the job.

The first thing you need to know is that some ATS filter CVs based on job titles, looking for an exact match.

So, for example:

If you're applying for a project manager position where the title used in the job offer is "Project Manager," it's better to stick to that instead of a different title.

That also helps you boost your total keyword match and increase relevance.

Secondly:

Algorithms also pay attention to geographic locations if the hiring company is looking for local candidates. So make sure to match your location to the job posting using the standard address format.
Keep it simple

When creating your CV, it's always a good idea to keep it simple in terms of design.

That way it is both easy on the eyes of the hiring manager, and the ATS would have no problem reading it as well.

If you include any graphics or images, chances are that ATS would not be able to process that information, and you will likely lose your chances of getting the job.

To get the best results with ATS, you should follow a few simple rules in terms of design:
Use bigger font sizes for headings, and smaller ones for content
Use a common and easy-to-read font style, like Times New Roman, Calibri, Arial, or Georgia
If you go for bullet lists anywhere, make sure you use one of the simplest options – solid circle, open circle, or square
Stay away from any graphics and images that have important information about your qualifications
Label your sections right

This may seem intuitive, but we have to mention it.

ATS only recognizes labels that are commonly used, like "Work Experience", "Skills", etc.

So you should absolutely avoid any playful and uncommon labels for your sections.
Tailor your CV with keywords from the job description

If you want to pass the ATS test, you need to make sure you have included all the important keywords.

Typically, these are separated into two main groups – job-related skills and action verbs. Job-related skills are your primary characteristics and qualifications for the job, while action verbs show what you have accomplished and succeeded in your job position.

Take the time to scan the job listing for any keywords, and make sure you include as many as possible in your CV. You should also consider including each more than once, as some ATS determine your suitability for a job depending on how many times you include some keywords in your CV.

And one last thing, don't just throw keywords all over the place. Don't forget that when your CV passes through the ATS, it will actually be read by a human. So make sure you do it right.
Example of ATS CV

Now that you know everything you need to know about ATS and how to get past it and reach the hiring manager's eyes, let's take a look at a great example of how your ATS CV should look like:

Takeaways

We are all done, you now know how to make your CV ATS-friendly.

Let's just go through it all one last time, to make your CV ATS-friendly, you need to:
Choose the right CV format to ensure it would be easy-to-read both by the hiring manager and the ATS
Pick the appropriate file type, as some older ATS can't read PDF files. Make sure you check the job description for file format wanted for your application documents
Use an ATS CV template to make sure you can pass the ATS test
Make your header ATS-compliant, as most headers fail to go through ATS successfully
Keep your design simple, ATS can't understand images and complicated graphics
Make sure you label your sections right, as ATS would be looking for specific titles
Last but not least, use all the right keywords that you can find in the job listing, so that you will have the best chances with the ATS

Take one last look at our ATS CV example, and go get your dream job in no time.
Make your move!
Your CV is an extension of yourself.
Make one that's truly you.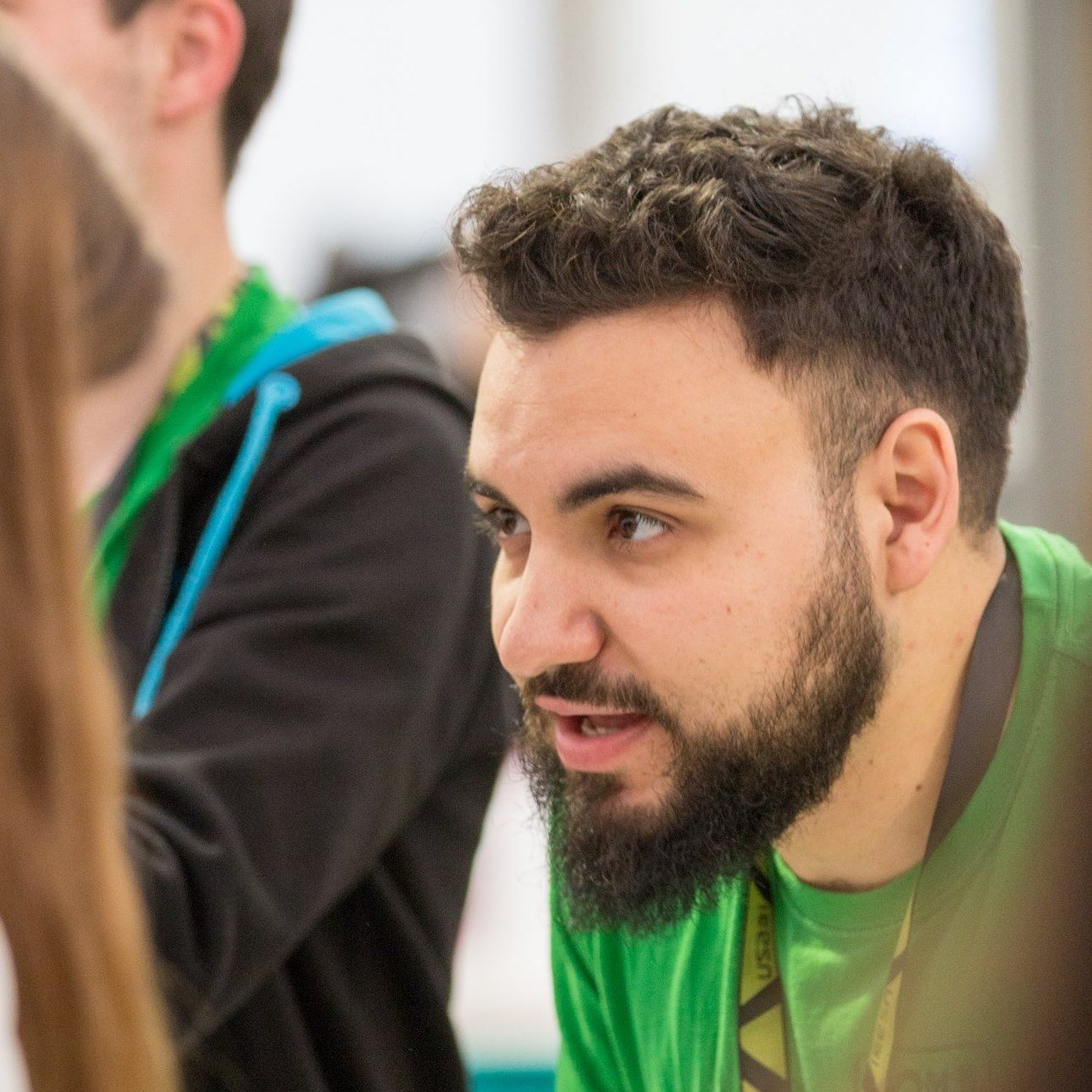 Kal Dimitrov
Kal is a CV expert @ Enhancv. He frequently publishes blog posts around CV writing, cover letters & job applications. Kal also runs a Career Accelerator Bootcamp for young graduates.