You have worked hard, you have created a great CV, but you still don't get any calls for an interview?

We are willing to bet it's not because you are underqualified.

Chances are, you are making one of the most common mistakes on your CV, which make hiring managers think you are not the right guy for the job.

We are here to help you.

Together we are going to go through all the common CV mistakes, and you will be able to fix any of them on your own CV.

If you are uncertain about your overall CV design, you should check out our CV Builder and get the best out of it.

But if you are ready to explore the most common CV mistakes, stick around.
CV Mistakes You Need to Avoid
Upload & Check Your CV
Drop your CV here or choose a file. PDF & DOCX only. Max 2MB file size.
Missing essential or having wrong information

One of the worst mistakes you need to avoid on your CV at all cost is missing information, or having a wrong one.

That specifically applies to your contact information. Imagine hiring managers want to contact you, but there is no way to because you missed out on listing it, or listed a wrong one.

What your contact information should consist of is:
First and last name
Phone number
Email address
Location

A thing to be extra careful about here is what email address you have listed. You would want it to look professional, otherwise it may be off-putting for all hiring managers. A safe way to go is to use the format "firstname.lastname@domain.com" in a well-known mail provider like Gmail.

Another mistake you can make here is list the wrong employment or education dates. That can really hurt your chances of getting an interview.

Furthermore, deciding to exclude some jobs from your CV can be even more crucial. Before removing anything from your CV, seriously think about if it would not be considered as a plus from your potential employer. Don't forget that every job brings some soft or hard skills in your overall professional personality.
Including too many personal details

The only personal details that have any place in your CV are your name, phone number, email, and address.

Anything else is irrelevant for the hiring manager, and actually illegal for the employer to know in the process of hiring.

Your CV should be all about presenting you professionally, so leave the unnecessary personal details aside, and grab the hiring manager's attention with your qualifications.
No personality

Hiring managers receive hundreds of CVs for every open job position they have. It is impossible to spend more than a few seconds on each.

Having no personality on your CV, makes it just like all the rest. But including parts of your character in a smart and authentic way can make you stand out from the competition.

Do your research on the company and find out all about their culture, and what do they value in their employees.

Using that to show off your personality in your CV, can make you instantly a great candidate for the job in the eyes of the hiring manager.
Dishonesty

You might be tempted to exaggerate some things on your CV, but it is never a good idea.

In today's modern era, hiring managers can fact-check anything on your CV with just a few clicks or a phone call.

And even if you pass that and get to the interview, you will most definitely be asked about any suspicious information you have put in your CV.

So, the best way to go is being 100% truthful on your CV.
Obvious or irrelevant skills and clichés

When writing your CV, it is easy to slip into the habit of relying on clichés and passive voice. But that can only work against you.

Hiring managers don't want to see catchy words without any proof.

Even worse, you might make the mistake of listing irrelevant skills that have nothing to do with the job you are applying for.

Make sure you read carefully every skill you have listed on your CV, and show the hiring manager that you actually possess it, using clear examples and some metrics.
Lacks visual appearance

As we mentioned, hiring managers receive tons of applications on a daily basis, and there is no way for them to read every single one carefully.

A great way to improve your chances is to improve the visual appearance of your CV. It should be both visually appealing, and easy-to-read.

Make sure your CV doesn't get out of hand by using a number of different fonts, graphs, and neon colors. Be mindful of white space and font size, use bullet points, and keep your margins at least one inch on all sides.

If your CV lacks visual appearance, there is a great chance it would be dismissed before the hiring manager has even started reading it.
Typographical and grammatical errors

Any typo errors, spelling, punctuation, or grammar – any of these will get your CV tossed straight into the reject pile.

You'd be amazed by the number of bad CVs that make it to recruiters' desks. There's simply no excuse for sloppiness, misused words, grammar errors, or punctuation overuse on your CV.

But how do you catch these simple but easily missed CV mistakes?

After you finish with your CV, sleep on it and take your mind off it. Then give it a look with fresh eyes. You can prevent your CV from being thrown into the trash easily just by properly proofreading your work.

A great technique you can use is reading all the content backward, which forces you to slow down and catch more errors. Then just to be safe, let a trusted friend look at it (obviously, a spell-checker should factor in as well). Once you've done all this, you can send your CV off with confidence.

Remember that you can always edit but once you click 'send', there's no going back.
Not tailored for the job position

Your CV is not a document that you can send out in the same form for all job position and all companies. It should be tailored accordingly to get the best out of it.

To do so, you first need to do your research. Make sure you find out:
Once you have all that, you need to tailor your CV to represent you as a perfect candidate for the job, and for the company itself.

That not only helps you grab the hiring manager's attention, but it would also increase your chances with any Applicant Tracking System (ATS) they might be using for pre-selection of candidates.

Furthermore, your research can help you customize your CV's design to match the company's colors and overall vision.

Not tailoring your CV for the job position can only result in lots of rejection from different companies, and your chances of landing a job would be fairly low.
Outdated CVs

Don't ever submit a CV that's out of date – it should always be up-to-date with relevant information at all times.

Unless a past job position shows you achieved something significant and relevant to the job position you're applying for, it's just a distraction in your work history.

Try looking at every piece of information on your CV and ask yourself whether it makes the CV more effective. If it doesn't add any value, you should cut it.

The experience content of your CV should exponentially progress with you.
Responsibilities vs accomplishments

In today's world, it's absolutely expected that you list accomplishments and not just responsibilities on your CV.

Ultimately, it's your accomplishments that make you stand out from all the other applicants, and it's those achievements that make you feel proud when you step into that interview.

Hiring managers want to see the results you've achieved in past positions, as it shows them the potential you have to do well in the role for which they're trying to fill.

Also, make sure you quantify these accomplishments wherever possible – specifics always have a greater impact.

Without proving your results, it might appear that you didn't take initiative or achieve actual results in your past job.
Takeaways

We are all done, now you know all the common CV mistakes that you need to avoid at all costs.

Let's go through everything essential really quick one last time:
Make sure all information on your CV is correct, and don't forget to list anything important
Only list the essential personal details on your CV – your name, phone number, email, and address. Everything else is unnecessary and unwanted
Make sure you add in some of your personality to your CV, so that it would stick out from the crowd of applications
Be 100% truthful when writing your CV, as in these modern times, it is really easy for hiring managers to find out if you are lying
Don't list any obvious or irrelevant skills, or any clichés, as that can only lower your chances of getting an interview
Take the time to get the visual appearance of your CV just right, as that would initially grab the hiring manager's attention
Proofread your whole CV carefully, you would not want to lose your job opportunity over a typo
Tailor your CV for every single job position you are applying for, you need to show personal interest in the job
Keep your CV up-to-date
Your accomplishments should prevail your responsibilities, they are what makes you a great candidate in the eyes of the hiring manager

Check your CV for any of these common mistakes, and fix them before sending it out, and get your CV in no time.
Make your move!
Your CV is an extension of yourself.
Make one that's truly you.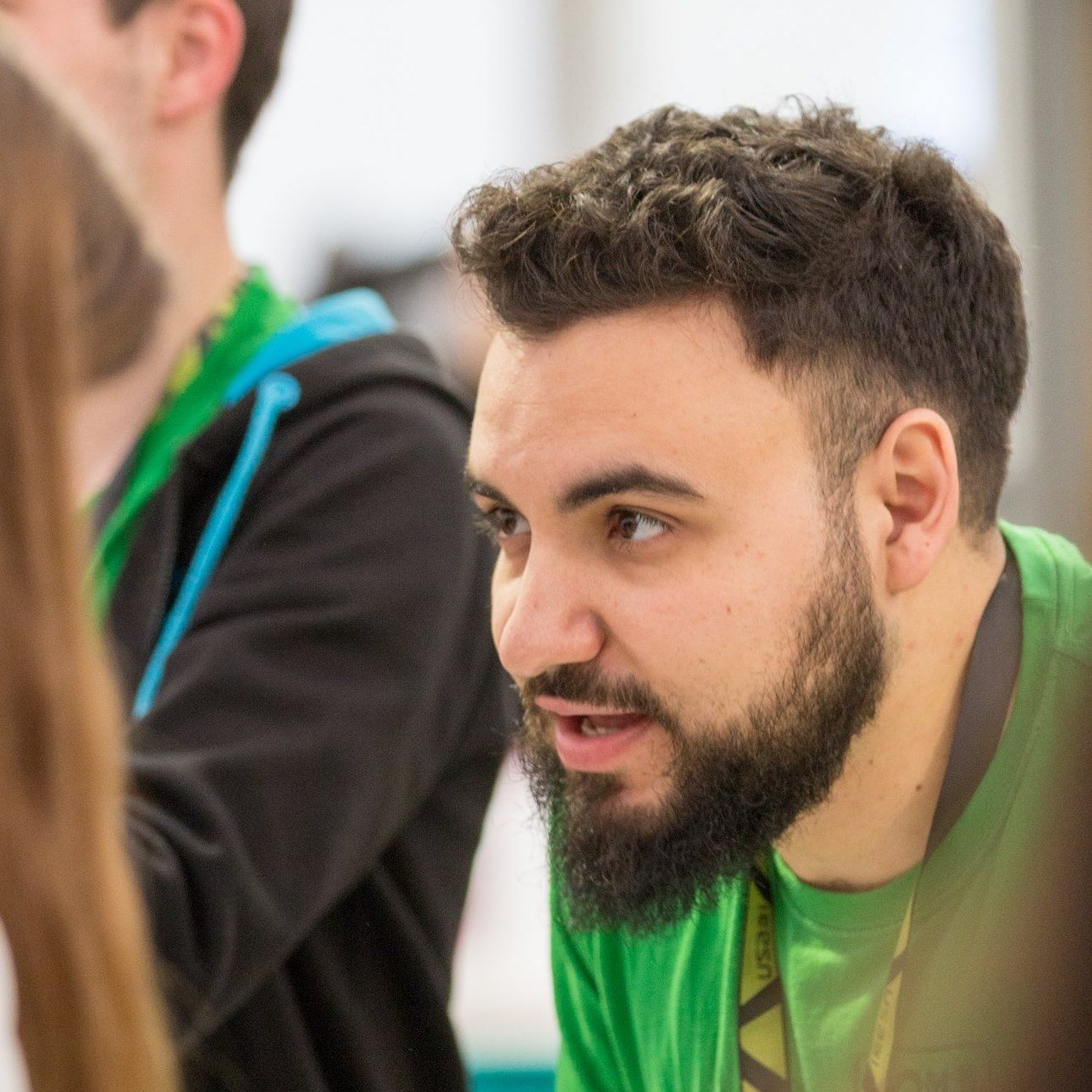 Kal Dimitrov
Kal is a CV expert @ Enhancv. He frequently publishes blog posts around CV writing, cover letters & job applications. Kal also runs a Career Accelerator Bootcamp for young graduates.