You've spent hours refining and perfecting your CV down to the last detail. It's an accurate representation of you and appropriately tailored to your target job.
But you're not finished yet!
There's still the task of submitting your CV, and proper email etiquette is key.
The email your CV is attached to will be your potential employer's first impression of you, so you need to make it count.
The email itself functions as a form of a cover letter and should be drafted with as much care as the CV itself.
This may seem like a daunting task after putting so much work into your CV already, but the extra effort now will pay off later.
After you've created your amazing CV with our CV builder, read the guide below on best practises for emailing your CV.
Is your resume good enough?
Drop your CV here or choose a file. PDF & DOCX only. Max 2MB file size.
Essential components of the CV email with examples
A great CV email has several parts. Review each component to create a professional email that makes a good first impression.
Crafting an effective subject line
The first thing hiring managers will see when your email hits their inbox is the subject line.
Create a clear and effective subject line that reflects the purpose of the email. It should include all the necessary information in a way that is concise and specific.
Sometimes job applications will contain specific instructions for the format of your subject line.
If there are no instructions provided, key elements to include are: your name, your reason for emailing, and the name of the position
Here are a few CV email subject line examples:
Application for Program Manager - John Smith
Job application: Program Manager - John Smith
Job post ID# 1234 - John Smith
CV attached for Program Manager position
Professional greetings
Always address the recipient of your CV email appropriately and professionally. The greeting sets the tone for the rest of the email.
If possible, directly address the person you're sending the email to in your greeting. This is usually a hiring manager in HR or the manager of the department you're applying to.
If the person's name isn't explicitly stated in the job application, it's worth it to do a little research. Browse the company website or LinkedIn page to find the hiring or department manager.
This extra step will show initiative and commitment to the hiring process. As a last resort, if you can't find a person's name, you can address your email to the human resources department or department you're applying to.
Use a professional greeting and the person's last name and/or title. For example: Dear Mr. Smith, Manager of Communications.
Avoid casual or informal greetings. For example: Hey John.
Also stay away from generic greetings like "To Whom It May Concern". These are outdated and give the impression of a mass email rather than a personalised message.
Content of the CV email body
It's important to carefully choose what information to include in the body of your email. In many cases, your CV email acts as your cover letter for the job application.
Even so, hiring managers likely have an inbox full of emails from applicants. Your email needs to convey all the necessary information in a way that is clear and succinct.
In the body of your CV email, you should introduce yourself, state the purpose of the email, and summarise your qualifications. Keep it short and only include what is relevant to the job.
Here is an example of the body of a CV email which is found between the greeting and signature.
Please find attached a copy of my CV for the Program Manager position with TechCo.
With 10 years of experience in the tech sector and a proven record of managing award-winning programs, my goal is to leverage my expertise to help TechCo succeed in launching a new software development program.
Can we schedule a meeting next week to discuss this opportunity in more detail?
The candidate in the example above gets straight to the point and explains their reason for the email. They provide an example of career success and their goal for the position.
They then close the body of the email with a call to action. This is a great example of CV email content that is concise and informative.
Professional CV email signature
The final piece of your CV email is the signature. This is simply the way you sign off at the end of the email.
This is a small component, but every detail matters. A professional email signature includes your full name, contact information, and relevant professional profiles.
Here is an example of a concise, professional CV email signature.
Sincerely,
John Smith
johnsmith@gmail.com
+442225559876
linkedin.com/johnsmith
The information included in the example above gives potential employers everything they need to quickly contact you and follow up.
Attaching and formatting your CV
Now that you've got your email sorted, you need to format and attach your CV.
It may seem like a simple enough task, but there is important nuance to this as well.
Formatting your CV for email
Though other formats may work just fine, the ideal format for emailing a CV is PDF.
There are many advantages to formatting your CV as a PDF. It cannot be altered like a Word document and you don't have to worry about unpredictable reformatting errors.
Using a PDF ensures that your CV can be easily viewed on any device and your potential employer will have no difficulty accessing it.
Some companies may request a specific file type, but if no specification is made then go with PDF.
Then, there is the matter of naming your file.
Just like your email subject line, keep it short and include only the most important information.
Typically this will be the candidate's full name and "CV" for clarity and professionalism. For example: JohnSmith_CV.pdf.
Be sure to double-check the name of your file before you attach it. Sending a hiring manager a file named CV2FINAL.pdf or CV.pdf is a great way to get your application tossed out.
Also, be sure to check that your CV is actually attached to your email before you send it.
There's nothing quite like the embarrassment of sending an expertly crafted CV email and forgetting to attach your CV.
If you want to feel confident that you've chosen the best layout for your CV, read our guide on choosing the right CV format based on your needs.
Additional tips for emailing your CV
You're almost at the finish line! There are just a few more key tips to keep in mind before you send that CV email.
Follow directions
This guide provides best practises when it comes to emailing your CV, but you should always follow directions given by the company.
The job listing may include specific instructions for things like what to name the file, how to format the subject line, and information to include in the email.
Always follow directions closely. Potential employers will be paying attention, not just to your CV, but also to how well you can follow directions.
Don't miss an opportunity by ignoring basic application instructions.
Keep it clear and concise
As mentioned throughout this guide, keep every part of your email brief and to the point.
Respect the recipient's time by providing a clear and concise message that gives them all the information they need quickly and easily.
The time it takes to ensure efficiency pays off in the long run.
Proofread
This may seem obvious but a striking number of people send off emails with easily correctable errors.
Read through your CV email (and your CV!) several times to eliminate any spelling or grammar mistakes. An email full of typos will ruin your chances before the company even reads your CV.
Proofread yourself and use spelling and grammar check software. You may even want to ask a friend to look it over for you.
Follow up
Following up on a CV may feel brazen, but it can actually give you an advantage.
If you don't receive a response after 1 or 2 weeks, that is a good time to send a follow-up message. An appropriate follow-up shows potential employers that you're still interested and are serious about the job.
Be professional and polite. Let the recipient know that you're still interested and remind them of a few key accomplishments that make you the right fit for the role.
Respectfully ask when you should expect to hear back and thank them for their time.
Key takeaways for emailing your CV
Craft a professional subject line to let companies know who you are and what job application you're submitting your CV to.
Keep the greeting, content, and signature brief and professional. Provide hiring managers with the information they need as quickly and efficiently as possible.
Be sure that your CV is formatted and named appropriately. And don't forget to attach it to the email!
Always follow directions closely and proofread for any mistakes. Send a polite follow-up email to let potential employers know that you're serious about the role.
Frequently Asked Questions (FAQs)
Should I include my cover letter in the body of the email or as a separate attachment?
In many cases, the body of the email itself will serve as your cover letter. You are providing companies with a brief introduction of your qualifications and experience before they read your CV.
Always check the directions in the job listing. Sometimes companies will request a separate cover letter as an attached file. Others will request it in the body of the email. Follow the instructions that the company provides.
What should I do if I realise there's a mistake in the email after sending it?
A minor type on your CV probably won't impact your job application. However, a major error or incorrect information should be addressed.
Send a second email with an updated version of your CV along with a brief explanation of the correction. It may feel awkward to address it, but clear communication is key.
Make your move!
Your CV is an extension of yourself.
Make one that's truly you.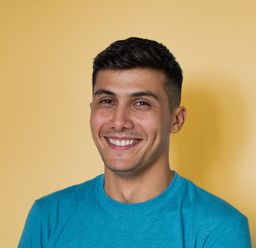 Volen Vulkov
Volen Vulkov is a CV expert and the co-founder of Enhancv. He applies his deep knowledge and experience to write about a career change, development, and how to stand out in the job application process.