You've decided you want to find a new job? Great, then it's time to craft yourself a job-winning CV.
But naturally, one question keeps coming up - should you add a photo to your CV or not?
To answer this question, we need to start with the basics - what's the purpose of a CV in general?
Well, if we look at the English translation of the Latin 'curriculum vitae' - 'the course of your life', it'd be pretty reasonable to assume that's exactly what a good CV shows - the details of your life that relate to your job.
In short, your education, work experience, achievements, certificates, contact details, and skills should all be listed on your CV.
And to get back to your question - as a general rule of thumb, adding a photo to your CV when applying for jobs in the UK is not recommended.
Of course, this is strictly situation-specific and shouldn't be taken as strict advice.
Read on if you want to find out which cases allow for a CV photo and which definitely don't!
In this article, we'll also look at the reasons why adding a photo to your job application may do more harm than good.
Let's get started!
Is your resume good enough?
Drop your CV here or choose a file. PDF & DOCX only. Max 2MB file size.
Adding a photo to your CV can lead to unfair discrimination
Most career counsellors will advise against adding a photo to your CV when applying for jobs in the UK.
And while some job adverts ask for a photo of the candidate, this is considered bad practice in fields outside of modelling and acting.
Pro tip
If you're applying for a job in modelling or acting and are required to submit a photo, make sure you wear appropriate clothing. Avoid oversized tops and trousers, jackets, or layers.
Firstly, your appearance can create bias, be it conscious or unconscious.
The hiring manager might see your photo and make assumptions about your personality, skills, or work ethic solely based on your looks.
And obviously, we can't expect the accuracy of these assumptions to be high, which means that your CV would definitely be better off without a photo. Just to be on the safe side.
What's more, unfair assumptions can result in discrimination based on age, race, weight, disability, or other personal characteristics that we know don't affect your ability to do the job at all.
Another thing that is still hugely popular despite efforts to mitigate its effects is gender-based discrimination.
In the context of applying for a job, for example, recruiters might make assumptions about a woman's commitment to the job or her ability to balance her work and family life.
This can lead to women being passed over for internal or external job opportunities, including promotions.
And in recent years, men have also started to feel the burden of gender discrimination. For instance, employers looking for housekeepers, midwives, and nannies, can often prefer to hire women to men.
Naturally, there are certain measures taken by the British government to address these concerns. One of these includes the anti-discrimination law in the UK that was designed to prevent discriminatory practices specifically in the workplace.
In addition, the Equality Act of 2010 makes discrimination against job candidates based on their age, race, gender, gender reassignment, relationship status, religion, or sexual orientation fully illegal.
Although all these measures have been taken by the authorities, your safest bet would be to just skip the photo when creating your CV. Unconscious bias is difficult to mitigate, but not so difficult to avoid.
Is adding a photo to your CV even relevant?
Besides the risk of discrimination, adding a photo to your CV can often be absolutely irrelevant to your application.
In most cases, your appearance has nothing to do with your ability to do the job, and hiring managers should be focused on your achievements, skills, and work experience, rather than your looks.
'Don't professional hiring managers know this?' we hear you wonder.
But let us not forget hiring managers are just humans. (Mainly. But more on that in a bit.)
Unconscious bias works in a way that's so subtle, many times it can go unnoticed even by real professionals with tens of years of experience.
So if you're not applying for a job in modelling or acting, we consider adding a photo to your CV to be irrelevant. It's just a waste of space.
Space that, if used wisely, can be of massive value to your application.
Some ideas to make the most of this space include adding your favourite quote, expanding your skills section, or sharing more about your typical day.
Read this article if you're wondering how to use your hobbies and interests in your CV and make a lasting impression.
Another important factor to consider is linked to Applicant Tracking Systems (ATS).
This is the software used by many recruiters to handle and pre-sort job applications.
All you need to know about applicant tracking systems and your CV
And due to the fact that ATS rely on keywords to grade applicants on a scale of 1 to top-fit, they can have a bad time processing photos.
What's more, some ATS may be set to hide CV photos completely. In this case, adding a photo would really be a waste of time and space.
Last but not least, adding a photo to your CV can lead to issues with some types of ATS, potentially leading to your application being rejected before it even reaches a human.
So, for the most part, it's safe to say that adding a photo to your CV is irrelevant and should be skipped.
Alternative approaches for your CV that work better than adding a photo
We understand you may be tempted to add a photo to your CV. After all, there are (seemingly) many benefits to that.
It can make your CV more personal, it can make the recruiter fall in love with you and want to hire you immediately…
Jokes aside, we get how you feel. But in reality, adding a photo to your CV can have more cons than pros.
And there are many alternative methods that can help your CV stand out and showcase your personality without putting your entire application at risk.
One way to do this is to add a favourite quote or personal statement at the beginning or end of your CV.
This is a great way to show hiring managers what motivates you and what you're passionate about, thus helping you make a strong first impression.
Another thing you could do, especially if applying for a job as a designer or photographer, is craft an out-of-the-ordinary CV that matches your creative nature and portraits you authentically.
Check out some of our creative CV templates here and express yourself freely!
But if you prefer sticking more closely to the traditional CV format, don't worry. You can still share your story with confidence, even when relying on a template that's closer to what recruiters are used to seeing.
Our easy-to-use CV builder offers numerous attention-winning templates to choose from. All this, while helping you focus on your key achievements.
Still not sure what the best CV format for you is? This article can help you out!
Some general advice on CV design
A pop of colour always works well but the amount of freedom you can afford to have depends on the industry
If you're applying for a job in a creative industry, you can go for a more artsy design for your CV.
If you're applying for a government job or a job in a more traditional workplace, stick to neutral colours for a more professional feel
Some of the best CV templates… for free!
Another way you can make a long-lasting impression without adding a photo to your CV is by putting the spotlight on your experience section.
You can show what a star you are by using the STAR method (pun intended). And for that, you won't need a photo.
STAR stands for situation, task, action, result. And that's exactly what you should focus on when describing your previous responsibilities and achievements.
In this way, you can easily demonstrate that you're the right candidate for the role.
Last but not least comes the power of personal references.
If there's a mentor, previous manager, or even a teacher who can vouch for your skills and experience, be sure to include their contact information on your CV.
All you need to know about adding references to your CV
Putting a photo on your CV: The decision has been made…
By now, you should know that hiring managers are looking for candidates who are a good fit for the job based on their skills and experience, not their appearance.
So, before you even think about adding a photo to your CV, ask yourself: does it really add anything to my application?
Will it help me stand out positively?
Or will it potentially distract from the important information that will get me the job?
All in all, while it may be tempting to add a photo to your CV, it's important to consider the potential risks of this decision.
Discrimination and ATS compatibility aside, putting a photo on your CV can also distract recruiters from the most important elements of your application – your achievements, soft skills and hard skills, and work experience.
So, get creative, let your professional qualifications speak for themselves, and leave the photo for your LinkedIn profile.
Make your move!
Your CV is an extension of yourself.
Make one that's truly you.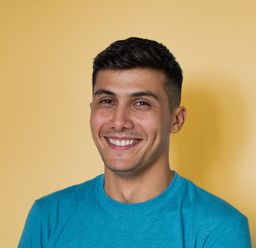 Volen Vulkov
Volen Vulkov is a CV expert and the co-founder of Enhancv. He applies his deep knowledge and experience to write about a career change, development, and how to stand out in the job application process.