Market and industry trends are always evolving. Especially in today's technological world.
Skills that are in demand today might be old news tomorrow. What's the point in keeping up?
Hard skills on your CV make candidates more employable and increase their market value. Companies want employees who know the latest tech and have the technical skills required to do the job.
Having the right hard skills on your CV will put you ahead of the competition.
Some combination of hard skills and soft skills are necessary for any job, though some place more importance on one than the other.
Hard skills are the knowledge necessary to complete workplace tasks. Soft skills are the attributes required for personal interactions.
The hard skills on your CV come into play early on in the job search process. Depending on the role and industry, companies often use ATS to filter CVs for the right skills.
Having the right hard skills on your CV will get you one step closer to getting shortlisted!
Read our comprehensive guide to standing out in the job market with the right hard skills, then use our CV builder to begin working on yours!
Upload & Check Your CV
Drop your CV here or choose a file. PDF & DOCX only. Max 2MB file size.
52 key technical skills for your CV in 2023
Having the right technical skills are key to staying relevant in a competitive job market, especially in the tech sector.
Read below for the top technical skills for your CV listed by category.
1. Computer programming and coding
Programming and coding languages are among the top most valuable hard skills in the tech industry.
Some of them continue to be tried and true over the years, while others are rapidly changing.
Exactly which coding language is right for you will depend on your specific role and industry.
Here are 15 of the most popular programming languages in 2023.
Java
Python
SQL
R
JavaScript
C++
HTML5/CSS
Kotlin
PHP
Swift
Go
Ruby
Scala
Rust
Matlab
The examples above are great hard skills for programmers, developers, computer engineers, and data scientists.
As technology evolves and develops, so does the demand for programming skills. Staying up to date on the programming languages in your niche increases your value and employability.
Research the languages used at the companies in your industry. Follow market trends and pay attention to what languages will be more prevalent in the future.
Committing to learning the most widely-used programming languages in your industry is a long-term investment in your career.
2. Data analysis and management
Data mining might sound complicated, but it's really just the process of analysing large amounts of data so that it can be turned into more useful information.
Fortunately, there are many tools available to make this process smoother. Understanding how to use these essential tools and applications in the workplace is key.
Here are 15 of the top data mining and analysis tools for 2023.
Apache Mahout
SAS Data Mining
TIBCO Data Science
SPSS Modeler
RapidMiner Studio
Dundas BI
Oracle Data Mining
Alteryx Designer
Rattle
Sisense
Teradata
TiMi
Indigo Scape DRS
DataMelt
MonkeyLearn
Big data contains the information needed to improve business practice and ultimately increase revenue.
Large companies have huge amounts of data on their services. However, they need someone who knows how to properly analyse it for it to be of any use.
Data-driven decision making skills on your CV will make you a top candidate for businesses looking to analyse their systems.
Data scientists, data architects, data security analysts, and other data-driven roles rely on the above hard skills. Be sure to research which ones are in the highest demand in your field.
3. Web design and development
Web design is an exciting corner of technology and is one that is constantly evolving with popular trends.
In today's digital landscape with new devices and applications constantly entering the market, responsive web design is a coveted skill.
Responsive web design is an approach to web development that's in direct response to the size and orientation of the device it will be viewed on.
In addition to programming languages, responsive web designers should be familiar with design elements like flexible grid layouts and flexible images.
Here are 10 key technical skills for web design and development.
Responsive design
Content management systems (CMS)
Search engine optimisation (SEO)
Composition
Typography
User experience (UX)
User interface (UI)
Colour theory
Web server management
Graphic design software
Content management systems are a crucial and rapidly-growing area of web development.
To put it simply, CMS helps companies to create, manage, and publish digital content. Different systems may be preferred by different companies based on their specific needs.
Here are 12 of the top CMS in the UK in 2023.
Wordpress
Squarespace
Ghost
Drupal
Joomla
Wix
Concrete5
BigCommerce
Magnolia
HubSpot CMS Hub
Magento
Blogger
60 industry-specific hard skills for your CV in 2023
There are plenty of important hard skills outside of the tech sector. The best technical skills for your CV will depend on your industry, role, and experience.
Let's take a look at some of the top hard skills categorised by industry.
4. Finance and accounting
For those looking to build a career in finance and accounting, financial modelling is your friend.
Financial modelling is used as a tool to predict a company's future financial performance. It typically includes a summary of earnings, expenses, and other financial information.
Financial analysis and forecasting like this is crucial when making big financial decisions.
This is valuable information to those inside the organisation making internal decisions, as well as potential partners or investors outside of the organisation.
Strong financial modelling skills can be the difference between a good CV and a great CV.
Here are 15 of the best finance and account hard skills for your CV in 2023.
SAP
Excel
Budgeting
CRM
Payroll
Invoicing
Financial modelling
Salesforce
Quickbooks
Data entry
Data analysis
Quantitative analysis
Profit and loss
Budget management
Forecasting
Understanding international accounting standards (IAS) is a great way to make yourself an asset to any accounting team.
IAS is a set of standards recognised internationally that are designed to make it easier to compare businesses and financial reporting around the world.
This encourages global trade and investment opportunities. Being skilled in international accounting and the economic market is helpful in many roles in the finance and accounting field.
5. Marketing and advertising
Rapidly changing technology is also contributing to the evolution of marketing and advertising. Social media and other communication platforms are changing the way we exchange information.
Marketing and advertising is an exciting field for candidates skilled in creativity and business strategy.
Search engine optimisation (SEO) and search engine marketing (SEM) are two of the most important hard skills in the industry.
Both SEO and SEM drive online visibility and increase traffic for a company's products or services. Adding these hard skills to your CV will make you eligible for a number of roles.
As social media becomes more incorporated into the daily routine, it increases the importance of social media marketing.
It is becoming more and more common for people to discover products and services through social media rather than a more outdated source.
Social media marketing is a great skill for candidates who want to focus on this growing area of the industry. Show potential employers that you know how to reach and engage their target audience.
Here are 15 top hard skills for marketing and advertising in 2023.
SEO
SEM
Social media marketing
Content marketing
Multichannel marketing
Digital marketing
Marketing analytics
Marketing strategy
Project management
Copywriting
Data literacy
Media literacy
Email marketing
Data analysis
Marketing automation
6. Engineering
Computer aided design (CAD) and computer aided manufacturing (CAM) software are key tools for engineers.
CAD/CAM software can be used to design virtually anything. Engineers use this software to create two-dimensional and three-dimensional models that will later be turned into products.
Candidates skilled in CAD/CAM are valuable to companies because they can design and manufacture prototypes quickly and efficiently.
There are many CAD/CAM applications on the market, each with different strengths and features. It's important to research your target company and understand which ones are in demand in your specific niche.
Here are 15 examples of the top CAD/CAM software to learn in 2023.
Autodesk Fusion 360
AutoCAD
EstlCAM
OpenBuilds CAM
CamBam
Solid Edge
MeshCAM
DeskProto
Exocad
Onshape
SOLIDWORKS
SketchUp
Inkscape
DraftSight
MicroStation
Computer engineering may be getting a lot of attention these days, but engineering is a broad industry with many different fields.
Understanding the material science and engineering principles is the basis of a career in the field. Civil, chemical, mechanical, electrical, and industrial are all types of engineering.
To put it simply, engineering is applying scientific principles to the design and manufacturing process of building machines, structures, and other products.
Engineers must be able to apply the principles of chemistry and physics when designing a structure or other item.
Here are 15 more hard skills for an engineering CV in 2023.
Structural analysis
Data modelling
Prototyping
Machine learning
Materials science
Welding
Project planning
Project management
Troubleshooting
Debugging
Workflow development
Robotics
Construction
Programming
Mathematics
There are many different types of engineers with specialised knowledge. The list above is just a few of many engineering skills. As with any field, research what skills are currently in demand in your niche.
10 sought-after languages and language proficiency tests
7. Bilingual or multilingual abilities
Don't forget about languages!
Many people discount being able to speak more than one language as a skill, but it can be a real asset in the workplace. Especially if you work in international business, hospitality, or education.
Below are 10 of the most sought-after languages by employers in the UK in 2023.
English
German
Spanish
Mandarin Chinese
Arabic
French
Japanese
Italian
Dutch
Russian
If you are deciding to learn a new language for your career, there are several factors to consider.
The right language for you will depend on the populations you will be working with, locations you will be travelling to, and people you will be communicating with.
Research your target roles and find out what languages are in demand. Some employers may list certain languages as a requirement on their job listings.
Deciding to learn a new language is a big commitment, but it will have a long payoff and open up endless possibilities.
Language proficiency will enhance your employability and provide new professional opportunities.
Being able to show your proficiency with an official language test is a great addition to a CV. You don't need hiring managers to take your word for it. Your score will speak for itself.
Below are proficiency tests for the top 10 languages in 2023.
IELTS, TOEFL, TOEIC, CELPIP (English)
DSH, TestDaF (German)
DELE (Spanish)
HSK, Chinese Proficiency Test (Chinese)
ALPT (Arabic)
TFI (French)
JLPT (Japanese)
CILS, CELI, CIC, PLIDA, IT (Italian)
CNaVT (Dutch)
TORFL/ТРКИ (Russian)
Certifications and licences
8. Industry-specific certifications to consider for your CV
Is it a good idea to include certifications on your CV?
Absolutely!
Certifications in your industry can be a great way to show commitment to your career and dedication to learning.
They are also a great way to add some experience to your CV if you are new to the field as the result of a career change or recently graduating from school.
The right certifications for you will vary greatly depending on your industry, role, and experience, but here are 10 of the top industry-specific certifications to consider.
Certified Associate in Project Management (CAPM)
Project Management Professional (PMP)
Certified Business Analysis Professional (CBAP)
Certified Notary Public
Professional in Human Resources (PHR)
Certified Public Accountant (CPA)
Certified Professional Sales Person (CPSP)
Cisco Certified Internetwork Expert (CCIE)
First Aid and CPR Certification
Forklift Operator Certification
There are many benefits of gaining certifications for job seekers. The right certifications will put you ahead of the competition and make you qualified for the role. Especially if the company lists it as a requirement.
However, don't include certifications that are expired or outdated. It is important to stay current on your certifications and update them when necessary.
This shows initiative and commitment to professional competence. You want potential employers to know that you're dedicated to your role.
9. Licences and permits
Many industries require licences and permits for employment. Regulated industries like education, construction, healthcare, and machine operation all require licensure.
Much like certifications, having the right licence on your CV shows dedication to your job. It improves your employability and shows companies that you have professional competence in your field.
In some cases, companies won't even consider you if you're not already licensed in your respective role.
Occupational health and safety permits demonstrate professional compliance and industry knowledge.
Businesses like restaurants, medical facilities, childcare facilities, and potentially hazardous environments have a great deal of standards they must adhere to for safety purposes.
Holding healthy and safety licences in this area makes you a great asset to these companies.
Continuous professional development to stand out in the competitive job market
10. Lifelong learning
Not all learning has to result in an official certificate or licence. Simply showing that you are committed to updating your skillset enhances your employability.
Today's job market is rapidly evolving and those wishing to stay employed must stay current. Continuously developing your skills and learning the latest trends and technology in your field ensures a long career.
Lifelong learning can be beneficial when transitioning to new roles as well as moving up the ladder in your industry.
There are many online learning platforms and resources available to help you in your learning journey.
Courses at a nearby university, online workshops, or even self-study all contribute to your learning.
Here are 10 online platforms for you to begin your path of skill development and professional growth in 2023.
Coursera
Udemy
Skillshare
LinkedIn Learning
MasterClass
Udacity
Codecademy
FutureLearn
edX
Pluralsight
11. Attending workshops and conferences
Attending workshops and conferences can be another great way to stay current and involved in the job market.
Conferences and workshops provide unique networking opportunities that can't be found elsewhere. You can expand your professional network and make connections that could lead to additional opportunities.
Whether you're looking to advance your own career and seek employment or meet potential partners and investors, industry conferences provide the perfect environment.
Participating in workshops allow you to practise your skills and learn from colleagues in your field. These kinds of events keep you informed about industry trends in the competitive job market.
If you attend a conference and win an award, receive recognition, or lead a workshop, be sure to put it on your CV!
Tailoring your CV to job applications
Always tailor your CV to your target job!
It may seem like a lot of work initially, but tailoring your CV to fit the specific job you're applying for will drastically improve your chances of getting shortlisted.
Writing a blanket CV and then sending it out to dozens of companies is transparent and will be spotted right away. Potential employers will notice if you've taken the time to study their organisation and put in the work.
Choose a clear and professional CV format that showcases your strengths in a way that is concise, relevant, and easy to read.
Identifying relevant hard skills
In order to choose the right hard skills for your CV, carefully read the job description for the role you're applying to. Identify the hard skills they're looking for and be sure to include them on your CV.
This should go without saying, but only include skills that you actually have!
Never lie on your CV. Your potential employer may catch you in a lie during the interview process and you won't be able to do the job they hire you for. Plus, it's unethical and could earn you a reputation in the industry as a liar.
Also, only include skills that are relevant to the job. More than likely, you have a lot of skills and not all of them are relevant to the job you want. Don't waste space on your CV with irrelevant skills.
Use words and phrases from the job description in your CV, but be sure to write them naturally. Copy and pasting directly from the company's website will be obvious and written off as lazy work.
Highlighting transferable skills
If you're changing careers or breaking into a new industry, you may have what are called transferable skills.
This is when a skill you have developed in one job or industry can be applied in a new job or industry.
For example, let's say you have a career in customer service and want to get into sales. Interpersonal skills you developed while talking with customers like "communication" and "persuasion" can be valuable in a sales setting.
These types of hard skills increase your marketability and open up opportunities across industries. The key is presenting them on your CV so they are relevant to the job you want.
Showcase your ability to adapt your hard skills to different roles and how to apply them in new sectors.
Final thoughts on including hard skills on your CV
Having the right hard skills on your CV is key to standing out in a competitive job market. Stay up on the latest trends to ensure a long career.
Research your industry and learn what skills are in the highest demand. Continuously improve your technical skills to stay relevant in an evolving market.
Relevant hard skills increase your employability and professional competence. Show potential employers that you're committed to your career by continuously developing your industry skills.
Seek out online learning platforms, resources, workshops, and conferences to continue your learning and stay competitive in the job market.
Make your move!
Your CV is an extension of yourself.
Make one that's truly you.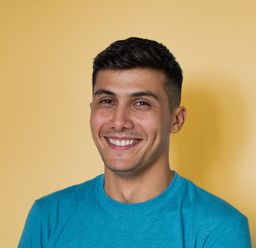 Volen Vulkov
Volen Vulkov is a CV expert and the co-founder of Enhancv. He applies his deep knowledge and experience to write about a career change, development, and how to stand out in the job application process.