In today's competitive market, you might be looking for a part-time job to supplement your primary income.
Or maybe the majority of your time is spent as a caregiver or student and you need the flexibility of a part-time job.
Whatever your reason for seeking a part-time job is, you need a professional and effective CV.
Part-time CVs have a lot of the same elements as full-time CVs with a few key differences.
Your part-time CV should be tailored to fit your target job and highlight your reasons for seeking part-time employment.
Consider your suitability for part-time work when showcasing transferable skills, availability, and experience.
Read our guide below for more tips on how to craft an effective CV for a part-time job, then head over to our CV builder to create yours today.
Is your resume good enough?
Drop your CV here or choose a file. PDF & DOCX only. Max 2MB file size.
Part-time job CV template to copy-paste and use
Why a well-tailored CV is crucial even for part-time jobs
Like any CV, your part-time job CV should be tailored to fit your target job. Include only relevant information and highlight your strengths and achievements.
It is important to customise your CV for part-time roles to demonstrate your suitability and commitment.
The demands of a part-time job aren't for everyone. Be sure to show why you have the right combination of skills, availability, and experience for the role.
Key components of a CV for a part-time job
There are a few key considerations for making a CV for a part-time job. Be sure that each section is clear, concise, and highlights your strengths.
1. Personal details
Your personal details won't vary much from a full-time CV. A basic but professional header is sufficient here.
Your part-time CV header should include your:
Name
Email address
Phone number
LinkedIn profile or other online portfolio
Location
Keep this information simple and straightforward. You want potential employers to be able to find your contact information quickly and efficiently.
2. CV objective or summary
Write an engaging objective that highlights your suitability for part-time work. This is your first opportunity to show potential employers that you're a strong part-time candidate.
Part-time work often requires time commitments or flexibility that not everyone has. Show that you're the right fit by letting hiring managers know your availability.
Let's look at an example of a summary for a part-time CV.
Health Administration student with 4 years of experience in the public health sector. Published a research report on the impact of infectious disease on mental health in 2022. Seeking part-time Research Assistant position to coincide with my education at Health Focus Partners.
RIGHT
The candidate above has a clear connection between their role as a student and their desired part-time job. They have relevant experience and are seeking a job that complements their education.
3. Skills section
The right skills for your CV will vary greatly based on your role and industry. Research your target company and find out what skills are in high demand.
Showcase skills that are particularly valuable in part-time roles. These include flexibility, teamwork, and customer service.
Highlight willingness to work odd hours that are relevant to the role like overnight shifts, long hours, or on-call.
4. Experience section
Your experience section should focus on your skills and achievements most relevant to the part-time role. Study the job description of your desired role to determine what strengths to highlight.
Remember, not all experience has to come from work history. If you're struggling to come up with relevant experience, consider adding volunteer work, projects, or even hobbies.
If you do not have any relevant experience, focus on transferable skills. We will expand more on that below.
5. Education section
Your education section is a great opportunity to present relevant qualifications. Consider adding school projects, assignments, or awards that are relevant to the part-time role.
For example, a senior project on the success of the student store can be a great addition to your CV for a part-time customer service role.
Tailoring your CV to the part-time role
Your CV should always be tailored for your target job, regardless of the time commitment. For a part-time CV, there are a few areas to focus on.
Understanding the job description
If your goal is to tailor your CV to the job you're applying for, understanding the job description is key. Read it several times over and do additional research on the company and industry.
Find out what skills are valuable in the industry and what makes you a strong candidate. Make note of key words and phrases in the job description and use them in your CV.
Pro Tip
Be mindful to incorporate key phrases naturally and truthfully. Never just copy and paste from the job description. This is lazy work that will be noticed right away.
Pay close attention to specific requirements and be sure to highlight them on your CV.
Highlighting transferable skills
If you're applying for a part-time position in an industry where you don't have much experience, focusing on transferable skills is a good strategy.
Transferable skills are skills that apply across roles and industries. Determine the crossover between skills you do have and skills that are relevant to your target job.
For example, if you spent a summer answering phones at a call centre and are applying for a part-time job at the front-desk of a hotel, you can highlight customer service and communication as transferable skills.
Demonstrating flexibility and availability
Availability and willingness to accommodate a job's schedule requirements are key to part-time work.
It's not always easy for companies to find staff who can work unusual hours, so flexibility makes you a competitive candidate.
Use your CV's summary section to explain your flexibility and commitment to schedule requirements. This will give potential employers the information they need immediately.
You can also include things like time management and flexibility in your skills section.
CV dos and don'ts for part-time roles
You're almost at the finish line! Here are a few more things to keep in mind as you write your CV for a part-time position.
Top tips to make your CV stand out
Here are a few tips on how you can make your part-time CV more appealing to employers.
Write a strong summary
As mentioned above, your summary is your first introduction to potential employers. This is your opportunity to show them who you are as a candidate.
Your summary needs to be strong enough that hiring managers want to keep reading. Highlight your best achievement and qualities.
Convey your flexibility
This is crucial to part-time jobs. If you can't accommodate the schedule demands, they will go with a candidate who can.
Stress your willingness to work with the company on schedule requirements and show how the hours are mutually beneficial.
For example, if you are attending night school and are applying for a job that only has morning hours, that benefits both you and the company.
Choose an attention-grabbing layout
Your part-time CV is just as important as a full-time CV and should convey the same professionalism. Choose a CV format that is clear, concise, and professional.
Hiring managers have a stack of CVs on their desk from candidates with similar backgrounds and skills. An attention-grabbing layout will catch their eye and make you stand out.
Be careful not to cross the line from attention-grabbing to chaotic and disorganised. There should be a good balance of text and white space with pleasant colours and fonts.
Common mistakes to avoid
You want your CV to stand out from the crowd in a good way! Here are a few common pitfalls to avoid when making your part-time CV.
Including irrelevant information
Potential employers only want to know about your experience that is relevant to the job. If you're applying to a job at a cafe, they don't need to know you spent a summer as a dog walker.
If you have a long history of working different kinds of jobs, it might be difficult to see a connection between them. If this is the case, focus on transferable skills.
Hiring managers will spend a limited amount of time looking over your CV. Don't waste any of it by having them read through irrelevant information.
Too much blank space
If you haven't had any work experience at all, you might have trouble filling up all the space on your CV. You don't want to send in a CV that has too much white space on it.
If you don't have much work history or have gaps in your timeline, choose a CV format that focuses on skills rather than employment history.
This way you can focus on your skills that are relevant to the job and draw attention away from your work history.
Leaving out measurable results
Whenever you're including achievements or skills on your CV, you need to provide evidence to support your claims.
Companies won't just take your word for it if you write "strong leadership" on your CV. Back up your claim by writing "led a team of 10 employees on a project that increased profits by 42%".
Claims of success should be supported with measurable results that include specific numbers and data.
Key takeaways for crafting an effective CV for a part-time job
Make your mark with a well-crafted CV for a part-time job. Keep key considerations in mind like availability, transferable skills, and experience.
Keep every section of your CV clear, concise, and relevant. Always tailor your CV to the target job by studying the job description and company.
Highlight your flexibility and willingness to meet schedule requirements. Show potential employers why you are the right candidate for the job.
A well-crafted CV is key in securing a part-time job and can pave the way for future opportunities. Part-time experience now will benefit a full-time CV later.
Frequently Asked Questions (FAQs)
Should I include references on my CV for a part-time job?
Including references on a CV are becoming less and less common in today's job market. There is no need to include references on a CV unless specifically requested in the application. Hiring managers will usually ask for references later in the hiring process.
How long should my CV be for a part-time job?
One page is the standard CV length for most part-time jobs. A CV for a part-time job typically won't need to be longer than a page unless the job application requests additional information like a detailed history or portfolio.
Make your move!
Your CV is an extension of yourself.
Make one that's truly you.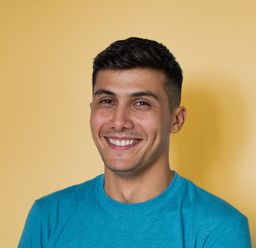 Volen Vulkov
Volen Vulkov is a CV expert and the co-founder of Enhancv. He applies his deep knowledge and experience to write about a career change, development, and how to stand out in the job application process.