If you want to grab the hiring manager's attention and get your next job in no time, you will need to create a really compelling CV.

But that's easier said than done.

Every job position you apply for has different requirements not only for your qualifications, but also for your CV design to be noticed.

And while your CVs get outdated, and you have to update them regularly, there are some tips that are always relevant for any CV you would like to write.

In this article, we are going to explore the 24 most important tips you need to remember and use in order to get the best results.

So let's not waste any more time and jump right into it.
CV Tips
Upload & Check Your CV
Drop your CV here or choose a file. PDF & DOCX only. Max 2MB file size.
1. Tailor your CV to every job you apply for

Even though your work experience and skills does not change when you are writing your CV, your CV should change depending on the role you are applying for.

You need to highlight different strengths, and really show the hiring manager that you know what job you are applying for and that you are qualified enough to take it.

A one size fits all kind of CV would not only get you the job, but it would most probably not even get you an interview.

So make sure you read carefully the job description and get the best of all the qualifications and history you have.
2. Show your passion

Nowadays, the competition for every open job position out there is greater than ever.

There are hundreds of candidates for each job opening, and having all the right qualifications is no longer enough to get it.

That's why you need to show your potential employer that you are not only qualified, but you also have passion for what you do.

If you have no experience, you can briefly explain that in your CV objective.

But overall, the best way to go is to list relevant side projects, and show in detail your passion for the job.
3. Be specific and show your impact

You have most definitely heard that tip before, but what does it really mean?

Basically, what it is trying to tell you is that you should ensure every bullet in your work experience section answers the question "What was the result of my work?".

A while ago, these bullet lists were used mostly for responsibilities for every job position you have held, but in today's competitive job market, you need to focus much more on achievements.

As much as 3-5 bullet points per job entry would do the trick, but you need to make them count.

To get the best result, you need to do three simple things:
Use some kind of metrics to explain your impact
Explain what actions you took to achieve that impact
4. Be confident

Your CV's main goal is to present your professional experience in the best possible light for the hiring managers.

But if you want to get the best results, you need to show some real confidence in your experience and achievements.

Even though your CV is a professional document, it should still balance between the professional (experience, education, projects, skills, etc.) and the personal (passions, most proud of, life philosophy).
5. Proofread

One of the most important things you need to do before you send out your CV is checking it for any mistakes.

In today's competitive job market, hiring managers use every chance they have to downsize the stack of CVs they have. You would not want to be dismissed just because you did not want to spend some time proofreading.

If you want to be extra careful (and you should be), you can ask a friend or a family member to proofread it for you as well, as they might spot some errors that you have missed.
6. Use keywords and power words

These two kinds of words are the most important step from tailoring your CV for the role you are applying for.

The keywords are most commonly skills that you find on the job description, and include in your CV to emphasize that you are a suited candidate for the job.

On the other hand, the power words are what makes keywords really stick out, when they are read by the hiring manager.

Power words emphasize your chosen keywords, and simultaneously tell a story of your greatest work-related achievements.
7. Use a professional email address

Your CV should present you as a professional, and using anything less for your email address, can only backfire.

What you need to do is sign up for a well-accepted email provider, like Gmail, and use your first and last name in your email address. The best way to go is "firstname.lastname@gmail.com".
8. Provide proof and use hard numbers

One of the most impactful things on your CV are your achievements. But just putting them alone won't do the trick, you need to provide some proof.

And what is more eye-catching for the hiring manager than numbers.

You need to find a way to quantify your achievements and use hard numbers to really impress the hiring managers.

A great habit to develop as early as possible is keeping track of your work, so that you would find it easy to implement this tip into your CV.
9. Make every section count

You might feel proud of all your experience, achievements and skills, but you need to remember that your CV should be at all times relevant to the job position you are applying for.

Furthermore, it should not be too long, as hiring managers have very limited time to go through hundreds of CVs.

If you want to increase your chances, make sure you cut out any irrelevant entries, or even whole sections.

The first thing you should consider leaving out is any old job experience that is no longer relevant, and you have gained a much more valuable one since then.
10. Use reverse chronological order

While we are on the topic of your work experience section, you should know that all your entries should follow a reverse chronological order.

That means that your most recent entries should come at the top of the page, and the oldest one should go to the bottom.

That's the format hiring managers expect on your work experience section, and if you provide them anything else, you might be dismissed before they have even started reading.
11. Name your file properly

Your CV name is the first thing a hiring manager would see before opening it up. And if the name of your file seems unprofessional, or in any way off-putting, it may never be opened.

What you need to include in the file name is:
Your first and last name
The type of the document (in this case – CV)
The position you are applying for (optional)

Furthermore, if you also send out a cover letter with your CV, it would be easier for the hiring manager to connect the two documents with you, and your hard work would not be in vain.
12. Use the right file format

Your file format is of great importance as well. You need to follow any instructions of file format that were listed in the job description, or your CV might again not be opened.

However, if there are no requirements about the file format, you should absolutely save your CV as PDF. This way you ensure that all your formatting would be preserved, and your CV would look its best.
13. List your contact information correctly

No matter how impressive your experience, skills, and qualifications are, that would not matter at all, if your contact information is incorrect.

You need to carefully double-check it every time, so that you would be sure it is up-to-date, and any hiring manager would be able to contact you.
14. Don't mention personal details

We already mentioned that it is great to balance the professional and the personal on your CV. But make no mistake, that does not mean any personal details have a place in your CV.

Any of the following personal details should at all times be omitted:
Full address
Date of birth
Marital status
Social security number
Gender
Sexual orientation
Religious beliefs
Political affiliation
15. List all the right skills

Whenever you are writing a CV, it is important to make it all relevant. That specifically applies to your skill set.

To make the choosing process for your CV skills easier, it is a great idea to scan the job listing.

That's the place where you can find all the required skills for the position, and you can start tailoring your CV with those which you possess.
16. Use the right font size

When listing all your greatest accomplishments, skills and work history, you need to consider one important thing – the hiring manager should be able to read it easily.

That's why font size might be more critical than you think.

Luckily, there are just two rules here to make your CV look its best:
Use between 14-16pt for sections' titles
Use 10-12pt for all other text in your CV

There is one exception, though, that you should not forget – your name should at all times be the biggest text in your CV.
17. Choose a professional font

But font is not all about size, you need to use a professional one, or the size would be of no importance.

In this case, the simpler – the better.

Consider one of the most common fonts:
Times New Roman
Arial
Calibri
Georgia
18. Don't talk about money

No matter how much passion you have shown for the job, if you start talking about money on your CV, you have negated any advantage that you might have had.

Talking about money on your CV would make any hiring manager think that you are only in it for the money, and that's not what they are looking for.

There is a time and place to talk about money, and it is during your interview, once you play your hand right with your CV.
19. Be truthful

When you really want a job, you might be tempted to exaggerate the truth, but that is the worst thing you can do.

It is part of the job of the hiring managers to spot these exaggerations and lies, and even if you pass on to the interview, you will either be caught in a lie right then, or early on in your job.

Either way, you would risk damaging your reputation, or even facing legal charges in some cases.

So it's best to stay truthful, and show them why you really are a great candidate for the job.
20. Create a compelling cover letter

A great way to compliment your CV is attaching a cover letter to it, and really making your application strong.

While your CV is all about your professional qualifications, the cover letter provides a more personal touch, and introduces your character to the hiring manager.

It is also a great way to emphasize even more on your most important and relevant skills throughout some more in-depth examples of your work.
21. Make sure you have enough white space

You have somewhat limited space to work with in your CV, so you should make every square inch count.

But make no mistake, if you go too far, you would only get a crumbled mess, that no hiring manager would want to read, or even scan.

Make sure you have margins on all sides of your CV, and add 1.0-1.15 line spacing between text to get the best results.

Also, don't forget that bullet lists instead of paragraphs is a great way to save some space and make your CV more visually appealing.
22. Make it ATS-friendly

More and more companies use some sorts of Applicant Tracking Systems (ATS) to help them with pre-selection of candidates.

That's where keywords are really essential, as that software scans for the most important ones for every position, so make sure you take a hard look at the job listing and get the best out of it.

Furthermore, you should stay away from any complicated graphs and images for important information in your CV, as ATS often can't process that information, and your CV might get dismissed.
23. Avoid jargon/clichés

Last but not least, you should really be careful what words you write on your CV. Usually hiring managers cringe when seeing clichés, so if you have any, you should remove them.

Another way to go is with keeping them, but then you need to make sure they serve some purpose.

They should make you look better in the eyes of the hiring manager, and for that purpose, you should back them up with some examples and proof.
24. Use our CV Builder

If all these tips sound too intimidating, you are in luck, we have saved the best tip for last.

To get the best result, you need a greatly formatted, eye-catching CV, and that is just what we can help you build with our CV Builder.

Try it out, and make a great CV in no time.
Takeaways

We are all done, now you know all the important tips that you need to make your CV great.

Read them carefully as many times as needed, time should be of no concern when it comes to getting your dream job.

And once done, start writing your next CV, that would get you all the interviews you have desired.
Make your move!
Your CV is an extension of yourself.
Make one that's truly you.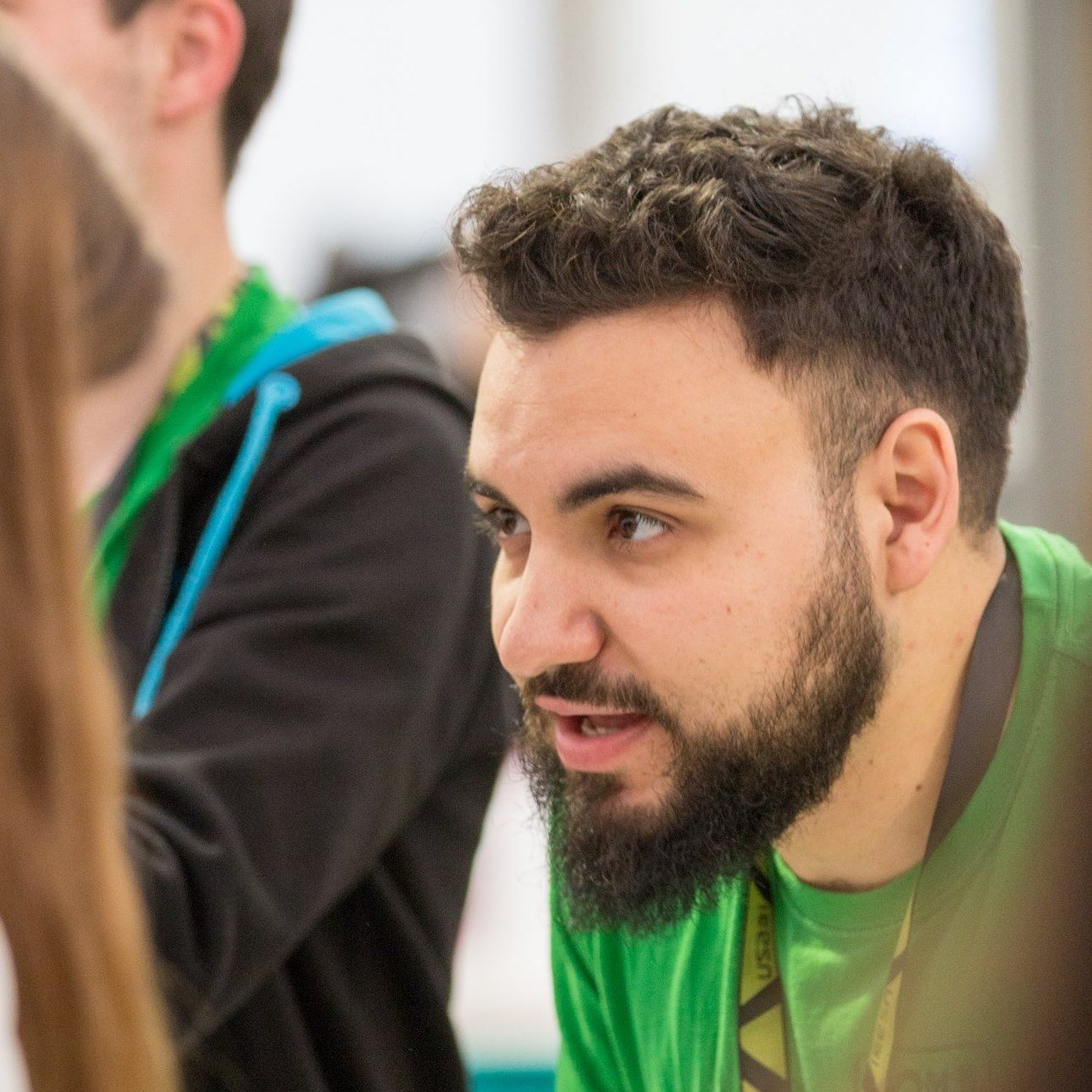 Kal Dimitrov
Kal is a CV expert @ Enhancv. He frequently publishes blog posts around CV writing, cover letters & job applications. Kal also runs a Career Accelerator Bootcamp for young graduates.