If you are seeking a new job, you might find yourself receiving lots of rejections of your application documents.
And the fact is, most of the time it is not really your fault.
Most hiring managers can receive hundreds of applications on a daily basis, spend no more than 5–6 seconds on each, so if you want to have a chance – you need to grab their attention right away.
But you might be asking yourself – how is it even possible to grab someone's attention that quickly, and what should my CV look like?
We are here to help you out. And you need to prepare as the road is long, and has no shortcuts, but once you finish it, you will drastically improve your job-seeking process.
In this article, we are going to find out the answers of the following questions:
What is a CV?
How long should a CV be?
How to format a CV just right?
How to craft a CV section by section?
And we are going to wrap things up with a great example of what your CV should look like in the end in order to help you out with your own.
If you want to get an even better end result, you should try using our CV Builder and create a unique and eye-catching design in no time.
But firstly, make sure you read on and learn all the essential specifics of creating a great CV.
Is your resume good enough?
Drop your CV here or choose a file. PDF & DOCX only. Max 2MB file size.
What is a CV?
Before we go any further, let's get one thing straight – what exactly is a CV?
CV is short for "curriculum vitae" which, in Latin, means "course of life", and is a professional document that highlights your work experience, education, and skills.
A CV can also include any of the following (and more):
Accomplishments
Coursework
Projects
Certificates
Hobbies and interests
Awards
The important thing you need to remember is that no matter what information you decide to include in your CV, it should be relevant to the job position you are applying for.
How long should a CV be?
The first thing you need to keep in mind to make your CV as attractive as possible is to mind your CV's length.
Usually that application document should be kept between 2 and 3 pages long.
However, in recent years, there is a tendency to shorten your CV to just 1 page, which makes it easier to scan by the hiring manager.
Keeping your CV shorter can effectively improve your chances of getting selected for an interview, as the hiring manager would be more willing to give your CV a read if it is just 1 page long.
However, there are exceptions to that.
For example, if you are applying for a position in an academic institution, make sure your CV is as long as necessary to include all your accomplishments and other important details.
To make sure you don't shorten your CV when you should not, check out the job posting once again to look for any clues about that.
How to format a CV just right?
Now that you know how long your CV should be, let's focus on the next essential detail – your CV's formatting.
The fact is, the hiring manager would first see how your document is formatted and then decide whether to invest any time in it.
Don't worry, you can improve your CV's formatting in just 3 simple steps.
Choose proper font and size
Choosing the proper font and font size if crucial when crafting your CV, as you would want to improve your document's readability as much as possible.
To get the best result, make sure you select a sans-serif font with size of between 10 and 11 points.
Some great fonts that you should consider for your CV are:
And one last thing – make sure you keep your font and sizes consistent throughout your CV. The only places that you can allow yourself to change these are in section titles.
Check your margins
The second thing you should always keep in mind that you should all times have some white space on your CV and let it breathe.
To achieve that, you should mind your documents margins, and make sure there are not too large, or too small.
If you don't want your CV to seem distracting or off-putting, set your margins anywhere between 0.5 and 1 inch.
Use your space wisely
After you have taken care of the white space on your CV, you should also mind how you organize the space that actually contains your information.
To improve your CV's readability, try using the following techniques:
Use bullet lists – these are usually easier to perceive by humans, so that would make your CV more appealing and easy-to-read
Use section headers – you should distinguish your section headers by using different font size, making them bolder, or even using a different font
Bold keywords – your CV will become more appealing and improve the chances to be read altogether if you bold strategic words throughout it. These can be your name, job titles, as well as any essential skills
How to craft a CV section by section?
And now that you know all the basics for initially grabbing the hiring manager's attention, let's have a look at all the essential sections in your CV, as you would want to keep impressing them, no matter where their eyes go.
Contact information
Let's start from the top of your CV – your contact information.
Some people might say that this is the most important section in your entire CV.
And this is partially true – even if you got everything else right, if your contact information is not there, or is poorly entered, the hiring manager might be unable to contact you.
So don't rush through it, and make sure you consider every detail that you can add in there:
Your full name – this is obviously a must. The generally accepted format is First Name, Last Name
Phone number – this is one of the main forms of communication that the hiring manager might choose. If you are applying for a job outside your country, make sure you also include the country code
Email address – this is the other most preferred way for hiring managers to contact candidates. Here, it is essential for you to use a professional email address. The best way to go is firstname.lastname@gmail.com
Location – this is not mandatory information to add, but if you think that your location can benefit your application, or if you want to discuss relocation possibilities, you should consider adding it in. However, make sure not to overshare that information – city and country are more than enough
LinkedIn – sharing a link to your profile in the biggest professional network is always a good idea, as long as your profile is complete and optimized, as it should be
GitHub / Stack Overflow – if you are a developer looking for new job opportunities, you should not skip out on showing off your previous projects
Medium – the same goes for freelance writers and bloggers
CV summary or objective
The first actual piece of information you can offer the hiring manager in your CV is your CV summary or CV objective.
These sections are the perfect way for you to leave a great first impression, and make the hiring manager keep on reading your CV until the end.
You can consider your CV summary or objective like a 2-3 sentence long elevation pitch where you present all your best qualities and why you are the right person for the job.
Generally, if you have more than 2 years of experience in the field you are applying for, you should go for a CV summary, which should include:
Previous jobs and work experience
Relevant achievements and responsibilities
You professional goals
Strong sentences showing how your experience can benefit the company you are applying for
However, if you are changing fields of work, or you are a recent graduate and don't have much experience yet, you should opt for a CV objective, which should include:
Education, certificates, and skills, relevant to the job position you are applying for
Types of responsibilities you have previously taken on
How you can apply your knowledge and skills
Your motivation for getting in the field you are applying for
Work experience
The most crucial section of your CV is probably your work experience, as that's what hiring managers are mainly interested in.
No matter if they went through your CV summary or objective first, your work experience section should be as impressive as possible (while, of course, sticking to the truth).
To perfect your CV's work experience section, you should keep a specific formatting for each entry in it, as it follows:
Job title
Name of the company
Location of the company
Description of the company
Dates of employment
Bullet list of your achievements and responsibilities
A common mistake many candidates have in their work experience section is that they fill up their bullet lists mainly with responsibilities.
But the fact is, the hiring manager would probably be well aware of what your position's responsibilities are.
You should use your bullet list more effectively, and fill it with great achievements that you have had in each position, as that would come across as much more impressive, and would effectively improve your chances.
Skills
Another essential part of your CV is your skills section.
When crafting it, and deciding which skills you should add in, you should not only consider what is listed in the job posting, but also add a good mix of hard and soft skills.
We will show you a quick distinction between the two types, just in case:
When listing your skills, make sure you can back them up with your professional experience, and provide a measurement and results achieved for each.
Education
The final essential section of your CV that you should never skip out on including is your education section.
Just like the work experience section, you should follow a strict structure for your entries:
Degree and Speciality
Name of the academic institution
Years attended
If you are a more recent graduate, you can also include a couple of additional details, like:
Grade
Honours
Academic achievements
Minor
To get the best out of your education section, make sure you consider the following:
If you have little or no work experience, you should consider putting your education section first (right after your CV objective)
If you have a university degree, you can omit your high school
Only mention your grade if it is a good one
Language skills
Even though it would not be mandatory to know any languages other than your mother tongue, it can always come in handy to share any language skills on your CV.
As many companies are international nowadays, knowing some languages is a great way to stand out in front of the competition.
Listing any languages you know is simple – you just state the language, and write down your proficiency in it, using the following categories:
Native
Fluent
Proficient
Intermediate
Basic
Hobbies and interests
What we were looking at so far were only sections that show some experience, skills, or knowledge.
However, there are sections that you can include in your CV, that actually show some of your personality, like the section Hobbies and interests.
This also comes in handy, as hiring managers would like to know not only who you are as a professional, but also who you are as a person.
Furthermore, showing hobbies and interests on your CV can actually show your general discipline and commitment.
Example of what your CV should look like
And now, as promised, let's have a look at what your CV should look like in the end in order to grab the hiring manager's attention:
Takeaways
We are all done, now you should have a good idea of what your CV should look like.
Let's go through all the important points one more time:
Your CV should be between 1 and 3 pages long, but in most cases, you would like to keep it to 1 page
Your CV should be well formatted, as you would like it to have good readability
All your CV sections should be formatted properly:

Contact information – should include your full name, phone number, and professional email address as a minimum, but you can also add some additional details as well
CV summary or objective – you should write one of these to show who you are to the hiring manager in just 2–3 sentences and persuade them to keep on reading
Work experience – make sure you list all your relevant experience, following the model that is expected from hiring managers
Skills – include a good mix of soft and hard skills, following the job description for the job you are applying for
Education – list your relevant education, following the model the hiring manager would be expecting
Language skills – show off any languages you know and your level of proficiency, as many companies are now international, and more languages are always a plus
Hobbies and interests – if you have some space available on your CV, you can also show off some of your personality
Now, have a look at our example of what your CV should look like one last time, and make the best out of your own CV.
Make your move!
Your CV is an extension of yourself.
Make one that's truly you.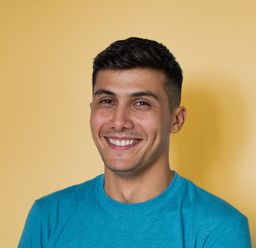 Volen Vulkov
Volen Vulkov is a CV expert and the co-founder of Enhancv. He applies his deep knowledge and experience to write about a career change, development, and how to stand out in the job application process.