You've spent hours perfecting your CV and you're finally ready to send it off. But there's one last thing to consider.
The file format!
Choosing the right format for your CV impacts a hiring manager's first impression. It's a key factor in how they interact with your CV.
PDF is a great format choice for CVs and the standard in many industries. It is compatible with most operating systems and preserves formatting across different devices and platforms.
In this guide, you'll learn:
What to consider when creating a PDF CV
How to create a PDF CV
The potential drawbacks of choosing a PDF format
You can download your CV as a PDF straight from our CV builder. Read the guide below and create a CV that makes a great first impression.
Is your resume good enough?
Drop your CV here or choose a file. PDF & DOCX only. Max 2MB file size.
Key considerations when creating a PDF CV
If you are still on the fence as to whether or not PDF is the right choice for you, here are a few factors to consider before making that final download.
1. Compatibility and accessibility of PDFs
If you don't know what operating system or device your CV will be viewed on, PDFs cast a wide net.
PDFs are universally accessible and compatible with various operating systems. Whether the recipient is opening it on a computer, phone, or some other kind of device, your CV will appear as intended.
2. Preserving your CV's formatting
PDFs are also key in maintaining the original formatting of your CV. Other file formats like Word can morph to fit the formatting of different devices and software.
Prevent unwanted changes to your CV by using a PDF.
You don't want to put time and effort into the formatting of your CV, just to have it shift all over the page when someone else accesses it.
3. Security features of PDF files
PDFs have a number of security features that make them a great choice for submitting your CV electronically. You don't want to make it easy for someone else to alter your CV.
Protect the integrity of your CV by locking the editing capabilities. Depending on the software, you can restrict editing by requiring a password or even encrypting the file.
Once you send your CV out into cyberspace, you can't follow to watch what happens to it. Utilising the security features of PDFs helps to keep your CV the way it was intended.
How to create a PDF CV
In order to present your CV in PDF format, you of course need to know how to create a PDF. There are a few ways to do this.
Directly creating a PDF CV
One way to create a PDF CV is by building one directly in PDF format. There are various online tools and software available that make the process easier.
Enhancv does exactly that when you create your CV using our online CV builder.
After you've finished creating your amazing CV, go to the sidebar on the left side of your screen and click Download.
You will then be given the option to download a PDF directly to your computer or have the PDF sent to you via email.
That's it!
Your PDF CV is ready to be sent off to those job applications.
Enhancv also allows you to fill in the fields of a CV template by uploading a PDF, making it easy to return and update your CV as needed.
Converting a Word document to PDF
Another way to create a PDF CV is by converting a Word document to PDF.
Microsoft Word is another popular way to create a CV. You may already have a Word document CV and need to convert it to a PDF.
This process is pretty simple as well. Once you have your CV ready to go, click on File from the toolbar at the top of your screen and select Print from the drop-down menu.
This may seem odd but stay with me. When the Print menu appears, go to the bottom of the window and click on PDF. Select Save as PDF from the drop-down menu.
Now all you have to do is name your file and save it to your computer!
The Print > Save as PDF method is applicable to most word-processing software like Microsoft Word and Google Docs.
Pro Tip
Always check that proper formatting has been preserved when converting a file to PDF.
When converting your CV from a Word document to a PDF, check and double-check that the formatting doesn't get altered in the process.
Check that your CV is the way you want it before saving it as a PDF. Review your CV again after conversion to make sure all elements have been correctly transferred.
You don't want to submit a CV with formatting errors simply because you neglected to check the final version.
Potential drawbacks of PDF CVs
PDFs are the optimal format for CVs in most situations, however, there are some drawbacks.
Issues with applicant tracking systems (ATS)
Some ATS may not be able to accurately scan PDF CVs. Be sure that your CV is formatted for optimal ATS success.
We have tested our CV templates on platforms such as Indeed and Hireability. Enhancv's PDF parsing rate was on par with Word documents.
If you're using a PDF CV, be sure that it is formatted in a clear, organised layout that makes it easier for ATS to read.
Limitations in editing
Making quick edits is certainly one of the drawbacks of using PDFs. Especially when you have implemented security measures like those described above.
Editing a PDF to make a small change is more complicated than with a Word document, for example.
This slows down the process of updating your CV whenever you have new information to add or update.
Key takeaways on presenting your CV in PDF format
Consider the compatibility and accessibility of PDFs across devices when choosing a CV format. Utilise security features to preserve the integrity of your PDF CV.
Directly create a PDF through an online CV builder or convert a Word document to a PDF. Always ensure that formatting has been correctly transferred and saved.
Be sure to consider potential drawbacks of PDF CVs like issues with ATS and limitations in editing.
Making the best choice for your CV format
There are many benefits of PDFs when creating a CV that will make a positive impact. However, it's important to take your specific needs and situation into consideration.
If the job you're applying to lists specific file formatting guidelines, be sure to follow them. Some companies may have specific requirements when it comes to file formatting.
Always follow the instructions on the job application!
Frequently asked questions (FAQs)
1. Should I always submit my CV in PDF format?
While PDF is the best option in most cases, there are some situations where it might not be the best format. If a specific file format is requested in the job posting, always follow the instructions.
2. What software can I use to convert my CV to PDF?
In addition to online CV builders and word processing software, there are a number of tools online where you can convert your CV to PDF. Adobe PDF Converter is a reliable product you can use, as well as a number of free online PDF converters.
Make your move!
Your CV is an extension of yourself.
Make one that's truly you.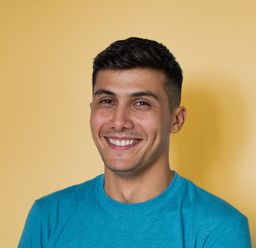 Volen Vulkov
Volen Vulkov is a CV expert and the co-founder of Enhancv. He applies his deep knowledge and experience to write about a career change, development, and how to stand out in the job application process.