How To Land The Volunteering Opportunity Of Your Dreams

Avery is currently volunteering in Indonesia as part of a six-week project where they are involved in helping local communities and developing leadership skills. As a Global Business student, Avery has long desired an opportunity where they could mix all of their academic and personal elements.
We might know of volunteering projects that we'd love to take part in but we don't know how to package our experience or even how to sort the logistics of volunteering. Below, you can discover how Avery did just that along with some useful tips they picked up along the way.
1. Join a Volunteering Organisation
AIESEC is an international youth led organisation that focuses on leadership in young people. Avery felt the opportunity for progression within AIESEC's network – talent management, marketing, finance, membership and more – presented a great structure through which their volunteering desires could be satisfied. "I'm French-American…born in the US, grew up in France and currently studying in Ireland…with AIESEC I get to meet people with similar experiences, people that get it".
For Avery, finding a volunteering organisation was the first step towards success. It brought the projects to their door from which they could choose the right one for them. To find your own volunteering opportunity, first seek out volunteering organisations that operate in your local community. If you don't know where to start, AIESEC has entities all over the world.
2. Select The Right Opportunity
Avery found themselves bombarded with a host of projects that they could take part in; figuring out which one made most sense for them seemed daunting. To overcome this, they focused on the areas that would enrich their current studies and fulfil long-term wishes. "I wanted something in marketing, so I could get hands-on experience". Use similar tactics when deciding on the right project for you. Take into account the time you can dedicate, the causes that you feel passionate about and the skills you can apply from your daily-life.
Avery also struggled with the quality of the projects on offer. They wanted to make sure they were doing something that had a purpose. "You're not going to a different country to look like a saviour or something". They filtered out projects that were short-term and researched the practical work they would be partaking in. Ultimately, this led them towards volunteering in Indonesia for six weeks as it was clear they would be working with their host village in their coffee trade. Taking these things into consideration in your own hunt will allow you to focus in on the one or two projects that satisfy all of your requirements, therefore giving you time to prepare the best application.
3. Build a volunteer resume
When applying for the volunteering opportunity in Indonesia, Avery put together an amazing resume with Enhancv. "The thing that helped me the most was the whole structure. When you first create a resume, there's always going to be things you aren't thinking of". Even though this wasn't Avery's first resume, they wanted to make sure that they didn't leave anything out. Having the structure right in front of them along with some prompting questions allowed them to pinpoint on the skills and attributes that showed they were the right fit.
"Always consider the mindset of the organisation that's sending you away". Avery knew that they needed to stand out in the sea of others that put themselves forward. They took time and brainstormed the skills and experiences that made sense for a volunteering trip abroad. One of the key points relevant was their experience as an exchange student in Ireland. "I already knew what it was like to live away from home…there were only 8 students picked directly to go away to Ireland in my program".
You can try creating your own volunteering resume using our builder.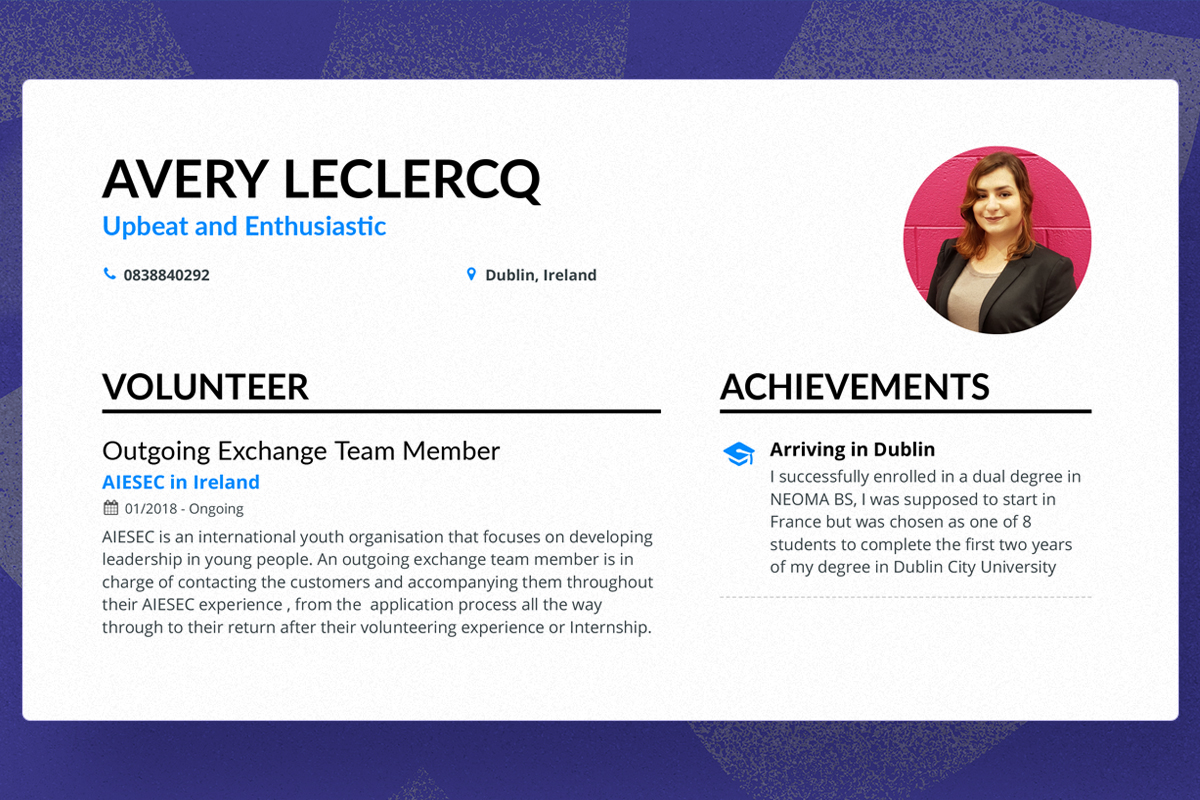 4. Conquer The Visa
Volunteering abroad comes with its own set of difficulties. One of those is the VISA application process that Avery had to go through. Getting all of the right documentation in order to travel to  Indonesia was a real struggle – especially considering that they were living in Paris at the time. "I wasn't born in France so there was a two-weeks waiting list…I had to travel three hours on a train during strikes while I was sick, just for five minutes to get something printed". Unfortunately, the trials and tribulations of the VISA didn't stop for Avery.
They were advised to try obtain a tourist VISA in lieu of a socio-cultural VISA as it required less documentation. When Avery got to the embassy hoping to get their tourist VISA, things didn't go as planned. "He told me my documents were all fine, but he couldn't issue a VISA until the 21st of June", three days after Avery was scheduled to arrive in Indonesia.

"There were so many times I would have given up, had it not been for the people around me supporting me I don't know what I would have done". Fortunately, Avery organised to obtain a VISA upon arrival in Indonesia and was able to continue the project as expected. Avery says to anyone that is looking for a volunteering opportunity abroad:
Start researching VISA requirements when you decide to apply, not when you get selected

Remain calm at embassies and immigration controls

Reach out to contacts in your host country to help you in the process

Look into the laws of your host-country to see how cultures differ from your own