16 Unique Resume Templates To Stand Out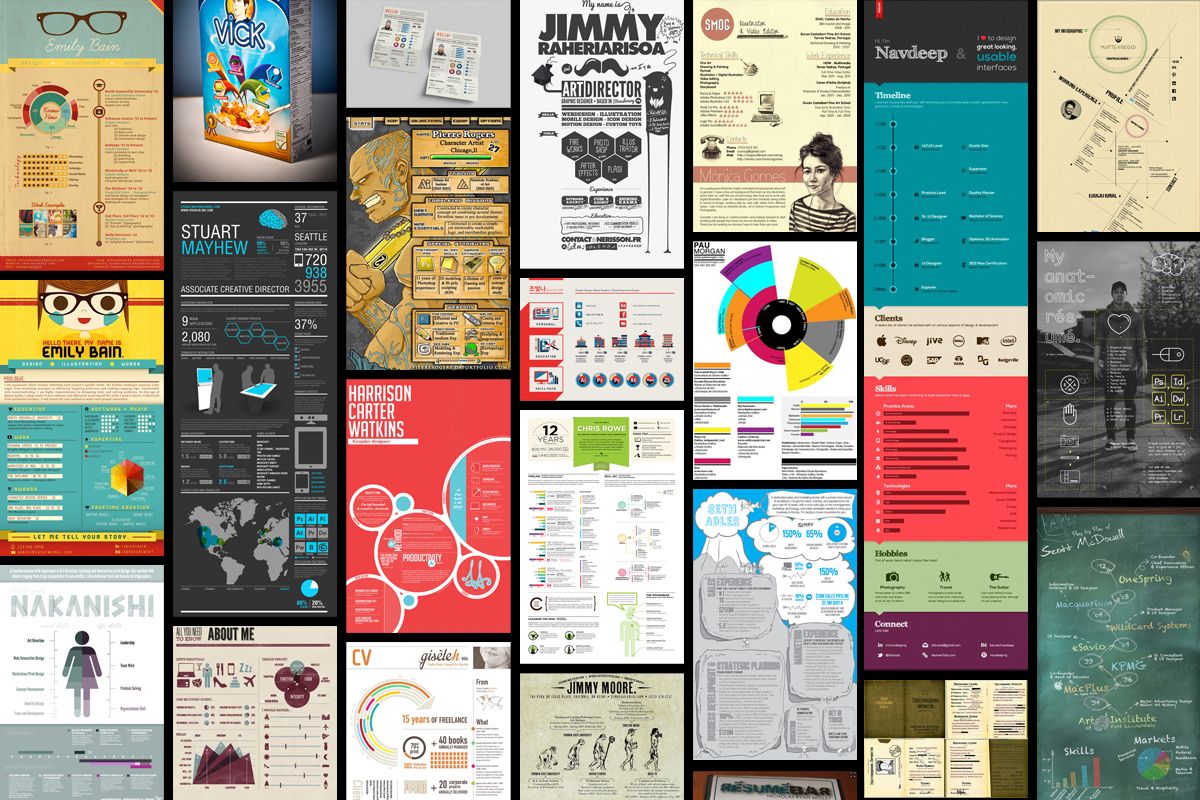 Gone are the days when a resume was only about showing your work experience.
We are sure, you already know the baseline of how to write a resume.
But how to make it stand out?
Your resume should be the most memorable one even if the recruiters have looked at more than 100 resumes that day.
But making an impression is easier said than done.
That's why we found 16 unique resume examples for you to catch and keep the Recruiter's attention.
Here's what you'll learn today:
How to make your resume unique and how to highlight important information;
When it is good to have a creative resume and when not;
Useful tips on how to make your resume more impressive.
16 Unique resume templates to stand out
You can have a unique resume design with those Enhancv's team made for you with the applicant's individuality in mind.
To be honest, we could have made simpler black-on-white resume designs, but you know how to make them, right?
So stay with us and be the golden fish in the sea of resumes.
Timeline Resume Template to show your experience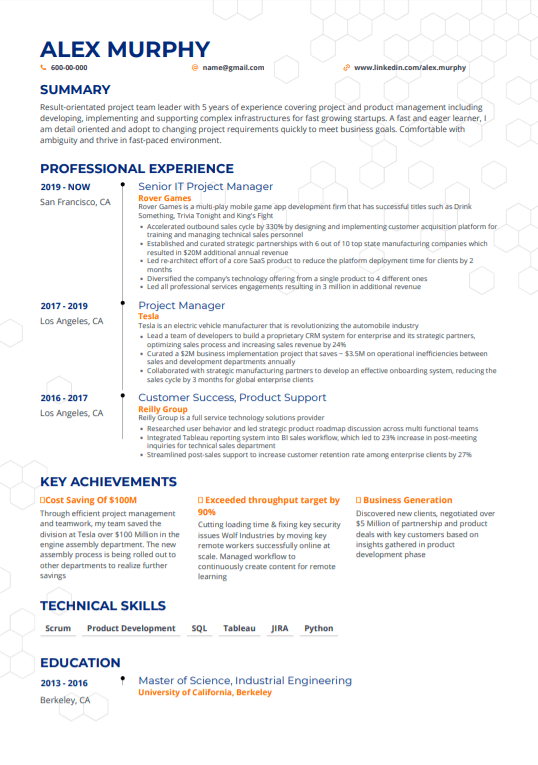 What's the first and the second thing you see?
The name and the summary title.
That's because the header and summary are placed at the top to capture the recruiters' interest within the first 7 seconds.
The first 7 seconds are crucial for the first impression so keep in mind that if you choose this design you should be sure to write an outstanding summary of yourself.
What is more, experience and education are featured using a modern, reverse-chronological structure with a vertical line to lead the Recruiter's eye. You can show your career development effectively and showcase your last or your biggest successes.
A balanced background pattern is added to establish harmony. That also gives the page a prominent look and makes it visually appealing. Also, we have left space for any additional sections you want to add.
You can check it out here.
Minimalistic resume for those wanting a classy and simple CV
As you can see there are no unnecessary details.
If you have many years of experience, this design is a good choice for you, because it uses a two-column layout, meaning you'll be able to squeeze between eight and ten years of experience, all on one page.
Sounds good, right?
We have put a subtle background pattern, however, you have the option of removing it in the editor.
The minimalist black-on-white design is preferred for your resume, but you can use our color picker tool to match the branding of the company you are applying at.
Because of the section headings alignment to the left, a lot of vertical space is saved, which makes your resume consistent.
You can start doing it now!
However, some of you might prefer a modern looking resume. Don't worry, we got you covered.
Modern Resume tells the Recruiter everything it needs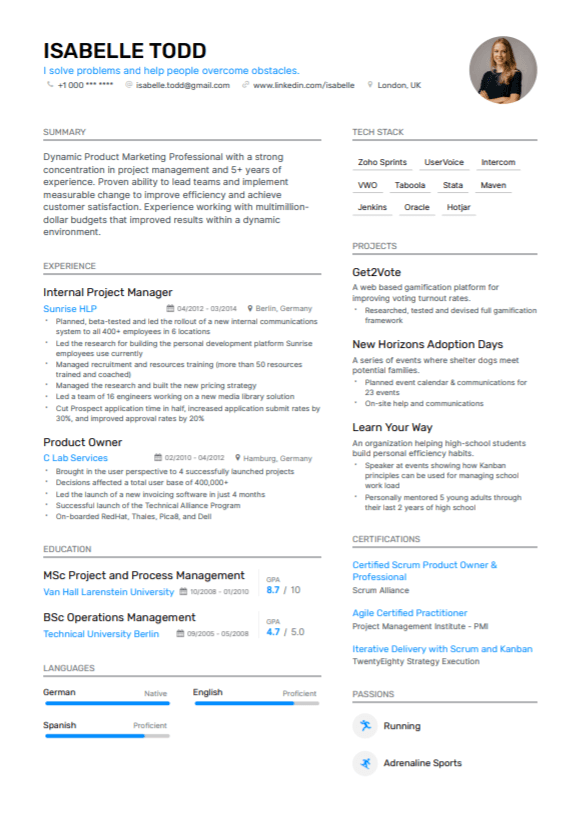 The modern resume tastefully utilizes color for subheadings, icons, and graphics. This helps your resume stand out while not distracting from the core content.
You can choose your favourite color for your resume or you can use the brand identification of the company you are applying to. It's up to you.
The heading includes the most important contact information the Recruiter needs to know – the candidate's name, a brief bio, contact information, and a professional headshot.
Experience and achievement sections are featured at the top so recruiters can quickly see that you're a good fit for the position. Present yourself in the best light.
Two columns are used to make the most out of the available space and the icons draw the eye to the top achievements and passions.
To callout section headings further, we have divided them with lines.
White space helps readability and ensures the resume doesn't feel too busy and distracting. This way the Recruiter can focus on the important parts of the resume.
A subtle background line design is what pulls the whole resume together.
You can start writing it here.
Single Column resume to show you in best light when no experience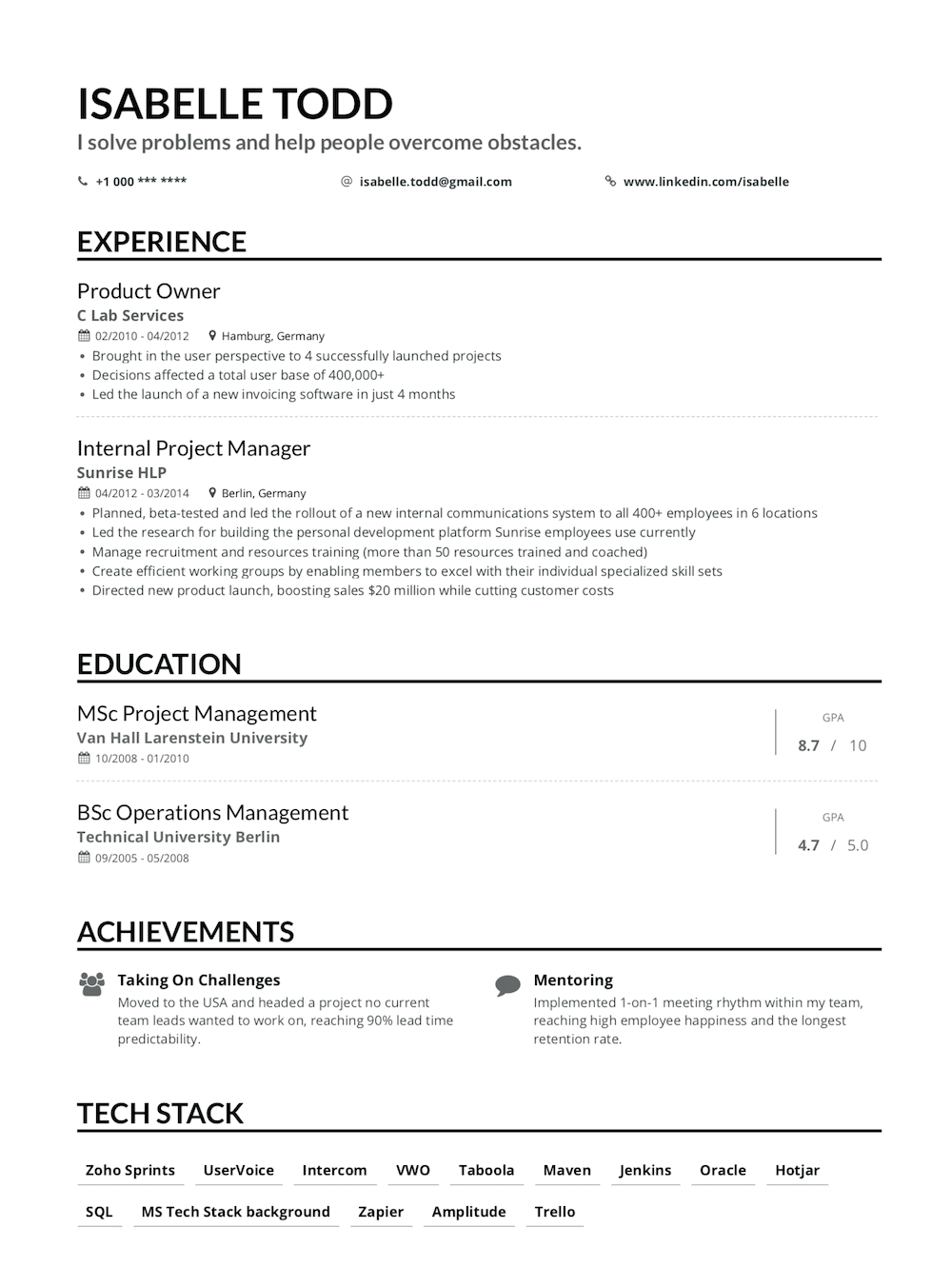 The resume follows standard industry-wide recommendations to only use black and white. However, you can always make it more colorful if you want
Section headings, subheadings are left-aligned for maximum readability and with increased font size and weight to easily differentiate each section.
The maximum use of white space helps your resume look full of information even if you have almost no experience and gives a clean and crisp design.
Don't hesitate and write your resume now.
Modern tasteful presentation with focus on the person in the middle.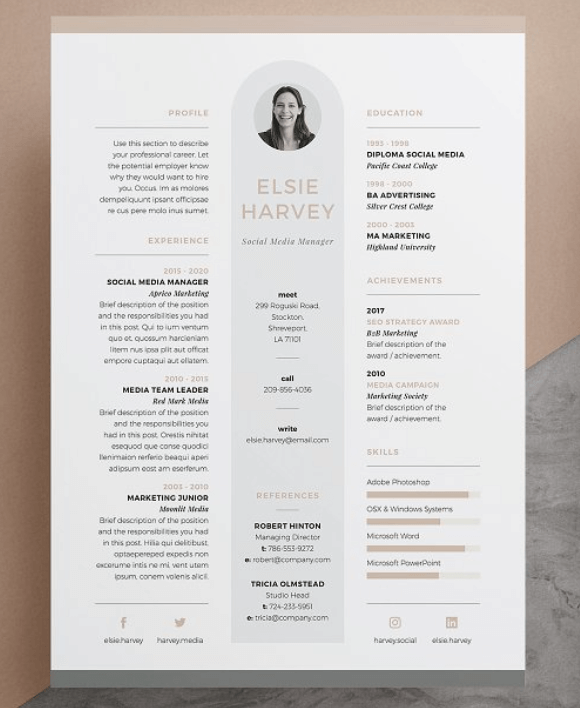 The design, 'Elsie', can be found in Creative Market. It contains a professional compact design for those looking for a high impact presentation.
Everything is editable so you can personalize it and make it perfect.
The contact section is in the middle designed with a different color which grabs the attention of the Recruiter.
The use of white is making the resume classy and the colors are not harmful for the eyes. The sections are divided with thin lines, giving out a better sense of the important parts of the resume.
The Resume Boutique gives you the opportunity to have an elegant and stylish resume.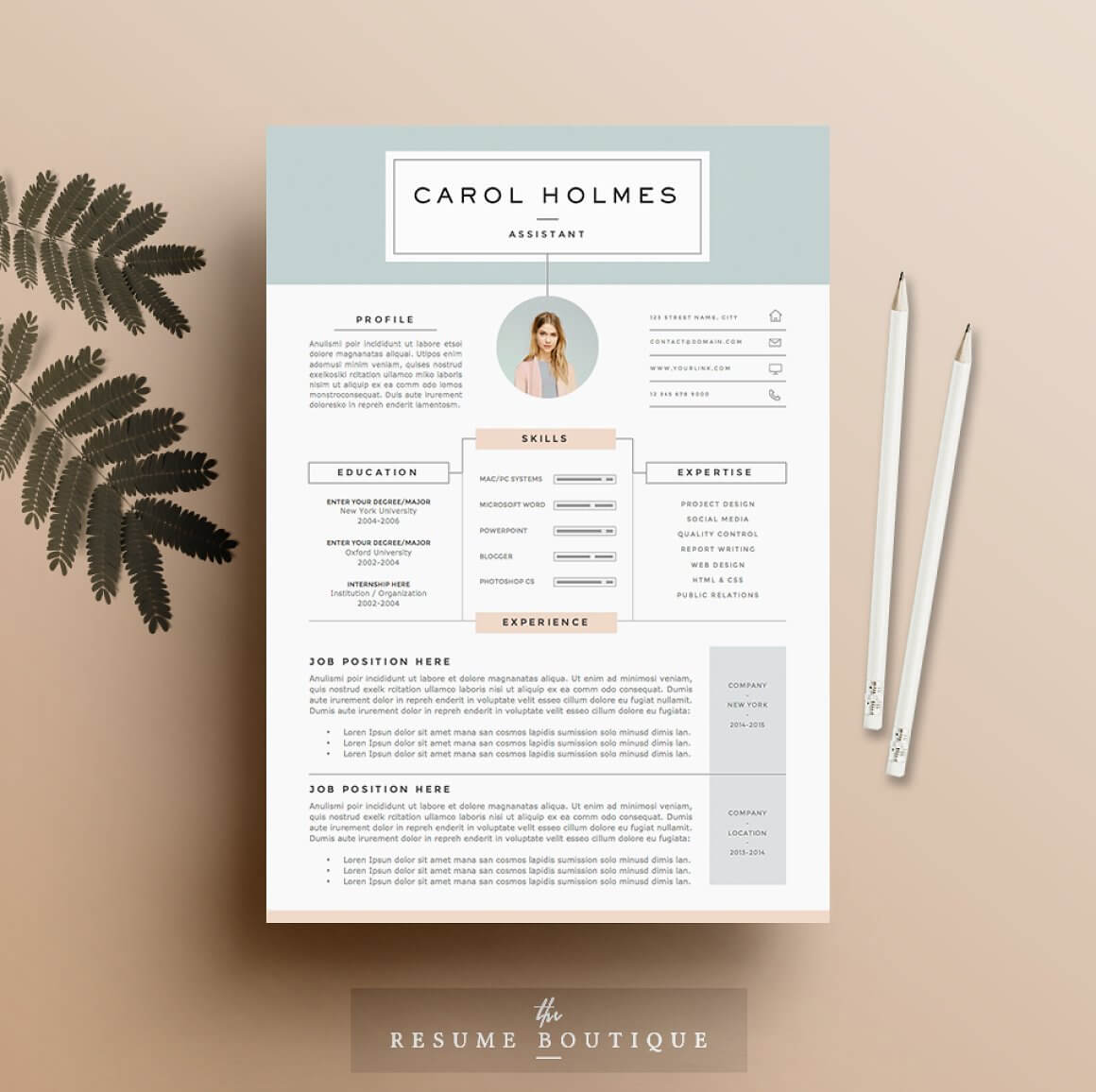 Elegant and modern way to express yourself and your skills and achievements. In this resume, the potential of the white spaces is used smoothly.
The Resume Boutique guides the Recruiter's eyes through the most important parts of the CV with light colors.
You want to drag the Hiring Manager's attention?
Move the sections wherever you want and change their color so they stand out.
You can find it in the Creative Market.
Magnus Henriksen here is nothing but himself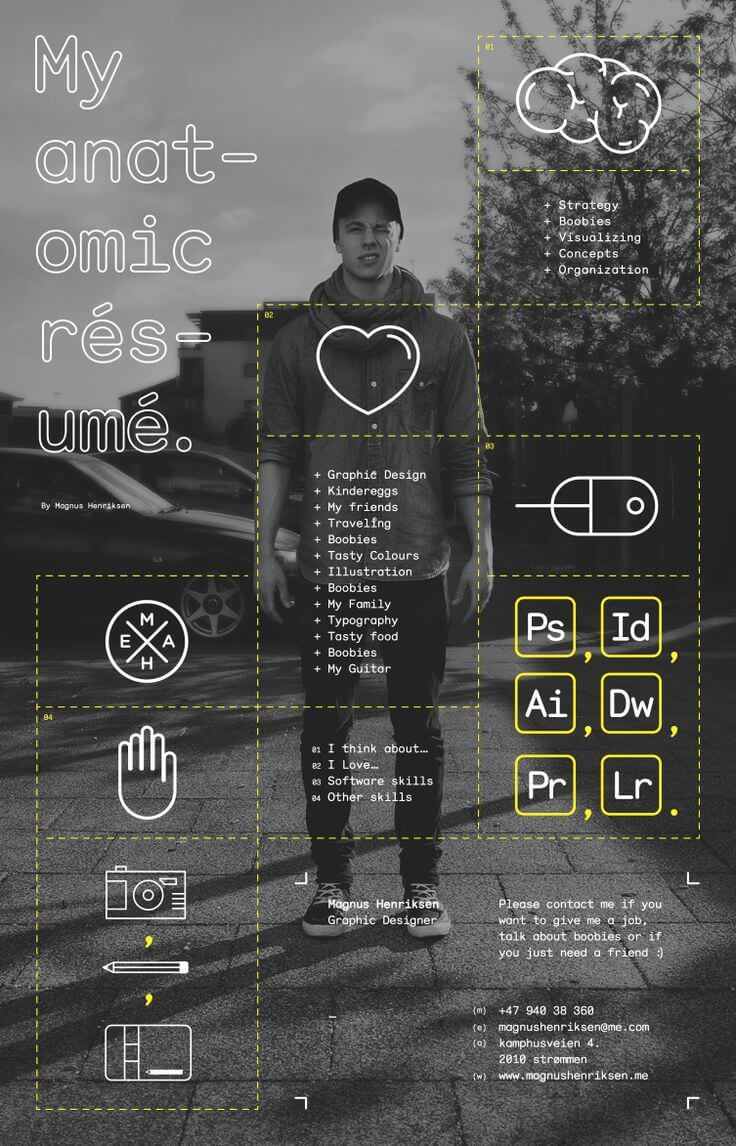 Magnus Henriksen created this unique resume that shows him in the best light both as a person and as a professional. It's simple and straight-forward in a refreshing way while not too extravagant or vulgar.
Having a resume like this confirms your skills as a designer and makes you shine. Elements, for sure, can be accepted as a bit immature, but Magnus wants to show his real personality.
Companies should always know what they're getting when they hire a person and with Magnus, they know they are getting a talented jokester.
You can check out some of his great pieces of work here.
Jimmy Raheriarisoa's resume is bursting with personality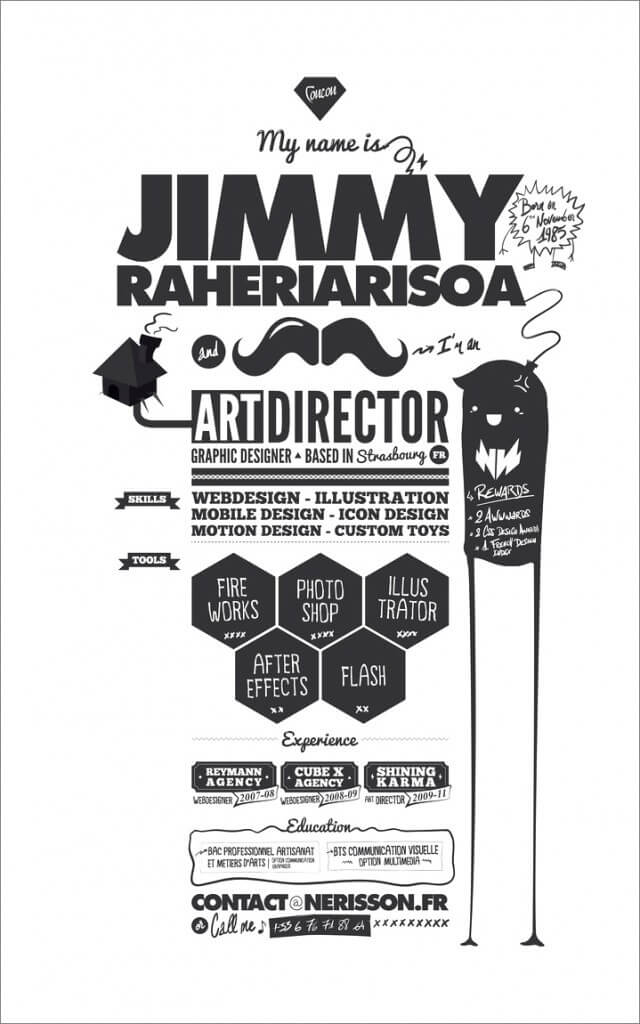 A couple of things about Jimmy's resume impressed us – it's short, concise, well-designed with original details. Most importantly, it emphasizes on the most important information – his position, skills and awards, without being too much.
Plus, it's a super interesting way of expressing his personality.
You can see all of his work here.
CV House also has a Lester resume for you – perfect for the creative professionals.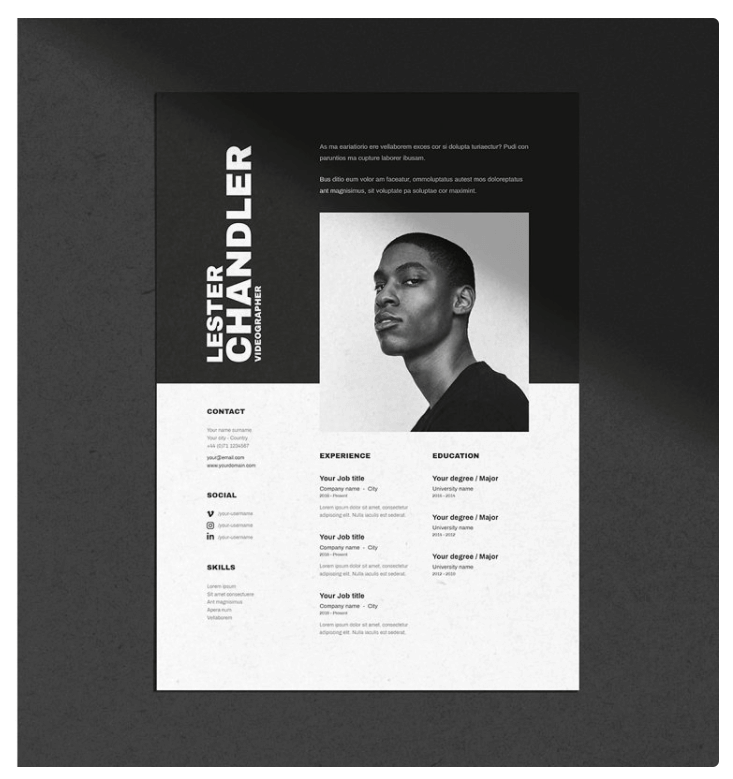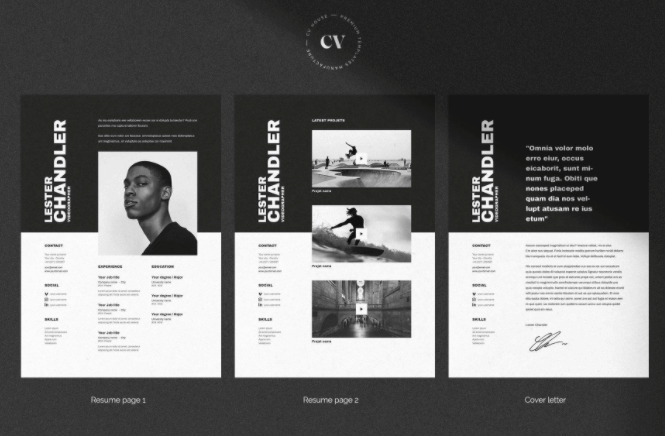 Let me present you, Lester. This original template is perfect for creative jobs like: videographer, photographer, artist, etc. Lester contains three pages, which you can use for a resume, a portfolio and a cover letter.
The black-on-white presentation displays your achievements in a minimalistic and classic way.
You would definitely stand out with a resume like this.
Matteo Innominato presents his own abilities in an one page resume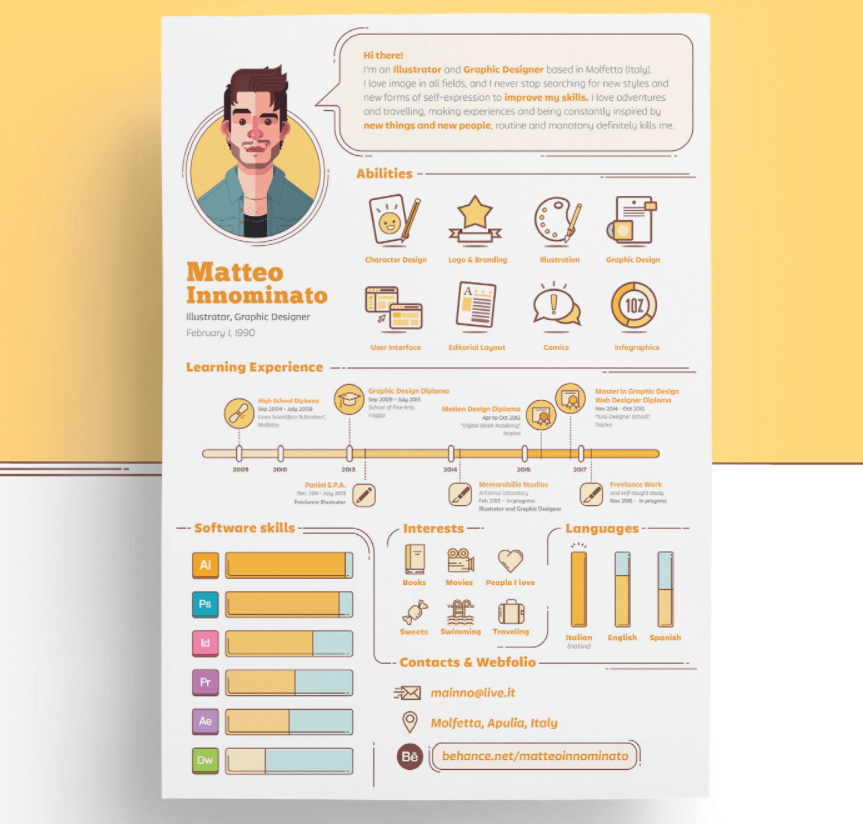 And it is awesome. Not only he shares his experience, achievements and skills, but also he shows the Recruiter his real self.
Unique icons and graphs made by him, arranged without being too fussy.
There are lots of white spaces and the chosen colors make a perfect kind to the eyes palitra.
Check him out here.
Vincenzo Castro has focused his CV mostly on experience and education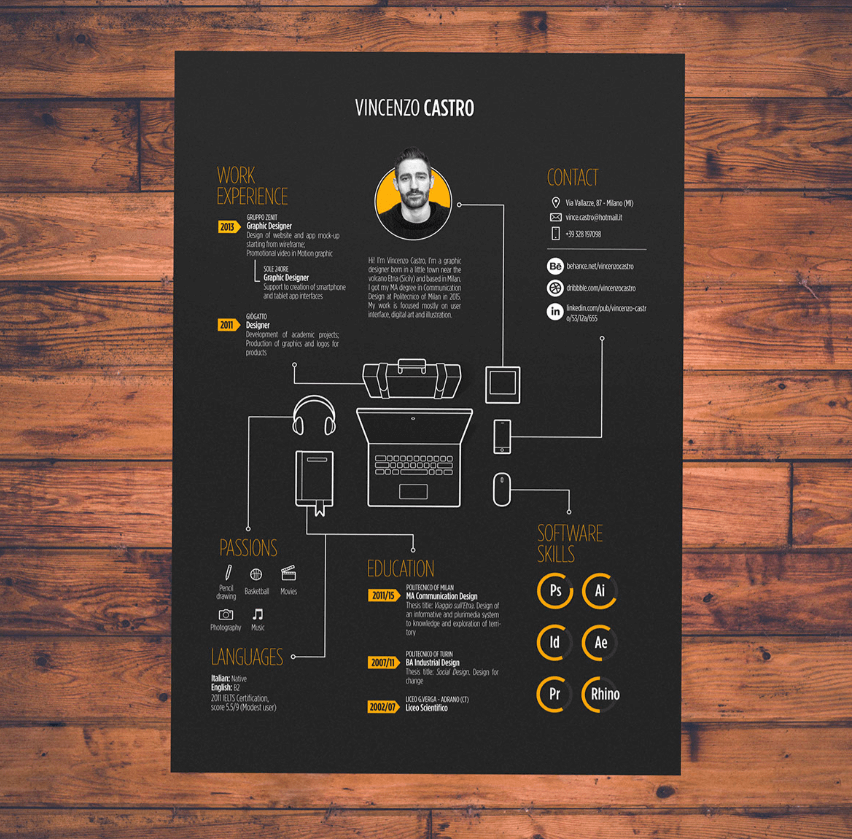 Originally designed Vincenzo gives us a sense of his persona through his resume.
The black CV with orange and white details is created classy but yet different and interesting.
It looks like he really took his time to stand out with his resume.
You can see his work here.
Pierre Rogers' resume gives away his passion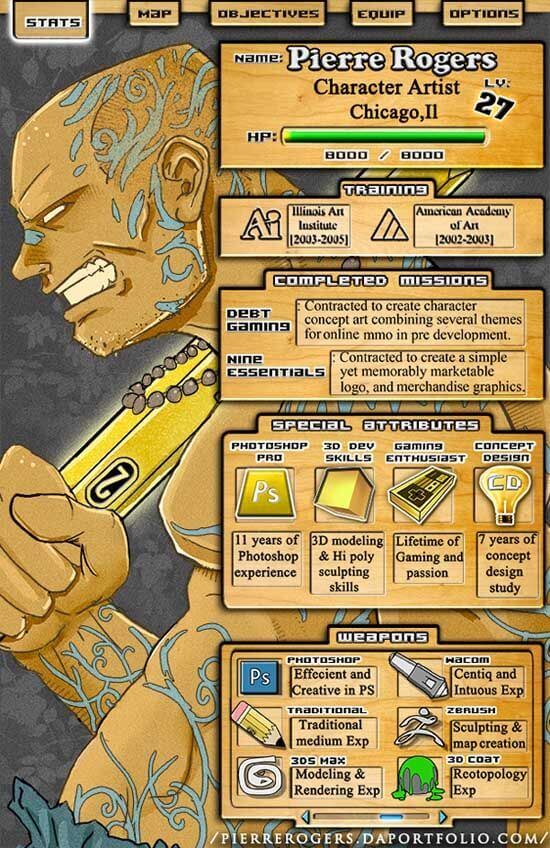 You love computer games?
Well, Pierre Rogers has found a way to integrate his passion for computer games into his resume. His achievements are his completed missions, his experience is presented as special attributes and his software knowledge is his weapon.
Sounds reasonable to us.
It's clear he has a unique style of work, which makes him recognizable.
Show your passion for your work. It makes you more memorable and hireable.
Linda Nakanishi has own interesting style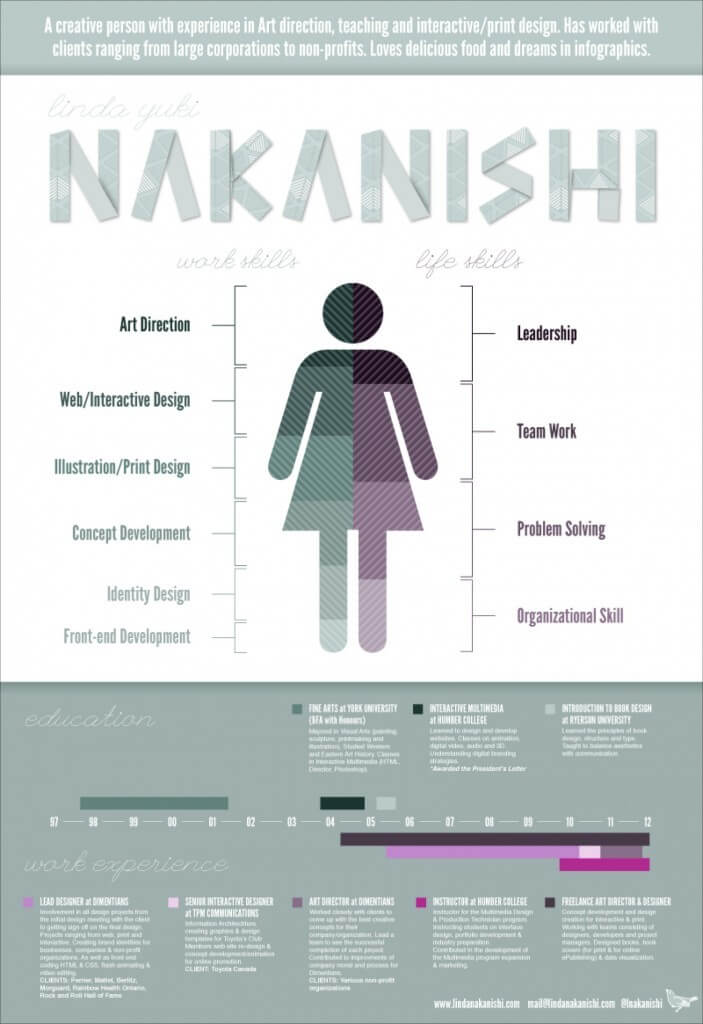 You probably know that the first impression you made to the Recruiter is important. Well, it's true.
You have to make a quick good impression to have that long-dreamed interview call.
Linda here starts with two sentences explaining who she is and then she explains her skills and achievements
A perfect example for a resume that explains the essentials in advance before sharing more.
You can check Linda's website here.
Le Thi Nhu Y decided to go with a more cartoon look.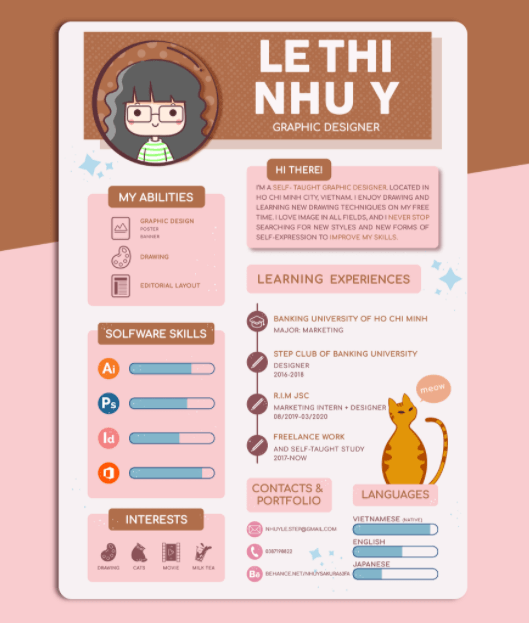 She focused her resume on her abilities, experience and skills.
She mentions cats in the interests section and shows it one more time with a cartoon. You can always add stuff out of your career in your resume that you are passionate about.
Le Thi Nhu Y has used the white space perfectly dividing the sections with color. The Recruiter can quickly find everything he or she needs.
And she has more awesome work.
Soumetra Saxena has great style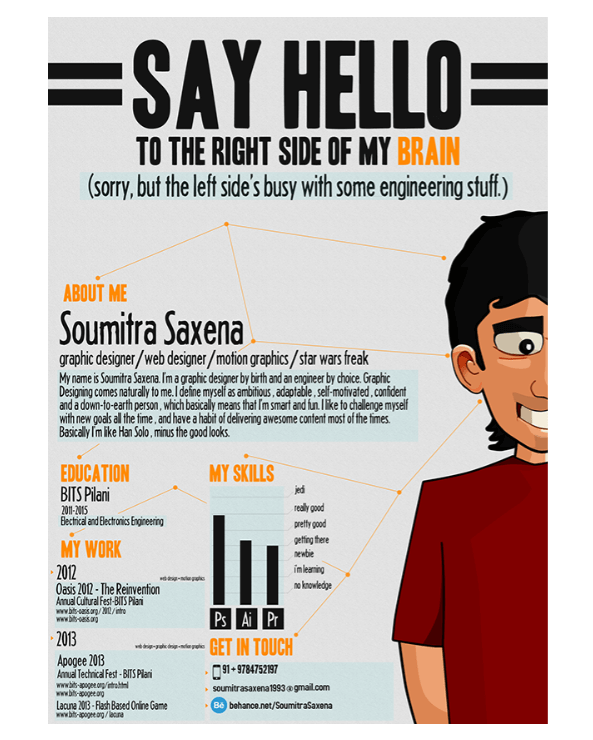 This is another creative resume design. It perfectly presents the designer's humor and his wide range of skills.
With creative illustrations and just a pinch of extra information, the design is still clean and organized, which says a lot about his engineering side as well.
His future employer will know that he is a hard-working employee, but also a very funny star-wars fan.
You can see his other work here.
Last but still unique, we have Syril Bobadilla's colorful resume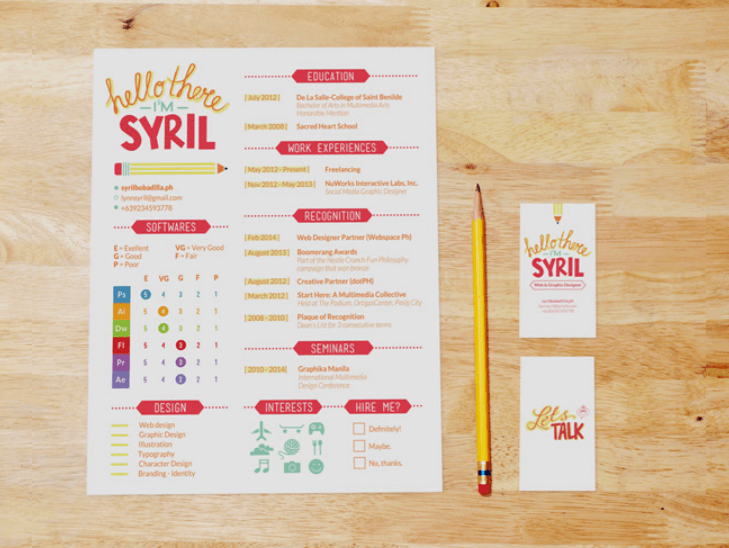 Stunningly balanced bright colors with excellent, clean layout of content.
What is more, the custom fonts add an unusual nice touch to the entire design.
You can find any information you need within a glance, even though there is a lot of colors and information.
You can see other Syril's projects here.
Conclusion
The final chapter – You have seen 16 unique resumes. You are probably wondering how to make such cool ones.
Well, you don't have to make cartoons or illustrations for your resume to impress Recruiters.
To be honest, the Hiring Managers are not expecting you to be extravagant.
If you are not a designer or a creative worker, it could also look a little bit strange if your resume is too pompous.
Just take your resume and make a few adjustments, such as using the brand's colors or cool icons.
Apply creative tactics, such as combinations from two colors, suitable font size, easy to read font family, and proper resume margin.
You can use Enhancv's resume builder because we have taken care of these.
***
Have you made a creative resume for yourself? Do you have any questions or concerns about making one? Or have you nailed it? Tell us below in the comments!