Why I decided to travel on my own for a month
The wheels were out. I was so ready to leave the plane, as my knees had been hurting from traveling for 17 hours. Suddenly, the vibration of the plane changed. It felt like it started accelerating and going up. I held my breath. In a few seconds, we were back up in the sky, above all clouds. I could see the thin line of the horizon and a clear sky sprinkled with stars. My jaw dropped. While the view was stunning, I also realized the aircraft crew had given up on landing in Tbilisi, Georgia.
I signed up for adventures…
People say Caucasian countries have a character and don't accept strangers easily. "Due to poor visibility, we couldn't land and we are looking for an alternative airport. Expect an update soon", said the pilot. Not knowing which way we were heading, I found myself talking to the two Georgians sitting next to me. It was my History 101 class to Georgia. We covered everything from Georgian festivities to why Russia had occupied a third of the country.
After the unplanned 40 min of flying, we arrived at a Turkish airport and the pilot announced "we are refueling and heading back to Munich where the aircraft will be cleaned, restocked with catering, and another crew will do a second attempt to bring you to Tbilisi. If the visibility allows the landing, you should expect to land there in the late afternoon today". Not knowing if their third and my second attempt would get all of us to Tbilisi, I laughed. I signed up for adventures and facing my fears, didn't I?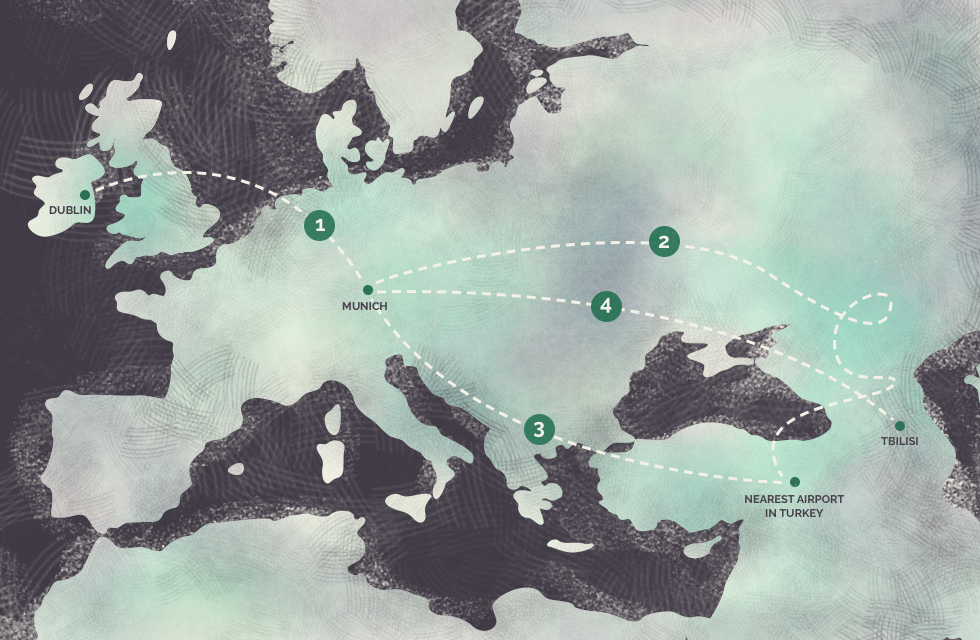 I didn't get a hug, but a push
Back in August, my friend Ross and I went to a friend's wedding in Bordeaux, France. Exploring the region and driving through pine tree forests with Ross felt fresh, fun, and.. uncomfortable. It had been just a few months since I had separated with my long-term ex. As we always used to travel together, we'd developed our own, unique style of traveling. And the trip with Ross felt like none of those trips I'd done in the last 8 years. I told Ross about this feeling of discomfort. Although I was looking for his support, like a hug, and he could see it, he did the very opposite. He said, "you should travel on your own." Then, he told me about his adventures from a trip to Italy; he had spent 3 weeks in a village there. Ross didn't know anyone there and he didn't and doesn't speak Italian.
The idea of such a trip was giving me an unsettling feeling in my stomach. I wasn't ready to reveal that to him or to myself. So to quickly recover from the situation, I instantly explained to him that I'm planning to do something very similar. I told him that I was to travel for a week on my own to visit a friend in Europe. Ross laughed at me and said, "that's cheating! Traveling for a week or two is easy. You can pity yourself and you can distract yourself. You need to go for at least 3 weeks so that you don't have any other choice, but to get your $hit together and figure things out."
He caught me in my attempt to fool both of us. When surrounded by people I have unlimited energy and ideas. The trip Ross was suggesting implied spending too much time alone and that felt scary. I had never done that; the closest to it was a business trip on my own for a week or going to the US for a work and travel summer with a friend from university.
The opportunity to grow and learn
The idea of such a long trip on my own stuck with me. I realized that if I was to do it, it would be a huge opportunity to grow and learn. Once before I felt in a similar situation when I was leaving my very first job. I was in advertising and considering to move to a tech company. Changing my job meant experiencing new things, not knowing if they would bring positive or negative experiences. At the end, I decided to do it because any experience is an opportunity to learn.
Similarly, a journey on my own was promising in terms of learning. And that's why in September, I decided to go to Tbilisi, Georgia. One evening I came back home after work, sat on the couch in the living room, and started comparing flight durations and prices. As I picked the flights that suited me the best and proceeded to the checkout page, my breathing accelerated. My hands were shaking and I started sweating. The trip on my own was about to become real. To calm down, I persuaded myself I was just purchasing the flights, but I could always just not go.
"Your tickets have been successfully purchased." I was excited and scared. When I told my girlfriend, she said: "I'm so proud of you and I'm happy you're doing this for yourself, and I'm going to miss you so much".
I wanted to be safe, yet outside my comfort zone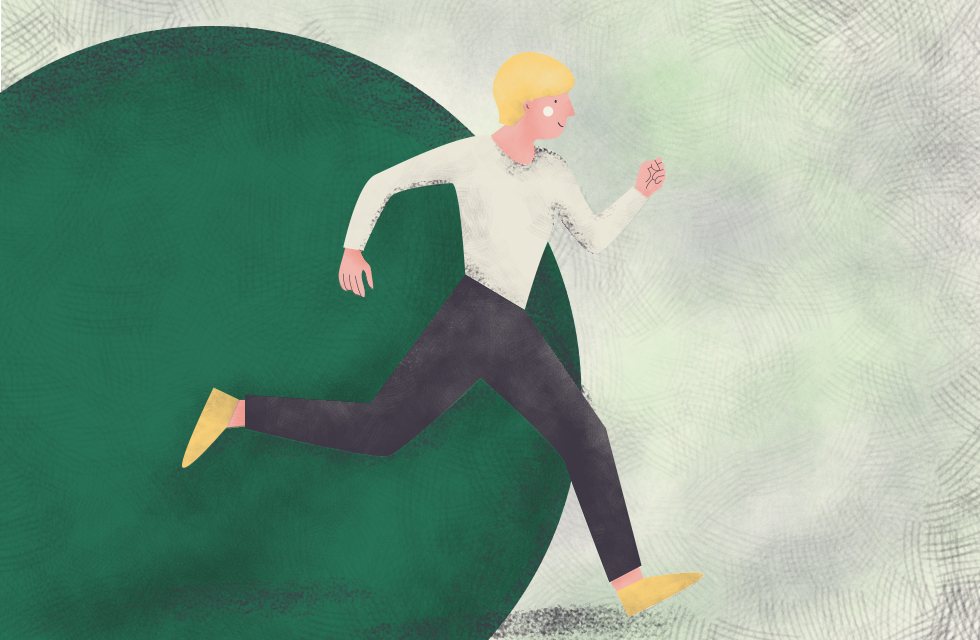 As I started telling friends, family, and colleagues that I was going to Tbilisi for a month on my own, they kept asking me the same questions.
Considering various locations, I wanted to go somewhere where I:
haven't been before

could afford to spend 3-4 weeks

would know no one or almost no one

would feel safe, yet it's outside of my comfort zone
After considering a few destinations, I settled for Tbilisi, Georgia. I knew many locals speak Russian, a language I've never practiced outside of the high school classroom and the last time I did was 12 years ago. I figured out being somewhat "nearby" Europe and somewhat speaking a language that the locals would understand was giving me a sense of safety. Also, it wasn't to be a compromise in regards to challenging myself.
I wanted to face some of my fears, such as living abroad completely on my own. Like that, I'd have to rely solely on myself, in any regard. I also saw it as an opportunity to reflect on the very exciting and turbulent 2017, as well as to plan for the new year.
Georgia came to mind because of pictures taken by a friend from university, Ana Svanidze, and the only person I knew in the country. On her Instagram, I had seen Caucasus mountain, the meditative Georgian alphabet, the picturesque Tbilisi with its unique atmosphere. I interpreted it as a fine mixture of Eastern European with a trace of post-Soviet times, with Middle Eastern spices, and a dash of Asian flavor.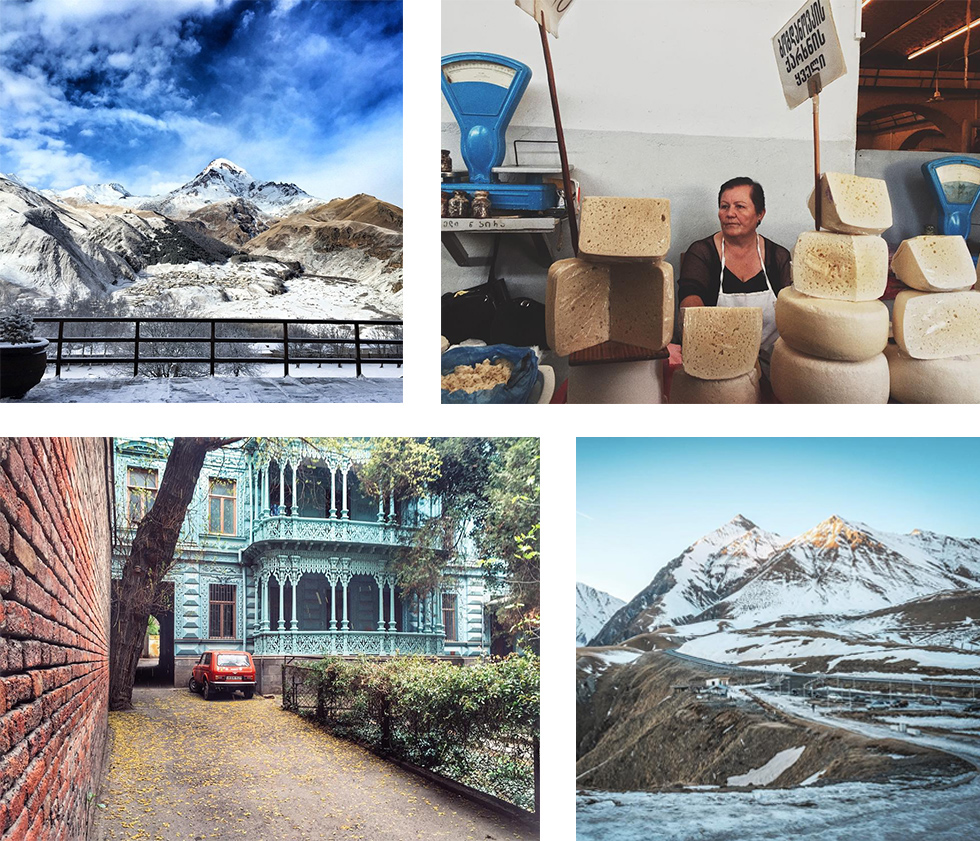 I had no excuses
When Ross and I were talking about such a trip, my mind was trying to come up with a reason why not do it. But there was nothing stopping me. My girlfriend supports me and encourages me to explore the world, as well as myself. With Enhancv I have 25 days of remote working per year so I can work from anywhere. Earlier this year I spent a few weeks working remotely from Lisbon, Portugal together with 2 team members.
But unlike that Lisbon trip, I decided to do this one during the holiday season. Like that, I knew nobody would come for a visit as they'd be with their families. I would have to figure out how to have fun on my own and talk to strangers.
I don't wait for role models
I'd like to further grow my confidence, personally and professionally, by facing my fears and overcoming them. I can only guess what challenges are ahead of me throughout this one month.
A few of the fears I've got and might face through the trip:  
To be alone
To be alone and sick

To be alone and unable to have fun on my own

To stay in any kind of relationship for the comfort

To lose my sense of who I am

To lose my drive

To feel limited and suppressed by something or someone  
Will I experience those fears? Will I overcome them? I don't know, but I'm going on the trip and it feels empowering. I find strength in doing and saying the things few people dare. I do it with my family, friends, colleagues, and with the people in the communities that I'm part of. As I challenge the others with hard, uncomfortable questions, it's only fair that I also push my own level of boldness. That's why I don't wait for role models.
When I was studying my bachelor's degree, no gay person on campus was out. That was making me feel like an alien and meant dating was close to impossible. As I was considering ways to change this, I realized that if I was to come out publicly it would help at least one person among the other 800 students not feel the way I was feeling. I reached out to the student magazine and we published an article with my coming out. Overnight I became the first openly gay person on campus. Some people encouraged me, others disapproved, some laughed, others stopped talking to me. The only thing that mattered was that I faced my fears and I was proud of myself.
Traveling on my own for a month is a similar journey. This time, it is to grow myself into becoming a stronger and more independent girlfriend who doesn't hide in the warm and fuzzy comfort, as well as a bolder CMO who drives more impact and challenges to the marketing team daily.
---
I will be writing another blog post after the trip on what I learned (about myself) from traveling on my own for a month. In the meantime, you can follow my moments of reflection, exploration, and adventures on Instagram – @vtasheva.