Should You Put Your Age On Your Resume
Removing your date of birth and other telltale signs can save you from potential ageism in the workplace.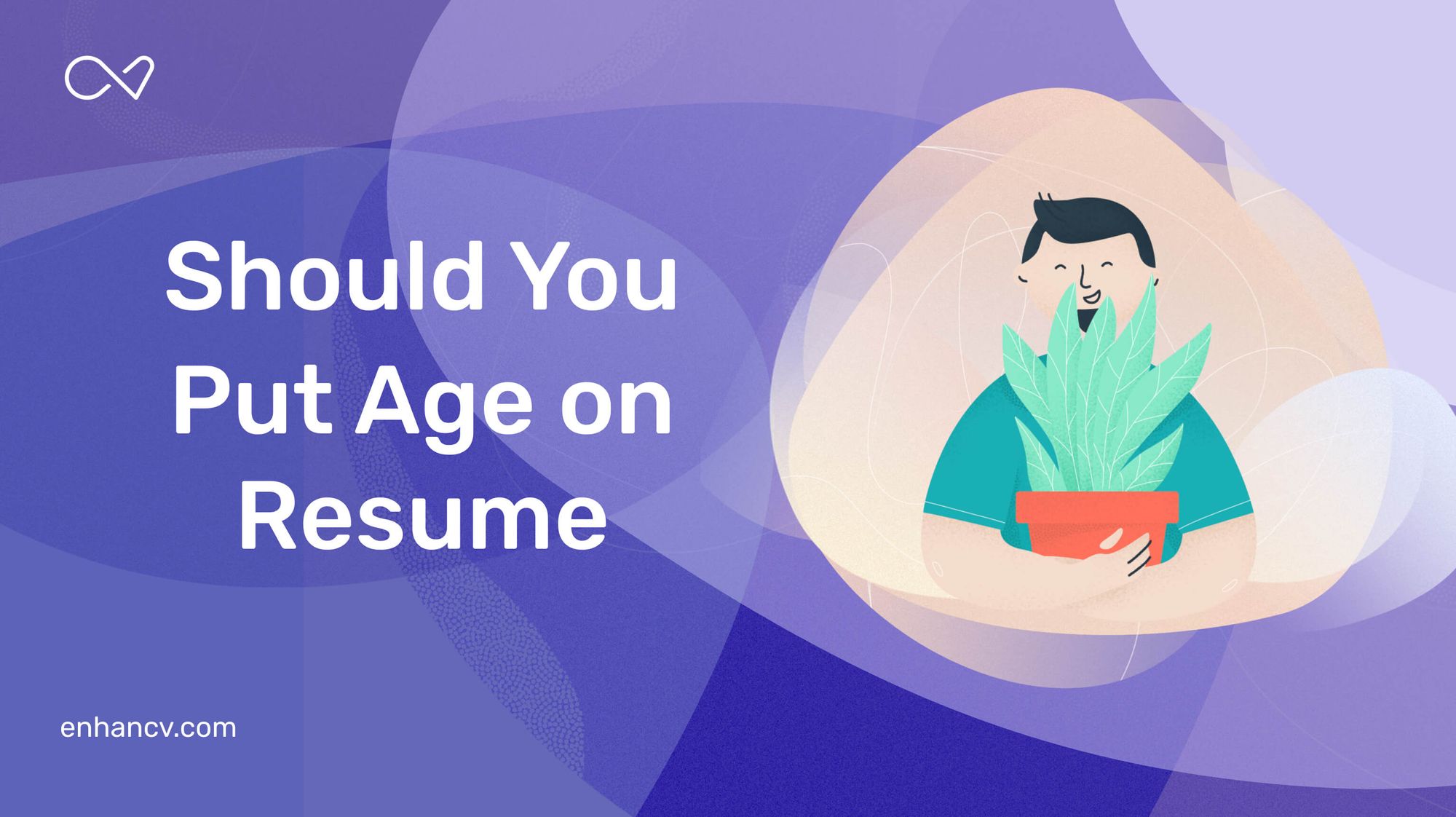 When you want to embark on a new career, you might worry that your age won't fit the job description.
Managers hiring for entry-level jobs have expectations for younger applicants, just like managers hiring for mid-range or senior-level jobs will expect older applicants.
These expectations come from assumptions that your age affects your ability to learn or, in other words, ageism.
Thankfully, with our pre-designed age-free and functional templates, you can avoid early elimination in the interview process and wow your new boss with your ability instead of your age.
In this article, you'll learn about the following topics:
Should you put your age on your resume?
How to hide age on your resume
How to construct your resume around your experience
Should you put the date of birth on your resume?
Generally speaking, you should not put the date of birth on your resume, as this practice is out of date.
Due to anti-discrimination legislation, which protects employees 40 years and older from age discrimination, employers are looking more towards accomplishments and ability than age.
Because of this legislation, there is no longer a need to include your date of birth. Potential employers do not expect you to provide it, giving you more freedom to focus on other attributes.
Benefits of not including your date of birth on your resume
Although anti-discrimination legislation helps prevent ageism in the workplace, there is very little that it can actually do.
Detecting, preventing, and punishing ageism are all very difficult to enact and enforce.
It's best to limit the possibility of ageism by removing your date of birth from your resume entirely.
Without your age, your potential employer has to decide whether or not you are worthwhile entirely on merit, which is the best way to win a job over other applicants.
Focus your resume around your experience
When you are an older applicant, experience is your best weapon.
Potential employers often see the value in an employee who has more experience on their resume than an employee with nothing to offer.
How to hide your age on your resume
Unfortunately, potential employers can sometimes spot your general age through the content in your CV.
Adding phrases like "30 years of experience" is a dead giveaway. Therefore, try to be conscientious about your wording.
Adjust your education section
By removing the start and end dates of your education, you can show you attended a specific university without aging yourself.
Our resume builder provides a tool you can use that helps you hide any telltale dates. Simply click the cogwheel beside the calendar and turn off the "Show Period" function.
Focus on experience and impact
Even if you are switching careers, your experience in the workforce is much more valuable than your age would be.
Including your previous work experience and the impact you made proves you are capable and reliable, especially if there are overlapping skills.
Take a look at our work experience page to get more information.
Takeaways
Fear of ageism can make you wonder if you should include your date of birth on your resume.
However, leaving your age ambiguous can help you earn a job through merit, even if you are switching careers.
Our resume builder tools can help you craft the perfect age-free resume, so you don't have to worry about age discrimination as you move on to the next career step in your life.