7 Tips To Create An Effective Resume Design For Job Applications (5+ Examples)

Let's start with a story.
Pretend you work in the banking sector. You have a steady, secure job. Your salary is good, and you get along with colleagues.
Everything sounds great, doesn't it?
But you miss the spark.
You want to wake up every morning and do something that gives meaning to your life.
Choose a job you love, and you will never have to work a day in your life – Confucius said.
You want that!
You need a career shift. OK, but how to stand out among 20,000 other applicants for a job position, you don't have any experience for?
Apply with a killer resume design!
We will show you:
How to design your resume so it wows.
Incredible Resume examples to serve as inspiration.
Everything else you need to know about your resume design.
But before we continue, let's tell you something.
The story from above is not made up!
It's the story of Sam Young, who now works at Spotify and indeed got the job among more than 20,000 other applicants. She got the spark, she loves her work life.
You can do it too!
Thanks to Enhancv's resume design!
Should I Design My Resume & How?
It is presumed that to create an appealing resume you will need the service of a professional graphic designer.
You won't.
With Enhancv Resume Builder, you can create a great visual resume on your own.
Here's how to make it stand out:
1. Make It Visual
We are all visual animals. We receive and process information through our eyes.
That's why using an infographic resume is a great way to present yourself and your strengths and skills.
It's a type of attention-grabbing CVs that tell your story to the recruiters in an innovative way.
When can you use an infographic resume?
It depends on the situation.
It's extremely suitable for art-related job positions like:
Designer
Animator
Data Science
Customer Support
UX/UI Designer
Everywhere, where you need to put your imagination and creativity into action.
For a corporate job, better to stick to the traditional resume.
Use High-Quality Paper
Choosing the right high-quality paper for your resume is important in those situations, in which you will come in personal contact with recruiters like your interview or career fairs.
You will have to think about the paper's weight, color, texture, and size.
Everything about each aspect can be found in our guide, where we describe in detail what's the influence of a resume paper in getting a new job.
Create White Space
Enhancv is built around the idea of using the proper amount of white space to create appealing resumes.
White space can be defined as a break in the copy and it helps you to better present your employment history.
Furthermore, it makes the resume elements like sub-headlines, bulleted lists, and icons easily scannable.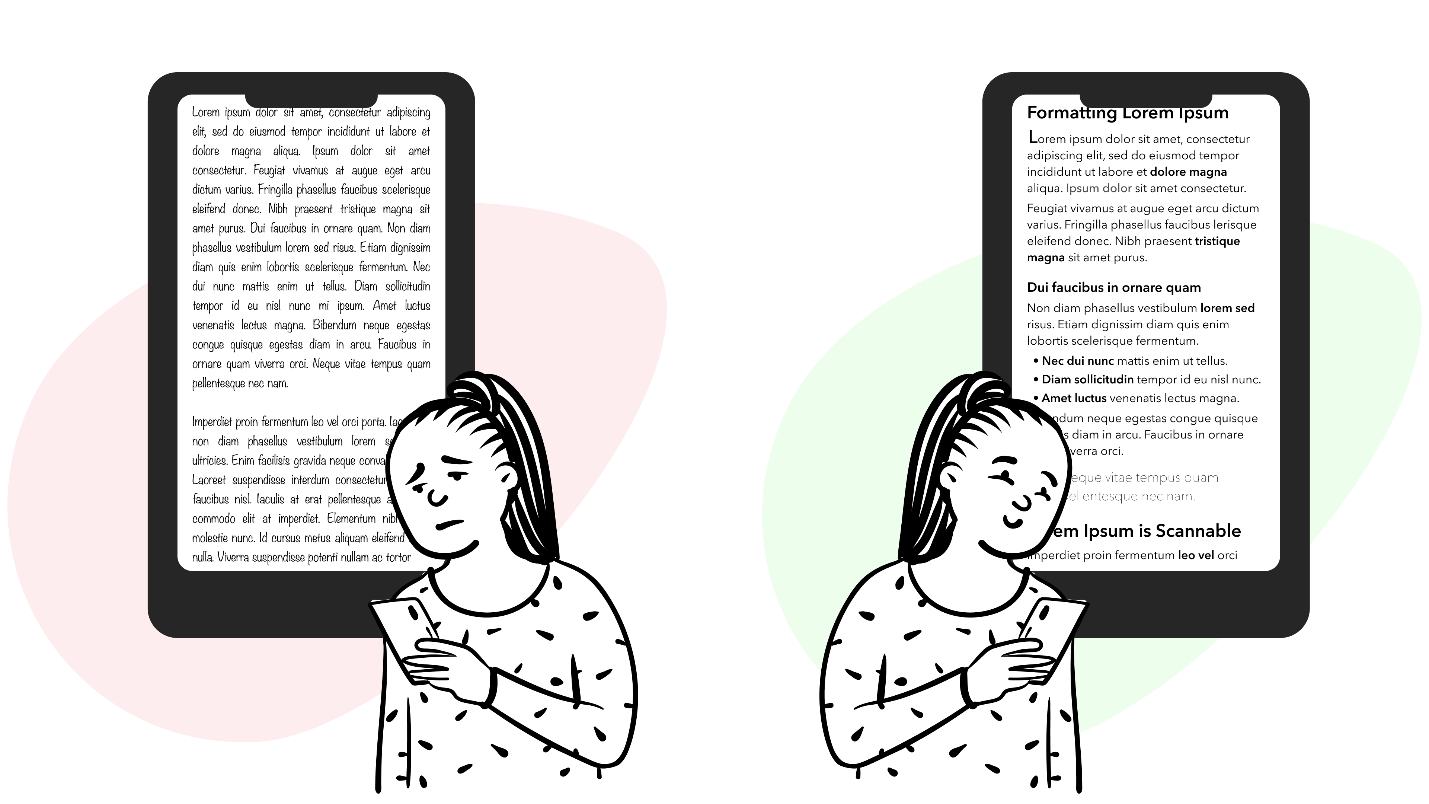 If you want to create a simple minimalistic resume, where you are direct about what you want to share, you can check the minimalist resume templates and take advantage of those.
Use Typography To Your Advantage
Another way to make your resume visually appealing is by implementing the right fonts.
Typography is important for two reasons:
You can impress the person that will be reading the resume (the job recruiters/hiring managers).
You have to pass the system they used to preliminary screen your resume before it comes across their desk (automated tracking systems).
According to our experience, there are 5 popular fonts that can meet both requirements from above:
Arial
Calibri
Georgia
Cambria
Verdana
What About the Different Resume Font Types?
You can use other types of fonts in your resume design as long as they are serif or sans serif. Both types of fonts are professional and will help you pass the ATS.
Sans-serif fonts are more cohesive in today's corporate world, especially because of the way resumes are built.
On the other hand, Serif fonts are better for increasing the readability of your resume and making it easier to consume.
You can learn more about typography as well as real resume examples with different fonts here!
Add Impact With Colour
Colors can influence our minds on a subconscious level.
Understanding how they work in psychology can help you build a resume that can incite different emotions in the reader. In our cases, that's the hiring managers.
Red, orange, and yellow colors are part of the red area of the color spectrum and are known as warm colors. They evoke emotions ranging from feelings of comfort and warmth to feelings of hostility and anger.
In contrast, colors of the blue side of the spectrum are recognizable as cool colors – blue, purple, and green. Тhe emotion they draw is usually calm.
By using a two-color design for your resume, you can emphasize the important things – section titles, job title, company jobs, skills, etc.
Furthermore, it demonstrates culture fit and helps you pass the ATS scan.
Check other benefits as well as some drawbacks of using a color on your resume in our detailed guide!
Consider A Two Page Resume
A two-page resume can be an excellent fit for positions that require more experience or if you are a person with a long career history.
It's a great way to separate expertise and hobbies. On the first page, you might add a summary, experience, skill, and education (if there's space) and your hobbies, interests, additional skills, and other personalization on the second page.
That's what Sam Young from the example at the start of the article actually did: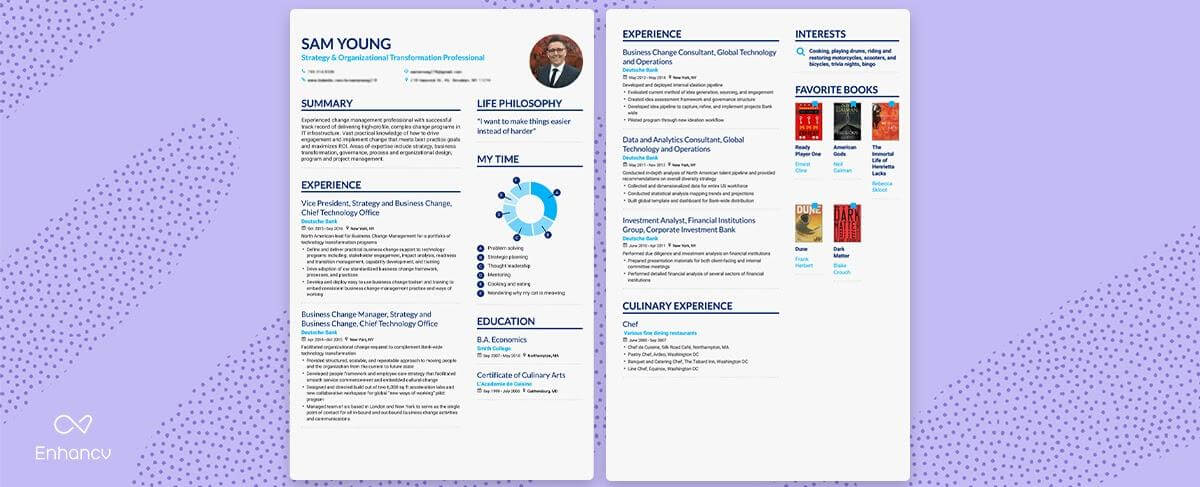 By using a two-page resume, hiring managers will be able to find valuable information about your technical skills first, and your soft skills afterwards.
Learn how to perfect the two-page resume here!
Choose your margin size
Another way to make your resume more appealing is by choosing the correct margin. It will not only make your CV visually pleasing but will help ATS software to easily read and understand the content.
With Enhancv, you can easily change the margin size from less to more compact.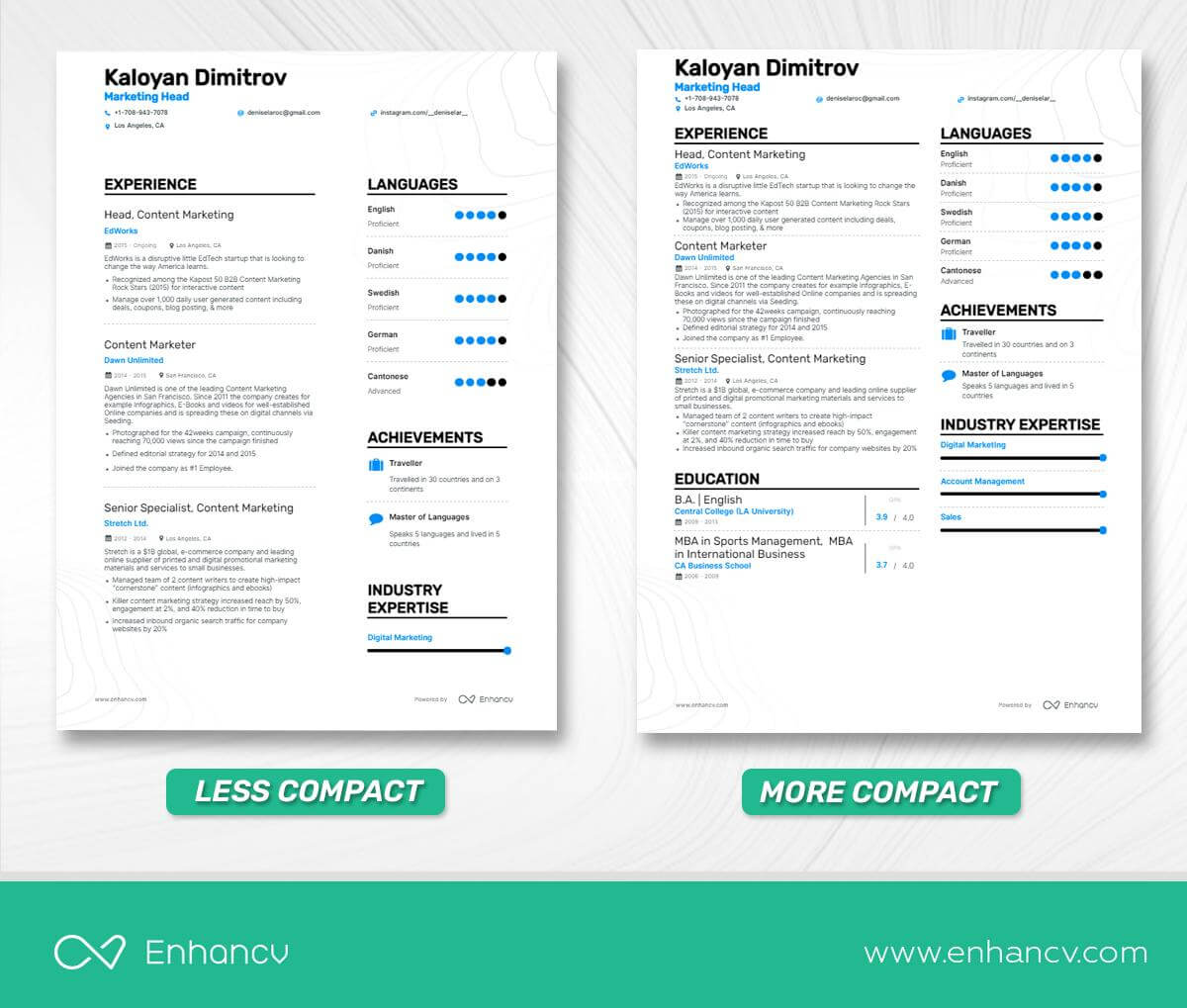 While you are in our Resume Builder, you can choose between 5 different levels.
Play with the margin and choose the one you like the most!
Resume Design Examples
Let's have a look at some pretty good resume design examples: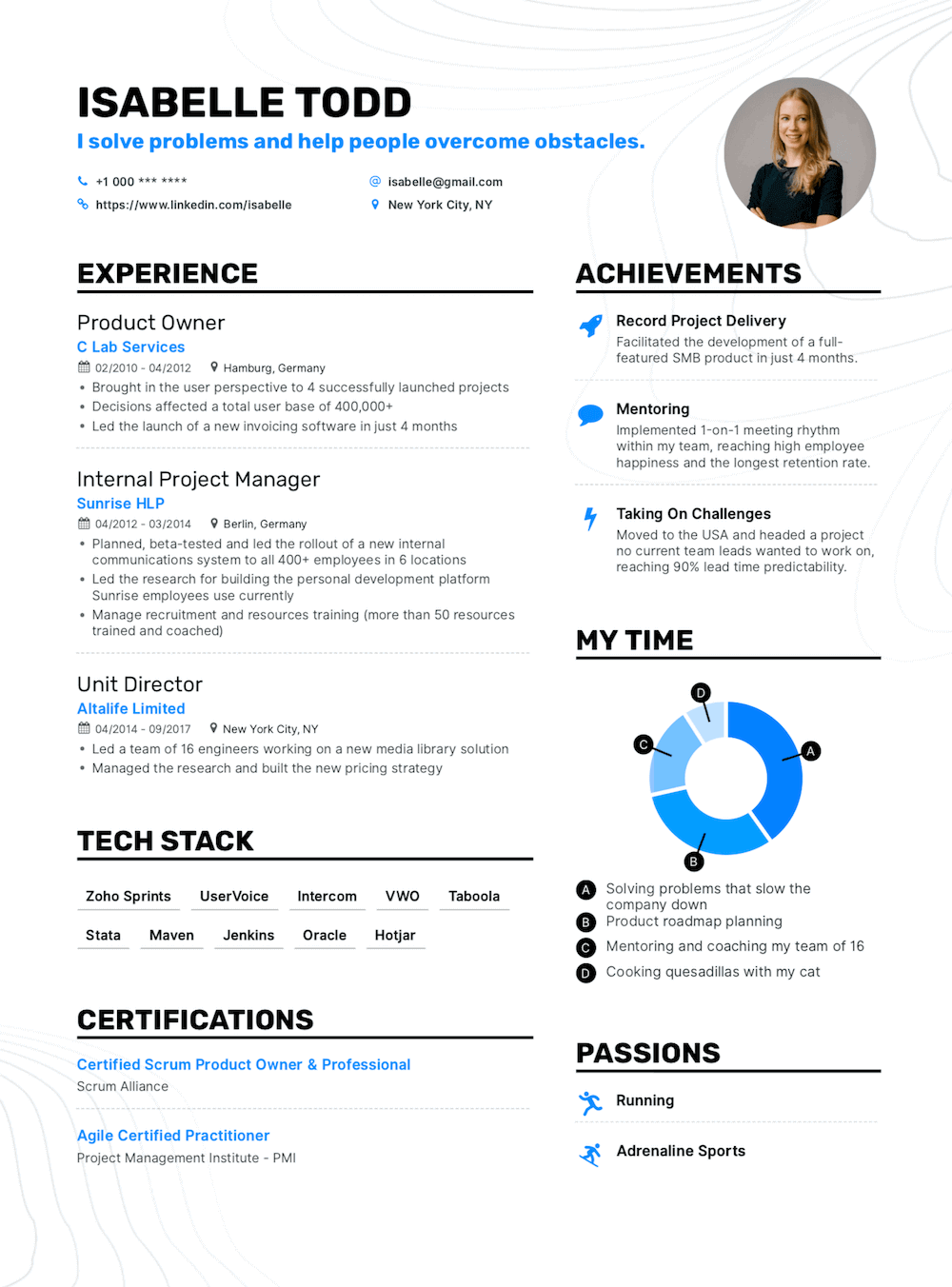 Isabelle chose a double-column resume design for her application.
It grabs attention and shows not only employment history, but passions, achievements, and goals. As you can see, there is enough white space, as well as two colors that direct attention to certain areas of the resume.
This resume design is appropriate for a more creative type of job.
We really love it!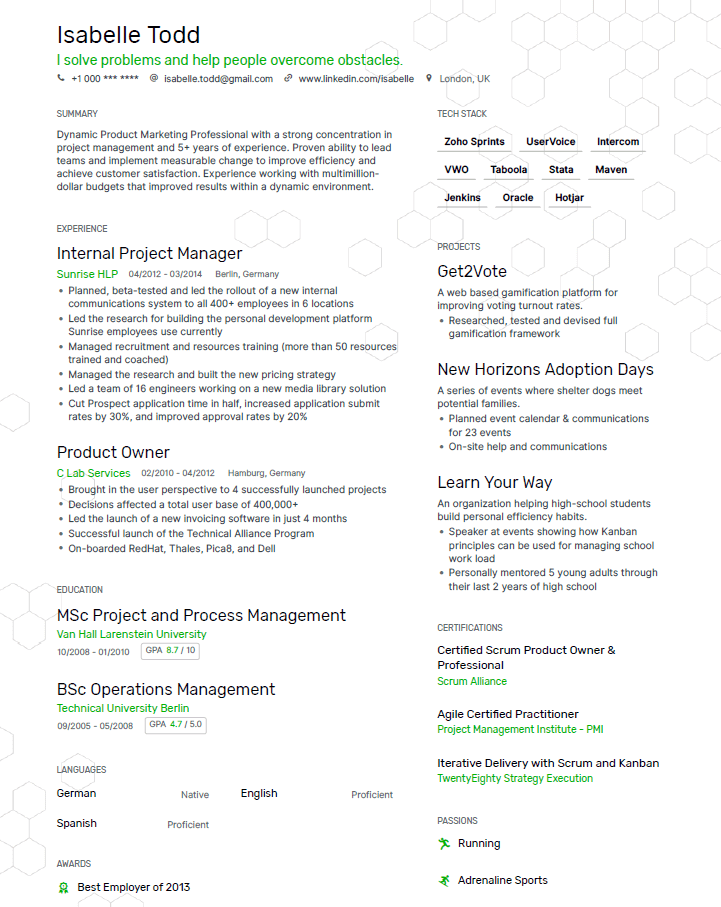 The approach here is slightly different.
The margin level is 5 and as it's clear from the image, the text and images are way more compact. In this case, Ms. Todd used a one-page resume design that can be easily scanned by the ATS programs.
Visual elements are still there, but not so aggressively presented.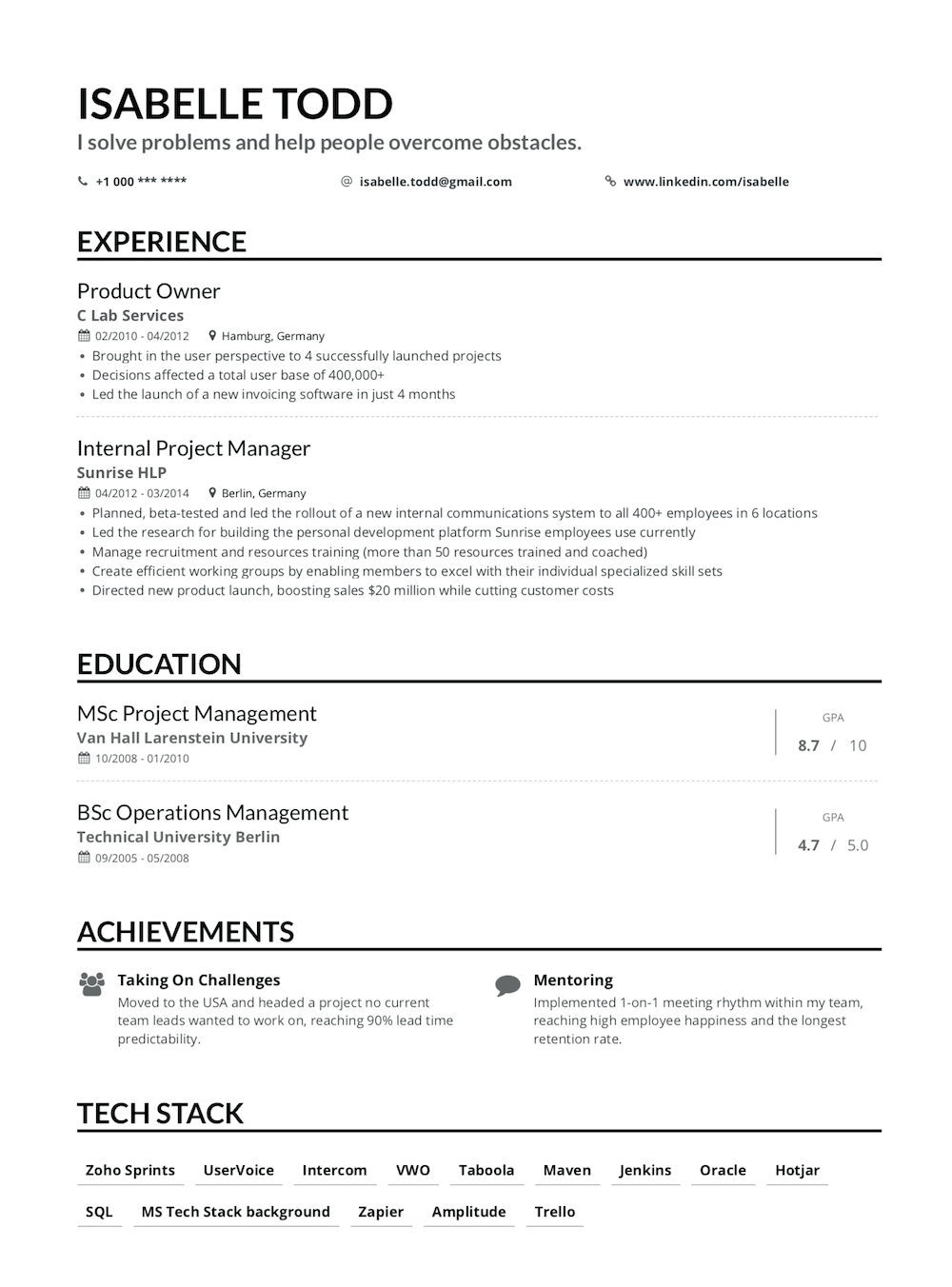 If you are not a fan of two-column resumes or you have doubts that your summary will pass the ATS scan, the last example from Isabelle Todd is just for you!
It's way more minimalistic, with only one color. The information is concise and this type of design is more suitable for technology companies that do not place much emphasis on creative elements.
And speaking about minimalistic resume design, we have to show you one more example: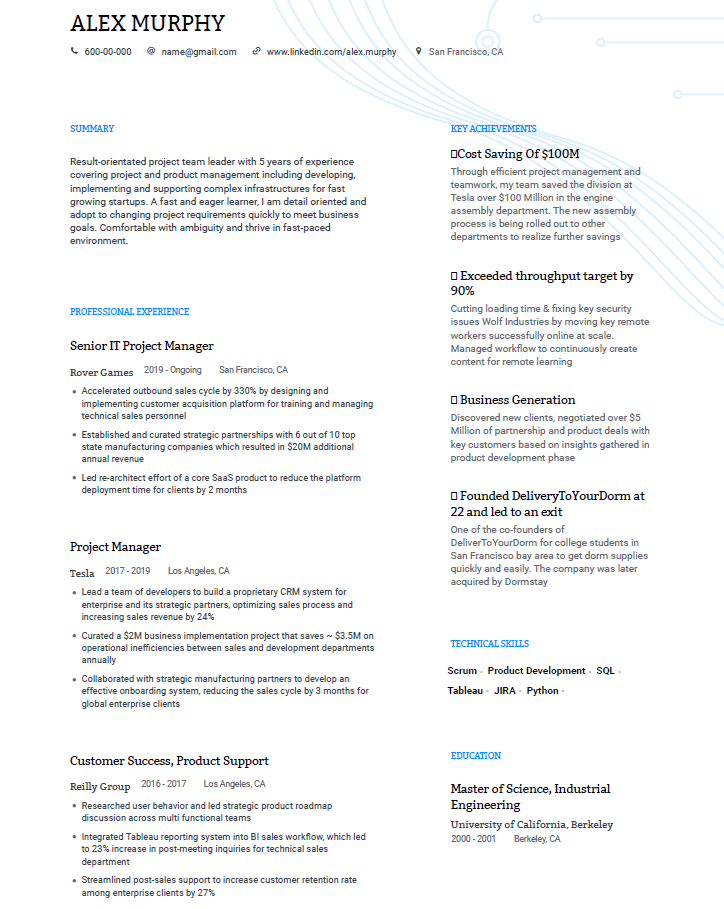 Here, Alex is using the two-column format, without any visual assets. With a lot of white space, this design is straight on point on what the applicant wants to present.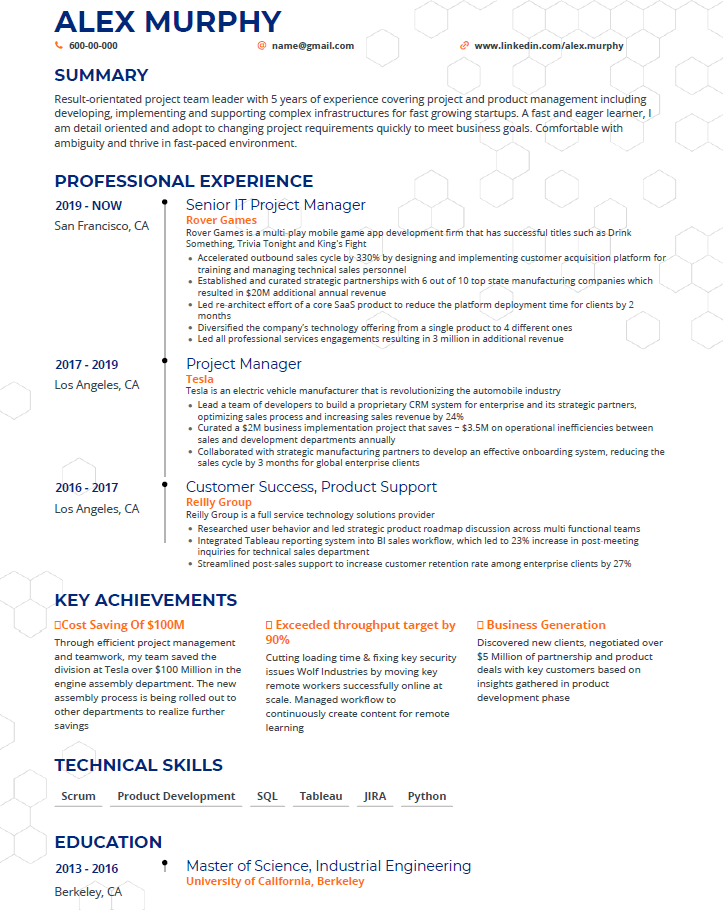 Here, on the other hand, Alex is going for a timeline resume design and a way more creative approach. He is using not two, but three colors to add even more accents to the document.
With a great objective part, a well-designed timeline personal experience section, and valuable additional sections as "Key Achievements" and "Technical Skills", Alex has enormous chances of landing a job interview!
His resume is visual and appealing and will surely grab the attention of the hiring managers!
What Else is to Know about Resume Design
Besides everything already said, there are 3 more questions that you might come to mind and we would love to cover them.
Should you use Canva for resume design?
Canva has good designs and some … well, not so good. No one will take you seriously with a pineapple-pattern background resume. That being said, once you separate the wheat from the chaff, you get some pretty good options.
How should graphic designers approach resume?
In our professional opinion, graphic designers shouldn't go over the top with the design.
Clean, minimalist templates are very good for designers.
Do employers like creative resumes?
No two hiring managers are the same.
Some do, some not.
A corporation like PwC or IBM is not likely to be impressed by super colorful and creative design.
Data-driven companies are likely to be impressed with your inclusion of charts, startups are likely to welcome seeing your personality on the resume. There are different cases, and if you're applying for a traditional company, your resume should reflect that, and vice versa.
Resume Design: Takeaways
Resume design can surely put you one step ahead of other candidates.
Let's summarize:
You don't need the service of a professional graphic designer to create an appealing resume.
You can make your resume easy to scan by adding white space and different margin sizes.
Two or more colors can help you bring attention to certain areas.
Employers usually like creative resume design, but it still depends on the company.
***
What did you think of this article? Do you feel ready to create an awesome resume design? Share your thoughts in the comments!