Resume Checklist: Every Item That Needs To Be On Your Resume

You've spent time developing your resume, and you've tailored your skills as much as possible for the job. That's all you need to do, right? Well, there are a few more steps you should take.
Following a checklist for your resume can be a tiresome process – who wants to reread something you've already spent so long on, and tick some boxes?
Trust me, I get it.
And I also hate editing. However, this process is arguably one of the most influential parts of the process.
You could also try our Resume Checker out. Upload your resume after making changes. Do it again until your resume becomes perfect.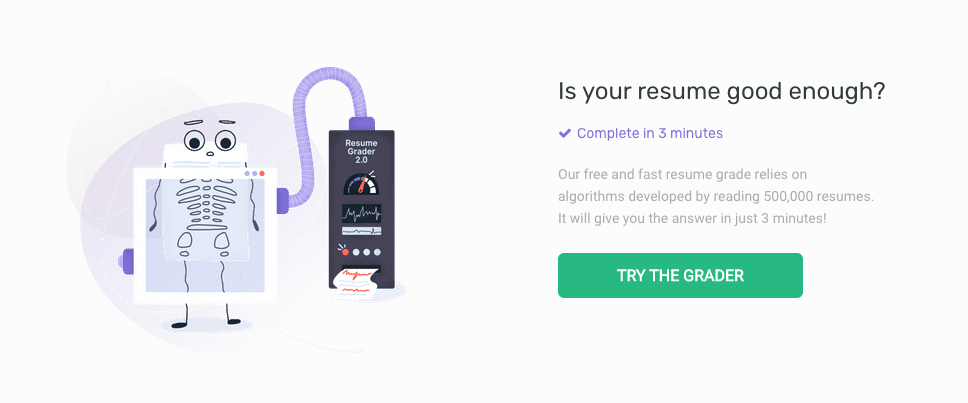 What can a resume checklist do for me?
A checklist allows you to step back and take a good look at your resume. We can all struggle writing it, much less reviewing and proofreading the CV.
Follow our resume checklist and turn your resume writing into a child's game. You probably hate me for making you check your resume again.
But believe me, you will be glad.
Resume checklist actionable steps
Resume formatting & design checklist
✔

Be consistent with the font, size, date format, and alignment

Keep in mind using the same format when writing. If you bold keywords in one section, bold them on the whole document.

The date format, the alignment, and the font size of your resume should be consistent.
✔

Choose a suitable font

It is important to choose a readable font.

Plenty of companies are now working with Application Tracking Systems (ATS) to parse your resume. So, if you want your resume to parse – use one of the auto-generated fonts.

The font-size should be between 10 – 12. Why? You don't want to give the Recruiter a hard time when reading your CV, right?
✔

Don't use too much color

When it comes to colors, most of the resumes are black and white. This way you are not distracting the Hiring Manager.

However, you could emphasize your job titles, university/school, and your name.

Having a little sparkle could make your resume stand out – you can browse our templates to see how we did it.

But don't make it too colorful. It's not doing you any favors.
✔

Keep to a one-page resume

An unwritten rule is to keep your resume to one page.

It is okay to make it two pages if you have more than 10 years of experience, or you could write just the last couple of relevant positions you have worked in.
Resume header checklist
✔

Contact info

It's important that you include contact details on your resume.

Otherwise, how is the Hiring Manager going to invite you to an interview?

It is crucial to include a contact phone number and email address. Write a professional one – keep SweetGirl8@gmail.com for your friends, or for spam letters!

A postal address is not always necessary, however, you can include the city you live in.
✔

Job title or headline

It's possible to put your real job title here.

But, why not go even further?

We have the right suggestion for you: tell in 2 or 3 sentences how your experience is related to the position you are applying for.

Replace your job title with a description that puts you in the best light.
✔

Portfolio link or LinkedIn profile

Do not ignore the additional links. They are one of the most important parts of your contact information section.

A link pointing to the right place can help you get the interview.

Could be a LinkedIn profile, portfolio, or a personal blog. However, remember to update the information in the link you insert.

No Recruiter wants to see that your last project was from a decade ago.

Keep the links consistent with your resume.
✔

Photo – when to add, and when to avoid

The photo on a resume is still a controversial topic.

The best thing we can say is: do your own research.

Check the country's law and the company's policies. It could turn out it is forbidden to put a photo on your resume in the country where you are applying.

However, if it's allowed, remember to make it professional. Don't use photos from bars, concerts, restaurants, and any other leisure activities.

And don't put selfies!

If you have more questions about what to and what not to include in the contact section, you can see our guide about contact data.
Resume Experience checklist
✔

Work in reverse-chronological order

Your recent or current jobs should be first.

That way the Hiring Manager would know what were your last achievements and when you could start in the new place if you are hired.
✔

Include job title

You should include your job title for every position.

Telling the Recruiter your career path could save you many questions and will give them a sense of your experience.
✔

Include dates and Ongoing, if it's your current job

Use the first three letters when writing the dates of your previous jobs. I example: March is going to be Mar and October – Oct.

If you are still working, put the start date of your job and "Ongoing". This way the recruiter will know that you would have a notice period.
✔

Keep between three to five bullet lists per job title

Keep it short when telling your experience.

What are your main achievements? What were you proud of in your previous job?

Write that, don't write your position duties.
✔

Start with an action verb

Start each bullet point with an Action-oriented word (e.g. managed, developed, attracted, etc) in the past tense.

They not only catch the Recruiter's eye but also help you not to repeat yourself.
Resume Education checklist
✔

List your latest degree and any other if relevant

As in the Experience section, you should write your latest degree first.

If you have a professional secondary education in the field you are applying for, you could also include it.

However, if not, stick to your university degree.
✔

Add relevant bullet points with extracurricular activities especially if you're a student or entry-level

The extracurricular activities always bring you bonus points.

You've been part of an organization or a club? You have taken extra classes?

Write it.
✔

GPA grade

Don't write your GPA grade when it's under 3 of the maximum 4.

However, it is possible to have another grading system. Then just equate it to the country you're applying to.
Resume skills checklist
✔

Include keywords to target your resume and pass ATS

Look through the position and see what the keywords are. Then include those which are suitable for you.

The application tracking systems are scanning the resume for exactly the same words so now you have an ATS-friendly resume and you will pass it for sure.
✔

Include language proficiency if relevant

It's good to tell the Hiring Manager if you know more languages than your mother tongue. Not only if the company is searching for foreign speakers.

This could be a plus later if the company is having a more senior position with the need for that language.

Add skills you either have sufficient experience in or certifications

If you have a skill that you have mastered, write it. The same goes for every certification connected to your work field.
Additional resume sections checklist
✔

Interests and hobbies

Write about your interests. What do you like to do in your free time?

The Hiring Managers like to see that their potential candidate has hobbies with which to relax after a long day.

No Manager wants to see people in their team burn-out.
✔

Include your projects and publications

Every side project or publication gives you extra credits, so make sure to mention them, too, if you have any.

Even if they are not absolutely connected with your previous positions, every Recruiter will be glad that their candidate is self-motivated. Not only at work, but also in their spare time.
✔

Personality

What are your strengths? What are you most proud of?

The answers to these questions give the Hiring Manager a better idea of what drives you. Also, now he or she knows what is an achievement for you.
Resume proofreading checklist
✔

Avoid buzzwords

If you go through LinkedIn, you would see around 10 words that almost everybody uses, such as:
Specialize
Experienced
Skilled
Leadership
Passionate
Expert
Motivated
Creative
Strategic
Focused
You can include them, however, it would be best if you use alternatives.
✔

Edit typos and grammar mistakes

One of the most important parts of a resume checklist is proofreading.

When you are ready with the content of your CV, you should read it again.

What is more, I would advise you to send it to friends. They would be able to see more clearly what you have written. It is really hard to see your typos and grammar mistakes if you have spent a couple of hours writing that resume.
✔

Use Grammarly or Enhancv content analyzer

You want to make the best impression, right?

To double-check your content, you can use Enhancv's content analyzer or  Grammarly.
✔

Make sure every statement is backed up by data

Don't lie.

Eventually, someone will catch you, and lying is one of the worst first impressions you can make.

Also, keep in mind to pack up all your statements with data. That way, you will always have an answer to the Recruiter's question.
Conclusion
Writing a resume is not an easy job, however, when you have a resume checklist in hand, you could always make it painless. It could even be fun.
After following our resume checklist, your CV is ready to stand-out and give you the desired position.
***
We hope that the article showed you a new angle for writing your resume. Do you follow checklists when you write your resume? Let us know in the comments below.