6 powerful women to inspire your next career move

Happy International Women's Day to all women, moms, grandmas, daughters and sisters! In the wake of this amazing day, we looked at 6 powerful women that are a great inspiration to us. They surely prove how much you can accomplish if you set the bar high and have a personal drive. We believe a key factor to their success lies not only in experience but also in their personal talents. We're showcasing them with Enhancv's most popular sections focused around personality.
Letting personality shine through on a resume seems to be a challenging task for many people. Enhancv offers a number of sections that can help you show your true self and highlight your achievements at the same time. If you also struggle with this, find your inspiration from these powerful women that changed history forever.
What would be Marie Curie's proudest moments?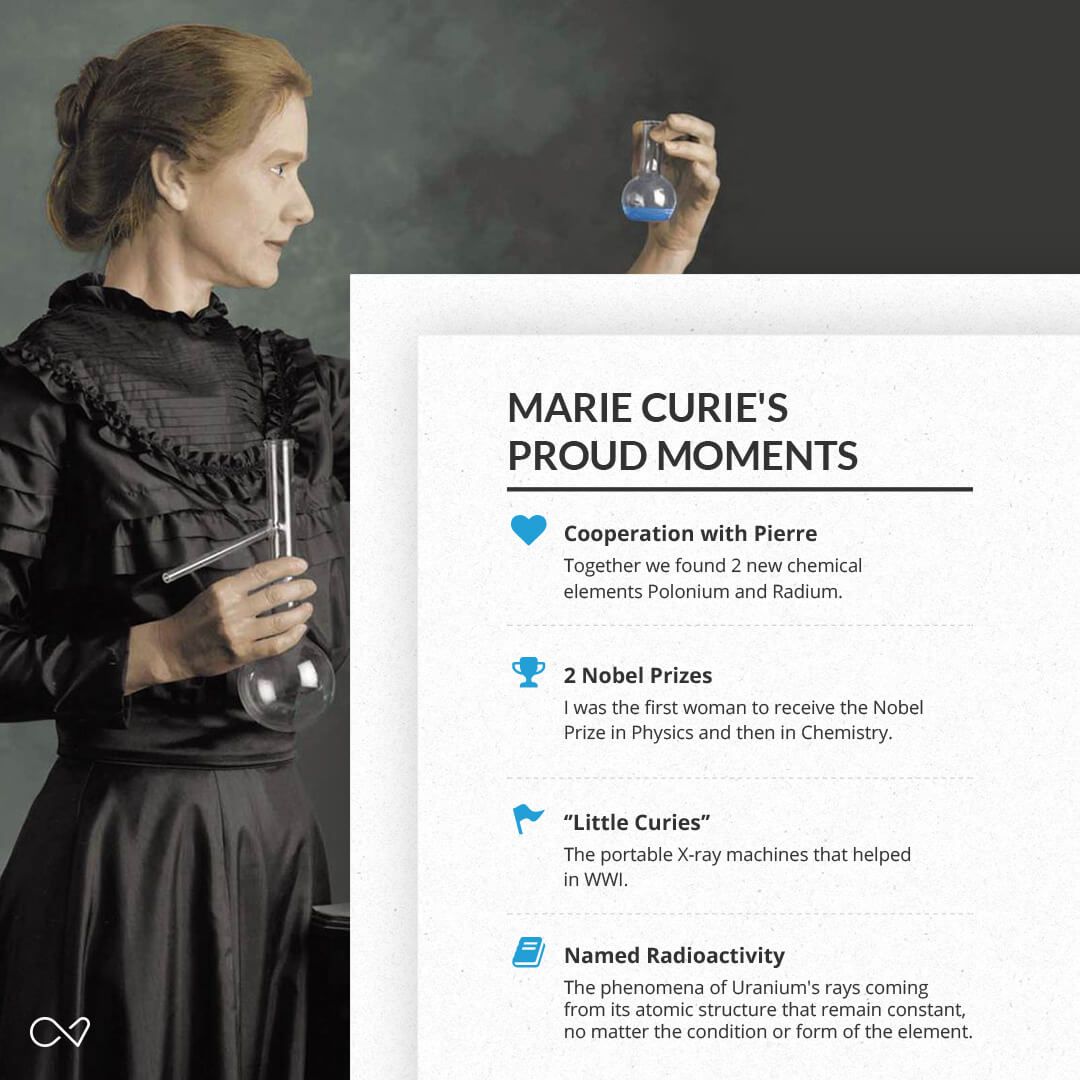 The first powerful woman we decided to add to our list is Marie Curie. The Polish-born who desperately wanted to study Maths and Physics. In her young age, she made a deal with her sister to support each other financially so each of them could study. First in the secret underground school because of being a woman. Then Marie made it to Paris where she earned her Ph.D. in both Mathematics and Physics. She was the very first woman to receive a degree in a French university. All that led to making a breakthrough in Physics, when she coined the term Radioactivity. And the list goes on.
''What are you most proud of in your life?'' It's a question even the most successful people struggle answering. The answer doesn't necessarily have to be connected to your professional life. It could be paying off your debt or working out regularly. Answers to this question reveal the most amazing things about people.
If you decide to give it a go and share the Proudest Moments on your resume, make sure you describe them in more detail. Outline what led you to that moment and focus on experiences and traits that can tie into the position you are applying for. Also, include as many numbers as possible. It will give your answer more credibility.
What did a day in Princess Diana's life look like?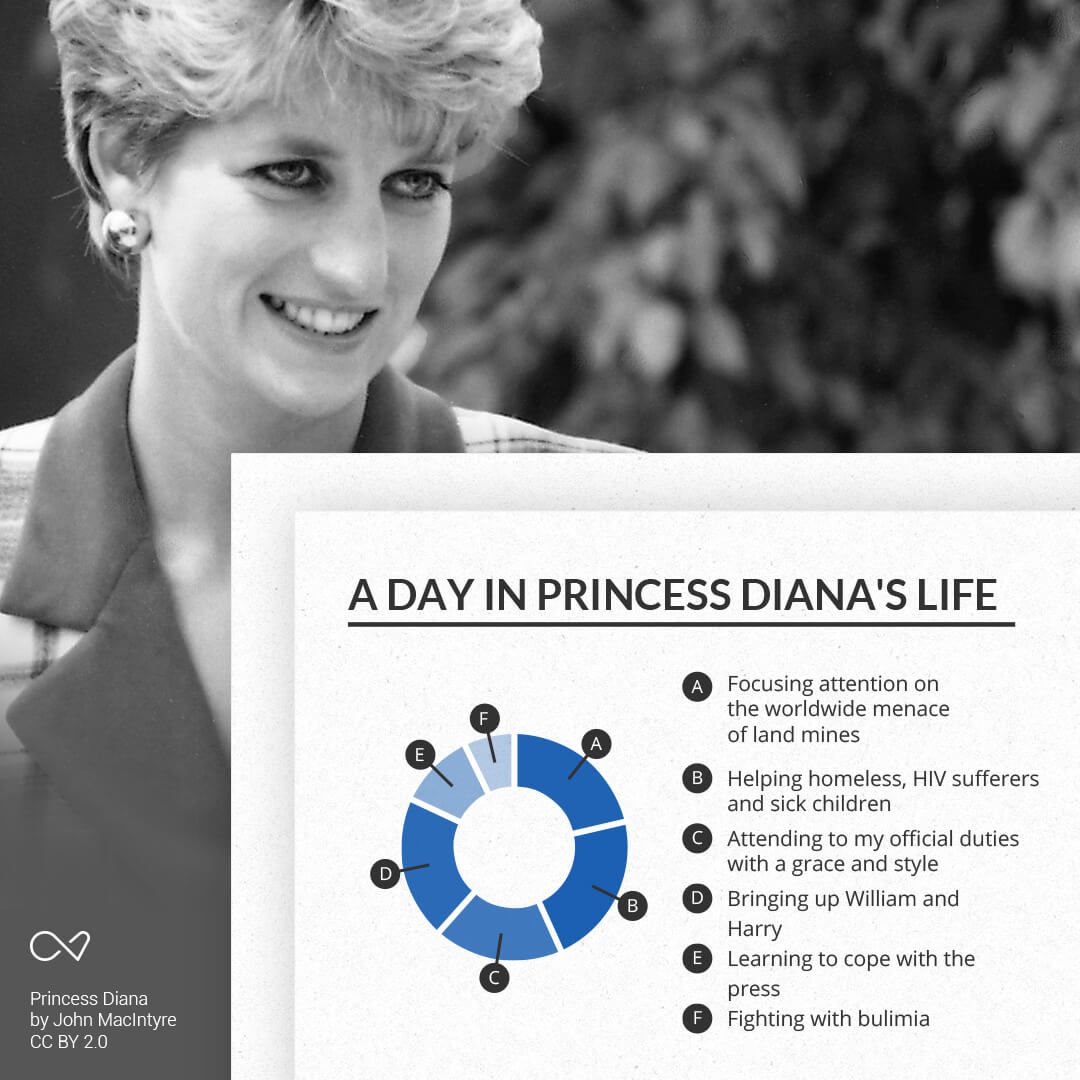 Have any of your friends ever told you ''you live like a princess!'' before? It's supposed to mean that your life is great, you're being spoiled rotten and you don't have to worry about anything. But is that true? Princess Diana of Wales proves that it isn't, as her life was far from great at times. Yet, she always managed to put a smile on her face and fight everyday struggles with grace. All that made her a very powerful and loved woman.
Her usual day was filled with helping others. Raising awareness about the ones that are usually forgotten by society, the homeless, HIV sufferers and sick children. She was a huge fan of fashion, which was quite obvious from the stylish clothes she always wore. People loved her because she also openly talked about her struggles, such as bulimia.
One way of showcasing your personality in your resume is mentioning things that you've struggled with or that didn't quite work out well. It makes you more relatable. And more, our greatest room for growth is in areas of our greatest weakness. Show your potential employer that you are aware of them and that you're working towards improvement. You can use the My Time section to do it.
What are Susan Wojcicki's top strengths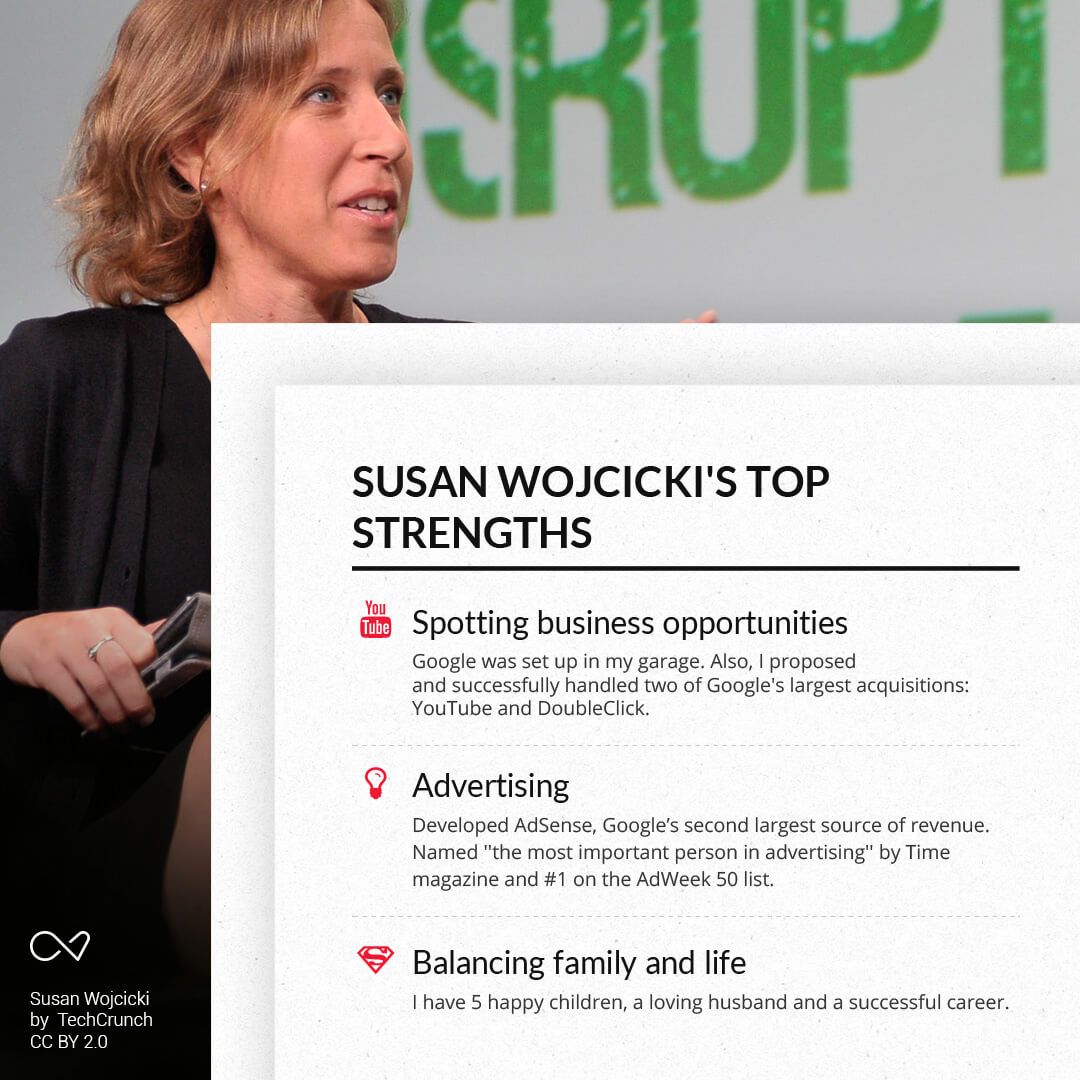 Susan Wojcicki is one of the most successful women in tech. Google's very first office was set up in her garage and she became it's Marketing Manager back in 1999. While developing and overseeing Google Video, she proposed to the board to buy YouTube and became its CEO in 2014. These activities outline one of her strengths perfectly, she obviously has a nose for a good business opportunity! She is also known for promoting balance between family and work and encourages people to prioritize on a daily basis based on what is the most important task to fulfill.
Addressing your top strengths is another great way of presenting yourself as both individual and a professional on your resume. Interviewers often ask about your main strengths so it's a good idea to share them on your resume, to catch their attention right away.
When outlining your Top Strengths in a resume, make sure you don't use cliches and overused words like ''team player'' or ''hard worker''. To avoid that, you might use a short phrase to show your strengths, rather than a word or two. Be specific when justifying your strengths. Think of why do you consider that to be your superpower? Don't forget to keep it short but powerful.
There is a lot to be proud of, what would Oprah Winfrey choose?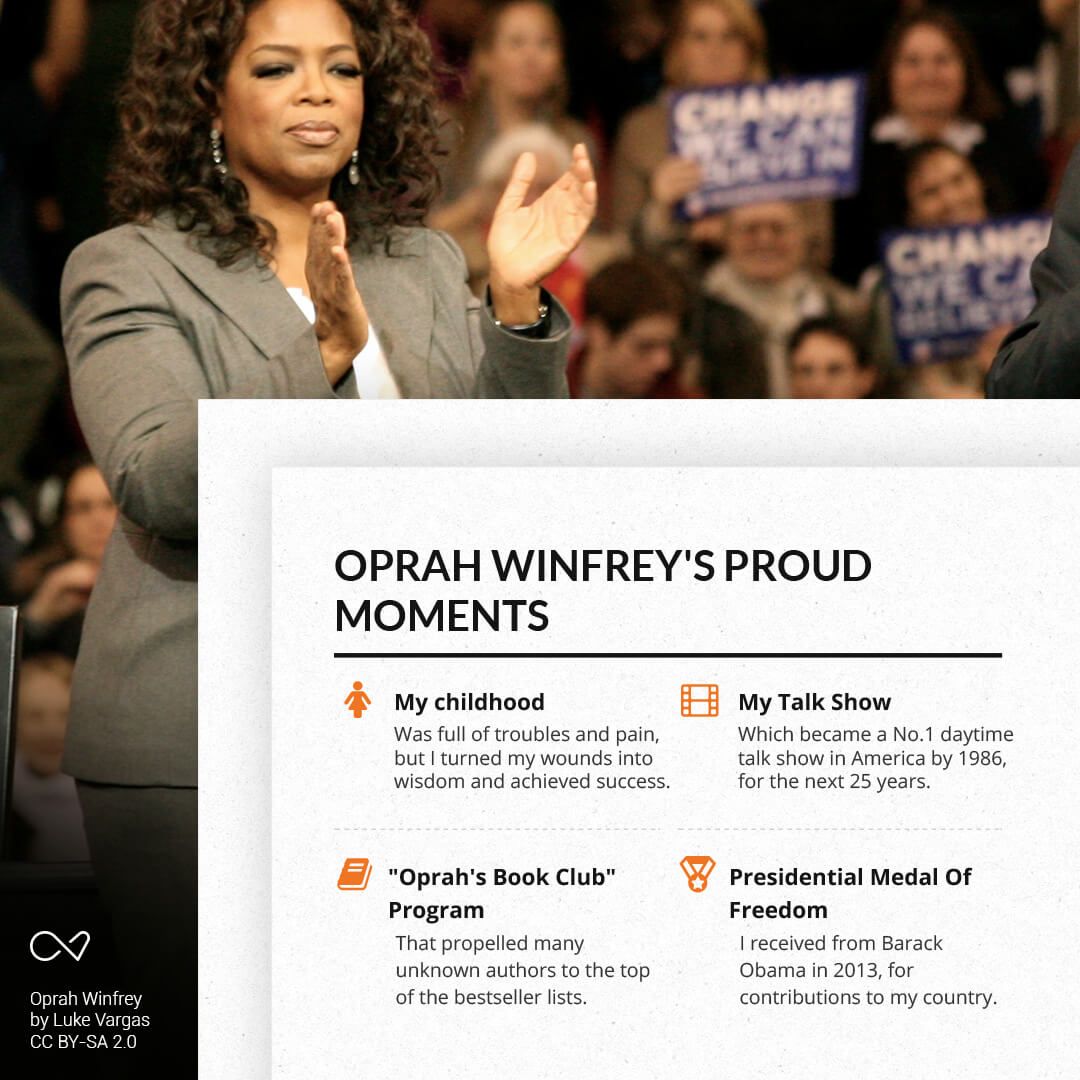 Oprah came from a very poor background, with no running water or electricity at home. She was raised by a single, teenage mother and as a 9-year-old, she moved in with her father. She always had high grades at school and worked hard towards her dreams. Her main motivation in life was and still is, to help others. The Oprah Winfrey Show, the number one daily show in America for 25 years straight, was a great platform to listen to others and help them become the best version of themselves. She became the first African-American woman billionaire and uses her influence to empower women and young girls. Today, Oprah is a successful entrepreneur, philanthropist, actress, educator and a leader.
Oprah has achieved so much as a human being and a businesswoman. From all the things she's done in her career, it was quite difficult to choose the top 4 things she would say she's most proud of.
If you have a lot of experience up your sleeve, take inspiration from Oprah's Proud Of section. Choose life achievements that show your character and biggest life victories. The ones that are most important to you and fit with the job requirements you're applying for. Sprinkle bits of your personality here and there, or mention difficult life events you went through to stand out from other highly experienced applicants.
Is J.K. Rowling writing all day long?
J.K. Rowling became the first writer billionaire in her later thirties, which proves it's never too late for a huge success. After struggling to endure at the edge of poverty,, she became known thanks to the first Harry Potter book. After that she wrote 6 more to finish the series which put bases for the 8 fantasy films distributed by Warners Bros. Writing brought a great recognition to her and after the Harry Potter series, she was named Britain's ''Most Influential Woman'', UK's best-selling living author and a runner-up of Time's ''Person of the year''. She is an extremely charitable person and is very open about her struggles with clinical depression and insomnia.
''How do you usually spend your day?'' is another question you might be asked during an interview or while networking. In any case, you should be prepared to answer well and have it on your resume.
Rowling's My Time section consists of only 4 main points that describe how she spends her day. It's clear and straight to the point. When describing your day on a resume, do the same. Describe clearly the activities you do most of the time and make sure you have evidence to prove it in case you'll have to go in more detail.
Are Sheryl Sandberg' skills surprising?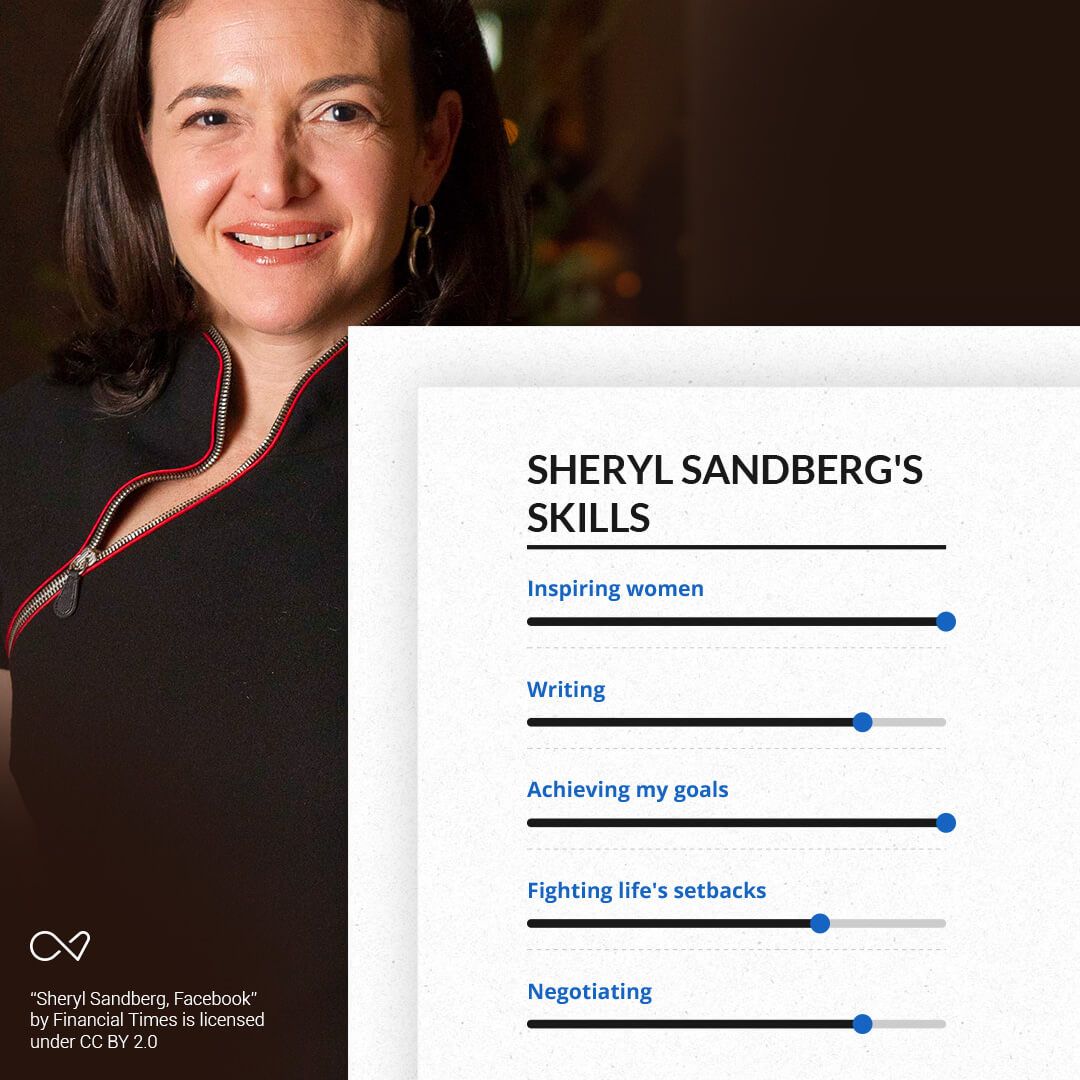 Sheryl Sandberg is a great example to follow. Her background is very interesting. She was born to a Jewish family who was helping other Jewish people in the era of refusenik. She was a high achiever in high school already and was always at the top of the class in both Harvard College and Harvard Business School. Her career with Facebook started in 2008 when she became its COO. It was her proposition for Facebook to rely on advertising, which made the company profitable for the first time. She is a big role model to many women out there and dedicates a lot of her time to women empowerment. Her book Lean In aims to encourage women to become leaders and be ambitious without being scared. Here's what we imagine her greatest skills are:
A Skills section is just as relevant to add to your resume as your Top Strengths. You can also assess your skills to show the employer how good you are at each of them. The main thing to be careful about when filling in your Skills section is not to overestimate yourself. It's one of the most common mistakes on resumes. Stretching the truth does not pay off, they will find out at some point. Also, make sure your skills match the ones described in the job description.
One of Sandberg's Skills we chose is ''Fighting life's setbacks''. Consider adding something similar. It reveals your character. In Sandberg's case it's obvious that despite difficulties, she picks herself up and fights until the end.
Next time you craft your resume remember that showcasing your personality gives a great touch to your resume and becomes the main differentiator. It also helps companies to secure a perfect culture fit.
Go ahead, sign up for Enhancv, and create a stellar resume now.
Happy Women's day from the whole Enhancv team!