How to Create A Minimalist Resume That Gets Responses (Including Tips, Templates and Examples)

Minimalist resumes are one way to get a golden ticket into that job position you're looking for. It's normal to want to include as much as possible and everything you can in your resume that relates to the job position no matter how small it could be.
However, if you could emphasize the necessary information with minimal detail and a clean design, this is what you would call a minimalist resume.
Before we get into the step-by-step guide, it's important to know what exactly makes a minimalist resume and why it's different.
Recommended read: Top 5 Cover Letter Design Tips & Examples
What Exactly Makes A Minimalist Resume?
First, it's good that we understand the concept of minimalism:

Applying this concept means to only use what's needed and to get rid of what isn't to achieve simplicity at its finest.
In essence, a minimalist resume is a one-page format that simply contains the most important details that highlight your most relevant skills so it's compelling enough to get a response.
As a result, we only include the information that's required and avoid anything that's unrelated or unimportant. We're taking on a more straightforward and concise approach that doesn't do too much but says a lot about you. It's a good example of the saying "less is more".
We're getting straight to the point and we're not beating around the bush. You're giving the employers exactly what they want without making it hard for them to look for specific details. Unlike your typical resume, you're saving space strategically and have a better emphasis on the value you bring to the table.
Recommended Read: Successful Resumes – real resumes that got people hired at top companies
How Is A Minimalist Resume Different?
One of the reasons a minimalist resume makes you stand out (whether you're just starting out in your career or if you're transferring jobs) is because it accentuates your skills and experiences, so it's going to draw the job recruiter's eyes easier to the more important points on your resume. Since it's easy for them to find what they want, they're going to have a more positive experience reading it.
Compared to the typical resume, it's much more visually appealing and you're showing employers how proficient you are.
Even though your resume has a simpler structure and may seem basic, in contrast to everybody else your resume won't have as many sentences but you're going to have a lot more clarity – therefore it's great for standing out because it's going to be very specific, scannable, easy to read and easily digestible.
Now that you've got a good understanding, we can move onto the 7 step guide to how you can create a minimalist resume.
7 Steps To Create A Minimalist Resume
#1. Understand With Full Transparency Your Job Position
You should know exactly what you're getting into – what your role is, what you're going to be doing, the necessary skills or experiences required, etc.
If we're trying to achieve the concept of minimalism, it's important to understand precisely what you're going to be doing so you have a direct focus and only stick to what's important while avoiding anything else that isn't.
This also helps with ensuring your resume isn't going to be too lengthy, but rather short, concise and focused.
#2. Pick A 'Minimalist Resume' Template
If your resume looks clunky and untidy, it destroys the idea of minimalism as the visual appeal is going to be missing.
You want to pick a template that's simple – something that gets the job done. Don't pick anything fancy or complex. We want to keep it clean and sleek, so it's important that we're being straightforward as much as possible.
Here's a good example of what this could look like: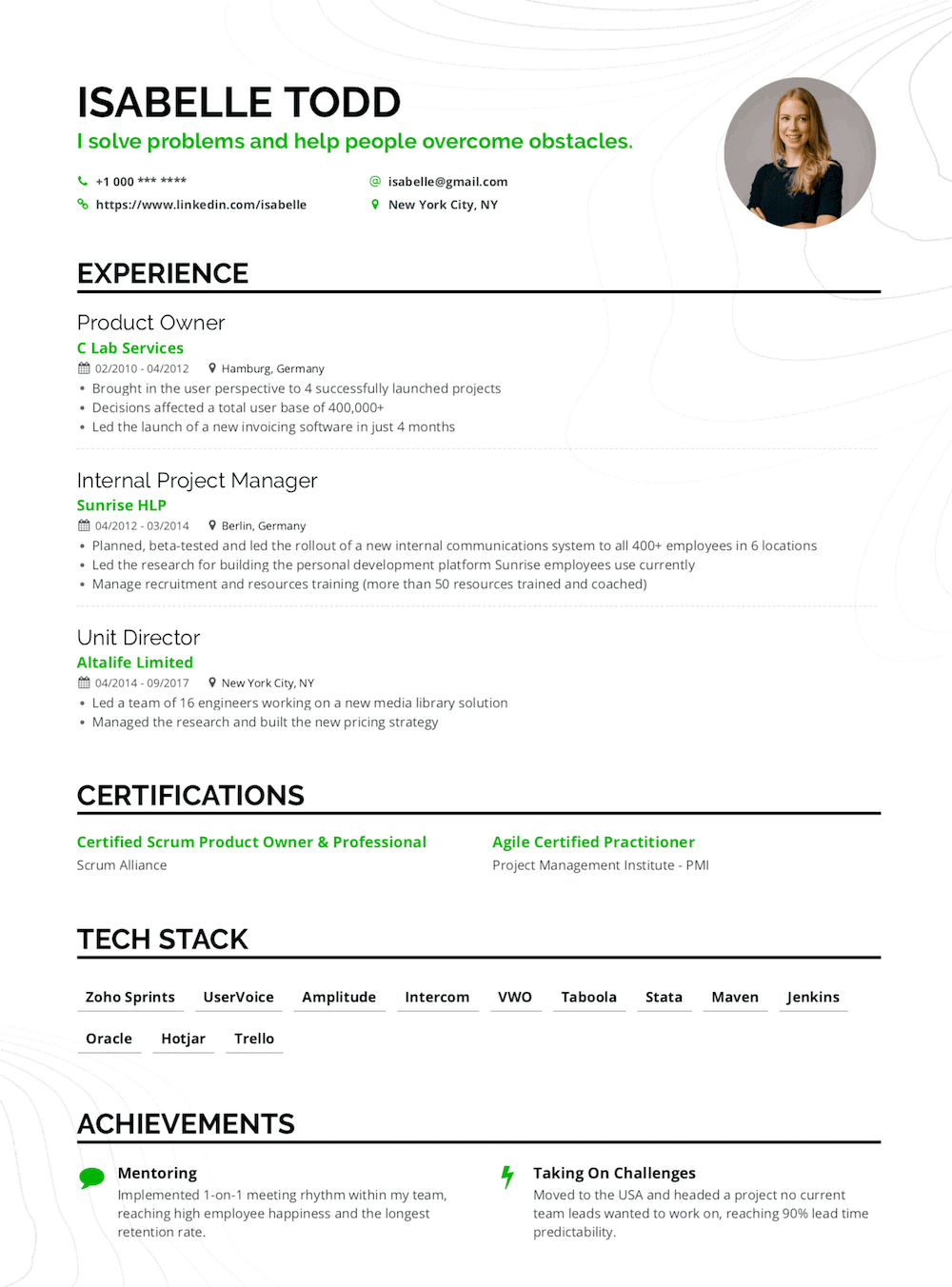 From this example with Enhancv, the use of color instantly highlights the key bits of information. Although it doesn't seem like a lot, the reality is that it contains everything that the job recruiters would need to see.
You can also get started using Enhancv's robust templates that are effective and easy to use to get the job recruiter's attention.
#3. Include The Essential Sections
Now that you've got yourself a good template that's proven like the ones from Enhancv, it's time to start including all the basic essential pieces of information:
Contact details
 Career overview
 Experience / Employment history
 Educational qualifications
  Achievements
Only prioritize certain headings and sections, don't include anything else if it's barely relevant and definitely do not keep on waffling about a particular topic when it's not needed. Avoid including a hobbies and interests section unless it's strongly relatable, specific, and job-related.
For example, if you're applying for a role such as a social media manager, it's worth considering a hobby and interests section to talk about your interests with digital marketing, technology, social media, and how you're on top of the latest news and updates.
For your contact details, it's good if your email doesn't contain anything too intense or something that's an eye-sore such as jamespatrick12&"$_ @gmail.com… Your first name and last name @ is good enough.
#4. Use Keywords and Phrases
After getting a good understanding of our job position and a compelling template on standby, it's time to start connecting our skills with the keywords and phrases to match the job description. You can do this in 3 easy steps using our free resume scanner.
If you want them to get to know you better, you could add a link to your portfolio or website in the contact section to provide further information like so: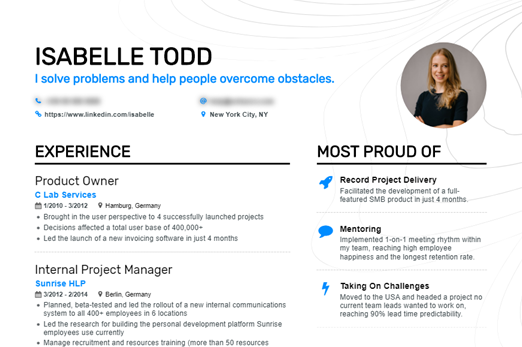 #5. Shorten Excess and Clunky Sentences
Avoid a large volume of words and big chunks of texts. If you're using a list of words to describe one of your skills or experiences, use no more than 2 or 3.
But if there are more details you want to include, use bullet points or other design features to maintain the effectiveness of the sleek visual appearance rather than having a large boulder of text that ruins it.
One way you can check the effectiveness of your resume is by using a resume checker that gives you instant feedback.
#6. Edit Your Resume Accordingly  
Any words, phrases, or sentences that could be cut-down, shortened, or rephrased but still convey the same meaning, do that.
Also, ensure that it's concise and has a good rhythm. Something I like to do is read it out loud and see if it sounds right as if I'm having a formal conversation. When you're saying it, you'll notice if there are parts that might sound off or don't seem natural. If that's the case, that's where you should change it.
#7. Proofreading
The general rule of thumb here is to double-check your spelling, punctuation, and grammar.
Read over your resume 2-3 times, ensure there are no technical errors unless you want to compromise your first impression.
Recommended read: Keep Getting Rejected Job Applications? 14 Resume Mistakes You're Probably Making
Additional Advice
1. Adopt the "use it or lose it" mindset
Pinpoint information that's specific and critical. You can do this by constantly asking yourself "is this useful?"
2. Don't overdo design and visual elements
Be thoughtful and always keep in mind to keep it simple, so nothing complex or extravagant.
3.Showcase your results
Whenever you're keeping it minimal and trying to keep it short, rather than fully explaining something, you can just use statistics, logistics, facts or figures instead.
4. Simplicity is the key
At the core, think about how you could remove as much as you can whilst leaving the most important information there to keep it as simple as possible.
Recommended read: One Page Resume: 3 Examples To Show Its Impact
Minimalist Resume Template Example:
Contact Details:
–          Full name
–          Overview sentence
–          Phone number
–          Email address
–          Link to website, portfolio or professional profile
Experience:
–          Job title
–          Company name
–          Dates of employment
–          Short description or bulleted list of job responsibilities
Education:
–          Level of education (diploma, certification or bachelor's degree)
–          Certificate authorities
–          Dates
–          Academic achievements
Achievements:
–          Only include a list of your relevant certificates or training with the awarding bodies (with a minimal description including the dates of completion)
Skills:
–          Keyword list, bullet points or infographics
You can use the exact same template from Enhancv by clicking here. But here's how this looks in action: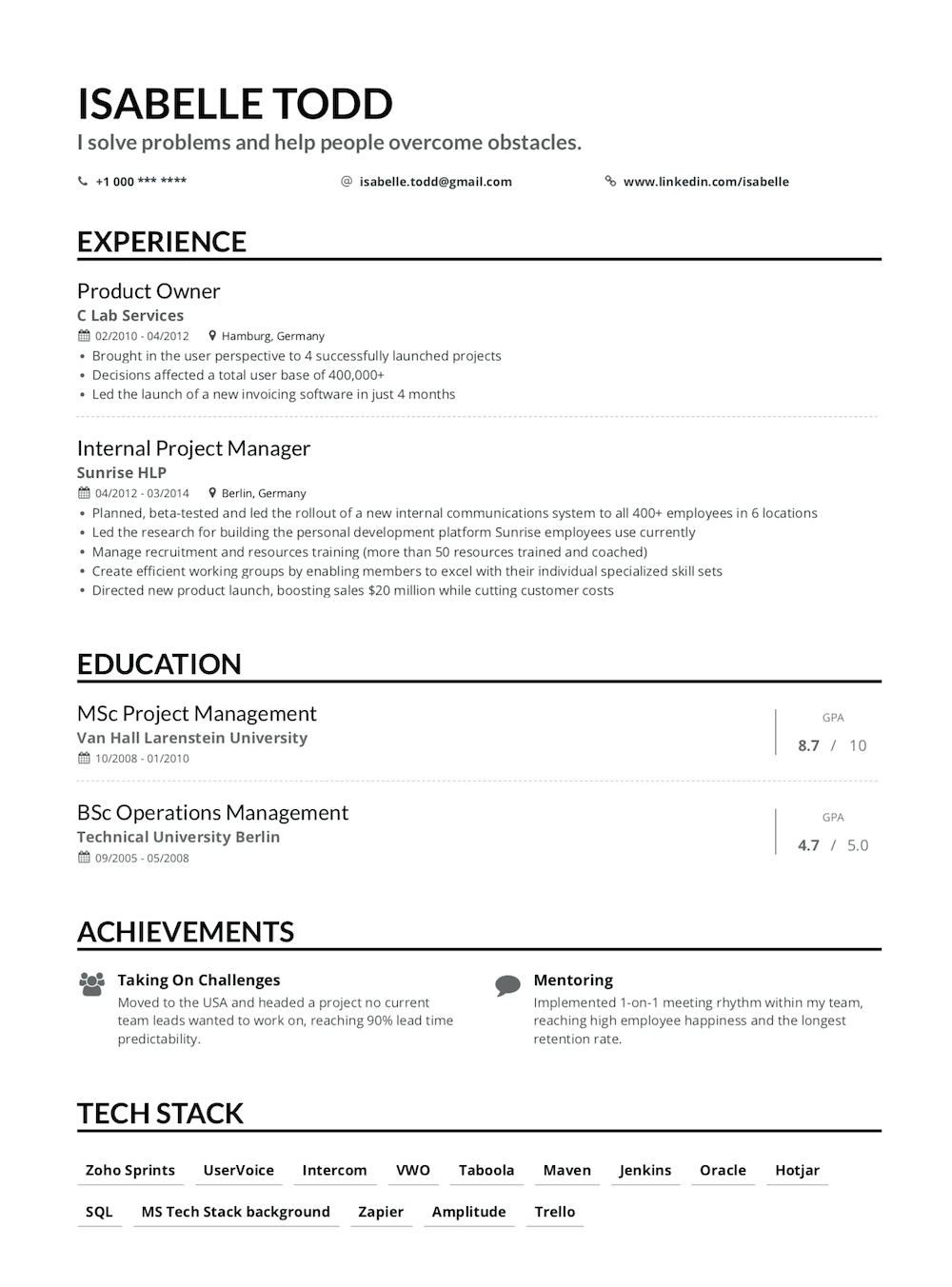 Conclusion
Job recruiters are going to be looking for specific skills or experiences, which is why minimalist resumes are great for highlighting your strengths and implicating clarity.
The concept of minimalism applied to resumes is perfect for standing out and grabbing interest almost immediately – it quickly highlights and identifies your skills or experiences. It's easy to read and shows employers "you get it".
Start standing out and get started now with Enhancv!
What other types of resumes do you think are great for standing out? Let us know in the comments below!