How job sharing can change the future of work

We live in an age of rapid change, fueled by the digital transformation. Our roles and responsibilities are changing, our work tools are changing, and work models should change, too. Today we look in more depth at an interesting format that's becoming more and more popular. So, what is job sharing and why should you consider it, both as a job seeker and a modern employer? We'll look into that in a moment.
The fluid state of work
For the majority of our grandparents, work consisted of going to the field or tending to animals from dawn till dusk. For the majority of Baby Boomers and Gen X-ers, work consisted of going to the office with a strict schedule of 9-to-5. The next generations don't want a fixed schedule – it bores them and tires them. The name of the game in our age of digital transformation is "flexibility".
What we see nowadays is the need for work to become fluid, melding better with everyday life. Millennials can't put up with the 9-to-5 format anymore, and Gen Z employees need even more freedom when entering the workforce. People are looking for more flexibility and freedom in their workday and smart employers are ready to accommodate that. This trend is even more visible in groups with specific needs like new parents, newly relocated employees, people working on personal projects, industry or job role transitions and others. By providing such work offers, businesses benefit from getting access to experienced professionals and consultants that wouldn't otherwise accept a full time position.
Additionally, businesses now need to operate around the clock – serving both their "always on" highly demanding customers and their international clients accessing services on the global market. Surveys show that customers' expectation on brand response times is staggeringly demanding. The majority believe they should get a response in less than an hour on social media, as well as via email. This means companies need flexible work schedules that allow them to serve the public 24/7.
All of those factors lead to a need for new work models – especially ones that allow for greater flexibility, agility, team diversity and knowledge sharing.
Flexible work models
There are several different formats of flexible work opportunities, including:
Part-time and shift work – most are familiar with these formats, but what about others?
Flexi-time – the employee has to be available within certain core hours and can make the rest on their own schedule.
Condensed hours – a typical work week done in 3 or 4 days. This can be 3 12-hour sprints, 4 days covering the work hours of 5 and more.
Job sharing – a model that allows for 2 people to share the same or complementing roles and work closely together as a pair.
Most other formats are just a variation of the "one person, one job" task, but the job share model is unique with the fact that the strengths and competences of two people can be combined and one position can be enhanced with the experience of two professionals.
Job share models can be formulated differently depending on the applicant pair. The most basic version would be the Job Split, that allows for full autonomy of the two partners on a specific level – be it client, capability or project. This, in effect, represents just two part time jobs. The Hybrid Job Share provides a model where the two partners share some responsibilities and split others, e.g. divided, but overlapping performance measures or split client ownership with shared backups.
Finally, the Pure Job Share represents two people essentially doing the same role over different hours of the day or days of the week. The most common format would be for one person being present Monday through Wednesday and the other working on Wednesday through Friday, with Wednesday being a day for sync and task transfer.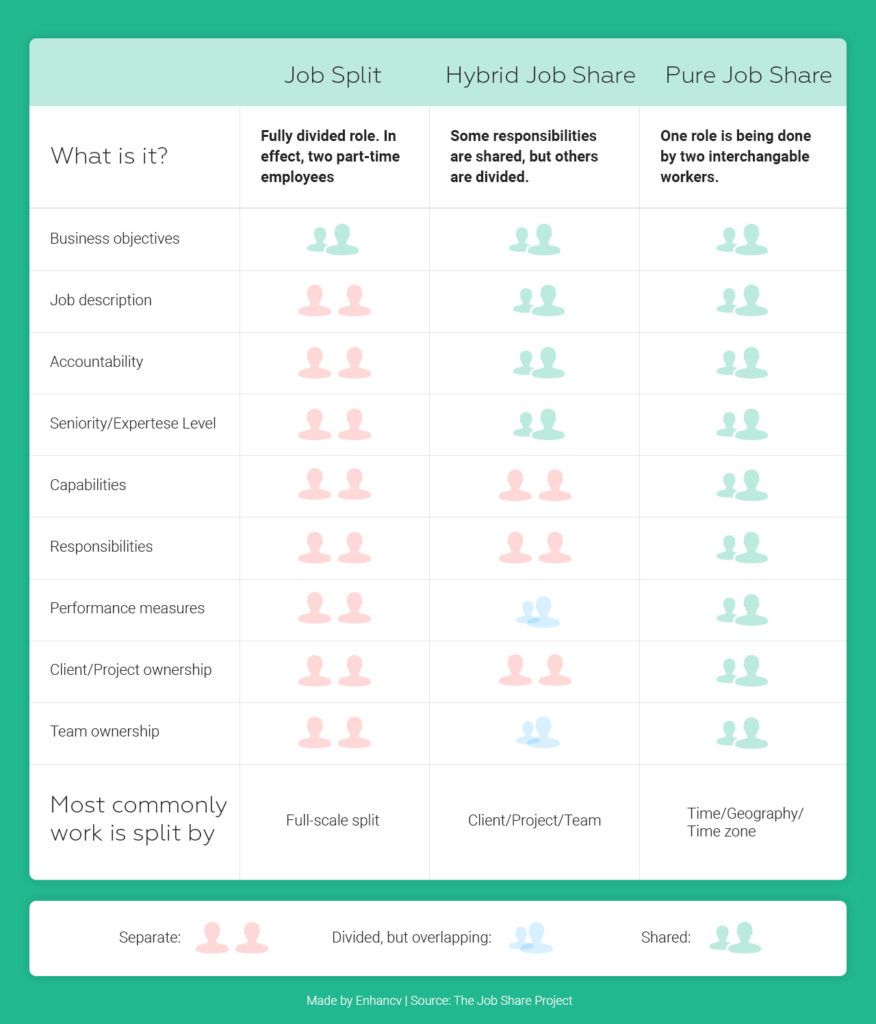 The benefits of job sharing
Job sharing may not sound like an easy solution at first, but the benefits it can bring are substantial. First off, there's the direct effect of higher employee retention. Turnover is a very costly problem for companies and it can reach 50% to 75% of an employee's annual salary. On the other hand, according to the Job Share Project, for 87% of employees surveyed job sharing meant the difference between staying with a company or leaving altogether. That's a trend especially visible with women, who have a much higher drop-off rate as their career advances and they search for better work-life balance.
Companies willing to allow flexibility can choose from a much larger talent pool which helps with creating diversity in the workforce. It also allows access to experienced professionals who can contribute to knowledge sharing within a team. On average, an increase of up to 30% productivity can be gained through two people job sharing.
"Because you have two personalities covering the same position, it is much easier to cover core skills. One person can be creative while the other is analytical," says Jana Tepe Co-Founder of Tandemploy, a Berlin based company that connects employers and employees seeking to job share and a partner of Enhancv.
Additionally, data shows that job sharers tend to be more productive and more engaged with their everyday work. Successful job sharers need to be high performing, proactive and motivated and well organized.
Adoption of the job sharing model
Job sharing is already a well-adopted practice. 46% of organizations offer it as a flexible working option, according to The Job Share Project's survey. But there's still big potential to be filled – according to the same survey, just 6% of employees on a flexible working contract work on a job share basis.
Tepe says that the main difficulty is for people to find a partner who compliments their skills. And that's where her company Tandemploy comes in – by providing a platform through which job seekers can be connected to one another and employers can be connected to the appropriate applicants.
We do believe that job sharing is a trend that deserves more attention, as it helps promote flexibility and work-life harmony. It allows employees to take control over their day-to-day tasks and improve their focus. This is why we've partnered with Tandemploy to create the first resume format crafted especially for job sharing. You can check out more about the product's features and sign up here.
–
Read this next: Check out our resume examples section that got people hired at their dream jobs.