Is Your Manager Resume Worthy of the Job?

When you're in the market for a new managerial position you have to ensure your resume is worthy of the job you're applying for. Your manager resume represents you; if it isn't worthy, then neither are you– in the eyes of the employer! It's brutal, but so is the job market and if you want to be in with a chance, then you've got to up your resume game.
But, have no fear! Our manager resume writing tips will deem your resume worthy of any manager job and get you that coveted interview spot.
Your Experience Makes Your Manager Resume Unique
The one thing that makes your manager resume unique is YOU and your personal experience– no one has done the exact same things in the exact same way. The key is to craft a personal manager resume which reflects your own experience and personality.
Keep it Short and Sweet
While you might be tempted to write down every single detail and daily task– unless you're applying for a senior position, less is more.
Start with your current or most recent position, clearly stating the job title, the company name and the dates of employment. For each position, include bullet points (rather than long sentences or paragraphs) describing your main contributions and accomplishments. Being specific always helps, "Increased organic search traffic by 46% in the first 90 days" will always sound more impressive than "Substantially increased organic search traffic."
Side projects help you stand out
A fantastic way to make your manager resume really stand out is by including related side projects. This can be anything from a podcast to volunteering. Showing that your passion for building and managing things extends beyond the 9-5 can make a big impression. Here are a few examples: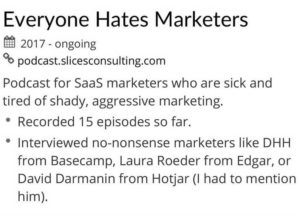 Top Skills To Highlight in a Manager Resume
Take a good look at the job description for the specific manager position you're applying for. Make sure you clearly demonstrate that you possess the specific management skills the company have requested. This can even include using the same language to describe your skills as the description did.
While requirements may differ depending on the industry and the type of manager role, there are certain skills that will impress any hiring manager.
Below we've detailed some general management skills you may be able to include in your personal manager resume:
Effective leadership and delegation

Strong time-management

Experienced in project development

Creative problem-solving

Knowledge of performance review process

Effective negotiation skills and conflict resolution

Prioritization and scheduling
Avoid Resume Clichés
Manager resumes can be a cliché minefield. There's a fine line between using key phrases that will catch the attention of your potential employer and relying on overused terms that have lost all meaning.
The challenge is to replace empty words with specific details. Instead of writing a redundant phrase, such as , "I am results-oriented" give a short explanation of what being 'results-oriented' actually looks like in the workplace.
Instead, you could say something like, "Met sales targets every month", or "Increased company revenue by 5%". Try to be as specific as possible but remember to keep it concise.
Another cliché to avoid like the plague is, "I'm an effective communicator". This tells the employer nothing. Does it mean you like to text and chat on the phone during working hours? Be more specific!
Try adding some more detail in your answers. Here are some ideas:
Excellent written and verbal communication with executives, employees, and clients.

Able to communicate ideas and policies effectively, without using jargon.
In the broadest sense, a manager resume should show that you have certain skills, not simply tell the reader that you do.
Does Your Manager Resume Look the Part?
Your manager resume has just 6 seconds to deliver the message to the hiring manager that you're a worthy candidate. An instantly eye-catching manager resume will increase your chances of making it to the 'yes' pile.
Pay Attention to Detail
When you have just one or two pages to convey your personality and your entire professional life, every detail counts. Don't underestimate the power of the font! The font you use speaks volumes about your style, personality, and professionalism. Chose a universally readable and professional font (fortunately, Enhancv gives you a curated list of great options).
Manager Resume Templates
While you want to stand out, don't go overboard on the creativity. Stick to a manager resume template with a simple but modern design.
Refreshing the format and layout of your manager resume can be enough to bag that dream manager role. Make sure there is plenty of white space– large blocks of text on a screen is uncomfortable and makes it more difficult to find specific details.
Use clear, attention-grabbing headers to make it easy for readers to find the important information they are looking for quickly. Here are four manager resume examples for some ideas and inspiration:
A Job Worthy Manager Resume
If you've followed these manager resume writing tips, then congratulations! You now have a well-crafted, eye-catching manager resume that clearly demonstrates your personality and professional attributes that will pique the interest of any potential employer! Now start sending it out and get that new job you've been dreaming of.
If you still need a boost though, try a 7-day free trial of Enhancv to get you started.