15 Infographic Resume Templates For Inspiration

Infographic resumes are attention-grabbing CVs that tell your story to the Recruiter in an innovative eye-catching way.
Timelines, color schemes, and graphical images are among the many types of visuals included in this type of resume. This is a creative approach to engage the Hiring manager and ultimately get you that long-dreamed interview.
However, infographic resumes are not for everyone, and sometimes a traditional resume will be more appropriate, depending on the situation.
If you are applying to a corporate job, better stick to the traditional resume.
If not, keep reading to learn how to make a perfect infographic resume.
We explored the internet and found the 15 best examples of infographic resumes. Full with charts, graphs and not-to-forget information, read the article and find inspiration among them.
Timeline Resume Template to show your experience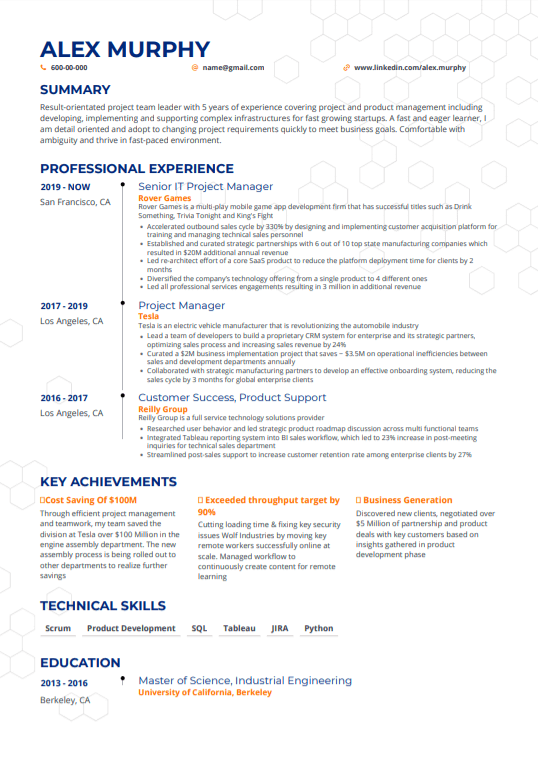 The name and summary in this particular resume are placed at the top in order to capture the recruiters' interest within the first 7 seconds. Why 7 seconds you wonder?
They are crucial for the first impression so keep in mind that if you choose this design you should write an outstanding summary of yourself.
Use a reverse-chronological structure with a vertical line to lead the Recruiter's eye through your experience and education. You can show your career development and showcase your last or your biggest successes.
You can check it out here.
Modern Resume tells the Recruiter everything it needs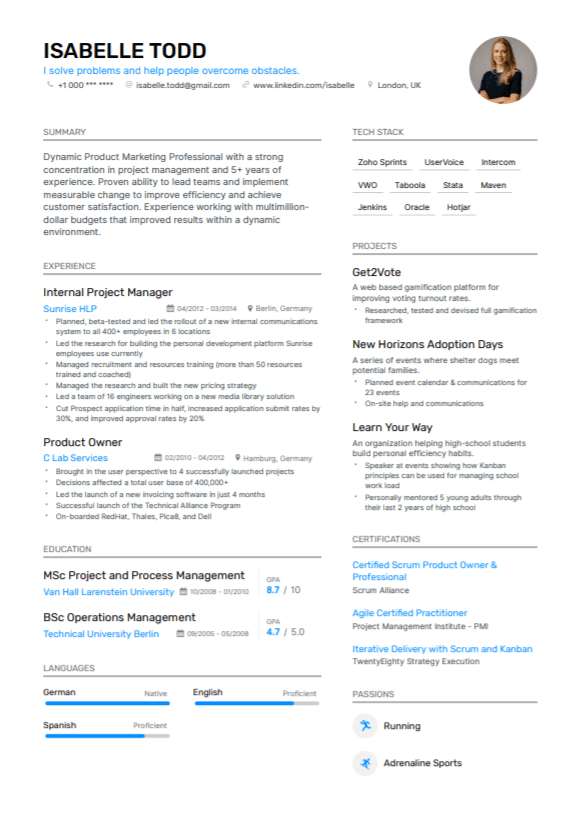 The modern resume tastefully utilizes color for subheadings, icons, and graphics. This helps your resume stand out while not distract from the core content.
Experience and achievement sections are featured at the top so recruiters can quickly see that you're a good fit for the position. Present yourself in the best light.
The important sections can be made with icons. They draw the eye to the top achievements and passions.
You want to show the Recruiter you know certain languages but the text in your resume became too much?
Use horizontal bars. The Hiring Manager will see and understand them right away.
Start writing it here.
Single Column resume to show you in best light if no experience is included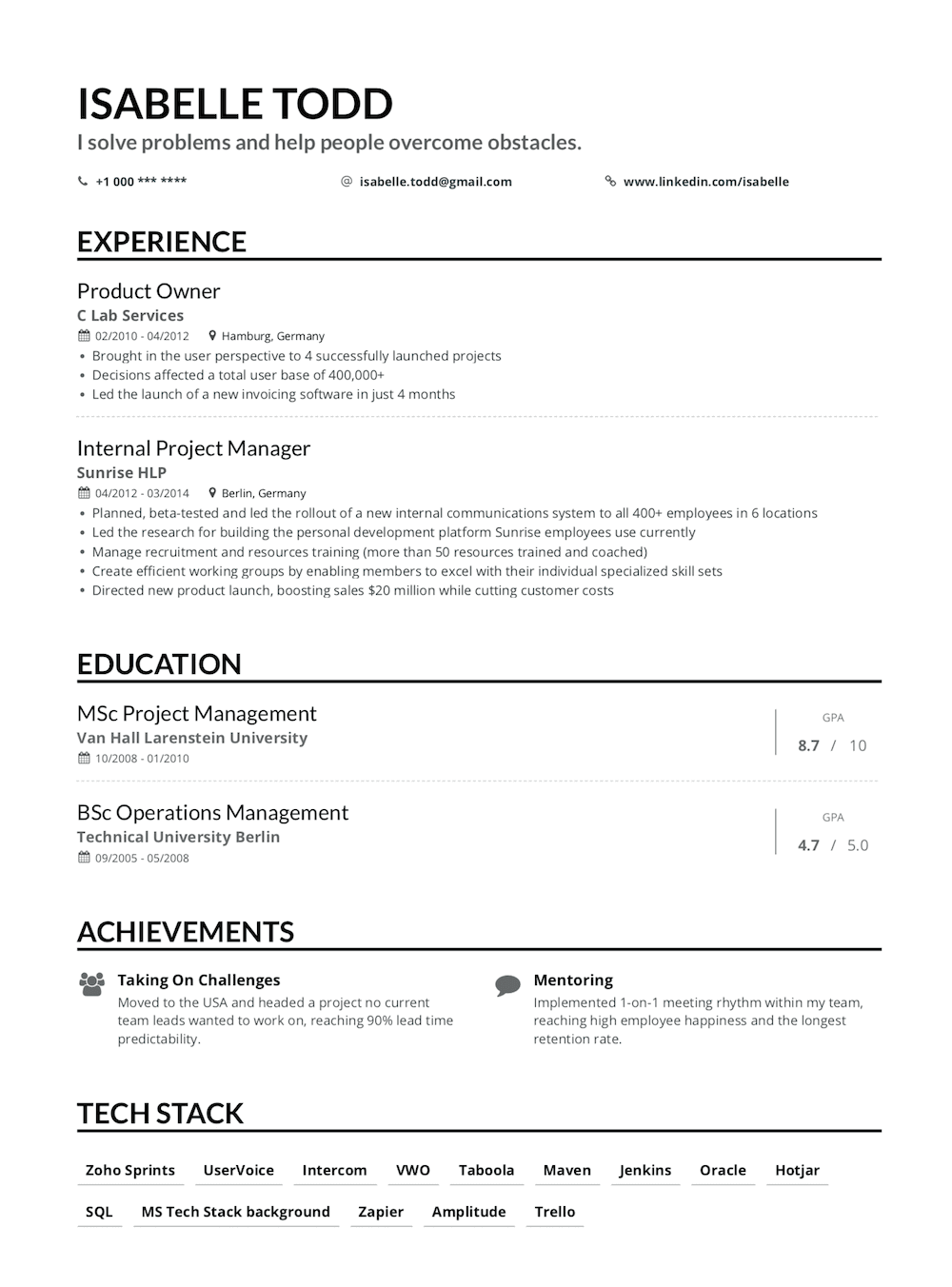 The resume follows standard industry-wide recommendations to only use black and white. However, you can always make it more colorful if you want
Use the icons we have for you when it comes to Achievements
Also,your Tech Stack is important. Make it easily visible to the Recruiters.
Don't hesitate and write your resume now.
Anna Hudayarova uses graphic illustrations to attract attention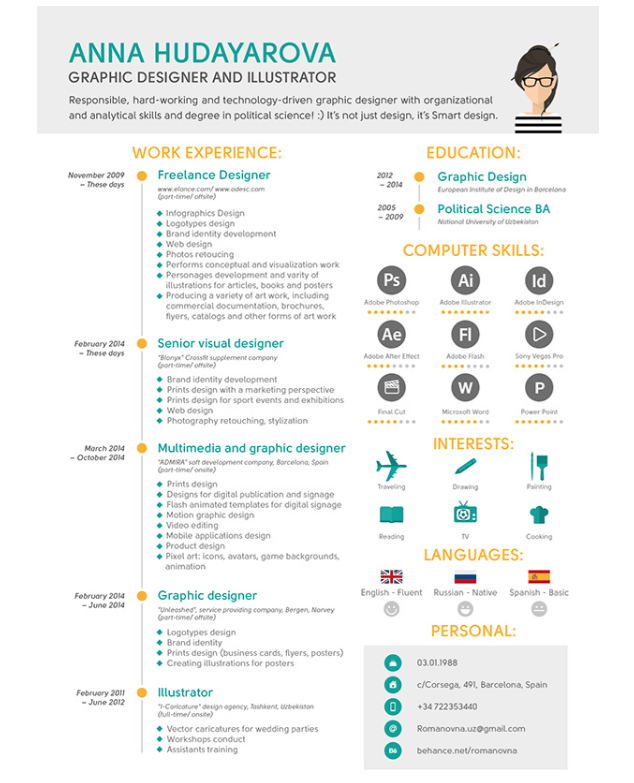 Anna has decided to make her work experience and education with a timeline to guide the Recruiter's eyes.
She has also used the signs of the computer programs she is skilled in, icons related to her interests, and flags with the languages she knows.
Don't forget that unique infographic resume giving every information the Recruiter needs and yet making it interesting, colorful and easy on the eyes.
You can see Anna's work here.
Molly's resume concentrates on abilities and skills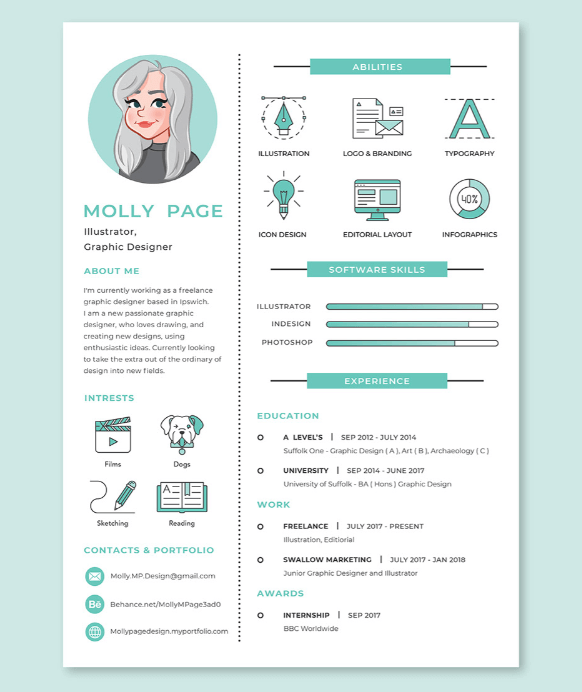 Sometimes you don't need to tell a lot about your experience and it is better to show it. For example in Behance.
Beautifully designed, Molly's resume shares her skills, interests and skills. The illustrations made by her, used to show everything she is proud of, speak more for her style than just words.
Here you can see more of her unique designs and all of her projects.
Infographic resume suitable for designers of all fields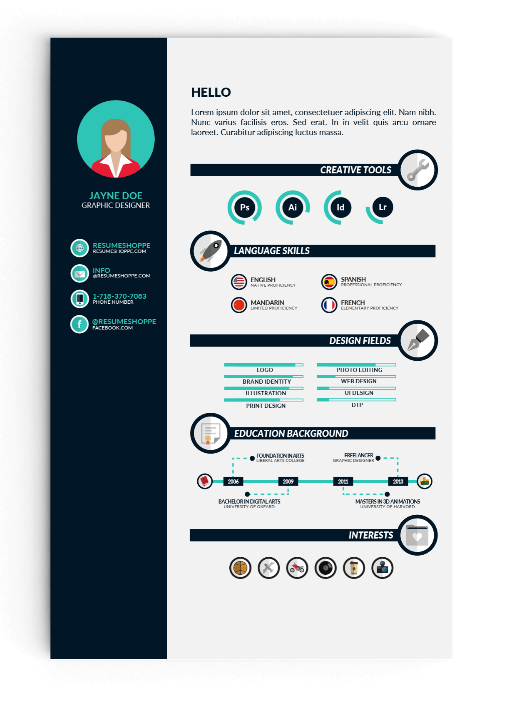 Short resume summary, many icons and horizontal bars give the most important information for the designer.
More colors and graphic representation, less words.
Perfect way to make an impression and be remembered by the Recruiter.
On Behance you can see more of this resume.
Mahima Sharma infographic two pages resume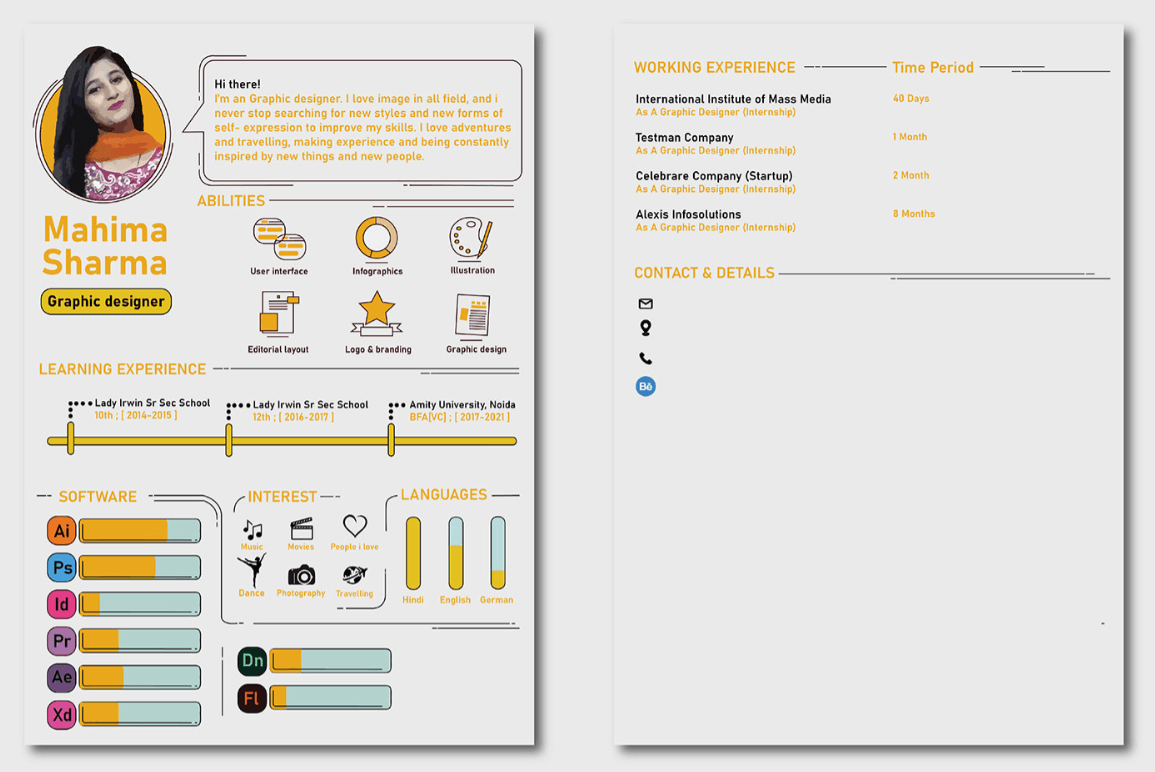 Mahima decided to show her work by designing her resume with beautiful colorful illustrations, bars and an activity graph showing learning experience.
Despite having a lot of colors, Mahima's resume is still uniquely representing her skills, without being too much.
When a Recruiter sees Mahima's resume he or she would easily understand which are her strengths and weaknesses when it comes to softwares she uses and languages she speaks.
In Behance you can see all of her work.
Mahfuzur Munna infographic one page resume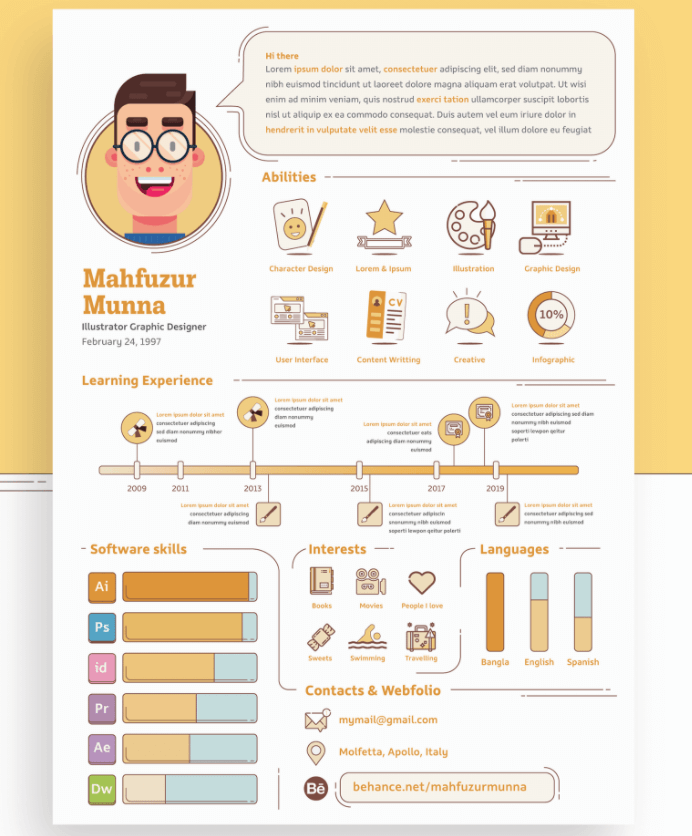 Similar to Mahima's resume, Mahfuzur Munna represents his work with colorful illustrations and bars. The Hiring Manager will know everything he or she needs to understand the designer and his style.
However, he was able to make it all in one page resume. Easy to read and understand, and be remembered.
In Behance you can see all of his work.
Martin Wolfe takes an infographic resume on another level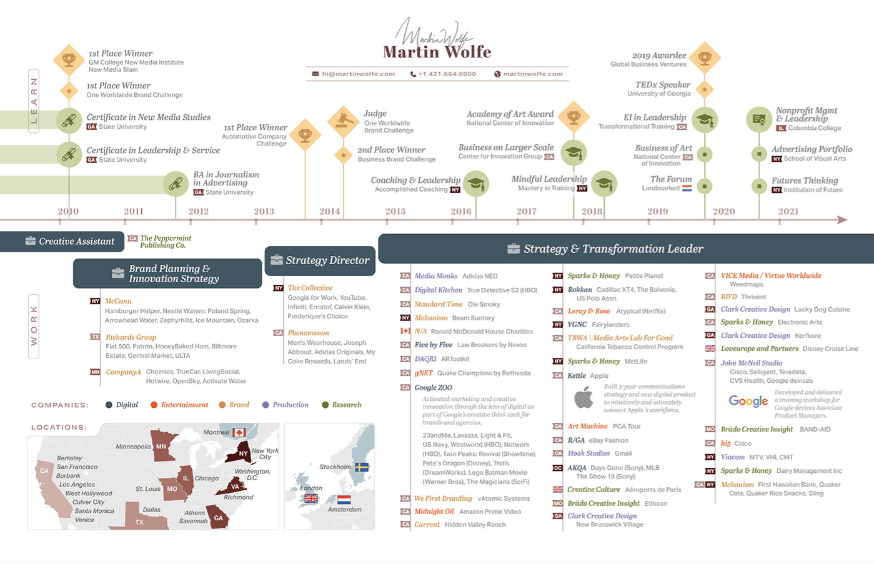 Very well designed, Martin Wolfe's resume on Behance has a lot of views. And, I can say, he is the first I have seen to use a horizontal CV.
However, he made it brilliant.
He shows all the important information so it can be easily understood. He has all the years of his achievements and certifications, all the experience he had and also the countries he has lived in.
And, as we can all see, he has a lot of experience, yet it took him 2 pages to make it all visible.
Here you can see his work.
Ondrej Zoričák conquer the peaks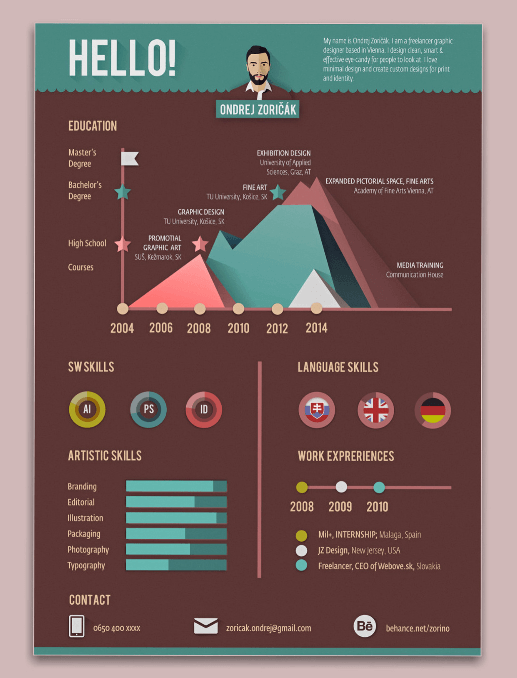 Ondrej has represented his education achievements as conquering peaks. Metaphorically speaking we all do that, when we graduate, right?
What is more, in his well-designed resume he has as little words as possible, and his skills and experience are absolutely clear.
Take a look at his other work in Behance.
Olena Levko focuses on her skills, not experience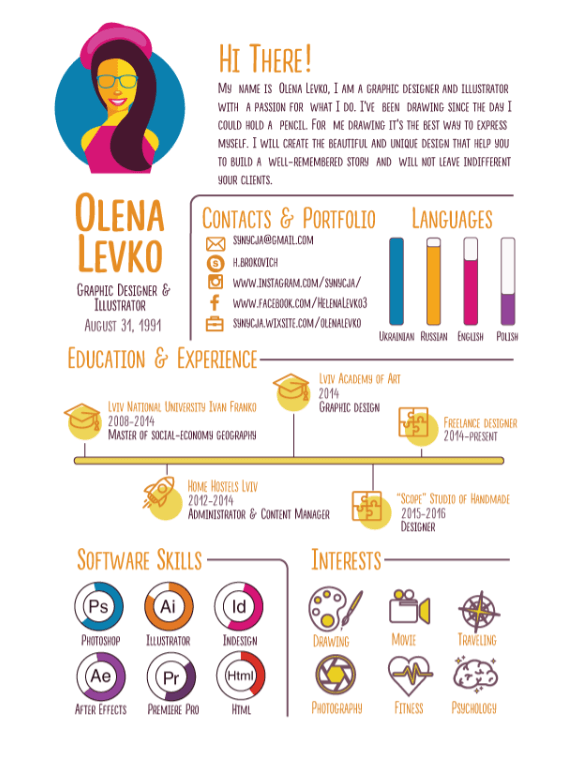 Olena shows that she is a skilled illustrator by designing her resume with well combined illustrations and colors.
They show her true self and make her easily recognised as a potential new employee between the hundreds of resumes a Recruiter sees.
You can see her other work here.
Tanvir Ahmed's classy yet interesting resume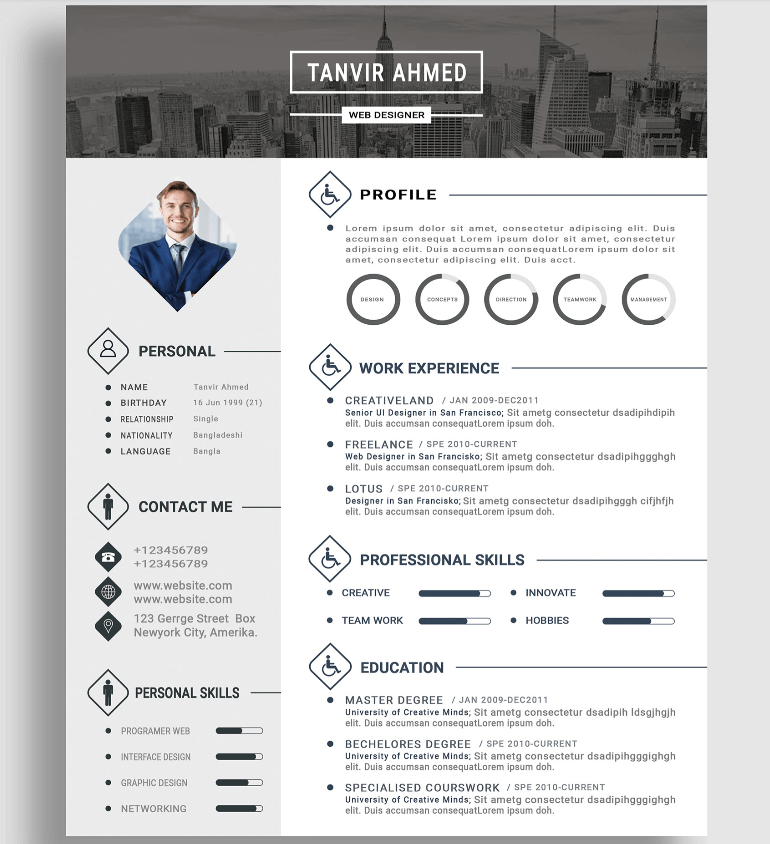 Tanvir used the classy grey color and used it's shades to drag the Recruiter's attention to the important parts of his resume.
He has decided to divide the sections with an icon, name and a simple line, which makes the white space usage perfect.
See all of his resume designs on Behance.
Adam Chen's unforgettable resume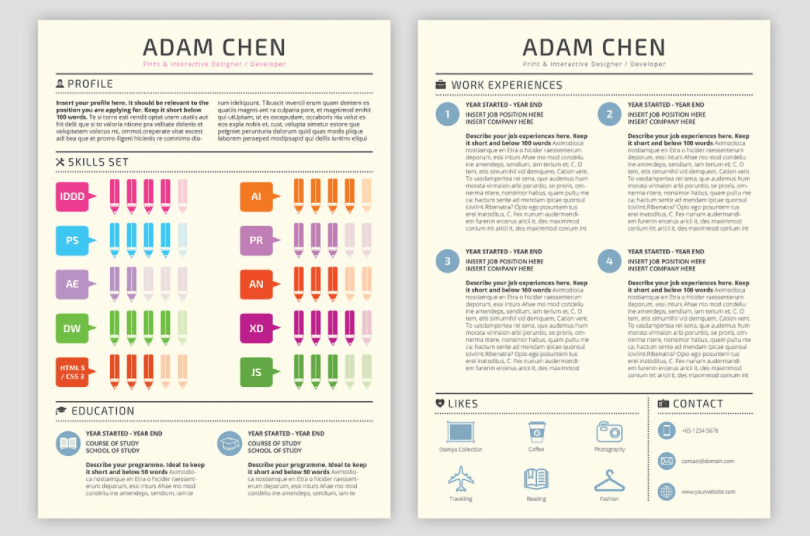 Have you wondered what you can use to show that you are a graphic designer?
Measuring system with pencils!
Tell the Recruiter what your skill set is in an unique way.
You can use different colors to draw the attention of the Hiring Managers there.
See more of Adam Chen's cool design here.
Khaled Dahi's Brand Strategist resume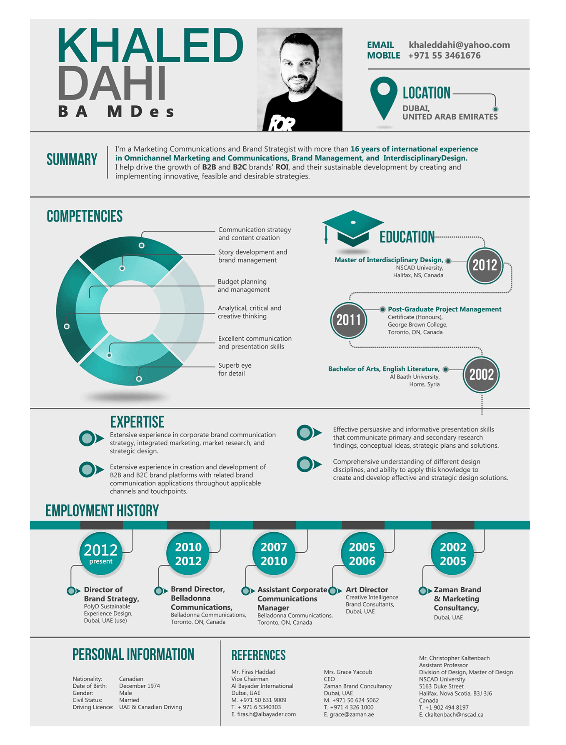 Khaled decided to show his competences as a pie chart, attracting the attention of them.
What is more, he has illustrated his education and employment history as a line, with which you can easily see when and what he has done.
Here you can see the resume design in detail.
Jacqueline Quek made her resume unique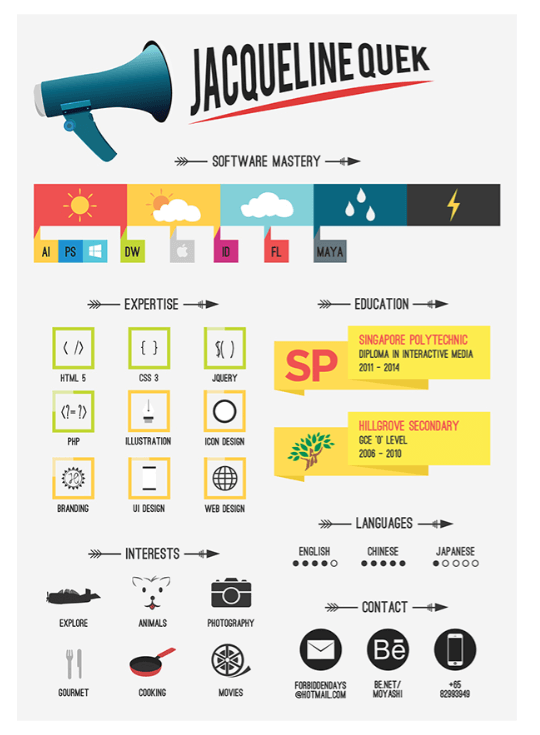 Jacqueline used syringes, and adjustable levels to represent her skills set.
She decided weather (sunny, partly sunny, cloudy, rain, and thunder) to represent her strength in using the software.
Which is a brilliant new way of showing your knowledge.
Every section of her resume has its own identification, as icons and colors, however they are all making a perfect whole.
Check out her other work in Behance.
Wow, these 15 unique infographic resumes just blew your mind, right?
However, don't forget that an infographic resume is not for everyone. It is perfect for creative individuals as graphic designers, UI/UX designers, videographers, tech people but not for business for example.
If you work in Business, Teaching or administrative areas, try adding infographics but not in all sections of your resume.
***
Do you think infographic resumes are for everybody or you think like us, that they are not for everybody? Did we miss some awesome examples? Do you want to share your experience with infographic resumes? – Share it all in the comments!