Quick Answer:
A business letter is a concise, professional document that follows a specific format and serves multiple purposes. This includes cover letters, sales letters, leave notices, recommendations, and thank-you letters. Formal business letters include specific components such as the sender's address, date, recipient's contact information, salutation, body, closing salutation, and additional information that can be included. To write an effective business letter, use proper grammar, check spelling, keep it professional, follow formatting rules, and tailor the letter to the recipient.
If you've ever wondered how to send a professional communication with your boss, then a business letter is exactly what you need.
A business letter is a professional form of communication which can be incredibly beneficial when drafting a formal correspondence. An effective business letter is a concise, specific document that addresses a specific purpose.
From cover letters to recommendations, there are several types of letters that fall under the business letter umbrella. Knowing how to draft a correspondence, using proper business letter format, can help you look polished and professional.
In this article, we will examine:
What is a business letter?
What is a business letter template?
How to use standard business letter format?
Tips to write an excellent formal business letter.
If you're interested in upping your game in creating better business letters, you should also speak to a career counselor at Enhancv. It's always good to get some advice on how to present yourself in a business atmosphere, and our career counselors have lots of experience in advising professionals to excel in a business atmosphere.
What is a business letter?
Upload & Check Your Resume
Drop your resume here or choose a file. PDF & DOCX only. Max 2MB file size.
A business letter is professional correspondence for the purpose of disseminating information. There are many types of letters which fall under the business letter banner, including:
I like to think of business letters as a general term to explain many types of letters. All business letters follow the same typical format, but differ greatly on the content placed inside. You can express a wide gamut of ideas and emotions within a business letter, and therefore, two business letters may share drastically different concepts.
Let's look at an example of a business letter template, and as you examine it, you can gain some understanding of how the template works. After writing a few business letters, you'll begin to master the formatting.
business letter templates
Each business letter follows the same typical format, but don't think of it as a hindrance when writing a professional letter. Within this format, there is a lot of room for creativity and the ability to express yourself in the written form. Let's examine a standard business letter template:
Sender's address and information
Your name
Your street address
City, State, Zip Code
Your Phone number
Your email address
The first thing that you should put on any formal business letter is your contact information. Include your name, the address that you live in, including city, state, and even possibly country, your phone number, and your email address. You can also include a link to your own personal website or portfolio.
date
Including a date is great for both parties, as you have a record of when the letter was sent, while the addressee of the letter has access to supporting details, like the time frame to respond to the letter.
Separate the date from the sender's information by using a blank line. You can do this by pressing "enter" or "return", depending on the word processing programs you use. Also, after you write the date, include another blank line.
Recipient's contact information
Recipient's name
Their title
The name of the company that they work for
Recipient's address,
City, state, and Zip code
The difference between a formal letter and a memo is that a business letter is addressed to a specific person, while a memo may be more general. That's why it's important to include the recipient's name, title, and company name at the beginning of the letter. You can choose to either include the recipient address.
Salutation
Dear Mr./Ms.
Begin the main body of your letter with a salutation, a short phrase which dedicates a letter to a specific person. One of the best salutations is "Dear Mr./Ms." followed by the last name of the letter's recipient.
Read more: Cover Letter Salutation That Entices the Recruiter to Learn More About You
Body of the letter
The body of the letter points to the specific reason for why you're writing the letter. Here are some tips when crafting the body of a business letter:
Always state the purpose of the letter in the first paragraph.
In subsequent paragraphs, provide information and points of clarification on your main point.
Your last paragraph should be a complimentary close, the point at which you thank the reader for taking the time out of their busy schedule to look over your proposal. It should also restate the purpose of the letter.
Closing salutation
Do you want to end the letter strongly? If you do, then you should consider the perfect closing salutation for your letter. A closing salutation is a one line sign off that ends a letter. Here are the most common sign-offs for a letter:
Sincerely,
Respectfully,
Best regards,
Cordially,
Yours truly,
Related: How to Write a Cover Letter – Writing Guide + Examples & Downloadable Templates
Additional information you could add
If you own your own business, which has its own distinct logo, you can include that logo on business letterhead. This creates a sharp, eye-catching letter which the recipient is sure to read.
You may also want to end your letter with a handwritten signature, as this shows that a distinct level of care has been put into the letter.
As well, you can mention specific other documents which you've attached to the business letter.
How to format a business letter
Similarly to composing yourself professionally in the workplace, formatting also plays a role in how your letter is received. If there are a lot of grammatical errors, or if you use a hard-to-read font, the recipient may not be able to fully read or comprehend the letter. That's why it's in your best interest to follow some formatting rules listed below:
Choose an appropriate font: Although you may appreciate a decorative font, with lots of serifs and flourishes, it may be best to just stick with a simple font, like Times New Roman font or Arial. Ultimately, you don't want the font to take attention away from the content of the letter.
Keep it professional and avoid slang: Regardless of whether you know the person well or not, try to avoid common slang or jargon in your professional letter. Remember, the letter is an official correspondence, and, therefore, should be written in a professional manner.
Run your document through a grammar and spell checker: it is always a good idea to run any of the information through a grammar checker and spell checker to make sure that the letter is free from typos and errors. Some of the most popular grammar checkers include ProWritingAid and Grammarly, but many word processors have their own grammar checking applications, including Microsoft Word and Google Docs.
Keep the document single spaced and left justify: One of the last things that you can check over is the spacing and paragraph justification, which side of the page the paragraphs are positioned towards. Using a single spacing can aid in readability.
Tips to Write an Effective Business Letter
Below, you'll find a few tips about how to properly write a business letter. If you follow the tips below, you can create an engaging letter which will grab the attention of your reader:
Keep several templates for future business letters
I am a fan of keeping master templates of popular documents, as this allows me to shave down on the time it takes to create a new business letter. For example, if you're applying for a lot of jobs and sending out several cover letters, it's a good idea to have a general cover letter template ready to go.
This template can have all your information written in the letter, including a simple format to follow which allows you to plug-in information about the employer and details about their organization. You always want to create tailored and specific business letters, as generic business letters may show that you don't care enough to create a new letter.
Differ your letter between an email and a physical letter
In this highly digital age, the common form of communication is through email, rather than providing someone with the physical copy. You should differ a written business letter from an email business letter. Here are some things that you should include in an email business letter that you would necessarily include in a written one:
Remember to include a specific subject line to the email which points to the purpose of the letter.
Include any links in the email.
You can also move your address and phone number underneath your signature.
Takeaways
A business letter is a general-purpose professional letter which is written to a specific person.
Each business letter follows a specific format, which is easy to follow.
Always check your business letters for spelling and grammatical errors.
If you're interested in taking your business letter writing to the next level, speak to a career counselor at Enhancv. They can help to address any questions that you have, as well as providing you with important details to include in your next business letter.
Make your move!
Your resume is an extension of yourself.
Make one that's truly you.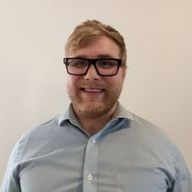 Dave Van Kooten
Is a human resource expert that helps passionate jobseekers to put their best foot forward to prepare for an interview. He believes that success can be achieved through going out of your comfort zone.