Nowadays in 2020, it's important to have an eye-catching resume. Usually, you're competing against if not thousands, then hundreds of other people. People who are sending their resume applications to the same job position that you're applying for.
The truth is, not all resumes are read. Those job-recruiters are getting a large volume of applications, and you want one of those resumes they read to at least be yours.
In this guide, we cover 15 actionable tips for a compelling resume that's going to get you noticed and help land you a new job opportunity.
1. Logical appeal
Upload & Check Your Resume
Drop your resume here or choose a file. PDF & DOCX only. Max 2MB file size.
By logical appeal, I'm talking about statistics, data, and numbers. There's a profound effect when you include numbers in a statement to support some of your points.
Here's a quick example:
" I've helped one client to get more traffic through web content "
" I've helped one client increase traffic by 30% through web content"
Whenever you can include numbers (which creates logical appeal), it's going to catch the employer's eye because it conveys credibility and authenticity.
2. Visual appeal
This time, by 'visual appeal' I'm referring to the creative design elements of your resume.
Use infographics and bullet points to showcase your skills rather than having a large bulky paragraph.
Graphical representations can draw their attention to the key pieces of information. For example, resume icons are one good way to engage the employer as it makes your resume scannable.
Usually, the best design elements are the ones that are simple and keep the whole aesthetic of your resume clean and minimal. There's no need to be wild and use something crazy with loads of design elements.
You can find out how effective your resume is by using our resume checker that scans your resume and gives you detailed feedback.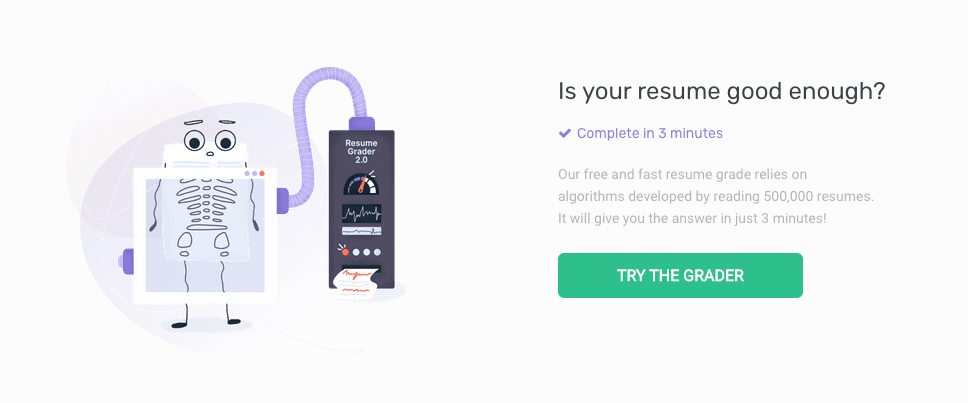 3. compelling resume overview
Another important part of your resume is the summary overview of your career. This can determine whether the recruiter wants to continue reading or not based on what you've written.
When writing your overview (whether you're new or experienced), try to accentuate the key details using fewer, impactful sentences.
No worries if you're a newbie with not much experience to show for. One thing you could do to make employers want to continue reading is not only by highlighting your skills and abilities, but also your career objectives and end-goal.
However, if you're someone with good work history, highlight all of your relevant experiences and achievements. Give them insight into the value you can bring over to their company.
4. Soft, hard and technical skills
Today's workforce has become more interpersonal where communication is vital, therefore soft skills are more important now than before. On the other hand, it's important you talk about the hard skills that are required. So you're showing you can take on the job position along with its responsibilities.
If you have any technical skills that link directly to the job you're applying for, it's good to bring them up to demonstrate your capabilities and why it makes sense to hire you. For example, you could mention skills such as software efficiency, project management, data analysis, etc.
5. Targeted, tailored, and focused
When you apply to your next job and the job after, ensure you're not just sending the same resume over and over again. To be more targeted and focused, it's important you have more than one resume when sending your applications.
Trying to connect with everyone means you connect with no-one.
Employers don't want to hire someone generic. Take the time to be extremely specific and to tailor each resume you send. This tells recruiters you're not just a spammer, but you're someone serious, committed, and genuine.
6. Links to portfolio, website or LinkedIn
If you want to let employers know more about you, a good approach would be to include links to your website, portfolio, or LinkedIn account. This way they can find more information instead of you trying to force everything into your header.
To keep your resume effective, the employer should be hooked from the get-go. But we don't want to ruin it by lengthy sentences that seem out of rhythm.
7. Volunteering experience
Most people believe that it's not worth including your volunteering experience but that couldn't be farther from the truth. At the end of the day, work is work – and you did that work which developed skills that can prepare you for your next job.
This is especially valuable for those who might be lacking in work experience.
(But if you already have loads of work experience to talk about then this section wouldn't be necessary for you.)
8. Studying Abroad/Internships
Not only is it worth emphasizing your deserved recognitions such as academic achievements, but you should also mention any highlights during your university or college years such as studying abroad or that year of work experience you did at an internship.
Any work experience you've had from your university or college like working at an internship, these are experiences valued from the job recruiter's perspective!
If you've studied abroad, you can catch the employer's eye by showing you're open-minded, up for challenges, and not afraid to try new things. You're diverse and independent, don't think that these things go over the employers' head – they will notice!
9. Strong confident tone
I've mentioned this in one of our previous blogs but you need to be confident and you should have an authoritative tone on your resume.
Let them know you're the right man or woman for the job. If you're displaying any uncertainty or a lack of confidence, it's essentially telling them you're not ready.
Therefore, it makes sense to avoid weak language that contradicts this such as:
"I hope…"
"Some of it…"
"which more of…"
Instead, use stronger words that pack a bigger punch:
"I cultivated…"
"I devised…"
"which implemented…"
10. Keywords and phrases
Most companies use an Applicant Tracking System (ATS) to check if you're matching the job description. So don't forget to include the industry keywords and phrases that the job recruiters would want to see.
You can correspond with exactly what the employers are looking for in 3 easy steps using Enhancv's free resume scanner.
11. Extracurricular skills
Can you speak another language fluently? Were you publishing student newspapers back in school and did you host or organize an event? Are you more knowledgeable about technology and software than the average person?
Keep in mind, recruiters are interested in knowing your story.
Therefore, consider letting yourself shine on certain skills you might have developed from extracurricular activities.
12. Hobbies and interests
Only include this if it's extremely relevant. Nonetheless, this is a good section to use to let employers know more about you.
As long as you align everything you talk about to the job position you're applying for, your resume will be more eye-catching than you'd think.
For example, if you're applying to become a photographer it's worth mentioning that you enjoy doing photoshoots, making a collage of photos or that you're skilled at editing and using editing software.
13. Awards and achievements
Mention all of your career achievements and awards that have been acknowledged by other companies.
Let the job recruiters know that you know what you're doing.
You're not just a beginner, but you're an expert in your field whose skills and knowledge have been recognized by other respectable employers.
14. Font choice
The visual appearance of your font plays its part in influencing the first impression in the job recruiter's mind, and whether your resume is decent or stands out.
We have an in-depth guide about resume fonts that tells you all you need to know for why it's important and how you can use it to your advantage. Go check it out if you haven't already.
15. Template, format, and layout
A strategically built resume designed to engage and hook the recruiter will improve your chances of securing that new job position even if you might be lacking in some areas of skill or experience.
Enhancv's templates let you personalize, rearrange, and create your own unique resume that can't easily be imitated. This is what makes you different from the others.
(Try them out – our straightforward approach even caught the attention of Mark Cuban!)
Use these eye-catching templates to start standing out now
As promised, you can check out our top 5 templates below that are handpicked to get you noticed in 2020 and beyond: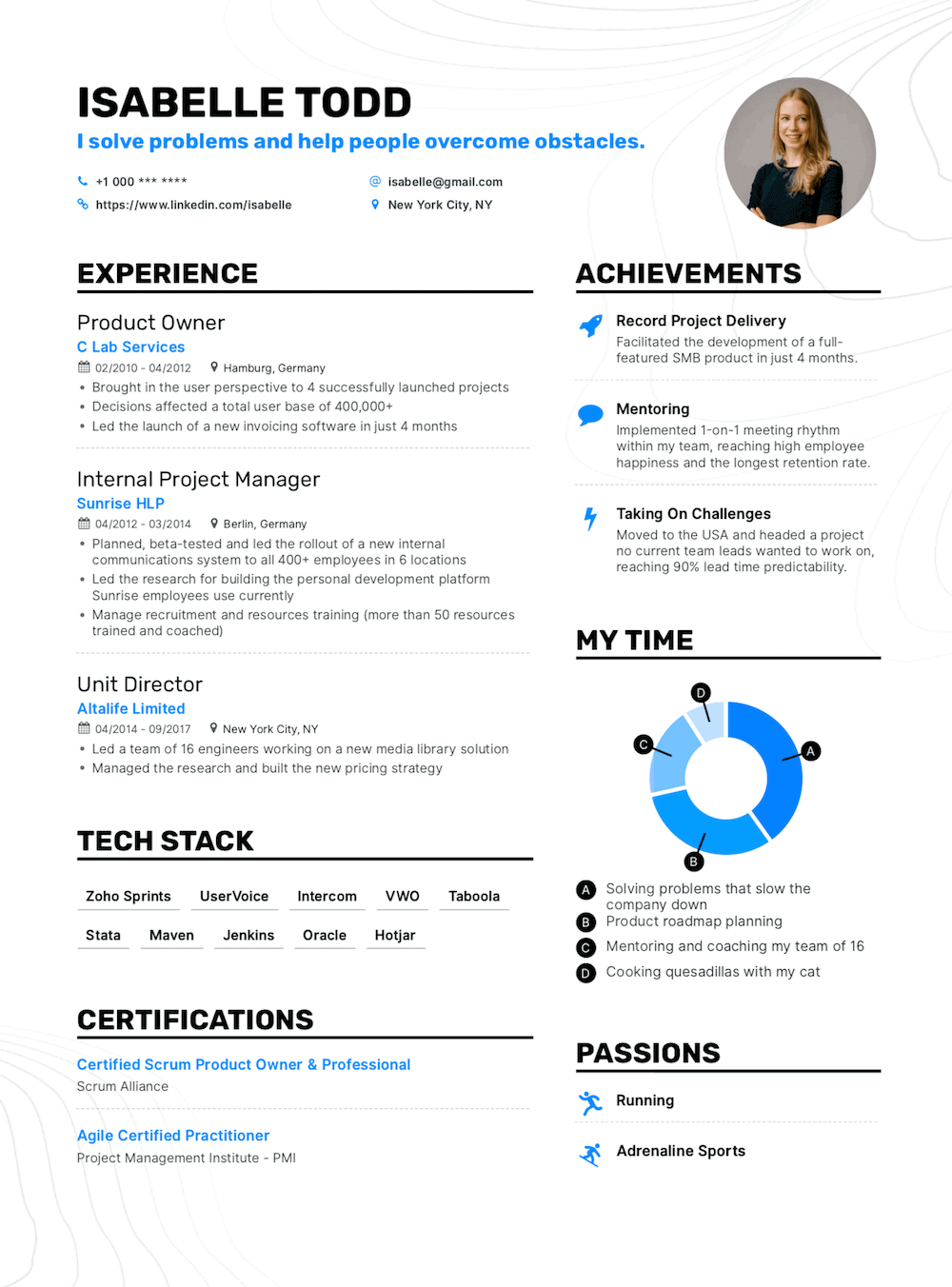 Conclusion
Competition nowadays is a challenge, which is why resumes that are eye-catching are so important – they have a significant impact on companies that will be interested in whether to hire you or not.
However, you can now add some extra sauce to your job-winning recipe using the tips discussed to create a divine resume that employers can't help but read.
Are there any other ways you can think of that we haven't included that's going to make your resume eye-catching? Let us know your thoughts in the comments below!
Make your move!
Your resume is an extension of yourself.
Make one that's truly you.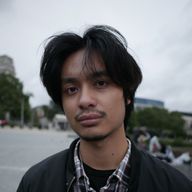 Astley Cervania
Astley is a UK-based copywriter & content strategist. Often curious and observant, he specializes in helping B2B and SaaS companies scale their content marketing through his writing and SEO skills.