15 Tips For Writing A Customer Support Resume (with a successful example)

The area of customer service is growing year on year. Effective customer support representatives must be knowledgeable of the product / service(s) offered by their organisation, well-organised, timely, able to communicate (sometimes complex ideas) in simple terms, and must be inviting and friendly. How does one highlight these skills and more in a resume?
Below, you can find 15 of our top tips for writing a customer support resume. The first five are exemplified by Daniel's Story, a customer support representative hired at Intercom. We've also prepared a sample resume to put all 15 tips into action.
1. Quantify your achievements
Resumes need metrics tied to achievements. Recruiters are less concerned with your duties and responsibilities than your impact on business operations. When describing your previous experience, remember to include a numbers or percentages where possible. If you have experience in retail, estimate how many customers you served per day instead of saying you worked at the checkout. This highlights your ability to deal with high volumes of customers.
Daniel does this well by describing his upscaling skills and mentioning he grew a team from 10 to 80 members.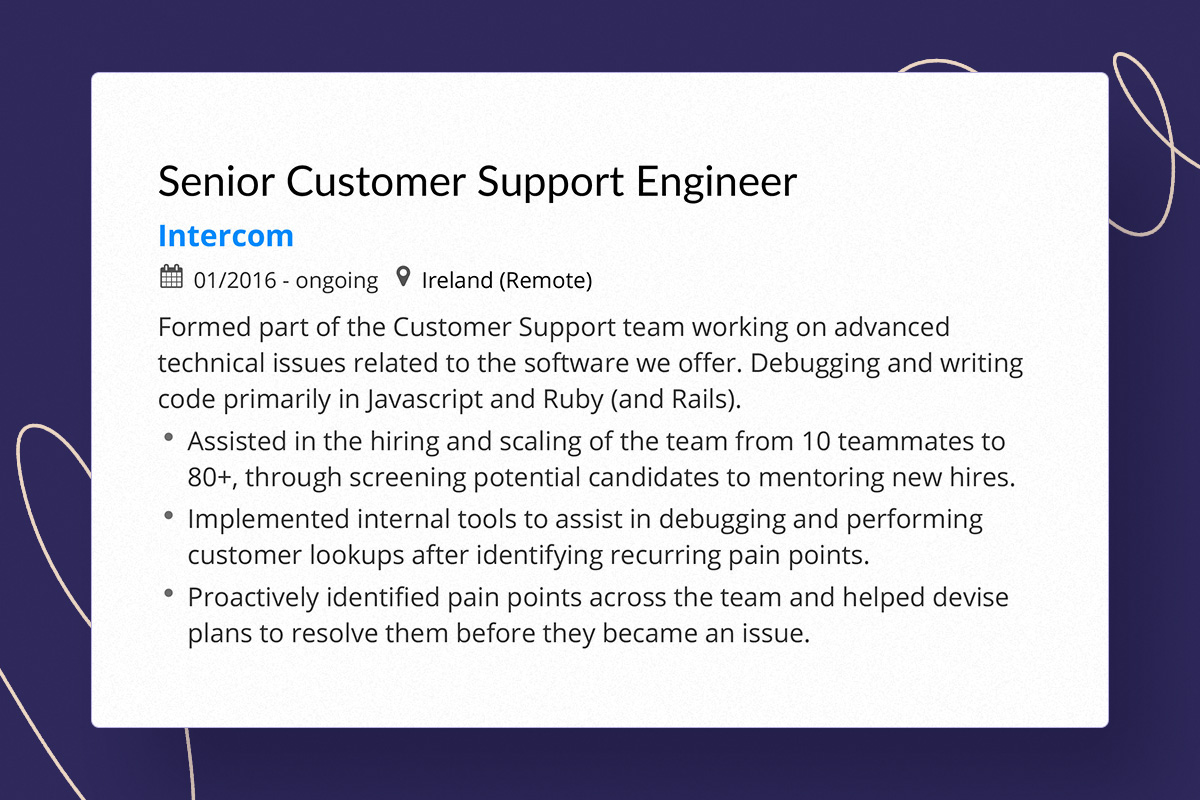 2. Include language ability
Your ability to communicate in different languages is essential to most corporations today. Not only does your language ability allow you to communicate with many customers no matter their issue, but it also helps you spot group-specific concerns.
Daniel notes he is a native English speaker and a beginner Afrikaans speaker.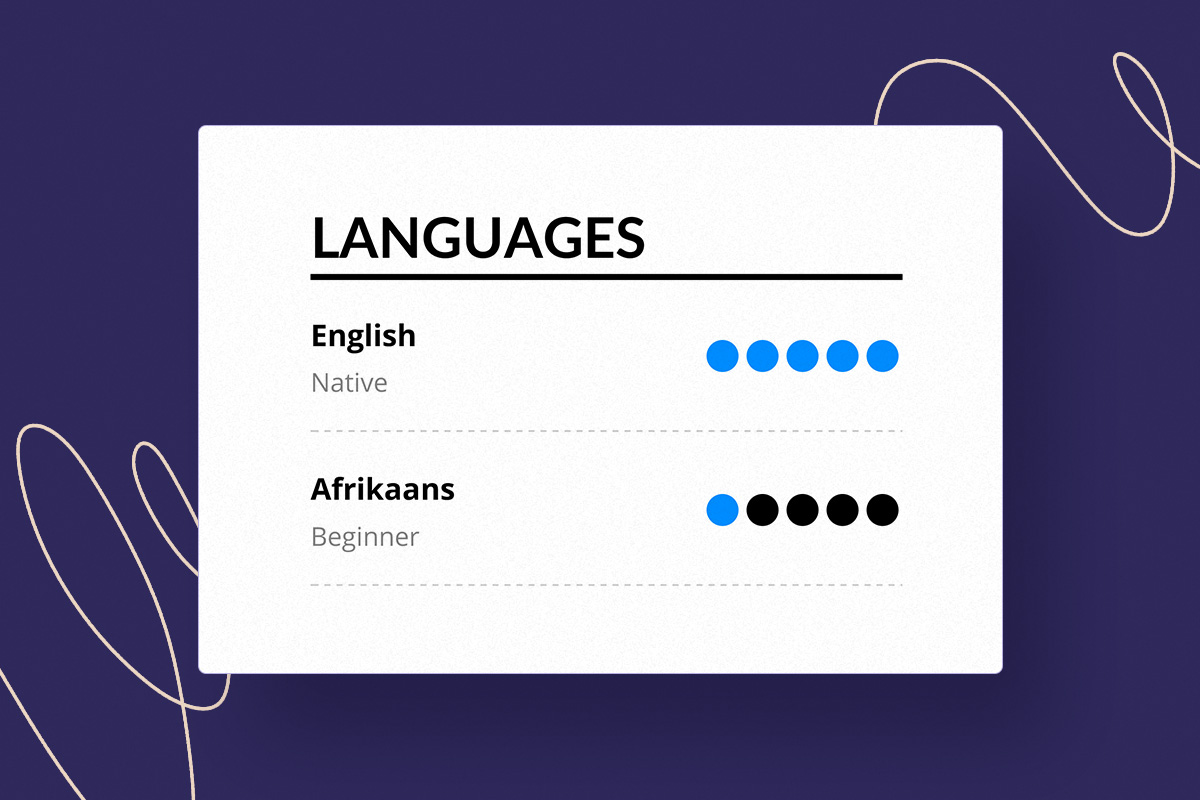 3. Highlight key competencies
Customer support staff have to wear many hats. They need to be ready to interact with customers over the phone, live chat, or even in person. Add to this liasing with other departments and processing refunds and you have a wide variety of competencies you need to demonstrate. But, two main things that recruiters need to see is that you are organised and dependable. Support staff need to consistently be able to do this and always stay on top of complaints; something dependability and organization play a big part in.
Daniel highlights these competencies in his skills section.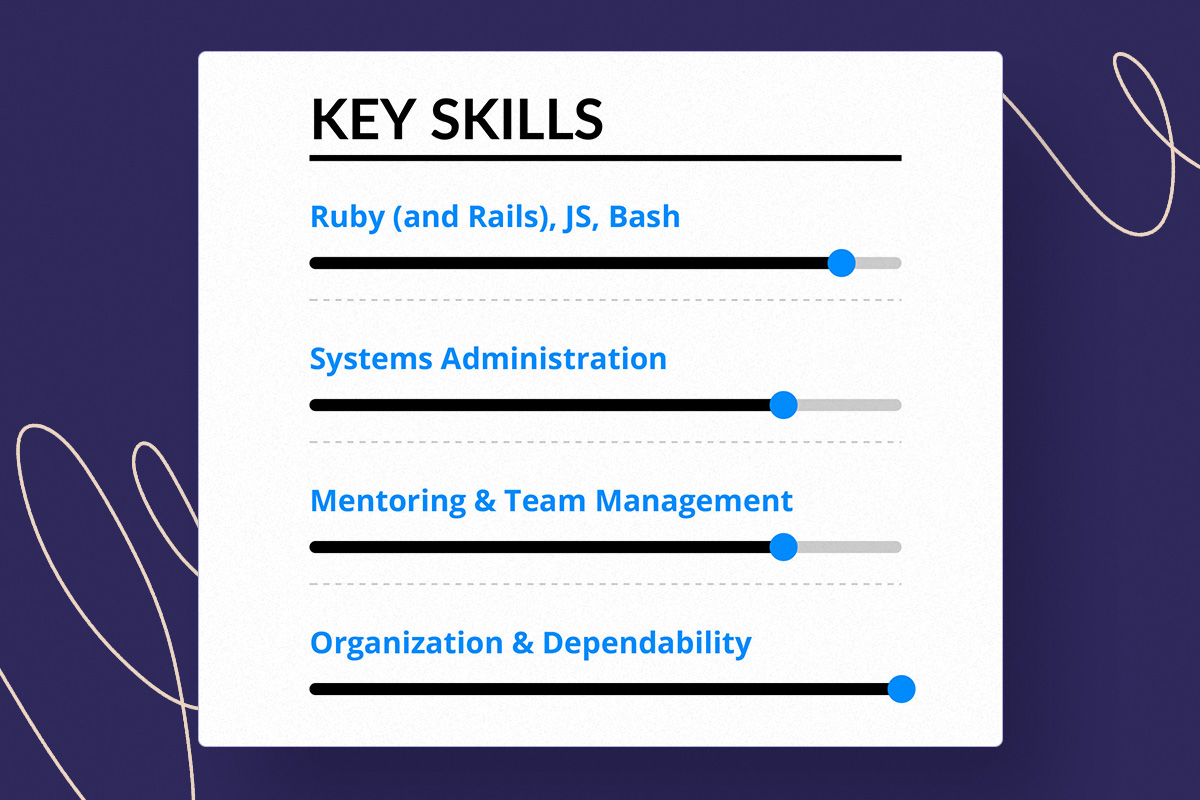 4. Describe customer support solutions
Solving customer queries is not always a paint-by-numbers job. At times, you'll be tasked with coming up with creative solutions to person-specific issues. If you have prior experience in customer service, now is your time to highlight it. Think outside the box if a previous experience is not coming to mind – even de-escalating issues with customers while working at a checkout is valuable experience. You can include such experience in an Achievements section or Most Proud of section of your resume.
Daniel indicates his creative customer support solutions in his Projects section, where he describes a browser extension he built to remind customers to cancel PayPal subscriptions.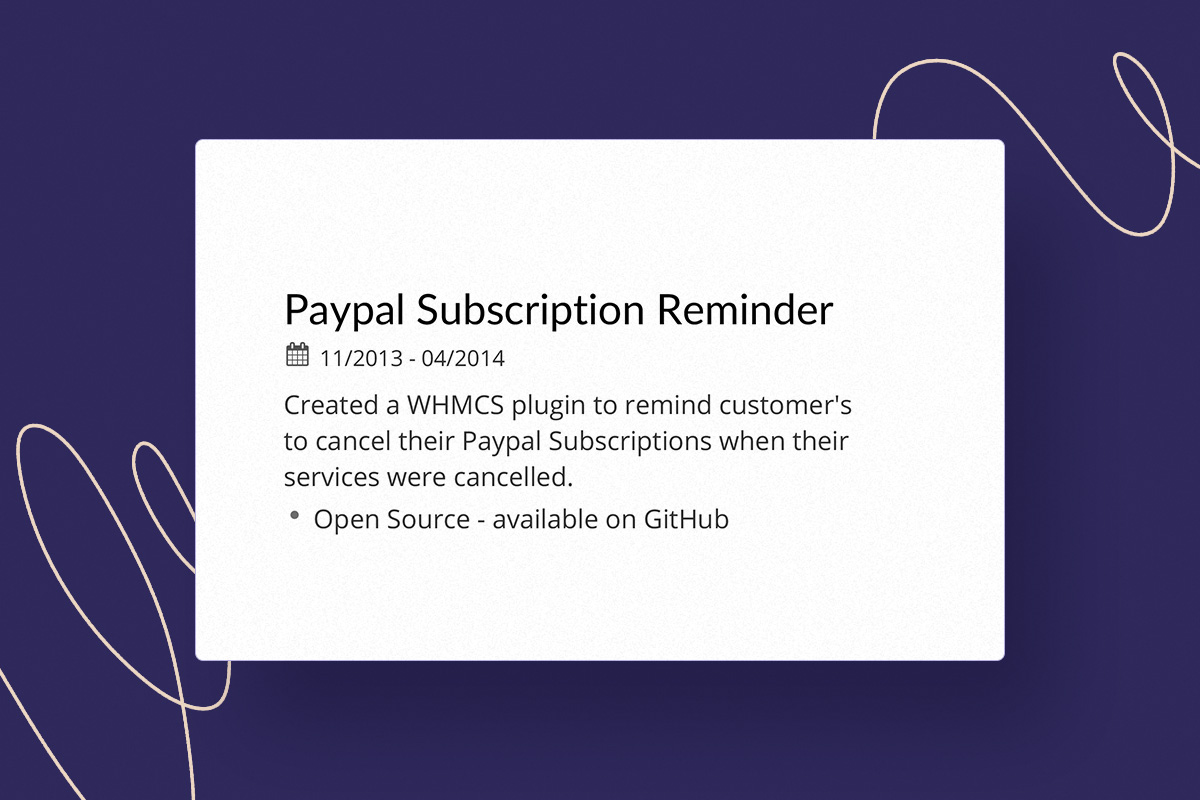 5. Springboard to additional resources
Resumes can only tell so much of your story. In-depth description of projects and expertise can take more time to explain. Linking to your LinkedIn page or website is essential to give recruiters another avenue to explore should your resume entice them. This way, you can grab their attention with your resume and seal the deal with your other resources.
Daniel does this by including his Useful Links section, which includes his GitHub and LinkedIn Profile.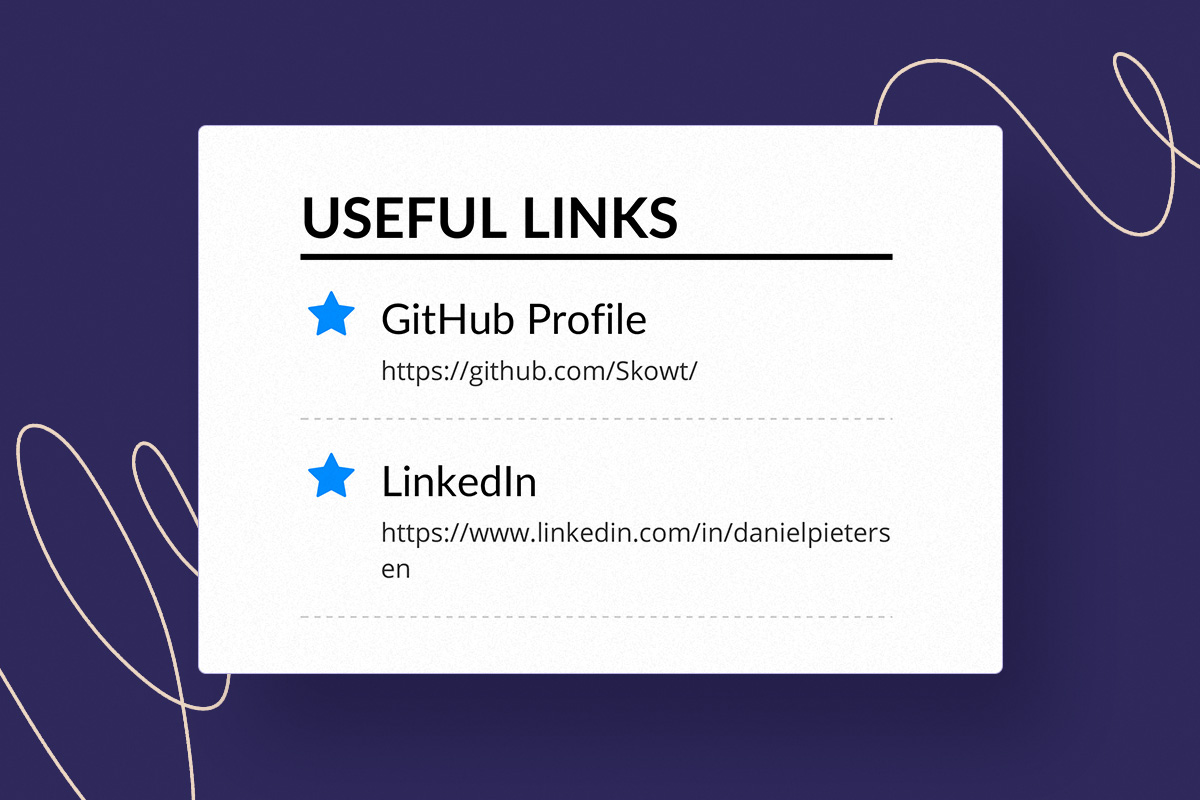 6. Detail your technical experience
Customer support representatives need to be tech savvy. It doesn't matter what line of work you're going into, there will always be some form of technology you will need to navigate. Whether this is logging customer complaints in a database, chatting with customers on Live Chat, or managing customer relations on SalesForce. Recruiters will be interested to see if you have any experience with these systems.
Dedicate a section of your resume to your technological experience. Here, you can note your Office Suite proficiency and prior experience.
7. Discuss your interpersonal skills
Customer service is founded on interpersonal skills. Not only are these important for communicating externally with clients, but internally with upper management and colleagues. Your interpersonal skills will be what carry you to success and allow you to impact the bottomline.
Rather than simply stating you have high interpersonal skills, quantify these (as mentioned in step one). Perhaps you were involved in communicating with a team of 5 or you sent 50+ emails per day in a prior role.
8. Include a photograph*
Impersonal customer service is awful. Customers want to feel they are talking to another person who is capable of understanding their concerns and can deal with them on a personal level. The same can be said about recruiters of customer support representatives. Recruiters will be able to get a better view of who you are if you include a photo. It humanises all of the abstract content that will be featured on your resume.
Many customer support jobs will require staff to have a company photograph for your company ID or profile (if working customer support online). Showing you're comfortable with this aspect of the job ticks another box.
*Note that in some countries it's forbidden or frowned upon to include a photograph. So, double check (this can be as simple as emailing the HR department to ask).
9. Words-per-minute
Customer support representatives will have to deal with a high amount of communication with customers. Being able to type a large amount of words-per-minute is an advantage over someone that cannot do the same. Including your average words-per-minute on a resume is a clearly beneficial skill that will entice a recruiter to offer you an interview.
10. Management experience
Customer support work can often involve managerial qualities. This can be managing a customer support team or motivating colleagues. Management experience is perfect for customer support roles for this reason. It also indicates your ability to interact with other people and find a consensus, something imperative for customer support.
11. Use a clean and readable design
With the number of customer support jobs increasing each year, recruiters will be turning to electronic systems to screen resumes that come through their door. This means you'll benefit from having a clean-cut design with readable fonts. You can accomplish this using our Single Column resume design.
12. Have a friend review your resume
There are only so many mistakes you'll notice by yourself – even with the help of our content analyzer. Referring your resume to a friend allows you to see how your resume is perceived by another person. Perhaps it isn't as personable as you thought it was or there may be a phrase that isn't as common as you think. You can easily do this using our built-in referral link.
13. Include your hobbies and interests
Many argue that hobbies and interests aren't relevant to your career. However, this often isn't the case. Your hobbies and interests can give insight into your ability to communicate with others and work on a team. They can also indicate your ability to hold conversations with customers and make them feel valued.
You can include these in your resume in a dedicated section of through a My Time infographic as found in our resume builder.
14. Speaking engagements
Your oral communicative abilities are essential for a career in customer support. Speaking engagements (public speaking, presentations and so on) are a great way to show these skills off. You can include these as part of an Achievements or Most Proud of Section.
15. Add reputable references
We all know references are important for job applications, but did you realize how important they are for customer support jobs? References are your personal reviews – companies want employees that will drive customers to give them good reviews. Having reputable references or even testimonials on your resume indicates to the recruiter that you inspire people.
To see how these tips can be applied to a resume, check out our sample resume below.