Have you considered what it would be like to get hired for that one dream company that's been lingering in the back of your mind?
You're probably thinking the chances are really odd, right?
Most of the time, applicants find it difficult to land a job opening to work for the company of their dreams.
At times, it may even seem out of reach…
While there are different factors at play, it's definitely not impossible. Even if you lack the ideal requirements, as long as you can prove yourself through an online resume application, it wouldn't be a problem.
But just before we get straight into it, it's useful to get a better idea of what an online resume is.
What еxactly Are Online Resumes?
Upload & Check Your Resume
Drop your resume here or choose a file. PDF & DOCX only. Max 2MB file size.
An online resume is a digital resume with all the standard resume sections but through the web, via the internet. It's not quite the same as a normal resume format that's a PDF or text document.
Instead, the online resume format is something you would show on the internet where it can be seen online.
The big advantage of using online resumes like this is that they can be received almost immediately.
Usually, when recruiters are looking for a candidate to fill a particular job posting, they'll go through online resumes since they're faster to review. It saves time but more importantly, if it's done right, it enables you to present yourself as a qualified, unique and valuable worker that's a good fit for the company.
For instance, you've probably heard of Nina4Airbnb.
One of the most famous online resumes that has been reposted all over the Internet…
She went viral pretty fast – got tonnes of attention, and above all, she was hired in her dream company.
Sounds really lucky. Maybe it's a fluke…
Well, she's not the only one.
In fact, there are a bunch of other people who did the same thing: created a novel online resume and were swarmed with job offers left and right.
With that being said, we'll take a look at 11 of the most creative online resume examples we've seen that got candidates employed in their dream jobs. Take inspiration and notes from them for your next resume application!
Want specific inspiration for your industry? Check out our resume examples section that got people hired at their dream jobs!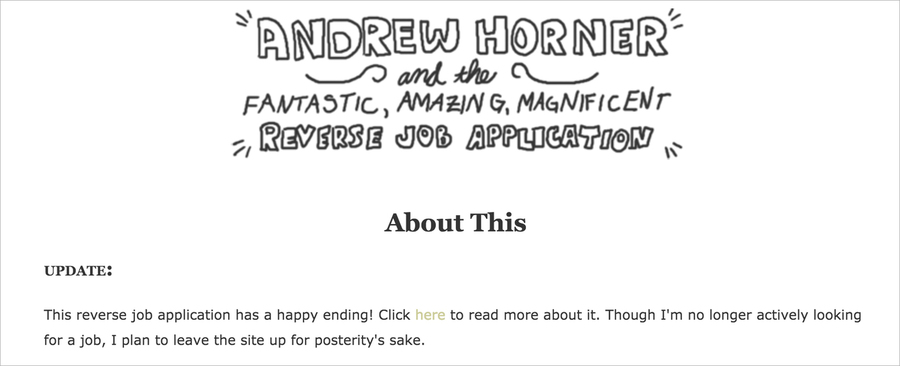 Usually, you're supposed to be the one frantically looking for job openings on a variety of websites – especially if you're a fresh college grad. For some, this may be soul-crushing: being rejected time after time doesn't leave much room for confidence.
That's what happened to Andrew Horner.
Instead, he decided to reverse-engineer the entire process, creating a reverse application website. In this case, companies had to go out of their way to meet Andrew's standards rather than the other way around.
And as you've probably already guessed, he got hired.
The unusual part here is that he never listed any of his skills or experiences. On his website, he focused on describing his personality. There wasn't as much emphasis on portraying himself as a paper-filling, coffee-brewing potential intern.
Link: http://www.reversejobapplication.com/
Some people go out of their way to get hired in their favorite company.
But it's way, way, way more far than just filling an application. If only it was that easy…
Now, this guy here, with his majestic moustache, spent $3,000 of his own capital to make a marketing campaign…
The goal was to get noticed by Google. Which in turn, he essentially proved himself and his skills in marketing.
That's one hell of a way to apply for a job, huh?
Let me guess what you're thinking, he must've managed to land the job, right?
Surprisingly, he didn't get hired at Google – but he did end up scoring a sweet gig in a San Francisco based startup instead: SigFig, a financial management platform for individual investors.
The mustachioed marketer himself described it as a job that makes you want to get up in the morning.
Check out his website at http://googlepleasehire.me/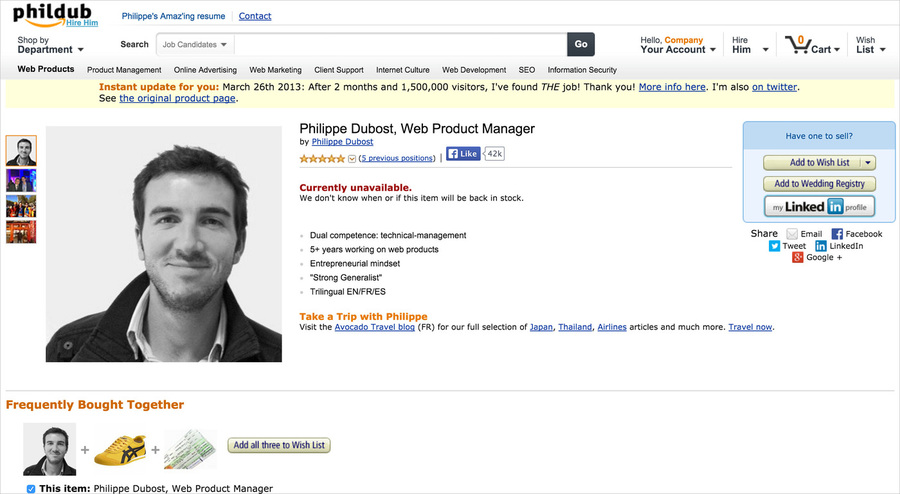 Everyone knows that applying to jobs is basically selling yourself and value you can bring over to your new company.
Our guy Philippe here, took that concept a bit too seriously…
He created a whole online resume website with the Amazon design, and started selling himself – literally.
Sadly, the website is currently all out of Phils, as he got hired in his dream company, the Birchbox, one of the leading discovery commerce platforms, operating in both the US and Europe.
Link: http://phildub.com/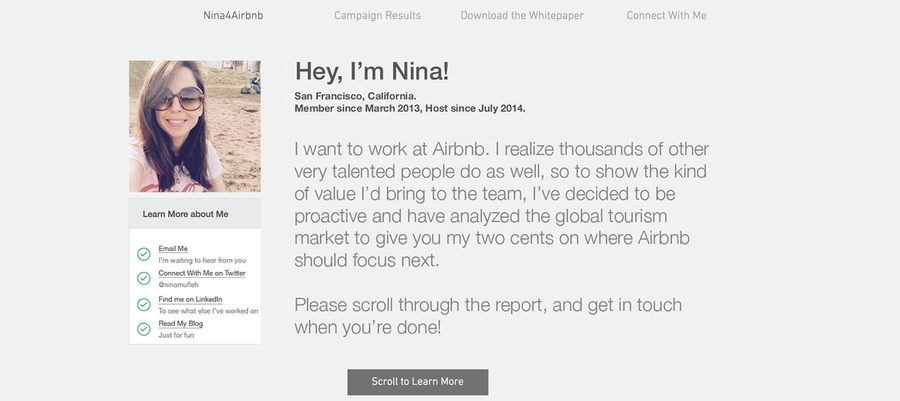 One of the most common ways to land a job is to blow them away with your enthusiasm. Show the company how much you care – and be genuine. Most people tend to research a lot about the company and try to forcefully impress the interviewer.
What Nina did was something along the lines with dedication pumped up to the max.
She analyzed the global tourism market, and gave AirBNB recommendations based on her research. If that alone doesn't show enthusiasm and competence, we don't know what does.
Even after that, surprisingly enough, Nina didn't end up working for AirBnB.
However, despite not meeting her main goal, she described the campaign as a major success. With over 400k visits to her website, 30k to her blog, as well as a huge number of interviews, it's safe to say she's with some of the best companies out there.
Check out her website at http://www.nina4airbnb.com/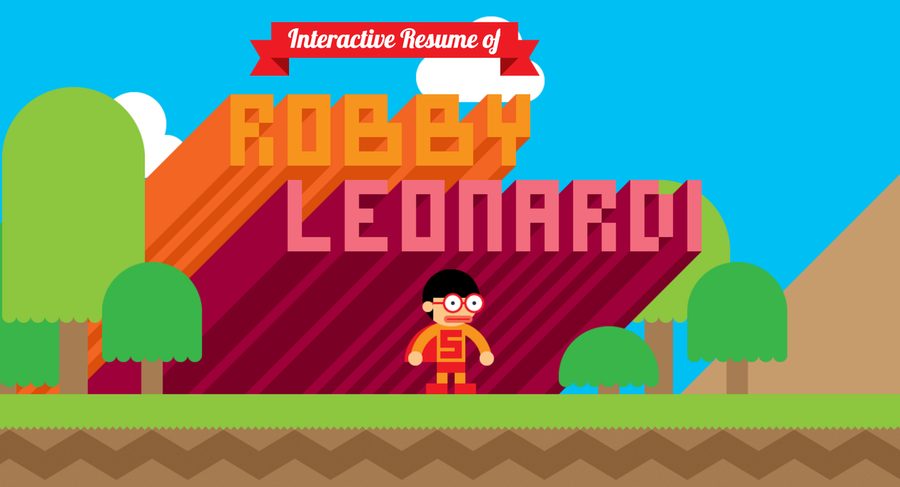 Robby Leonardi came by with his videogame resume and blew us away.
It's not the stereotypical professional resume format you would see online. His replacement for the resume sections structure was a "game" – a simple platformer where you, the character advances as you scroll down.
Just when we thought this list couldn't get any weirder…
Robby mentioned that the website is influenced by the Super Mario games, hence you may have thought that the game looked a bit familiar.
Currently, Robby works at Fox News as a web content designer/creator. But taking into consideration his qualifications, we're pretty sure this guy can work for whoever he wants to work with.
Link: http://www.rleonardi.com/interactive-resume/
Also, Portfolio: http://www.rleonardi.com/design-portfolio/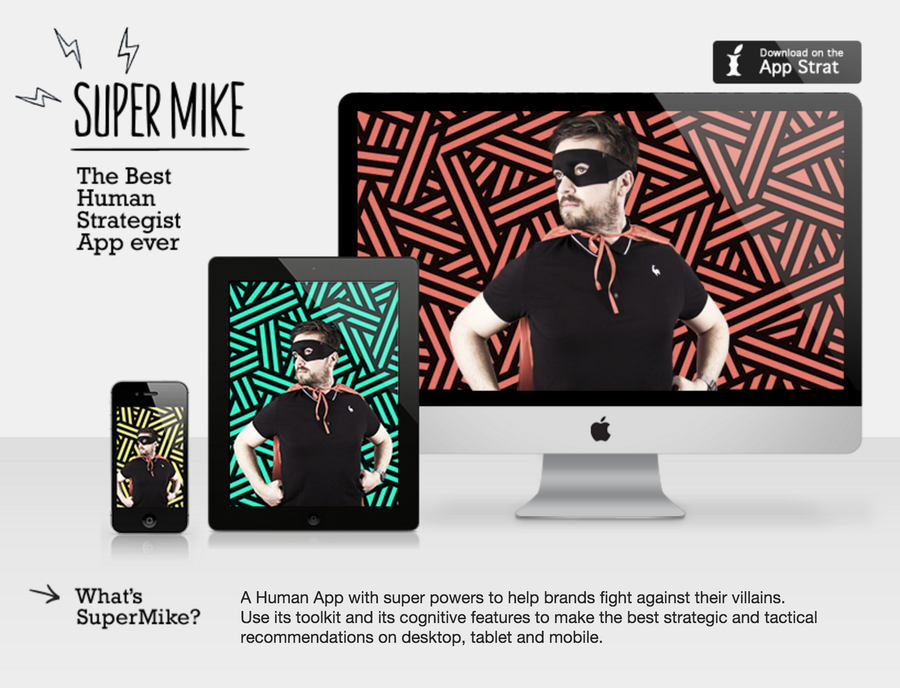 Another online resume website example here – from the legend amongst App strategists…
His name is Super Mike.
Changing the world one app at a time, Mike is famous around the globe. Visionaries of today's society have described Mike as "the bicycle for your strategic needs," – Steve Jobs, and "Always two there are, no more; the Brand and SuperMike," – Master Yoda.
Exaggerations aside, Mike's personal website is comprehensive: a full history of his employment, case studies, coupled with a tinge of humor. He's also worked for top-of-the-line companies as a strategist, including Ubisoft, Ogilvy, and so on.
Link: http://super-mike.com/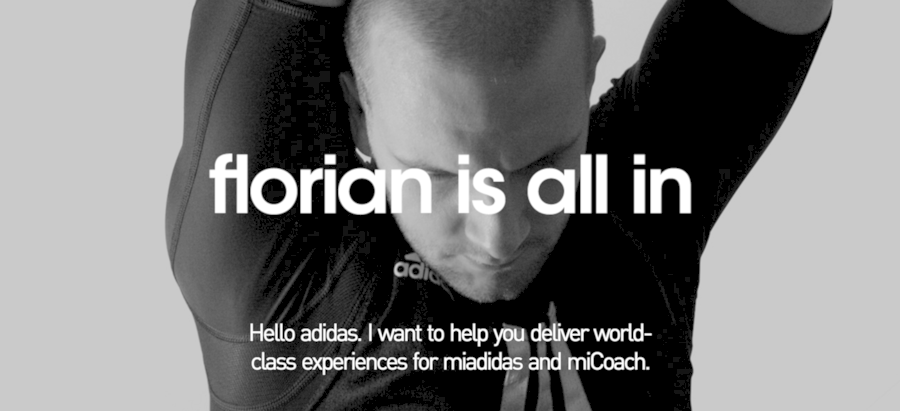 Just like Nina's online resume format, Florian goes all in to get hired at Adidas. He lists his work history, passions and interests to explain how exactly he can help develop miCoach.
What's great about this is that it's short, concise, and straight to the point.
With this, he ended up being employed at Adidas.
However, after a while, he left in order to work on his own entrepreneurial endeavors. To be specific, Grit – an app that pairs you with professional running coaches.
Link: http://www.florianisallin.com/
https://www.youtube.com/watch?v=Xs7tLBSENx4&feature=youtu.be
How do you get hired in a tough industry like communications straight after completing college?
When there's so many applicants in the communications industry with lots of competition, limited spaces and having limited professional experience, how realistic is getting hired?
Well, according to Victor Petit, the aim of the game is to show a bit of creativity – which is what he did, through his QR coded resume.
After suffering the pain of looking for an internship without much experience, he decided to think outside the box, landing him a job straight off.
Link: http://www.victorpetit.fr/QR-CODE-Talking-Resume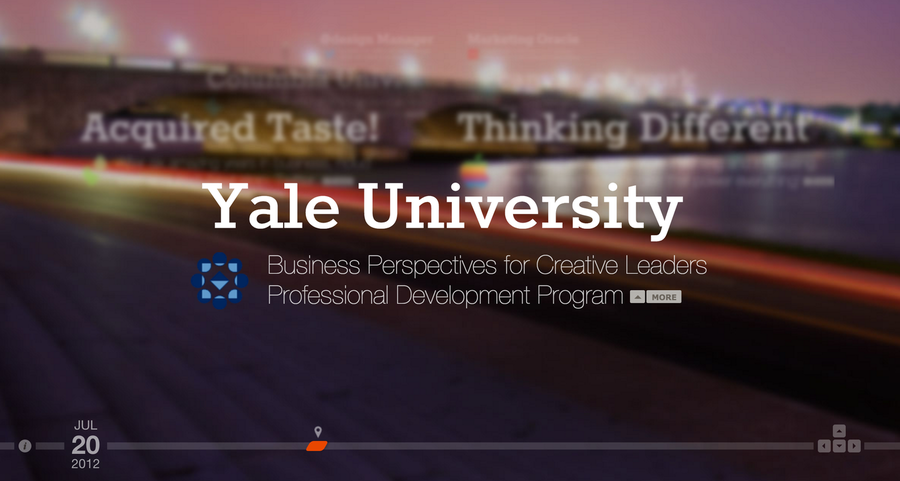 Martin Ringlein, a design manager at Twitter, created a personal website – with a twist.
The style isn't that of a classic resume. Rather, the resume website format is structured as a timeline to showcase his experience and skills. This is one way to show how skilled you are without having to use a resume filled with plain text to describe yourself.
In other words, through his online resume resume website, he's showing – not just '"telling". Therefore there's more meaning and impact behind his application.
Currently, as a high-end professional, Martin isn't looking for a job. The website itself acts more of a personal bio where employers can easily see what he's about.
Link: http://marty.com/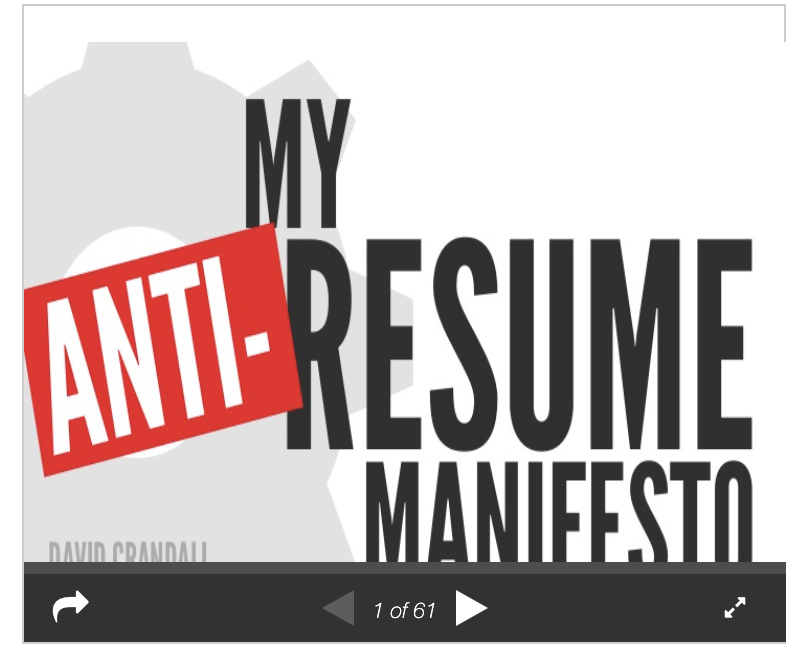 Let's face it – traditional resumes are outdated.
It tells what companies you've worked for, what jobs you've taken, how experienced and skilled you are…
That, however, can be very irrelevant. And the way it's presented can be very generic and common.
The conventional resume format doesn't show who you are as a person, whether you'd be a good culture fit, nor does it show your other relevant skills.
And that's exactly what we're trying to change here at Enhancv.
It also turns out that David Crandall holds the same opinion as us.
He's created the anti-resume manifesto, which explains that he's not just another cog in a machine. Instead, you would conclude that he's a talented individual, a superhuman asset and an absolute stud who could bring tonnes of value for any company.
Link: http://www.slideshare.net/davidcrandall/my-antiresume-manifesto
(Side note: our online resume service is one thing, but our resume scanners are another. Click here to use our resume checker so you can see how good or bad your resume is!)
Maybe this is one you didn't expect, but Enhancv's online resume templates work pretty well in terms of the creative side of things.
One factor we're trying to change is the conventional standpoint towards the way resumes should be built.
For the most part, candidates are using online resume builders that aren't formatted to catch the employers attention. Because of this, it won't resonate strong enough for the recruiter to feel a strong connection with you.
On the other hand, a strategy that our online resume builder helps you implement are the visual aspects of your resume. For example, two colour combinations, resume icons, and engaging resume format designs.
If you're not too sure where to start, I suggest starting here so you can get into the zone where more ideas begin to emerge!
Conclusion
Did you notice the pattern from the examples listed?
Hint: all those guys and girls got hired…
It all begins with understanding your company and their values. How can you meet their expectations? Can you express your personality in a way that attracts the hiring manager and sets you apart from all the other job seekers in the workforce?
Creativity isn't easy. Simultaneously, it's not as hard as you'd think.
Start by deciding on an online resume format that works for your job opening. Don't be afraid to think differently and unconventionally. Most of the time, people want to see if you have something new and different that you can bring to the table.
If you want to learn how to tap into the power of online resumes, like our Facebook page to get our new guide as soon as it comes out!
Alternatively, you can find 23 more creative resume examples by clicking here.
From the online resumes listed, it proves that landing a high or dream job position isn't exactly impossible. Rather, it comes to show that if you put some effort into your job-search, coupled with a bit of creativity and research, you can pretty much get hired anywhere.
References:
Nancy Young / Taylor Casti / Chris Lake / Vivian Giang / Lauren Fisher / Matthew Wauters / Ellis Hamburger / Ryan Lum / Miranda Miller / Upasna Kakroo / Lisa Eadicicco / Benjamin Snyder / Jenny Che / Chris Matyszczyk / Samatha Murphy Kelly / Add Dugdale / Liv Siddall / Jack Marshall / Ben Woods / Scott Dockweiler / Jenn Tardiff / Brenna Ehrlich / Aleksandra Sagan / Rich Dematteo / Thomas Frank / Ashley Lutz / Anna North / Melissa Stanger / Patricia Laya / Alyson Shontell / Will Oremus / Catharine Smith
Make your move!
Your resume is an extension of yourself.
Make one that's truly you.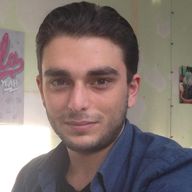 Nick Zviadadze
Certified Storyteller, Job Hunting Enhancer, Digital Marketer and a Coffee Enthusiast